With Pirosmanashvilis's birth and death dates still remaining uncertain, his final resting place having been lost, and his biographies being largely based on enigmatic/equivocal memories, legends and assumptions, it now appears impossible to reconstruct the real story of the artist's life. Such ambiguity imbues his image with certain mysticism, leaving his art as the only true evidence of his place among the pre-eminent painters of the twentieth century.
Niko Pirosmanashvili, a painter whose epoch-making art conforms with the logic of historical evolution, made his appearance at a time when Georgia was just entering into modernity and leaving the Middle Ages behind. Bearing all the typical features of traditional and contemporary Georgian art, his paintings were to serve as a bridge between the country's past and future artistic output.
Apart from encompassing the past and future, Pirosmanashvili's paintings offer a harmonious combination of concrete and abstract, characteristic and generalized, plane and space, chromatic and achromatic, laconic and painterly. His aesthetic system, which was guided by his great power of intuition, reflects the monumentalism of medieval Georgian mural art, spirituality and the key features of European artistic trends of that time. Pirosmanashvili's art is mainly to do with colour. His images are perceived by the viewer through sharp, yet refined contrasts.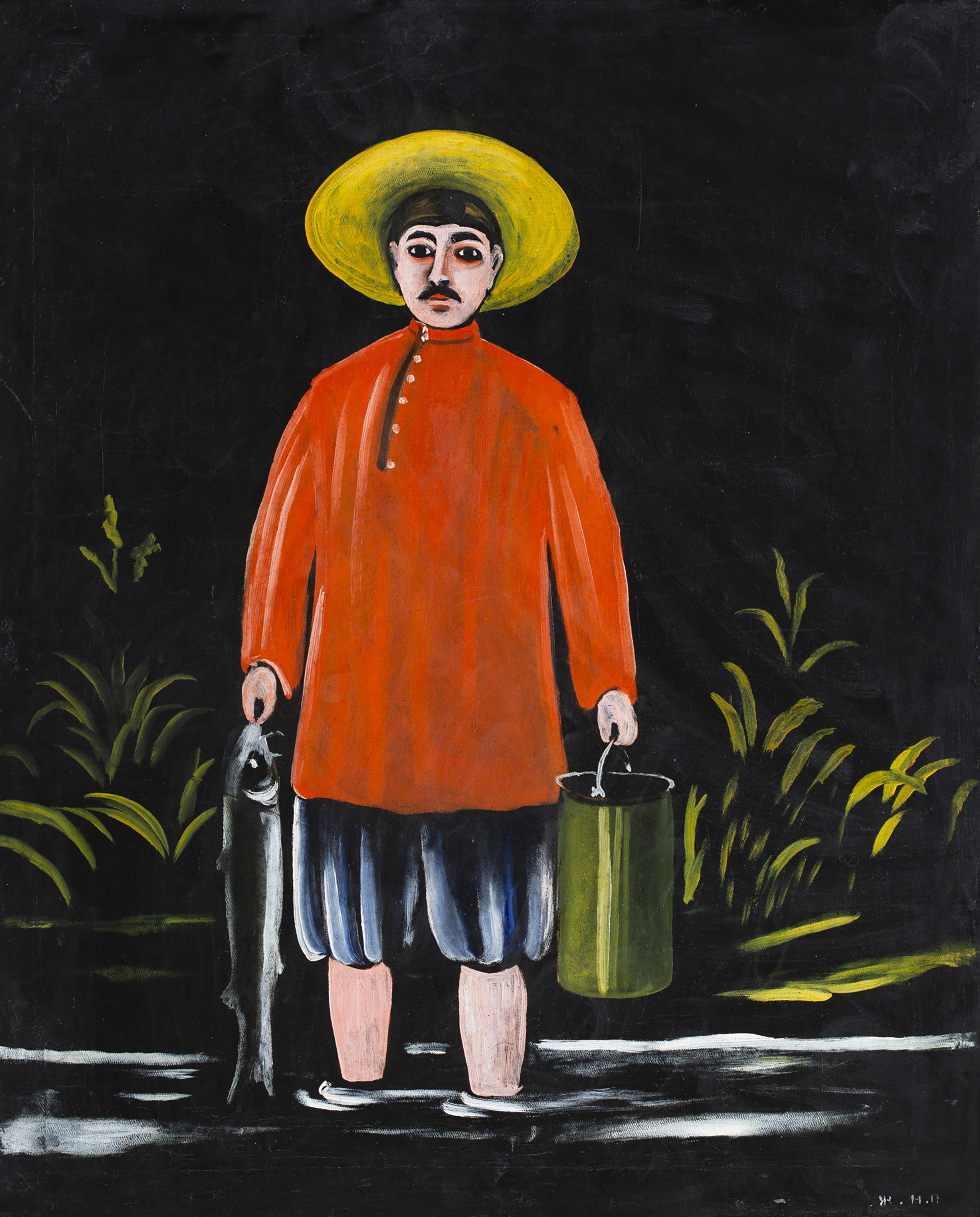 PIROSMANI - Fisherman in a Red Shirt. Photo Credit: Georgian National Museum
Fisherman in a Red Shirt presents an image of a typical young man of the day. Standing in a river, the man holds a fish in one hand and a bucket in the other. He is portrayed wearing simple clothes and a hat. At first sight there is nothing unusual yet there is a sense of mystery about him that captivates the beholder. What makes the man's dark eyes – painted with a couple of mere brushstrokes – so telling? Is it daytime or night-time? If it is daytime, why is there so much black in the picture? If it is at night, how come the red shirt and yellow hat shine so brightly in the darkness?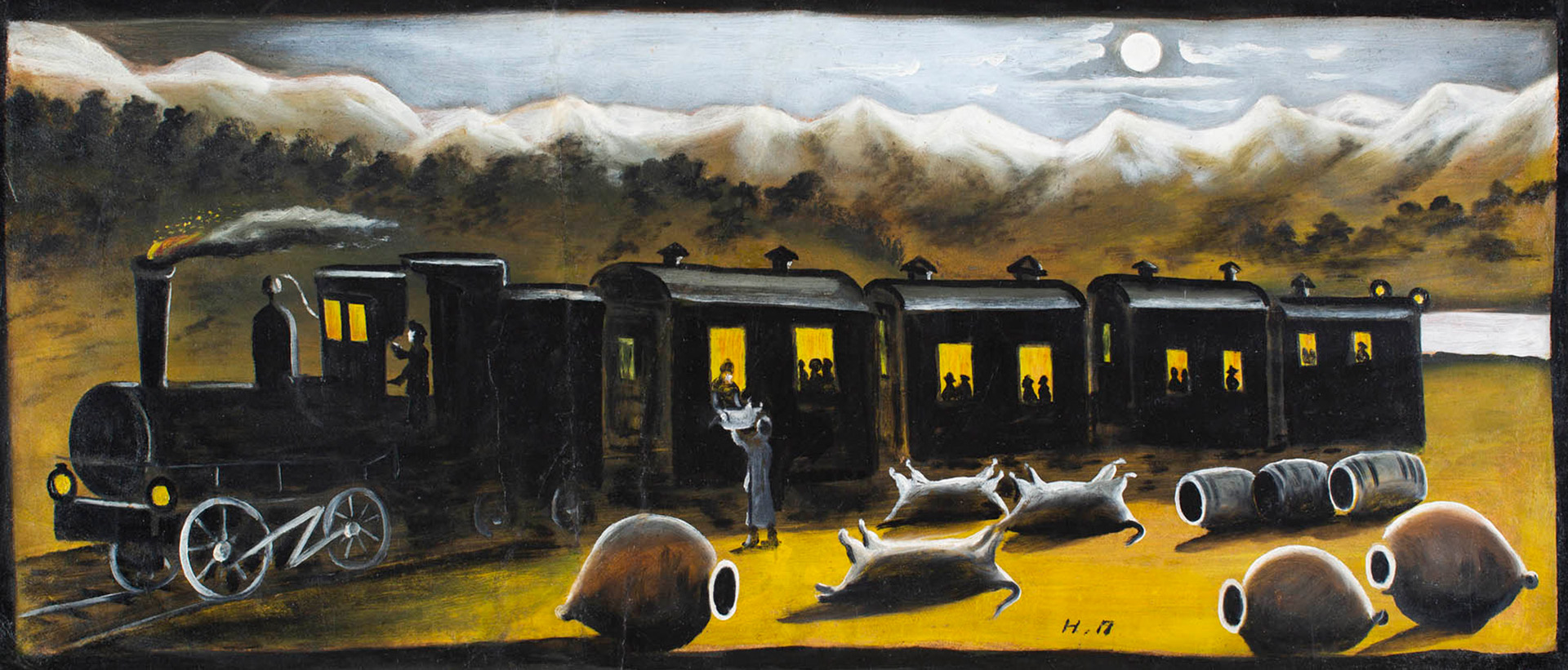 PIROSMANI - Train in Kakhetia. Photo Credit: Georgian National Museum
In this picture, day unites with night. Pirosmanashvili's paintings appear to be depicting a 'timeless' and infinite reality. His seemingly ordinary characters and objects appear to be isolated from their contexts, rendering them enigmatic and mysterious. When viewing Train in Kakhetia, in which silhouettes from the brightly-lit windows of the train, as well as wine jars and wineskins in the foreground are depicted against a background of snow-capped mountains, it takes some time for the beholder to notice the lack of railway lines – yet somehow the train-mirage continues to move. Equally illusionistic is The Giraffe, with its large eyes and the blue sky against which it is portrayed. At the same time, similar to other animal paintings by Pirosmani, it is so personalized that the viewer has a sense of looking at someone he or she knows.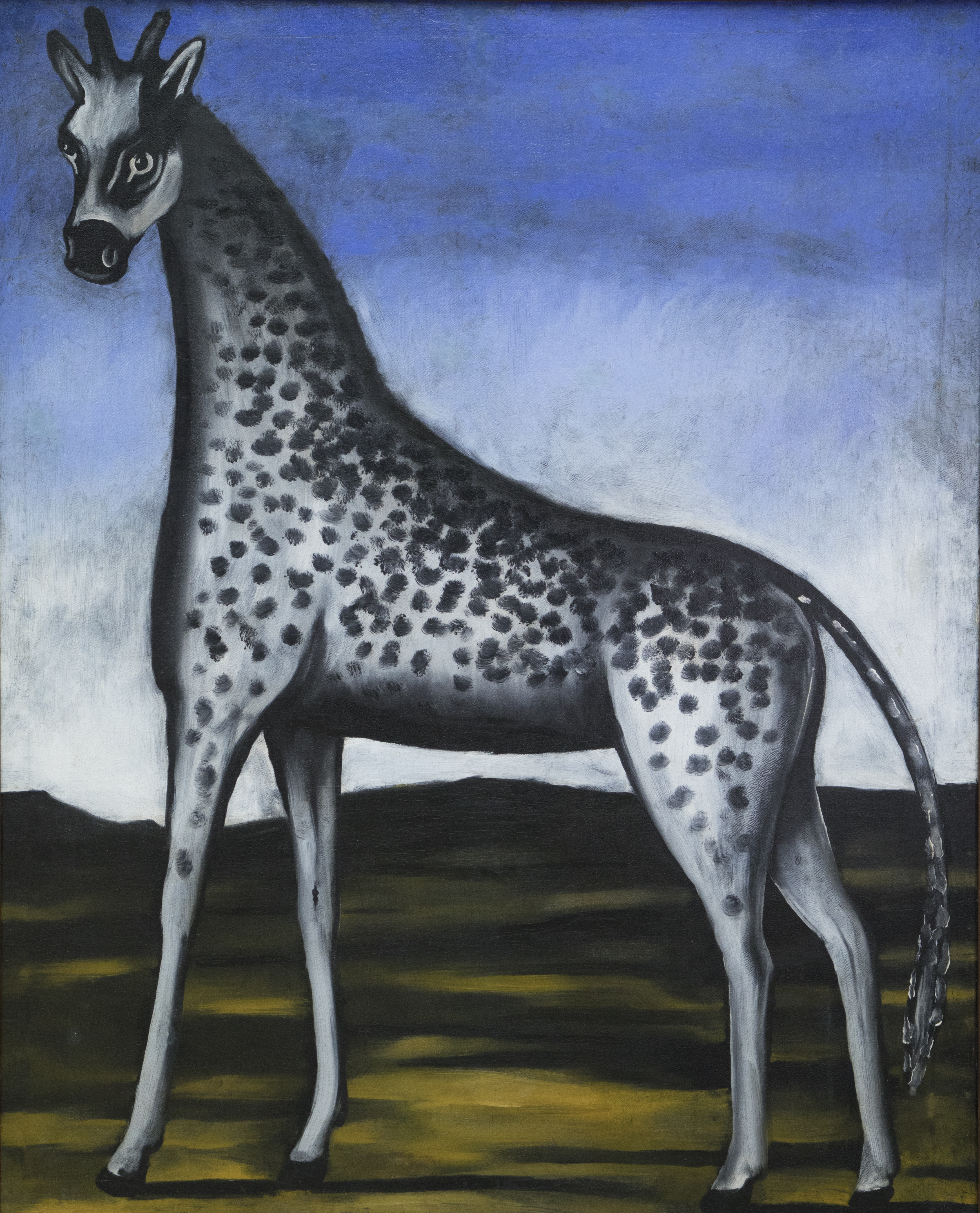 PIROSMANI - Giraffe. Photo Credit: Georgian National Museum
Pirosmani's panoramic painting Celebration in Bolnisi-Kachini combines a multitude of scenes, including depictions of robbery, feasters at tables, an elderly miller, a shepherd guarding a herd of sheep, female pilgrims riding on a covered cart, and a church surrounded by people. The majority of the scenes are unrelated content-wise, yet each of them is scaled and located to fit perfectly into the overall pictorial and colourful composition. These mini-scenes combined tell a single long story – that of life. One can think of only a few world artworks that offer such an organic unity of micro-compositions.

PIROSMANI - Celebration in Bolnisi. Photo Credit: Georgian National Museum
Pirosmanashvili was known and respected as a man of honour by the inn-keepers, wine-makers, and city vendors who ran their businesses on the left bank of the Mtkvari River. Despite wearing worn-out clothes that bore many memories, the artist was always well-groomed, and was given a nickname - the Count. More commonly, though, he was simply called Nikala. It was in this part of town, stretching from what was then Nakhalovka district to Ortachala, that Pirosmani created the paintings that epitomize Georgian culture and constitute an integral part of world cultural heritage.