Text and visual image are often interchangeable in the works of Karlo Kacharava (კარლო კაჭარავა), Georgian art critic, artist and poet (1964-1994). He inscribed notes on and inserted texts into his paintings. Similarly, his writings contain many sketches and colour illustrations. His Cologne Diary, published with the support of the Goethe Institut Georgia, is a prime example of such interchangeability between visual image and text. The book is a facsimile of Kacharava's original diary from 1991. His work is full of cultural, historical and quotidian references – one can easily reconstruct the period from the visual and textual details included in his paintings and drawings. But first and foremost, the album is the travel diary of an artist, he writes on the first page of the diary in capital letters in German: "Eine Reise…" anfgeord underneath it "Moskau – Köln - Berlin – Köln."
Karlo Kacharava's Sentimental Traveler, dated February-May 1992, was painted on canvas with text inscribed onto it. The beginning of 1992 was a particularly tumultuous time in the history of Georgia - many political changes occurred within a short period of time. Surprisingly, however, artistic life carried on - in his private diary the artist mentions attending exhibition openings and other social gatherings with fellow artists.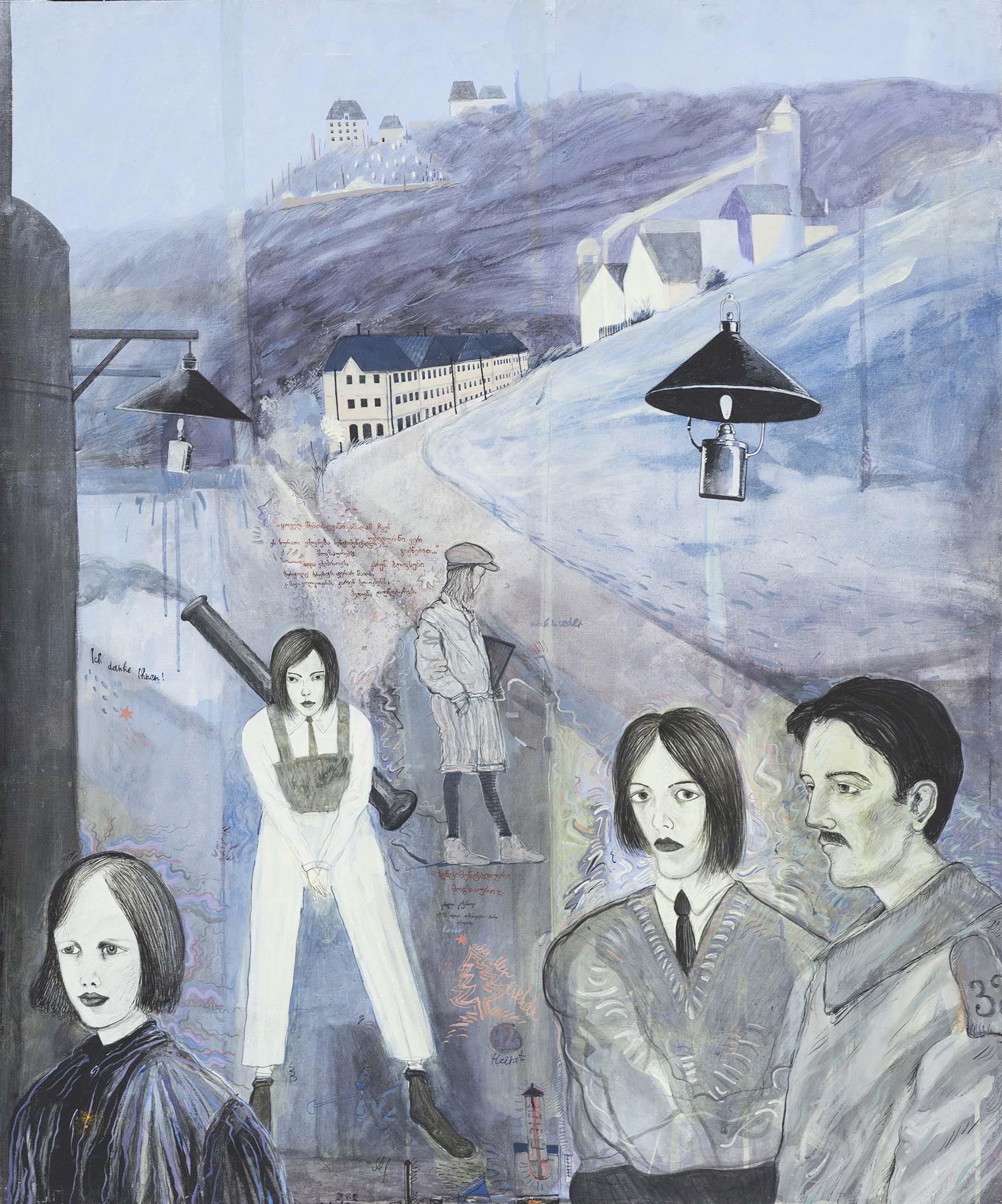 Karlo Kacharava. Sentimental Traveler. 120x100. Temper on canvas. 1992
Prolific both in his writing and painting, Kacharava rarely worked on any artwork for as long as the 4 months he spent working on Sentimental Traveler. The exact date of completion is marked on the bottom left edge of the painting - May 24, 1992. According to his sister, the artist would often paint over the same canvas more than once. He also tended to work on a number of paintings at the same time. Another of his works, Anarchist's Dream, is thus signed and dated February 3-6, 1992. [1]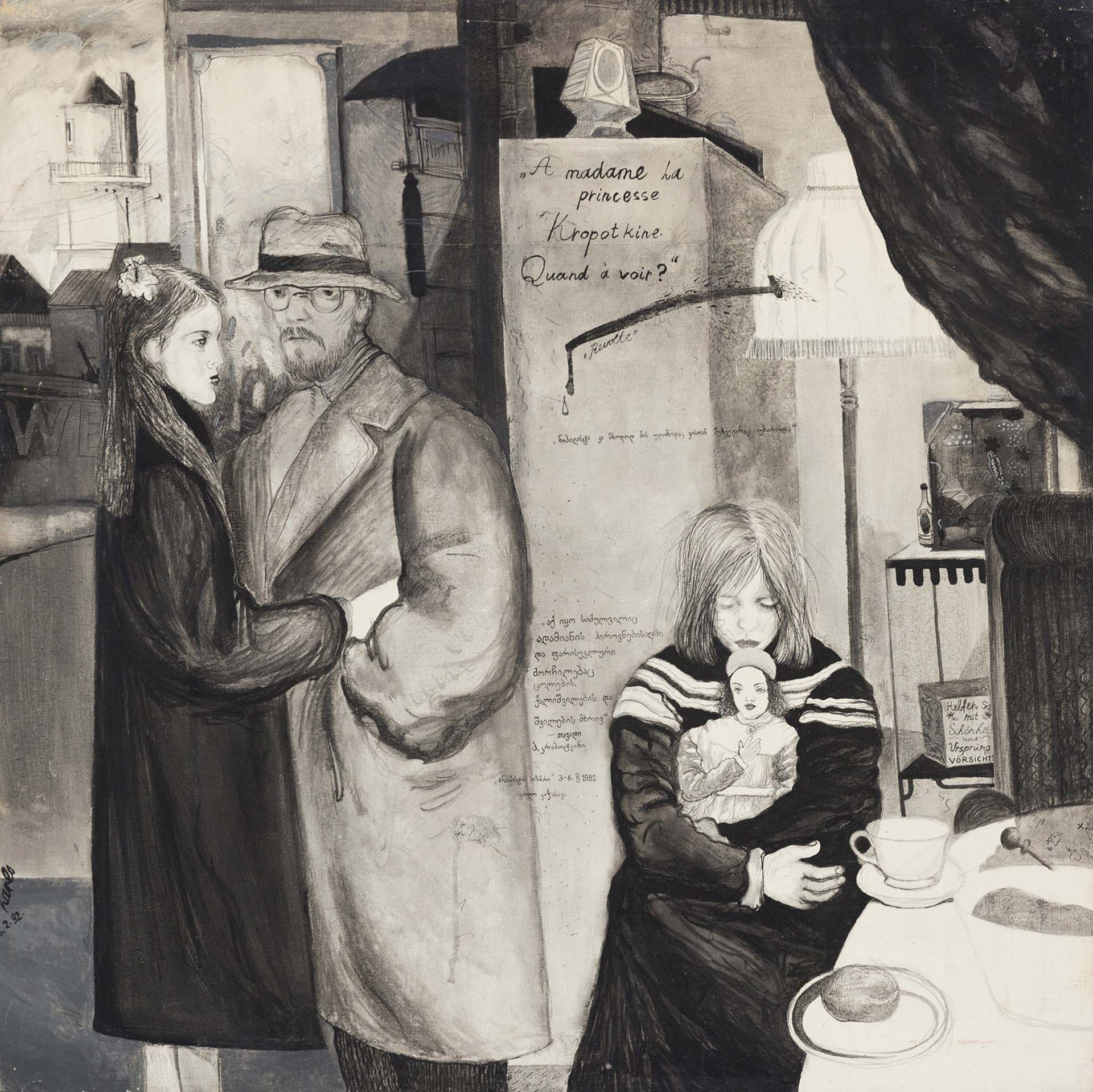 Karlo Kacharava. Anarchist's Dream. 100 x 100. Tempera on canvas. 1992
In the centre of Sentimental Traveler there are two text dedications in Georgian – a quote from Karen Blixen "we can't be unhappy tonight" and almost overlapping this phrase in slightly darker paint, Kacharava has written: this painting is dedicated to sentimental travelers: Ida Applebroog, Bertolt Brecht, Gerard Mayo, Carson McCullers, Karen Blixen, Helena Lundberg. The latter was his muse and his beloved, who he often referred to in paintings with the refrain - Fur Helena.
Sentimental Traveler has two diagonal compositional lines in it: starting from the bottom left-hand corner there is a succession of three female figures. It appears that this could represent the passage of time in a person's life – a portrait of a teen girl is followed by a full-length portrait of an adolescent girl carrying an instrument on her back, and finally a young woman in a hat holding a book under her arm. The latter's face is turned away and hidden under her hair; her figure and outfit resemble a reoccurring figure from Kacharava's earlier paintings, especially from Prosperidad, 1990. The title of the painting, "Sentimental Traveler" is written in quotation marks in sepia paint right underneath her feet, along with the artist's signature and the date. There are also occasional words in German in the painting – Hairat, nochbeider, etc.
The bottom right-hand corner of the painting depicts a couple: a man is seen in profile, dressed in a military winter coat with the number 32 on the epaulette, and next to him facing the viewer is another archetypal Kacharava portrait of a woman. In the middle section of the painting, between the figures and the upper landscape, there are two kerosene lamps. Due to frequent power outages in the city, kerosene lamps were objets du jour in 1992.

In the Cologne Diary, Kacharava mentions Marguerite Duras several times. There is a drawing dated January 6, 1992 which has a bright yellow background and disjointed words in Georgian script are used as visual elements in the composition: "Mekong," "travelers," "travel beyond colonies," "Asia in the 50s," "Vietnam," and at the top of the picture in the centre "O Margaret!" with a dedication to Marguerite Duras written in parenthesis next to it.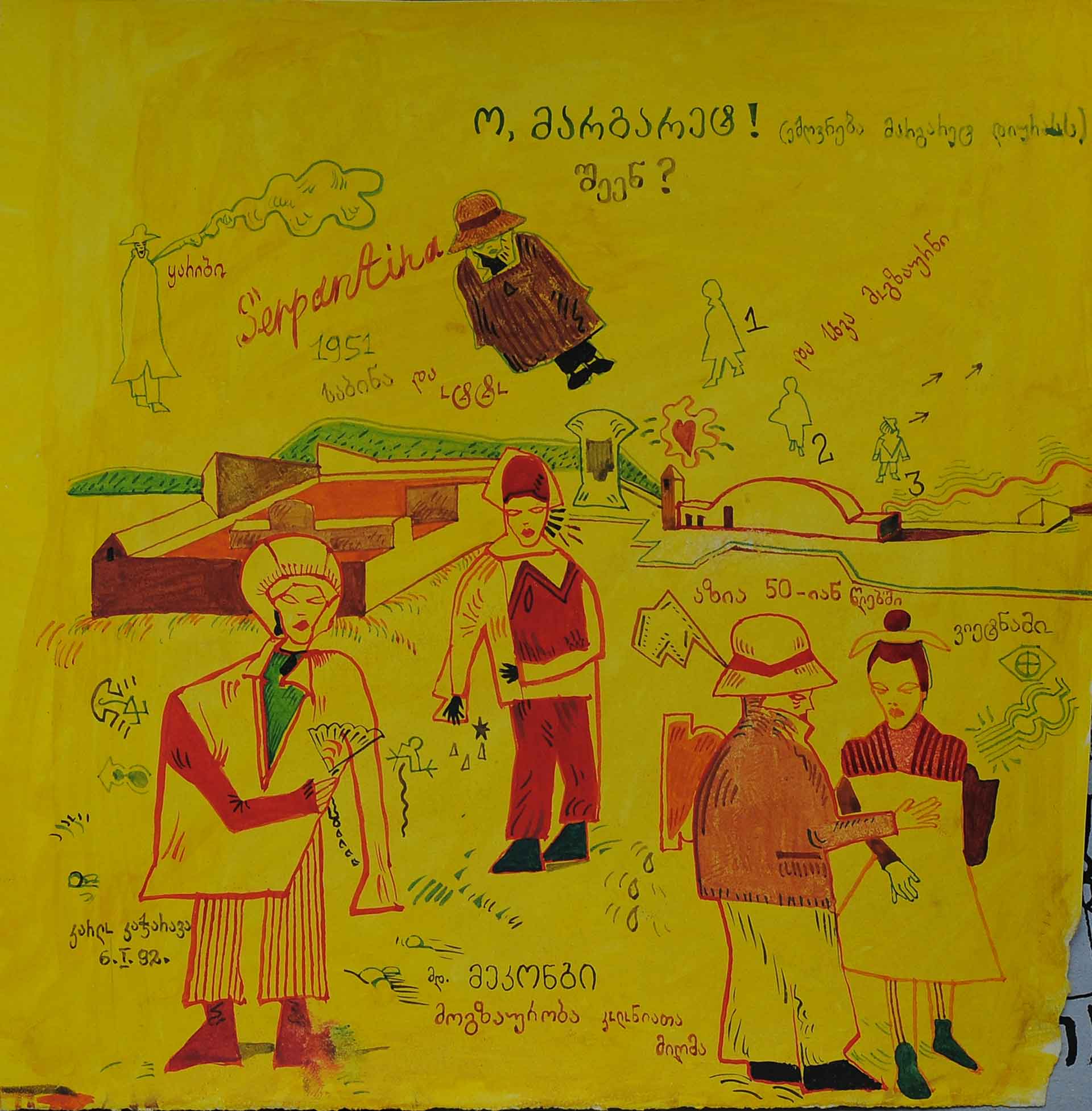 Karlo Kacharava. O Margaret. 22 x 23. Watercolor on paper. 1992
Even though Kacharava does not mention Duras among his list of Sentimental Travelers, the title could have been inspired by her novels, as well as by the nostalgia of his own travels to Cologne and Berlin.
__________________________________________
1. From his personal notebooks, we learn that the artist was reading Pyotr Kropotkin's Memoirs of a Revolutionist at the time. He made notes and translated Kropotkin's text into Georgian, quoting his own translation in the painting