"This film is a revelation, a moment of authentic cinema that fills the screen with flames,"- this is how Italian filmmaker Lucas Guadanino described "Beginning," the feature debut from Georgian director Dea Kulumbegashvili. Guadanino served as jury president at the San Sebastián International Film Festival in October 2020, where the film won almost all the main awards: Best Film, Best Director, Best Screenplay and Best Actress, making Kulumbegashvili the first filmmaker from Georgia to have won several major prizes at an A-List film festival.
Last spring the film was listed in the Official Selection for the 2020 Cannes Film Festival, but was not screened there due to the COVID-19 pandemic. It was later screened at 4-day special event there that autumn. "Beginning" was initially premiered at the Toronto International Film Festival in September 2020, where it won the FIPRESCI Prize. Following the triumph at San Sebastian, it was also awarded Best Film at the Trieste Film Festival in Italy, and Best Director at both the Singapore International Film Festival and the Auteur Film Festival in Serbia. "Beginning" was Georgia's official entry at the Oscars this year.
Dea Kulumbegashvili, 34, studied film directing at Columbia University School of the Arts, Film and Media Studies at The New School. Her debut short film "Invisible Spaces" was nominated for the Palme D'Or at the 2014 Cannes International Film Festival. After this she began working on the script of her first full length film.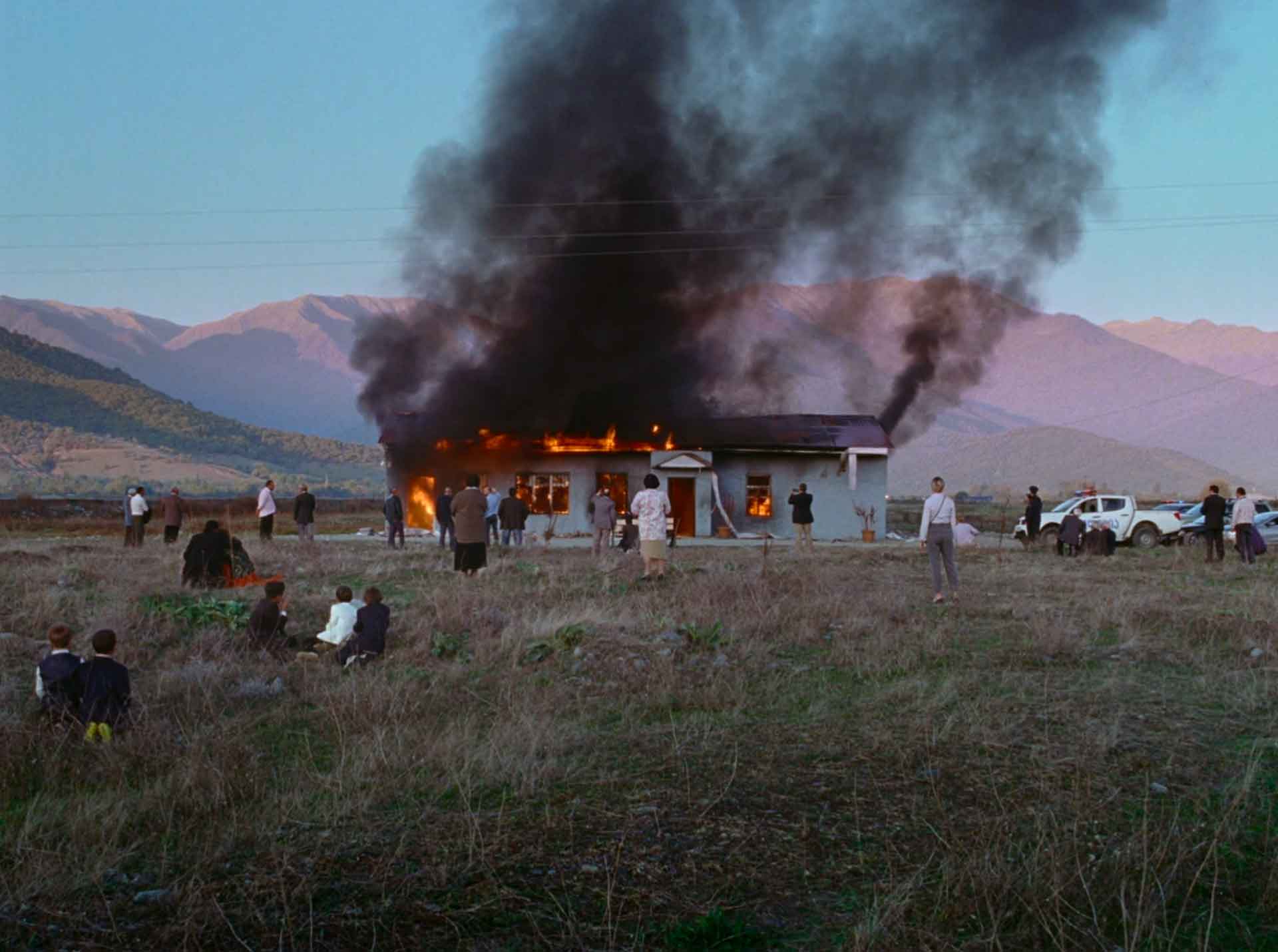 "Beginning" Film Still
"Beginning" is set in the small provincial town of Lagodekhi, and follows the lives of a Jehovah's Witness community that is attacked by an extremist group. In the midst of this conflict, the familiar world of Yana (Ia Sukhitashvili), the wife of the community's leader David (Rati Oneli), slowly crumbles. Yana's inner discontent grows as she struggles to make sense of her desires.
"One day she asks herself whether she is doing what she really wants: was it her choice and what has defined her life. The film reflects what it means to love another person, what it means to forgive," Kulumbegashvii says.
The director has been working on the project for 6 years. The idea came to her in the summer of 2014, when she returned to Georgia from the US and visited her father, who then lived in Kakheti - a region in the eastern part of the country. There she met relatives who had converted to the Jehovah's Witness faith. While speaking with them, she realized how their choice had made them outsiders in their own community:
"I was thinking about how your beliefs and personal decisions can change your place and position in the community where you grew up and consider as your home. I had the same questions about my own life, about alienation; what it means to travel far from your home and come back after some time. What kind of identity issues do you experience and where do you belong? This was probably the first drive to begin researching the topic."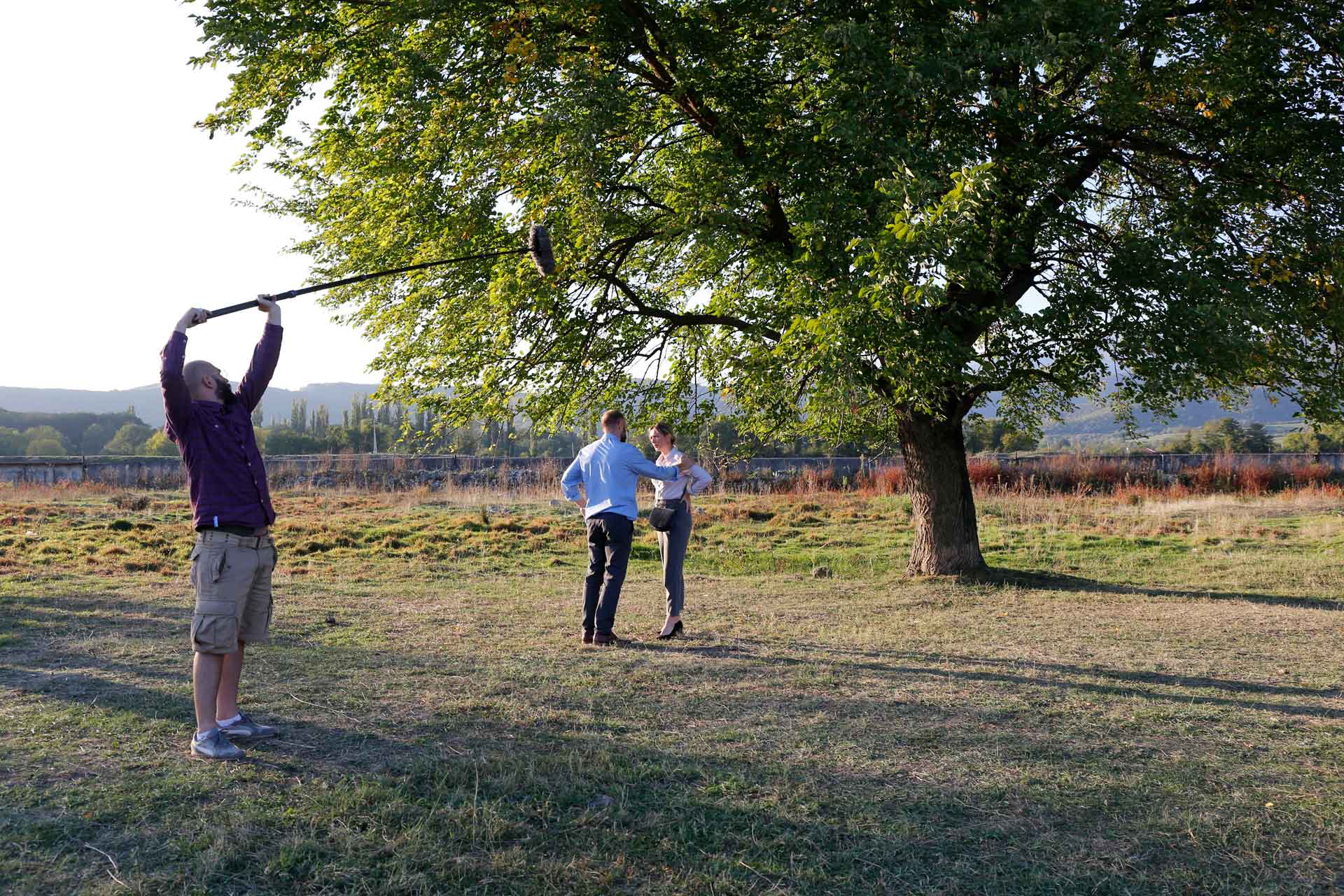 On the set of "Beginning"
She started writing and finished the first draft in 2015, but after that she had a long struggle getting support for the film in order to commence the actual filming. Kulubegashvili says the process of financing the film was "hell." It took years for her and her French producers to get funding, but in 2019 they finally began shooting after receiving private sponsorship and a grant from the Georgian National Film Center.
The film was shot in Lagodekhi (Kakheti region). The entire crew lived on location for two and a half months, with blurred lines between real life and the movie. As Ia Sukhitashvili recalls, they always used to rehearse with fellow actors on location, which helped them empathize with their characters and gain a better feeling of the story and atmosphere.
One of the executive producers of "Beginning" is Mexican Carlos Reygadas, master of contemporary art house cinema. He was not involved in the film from the beginning, but played a major role in post-production. As Dea says, they met in Switzerland, where she was doing her PhD in Philosophy and Reygadas was one of her tutors.
"We very soon found we had common interests and became friends. This was at the moment when I had already finished the script and was getting ready for filming," she recalls. After the shooting was completed, Reygadas invited her and the producers to come to his studio for post-production.
"It was at the height of the pandemic, and Carlos told me that if we wanted to come and stay in isolation at his studio, he would help us. It was a great offer; I don't know when or how I could have finished post-production without him. So we went to Mexico and stayed for 8 months in his mountain studio, far from urban areas. It was a very special time for me. I don't like being in Georgia while editing - the more distanced you are in this process, the better. So for me this remote mountain studio was an ideal place. "
The score for the film was composed by internationally acclaimed Chilean musician and club artist, Nicolás Jaar. He travelled to Georgia to visit the filming locations in order to gain a better insight of the concept and the ambience.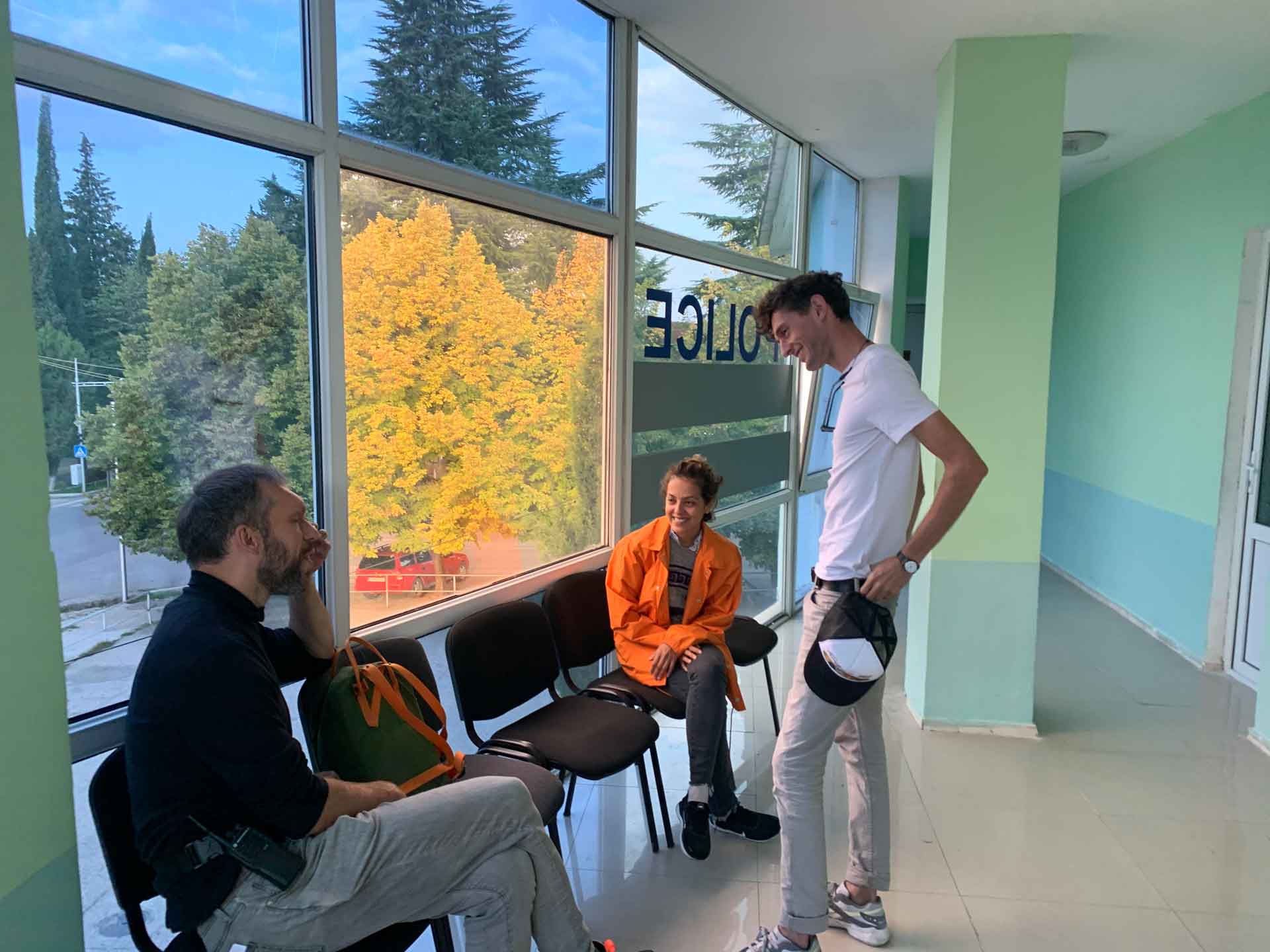 Dea Kulumbegashvili with cinematographer Arseni Khachaturan and gaffer
The cinematography is credited to Arseni Khachaturian – a young New York-based professional, with whom the director has also worked on previous projects. Kulumbegashvili says he's very easy-going and comfortable to work with, and beyond cinema they both share a great love of contemporary art.
"We like to wander around NYC and other places visiting galleries and art events. For me personally, I find sound installations, visual art and new media art very interesting and inspirational. I always try to integrate other media in my films. When I look at an image, I see the space beyond. Fascinating visual experiences are very important when I'm making a film."
Kulumbegashvili currently lives in Georgia, and she's looking forward to the cinemas being reopened. Her film hasn't yet been screened in Georgia, but the levels of interest and expectation here are unsurprisingly rather high.