The Monastery of St. Nino at Bodbe is located in Kakheti region, 2 km from the town of Sighnaghi. The history of the site goes back to the early Christian period. According to Georgian tradition, Bodbe is the burial place of St Nino, the Enlightener of Georgia. Her grave is believed to be situated in a small chapel south of the sanctuary. Apparently, the first church above the tomb of St Nino was constructed as far back as the 340s by King Mirian. It has not survived.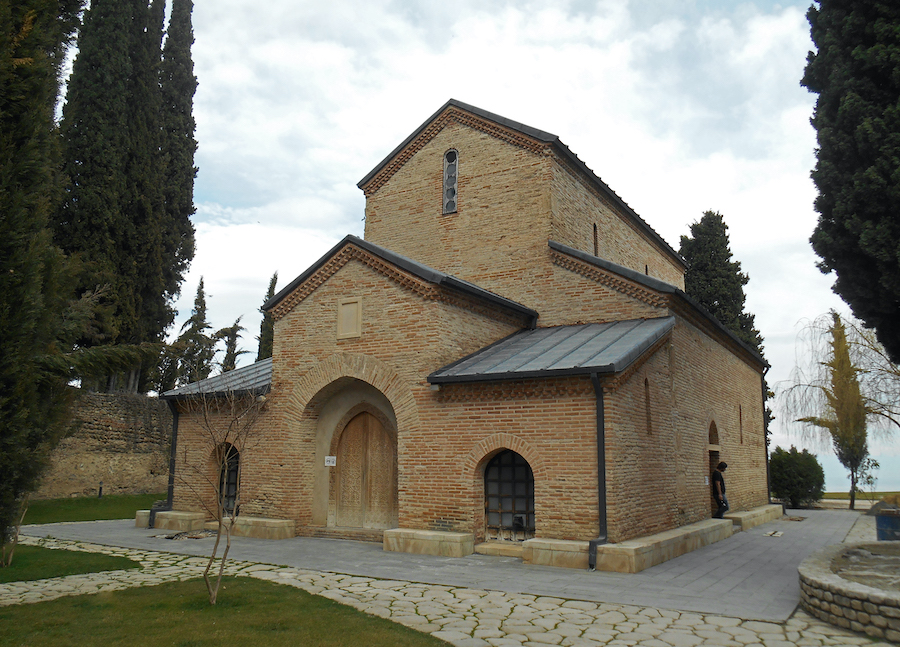 Bodbe Church from the south-west
The present church was built in the ninth century and rebuilt during the reign of King Demetre I (1125-1156). It is a short basilica with one pair of T-shaped piers. To the west, the church has a narthex. On both sides of the sanctuary, there are small apsed chapels. All three apses protrude from the eastern facade. The church is built of brick. Its façades are smooth, without any adornment.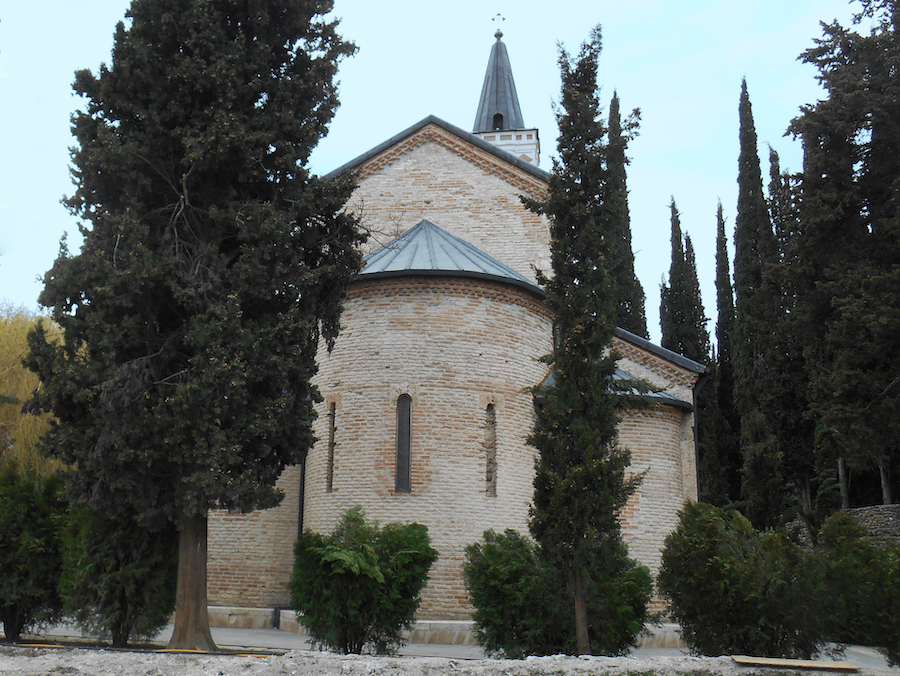 Eastern facade
Over the following centuries, the church underwent several renovations. In the fourteenth century, the western facade was embellished with a colorful decoration made of glazed bricks (which was removed in the 1980s). The building was restored after being ravaged by the troops of Shah Abbas I of Persia in 1615, and an additional low wall was built onto its facades to ensure its stability (this was removed in 2004).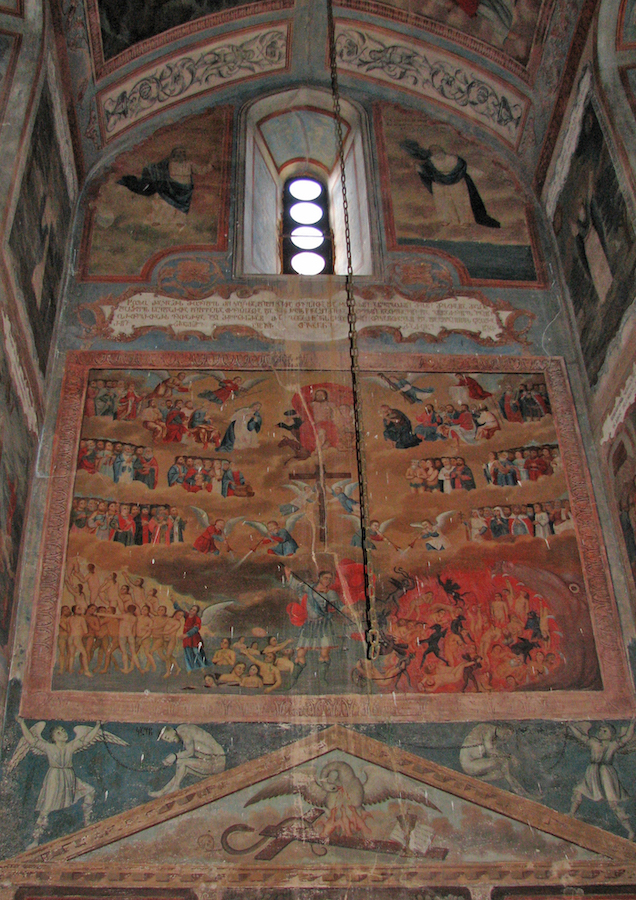 Wall painting in the interior
The last significant renovation was carried out by local bishop Ioanne Maqashvili in 1823. The mural painting of the church also dates from that period. It includes scenes from the Old and New Testaments and images of saints, among which the thirteen Assyrian Fathers are portrayed. The murals in the south-eastern chapel that contains the tomb of St Nino are dedicated to scenes from her life.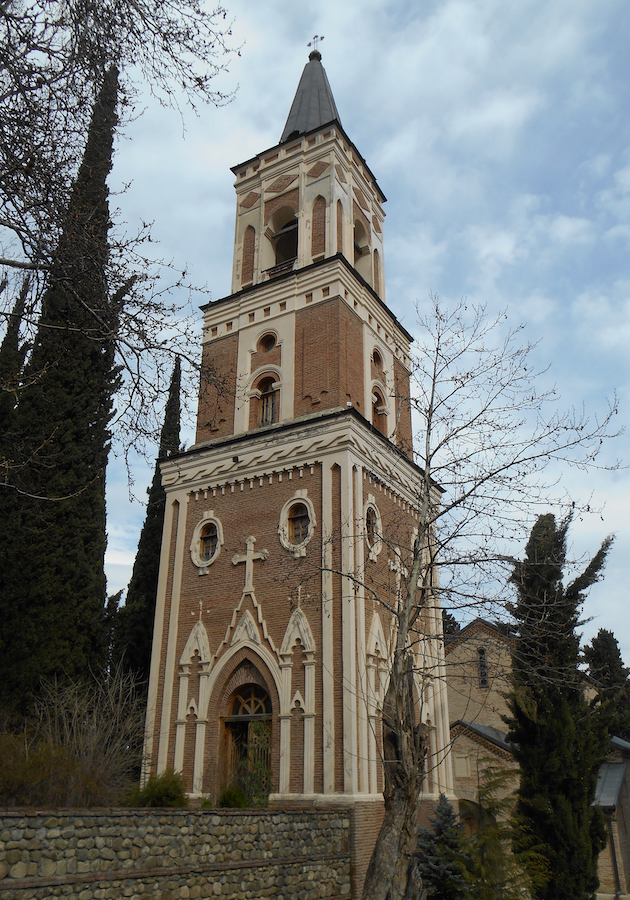 Bell-tower
The tall three-storey bell-tower that stands to the west of the church was built between 1862 and 1885. Its architecture is a blend of Gothic Revival and Neoclassical styles.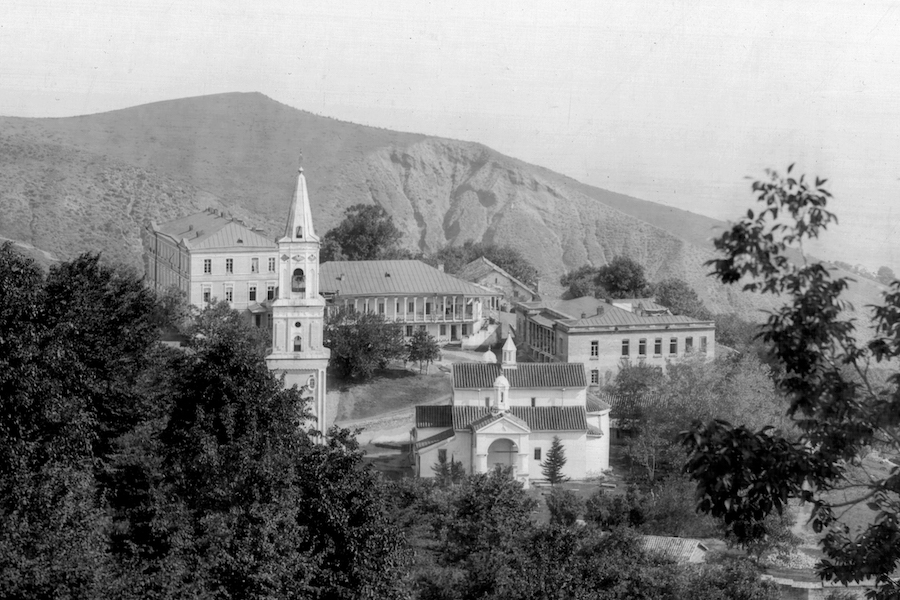 Bodbe Monastery in the 1890s
In the Middle Ages, Bodbe was an episcopal see and a rich monastery possessing vast areas of land. It also served as a centre of knowledge and education. The see was abolished in 1837 by Russian church authorities, but was restored in 1925. At present, Bodbe is a nunnery. Owing to its historical importance, the site attracts many pilgrims from Georgia and beyond.