Gia Gugushvili (გია გუგუშვილი) is a painter and graphic artist, born in 1952 in Tbilisi. He graduated from the Tbilisi State Academy of Arts in 1977. From 1980 to 1988, he headed the Department of Fine Arts at Tbilisi Artist's House. Between 1986 and 1996 he served as secretary of the Council of the Georgian Artists Union, and as director of "Georgian Stamp" (Georgian Post) from 2000 to 2004.. He has been a professor at the Tbilisi State Academy of Arts since 2004. He has held the posts of Vice-principal of the Tbilisi State Academy of Arts from 2004 to 2006, Dean of the Faculty of Fine Arts from 2006 to 2009, and Principal of the Tbilisi State Academy of Arts since 2014. He has won several awards and prizes, including the State Prize in 1994. He was also the winner of the Dubai Art Symposium in 2007, the Osaka International Symposium in 1987, and the Bulgarian International Symposium in 1986. His other works are housed in the National Museum of Georgia (Tbilisi), the Adjara Art Museum (Batumi), the State Museum of Oriental Art (Moscow), the Christoph Merian Foundation (Basel), and the Norton Dodge Museum (Philadelphia), as well as in other galleries and private collections both in Georgia and overseas.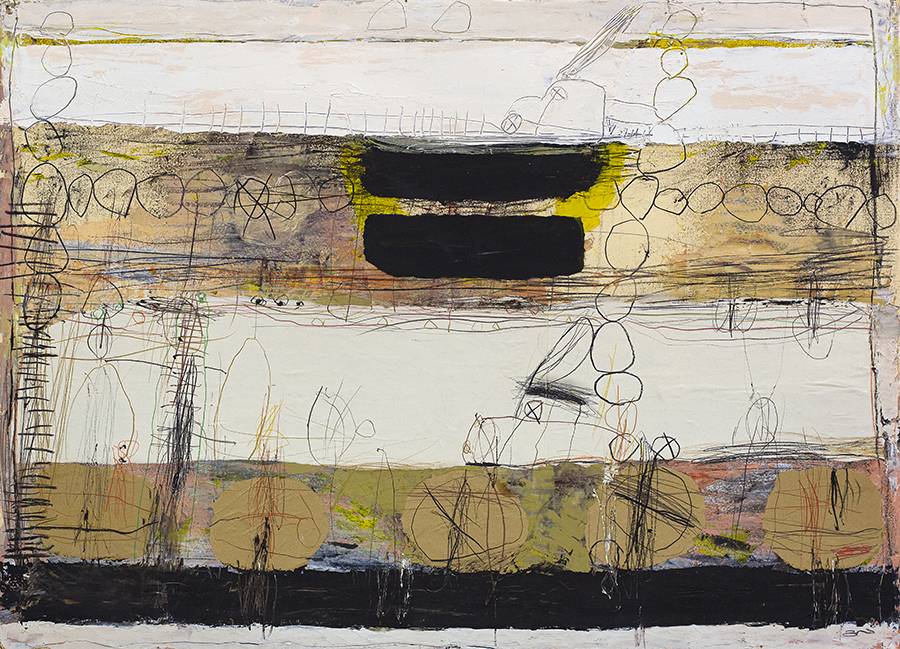 Gia Gugushvili. Station. 77 x107. Cardboard, mixed media (oil, acrylic). 2019. Photo by Gia Chkhatarashvili.
Gia Gugushvili participated in unofficial group exhibitions in Tbilisi at the beginning of the 1980s (1983), and his works have been shown in Georgia, Russia (1982), and the Baltic States (1984), as well as in Japan (1987), Germany (1989), France (1990), the United States (1990), and many other countries since the end of the 1980s. Gia Gugushvili is one of the so-called "artists of the 1980s" who brought about an important turning point in the development of modern Georgian art, significantly determining its future. He represents a generation of artists who began to develop their individual artistic concepts toward the end of the 1970s. Gia Gugushvili is an independent artist who has been consistently evolving his creative output for the past 40 years.
Gia Gugushvili's works embrace those primary characteristics of abstract and subjectless painting that distinguished Western (European and American) painting of the second half of the twentieth century. Some features that were to become distinctive of the artist's work in subsequent years are already visible on the artist's early canvases, where a highly generalized figure is the ideological center of both composition and image. This is an exceptional abstracted background environment performance, both in terms of color palette and the treatment of surface texture. His pictures of this period are distinguished by the clear relationship between colors and shapes, transparency, lyricism and aestheticization.
The majority of the artist's paintings from the last 30 years are large-format abstract canvases, which attract the viewer's eye with their mixed and matched spectrum of colors and expressiveness. The surfaces of the canvases and cardboard grounds are animated with rich, roughly scratched, or on the contrary, delicately filigreed textures.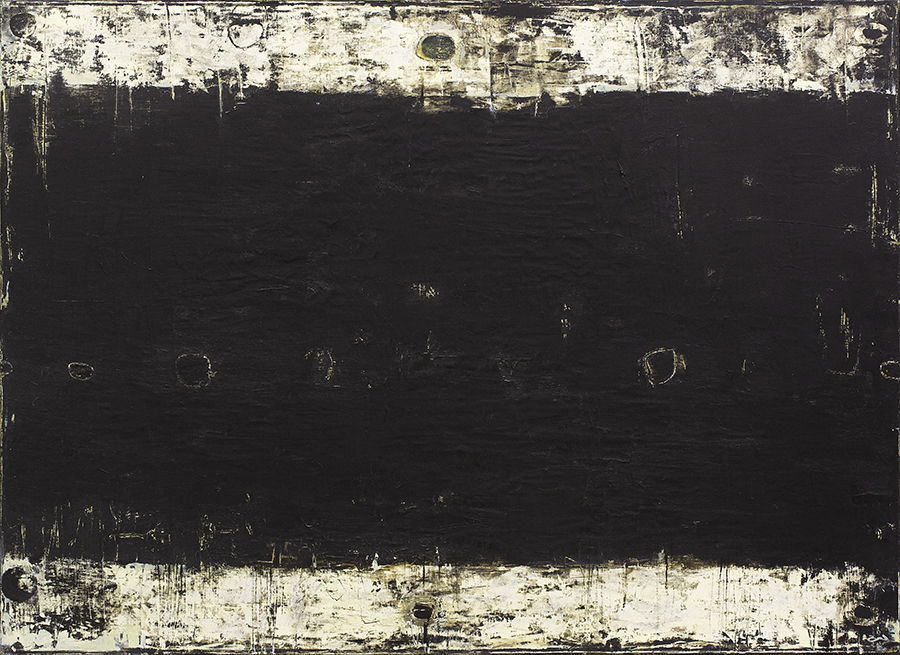 Gia Gugushvili. From the series of Phases of the Moon. 85 x 120. Canvas, oil. 2019. Photo by Gia Chkhatarashvili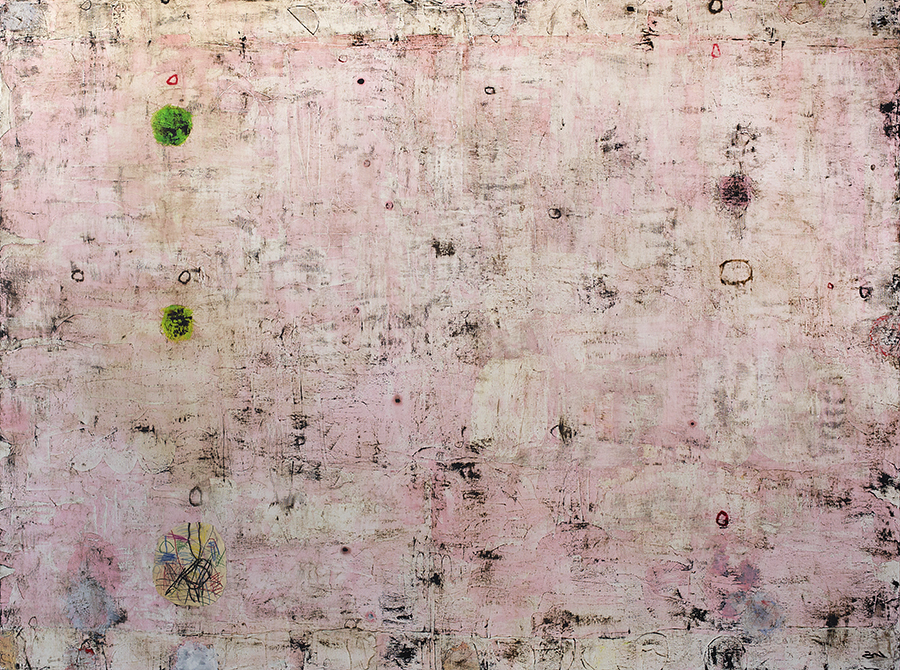 Gia Gugushvili. Simple Text. 120x160. Canvas, oil. 2021. Photo by Gia Chkhatarashvili.
The extremely conventional images that are presented in some of his paintings remind us of a child's drawing of graffiti. The artist persists with his experiment, as if he wishes to depict the primary, raw, unprocessed state of painting. The figures are distinguished by elements characteristic of a child's drawing – the exaggeration of forms, grotesqueness, and irrationality. The themes and plots of the compositions are always generalized and abstract. In the images that are painted with expressive, thick and strong brush strokes, and often directly scratched with a palette knife, one can recognize musicians – mostly with wind instruments in their hands. In certain places, there may be a horse-drawn cart with large wheels that is hurrying away somewhere, a sunken ship, a car, or an airplane. In Gia Gugushvili's compositions, an object or a figure is so conventional that it may only be perceived as an allusion. It might be a familiar household item, or a geometric figure that bears a symbolic load – for instance, a wheel, a circle, small crosses or luminous objects.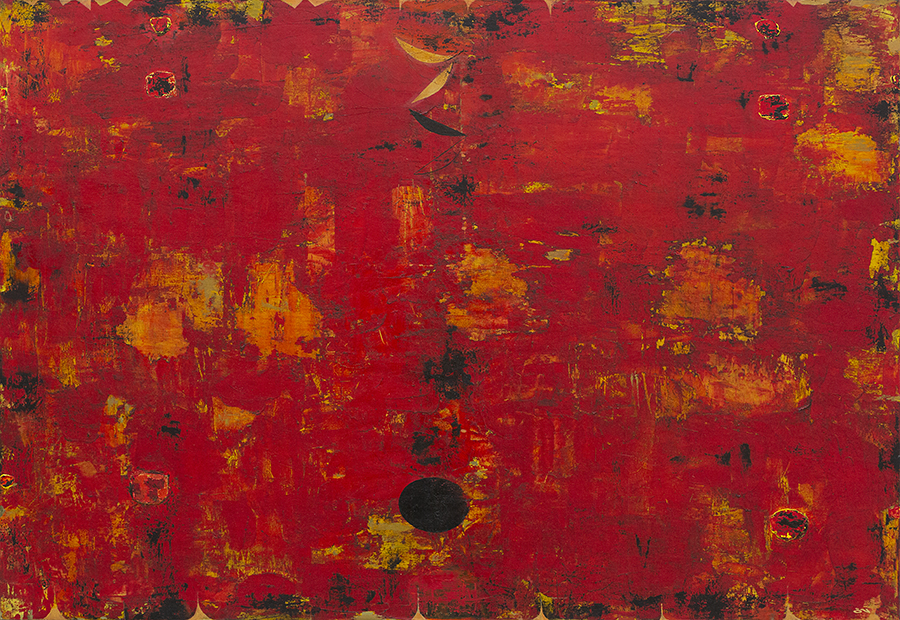 Gia Gugushvili. Moon Phase. 90 x130. Canvas, oil. 2020. Photo by Gia Chkhatarashvili

In more recent years, the works of Gia Gugushvili are also characterized by abstract images, where there is no longer any reminiscence of a subject. These are horizontally-stretched canvases, from which, as a result of the interaction between colors and abstract shapes, colorful fields of energy seem to be generated, which in places flow out of the pictorial surface or, on the contrary, draw viewers into their depths. There is no dimension of time; everything seems to be in a mode of eternity that is engendered by colors and shapes. This is meditative artwork that requires careful observation from the viewers. There seems to be a touch of mystery in Gia Gugushvili's paintings, as though he does not fully reveal his intention, but rather pushes spectators to reflect and imagine.