The Church of the Savior of Mghvimevi, which dates from the 1270s, stands on a steep cliff face high above the road in a suburb of the city of Chiatura in Imereti. It is built in front of a natural cave, and is partly sheltered by a large overhanging steep ledge of rock (the name of the place derives from Mghvime, which means cave in Georgian). The site was artificially widened by means of a high platform built up against the rock.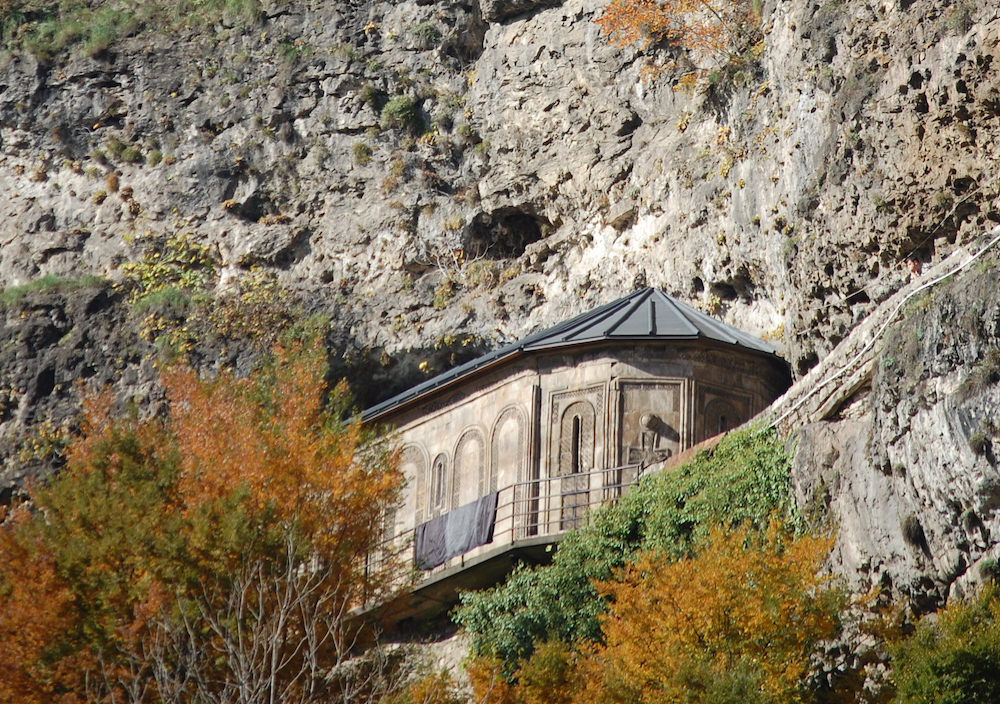 Mghvimevi Church viewed from the south-east
Its unusual location on the narrow shelf of rock greatly influenced the layout of the church. It is a basilica, but consists only of the nave and north aisle. The south aisle is missing, since there was not enough space for it on the platform. The nave and the aisle are covered with a single gable roof. Both have projecting apses on their eastern sides. The façades of the church are faced with smoothly-hewn yellowish limestone blocks, and are richly adorned with various carved ornaments.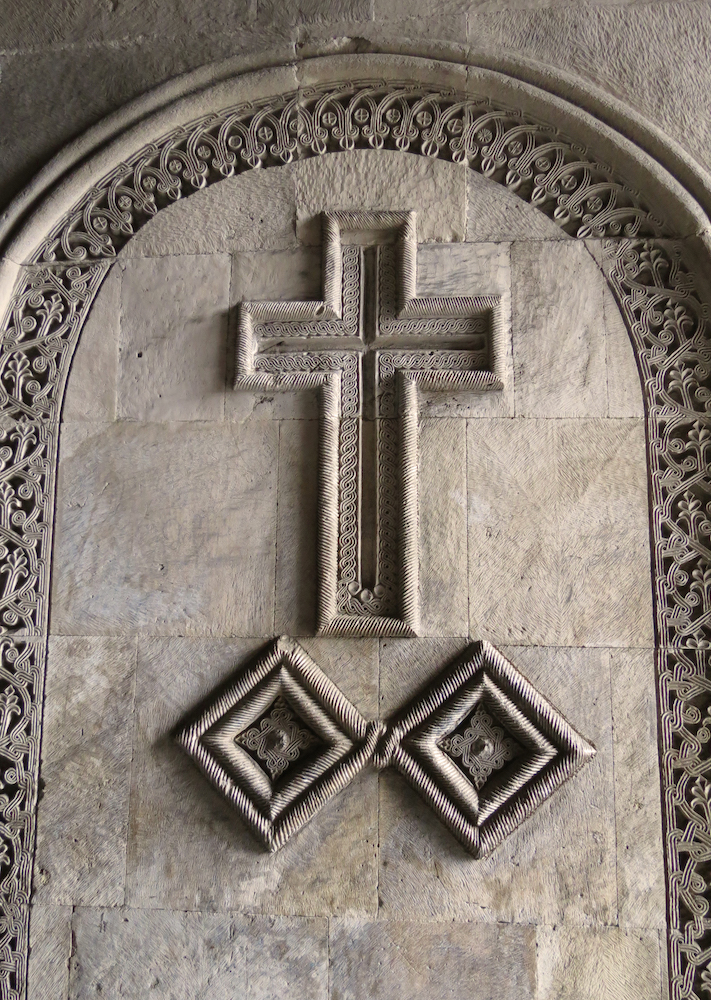 Stone-carved decoration on the south façade of the church
The church is notable for the use of artistic methods and motifs of Georgian architecture from earlier times. The base of the column is richly decorated with various ornaments, which is unusual for the thirteenth century, resembling more the interiors of churches dating from the late tenth century. The decoration featuring the ornamental cross above and two skewed squares below, which can be seen on the south façade and the side facets of the apse, is reminiscent of the famous design of the Samtavisi Cathedral that was built in 1030.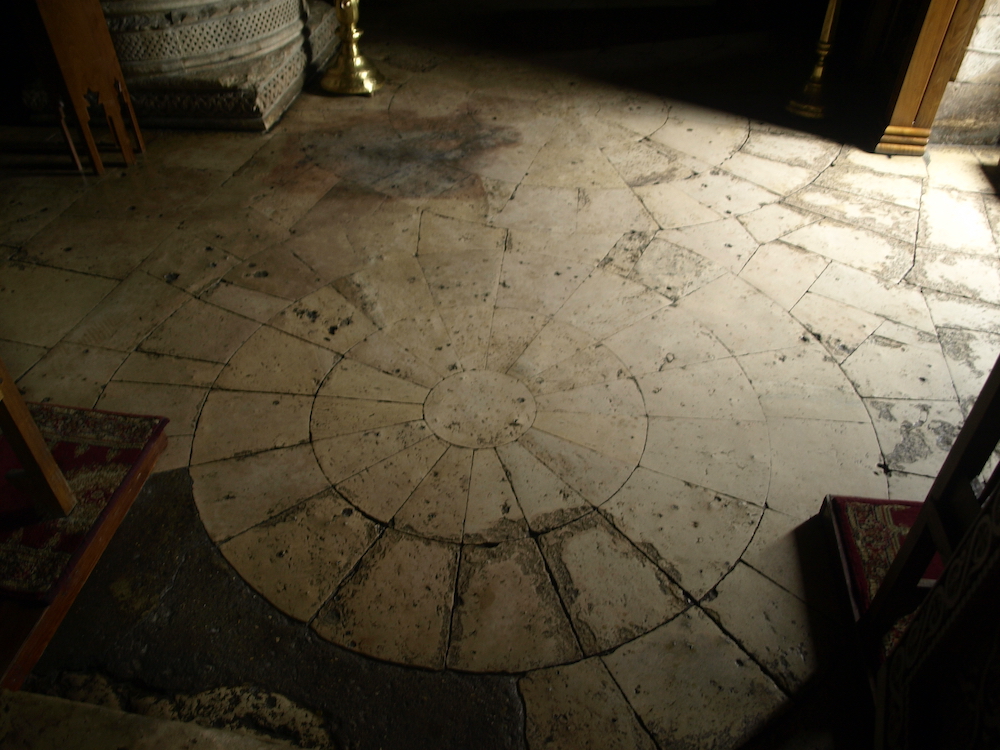 Floor paving stones in the nave
In the interior of the church, the old floor made of paving stones laid out in a radial pattern has been preserved. The interior walls were painted soon after completion of the church construction and repainted in the sixteenth century. The original 13th century murals preserved in the north aisle feature images of donors from the Kakhaberidze family – the Dukes of Racha. The exquisitely carved wooden door of the church is today housed in the National Museum of Georgia, together with a collection of icons that were once kept at the church.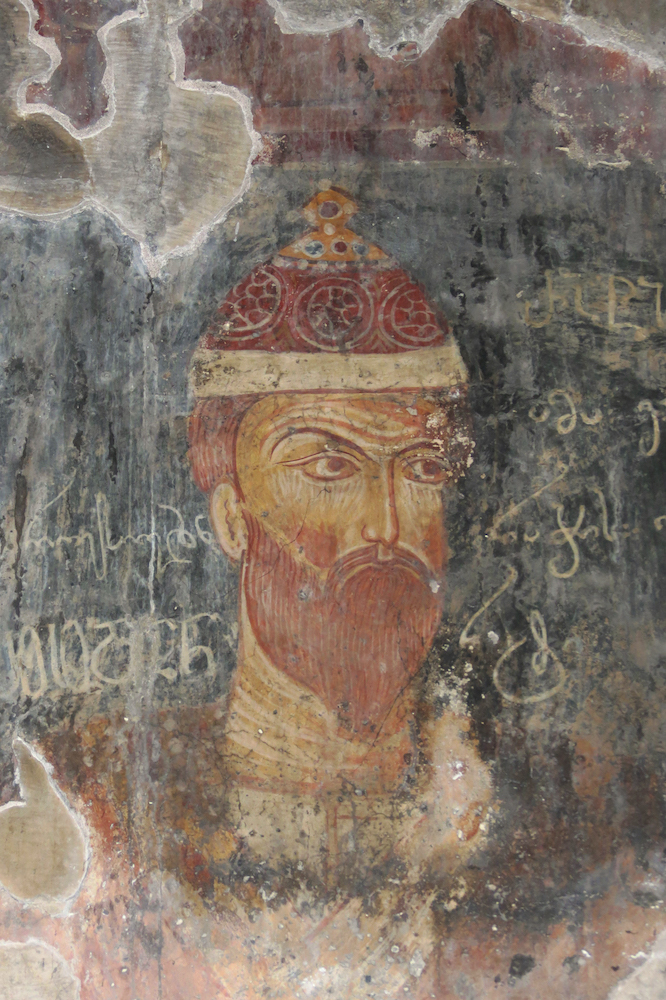 Portrait of a donor in the north aisle
To the west of the church, a small chapel is nestled in the concavity of the rock, which serves as its western wall and roof. The wall paintings on the north façade of the chapel are a rare example of exterior murals in Georgia. To the east, there is a bell tower and several monastic buildings.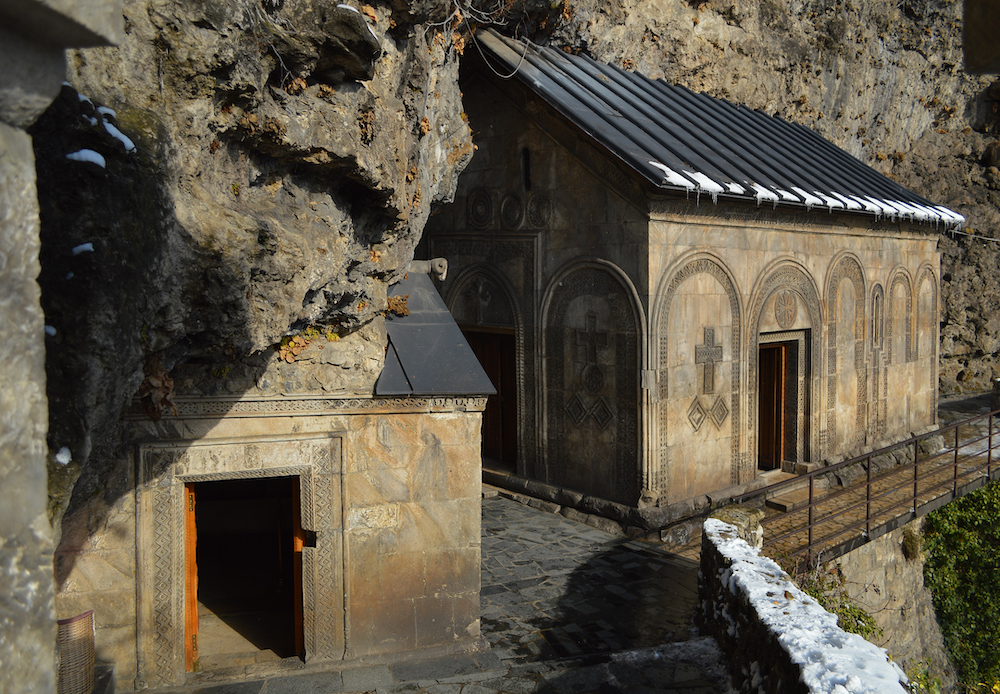 The chapel (left) and the church (right) viewed from the south-west
From the Middle Ages until the nineteenth century, Mghvimevi functioned as a monastery. Although it was closed during the Soviet period, it once more became functional in the 1990s, and since that time has housed a nunnery.