The Kintsvisi monastery is located in Kartli region, in the Dzama River Valley. St. Nicholas church, a cross-dome brick construction, was commissioned by Antoni Glonistavisdze, Archbishop of Tshkondidi and Mtsignobartukhutsesi (the chancellor) of Queen Tamar, in the early 13th c. in the most brilliant epoch of the Georgian statehood and culture, in the reign of Queen Tamar (late 12th - early 13th cc.).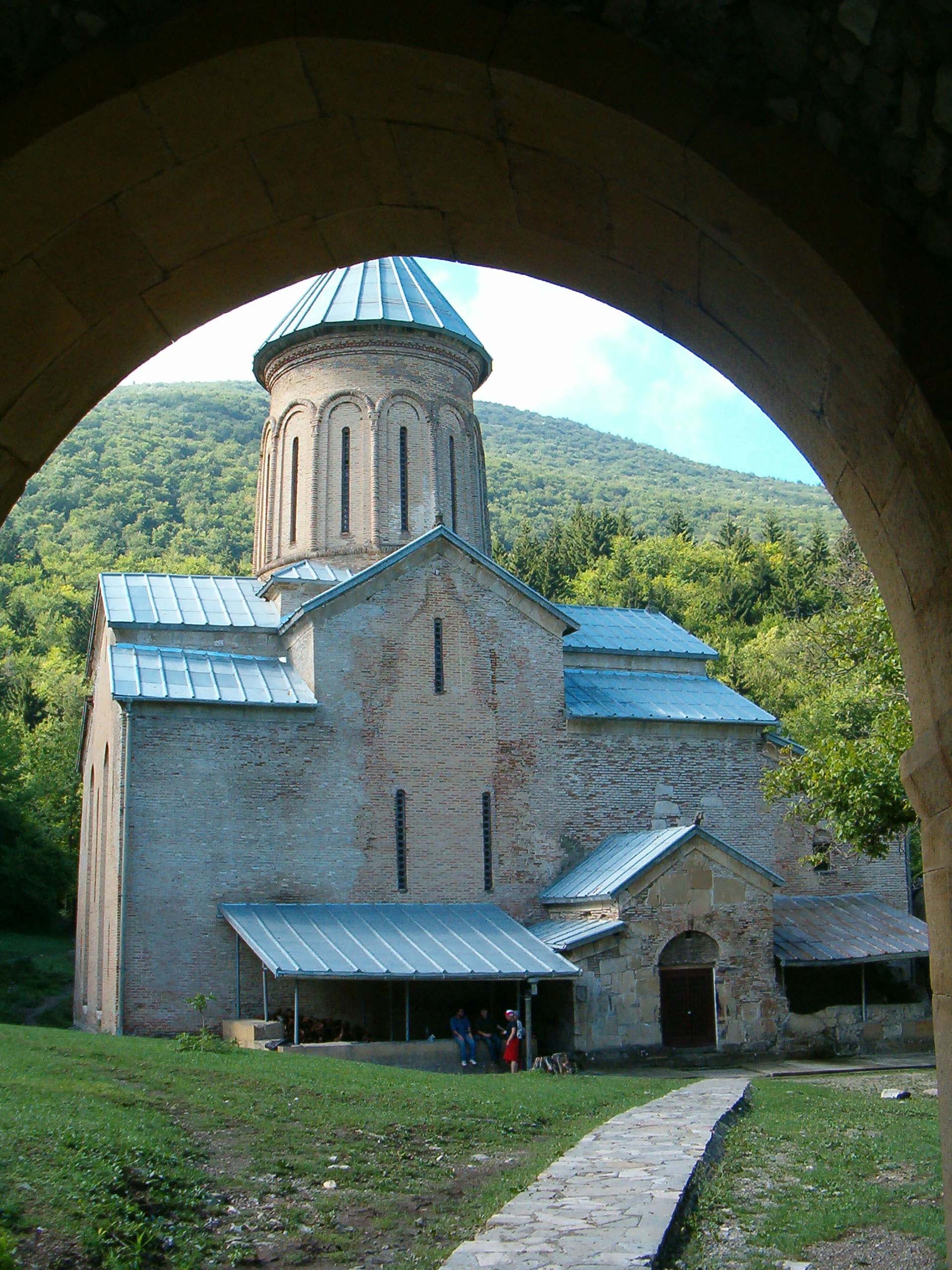 Kintsvissi monastery, St Nicholas church, early 13th c.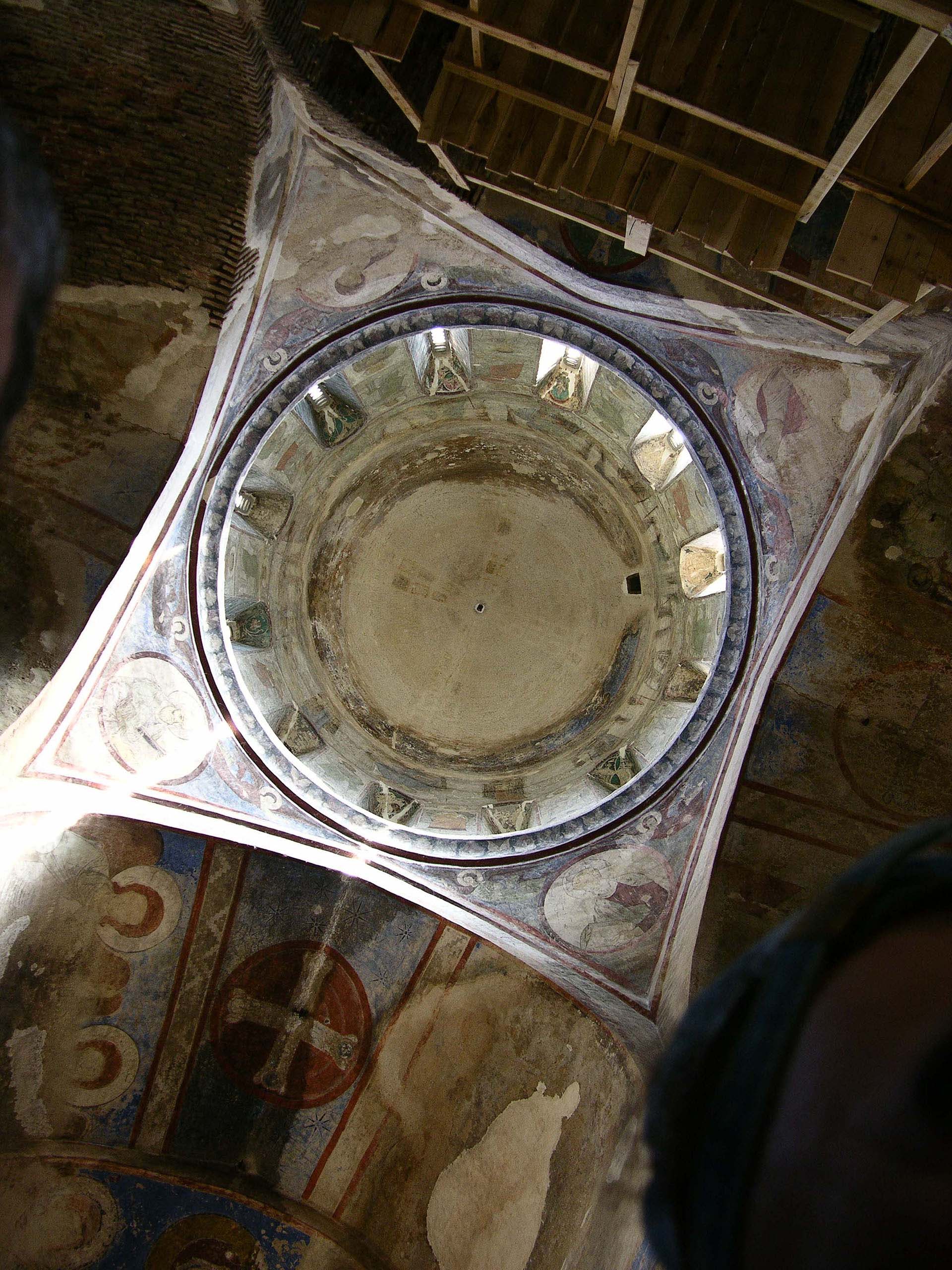 St. Nicholas church, view towards the dome, ca. 1207
The wall painting has preserved the portrait of Queen Tamar with her father, King Giorgi III and her son, Giorgi Lasha,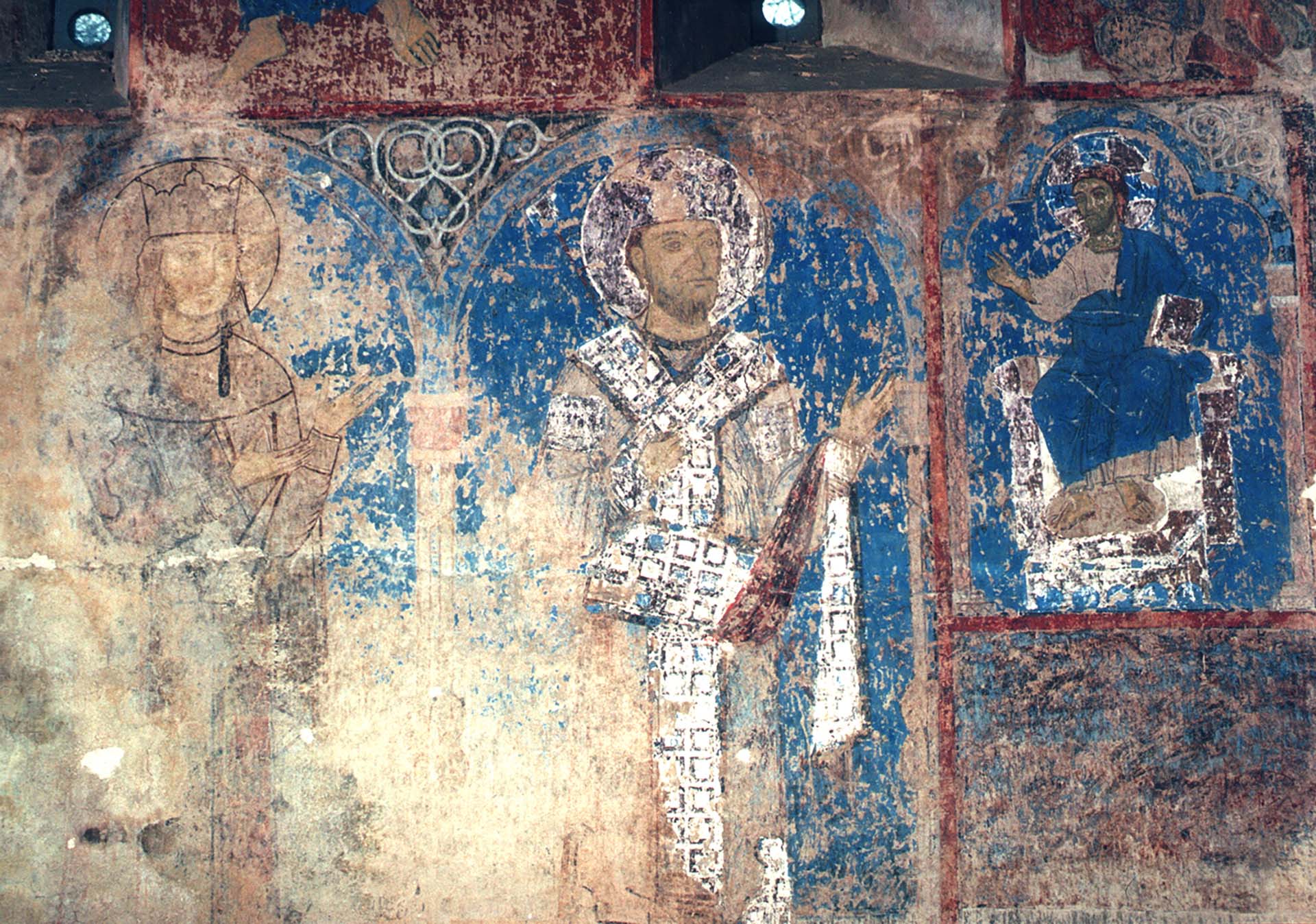 St Nicholas church, Queen Tamar and King Giorgi III. ca. 1207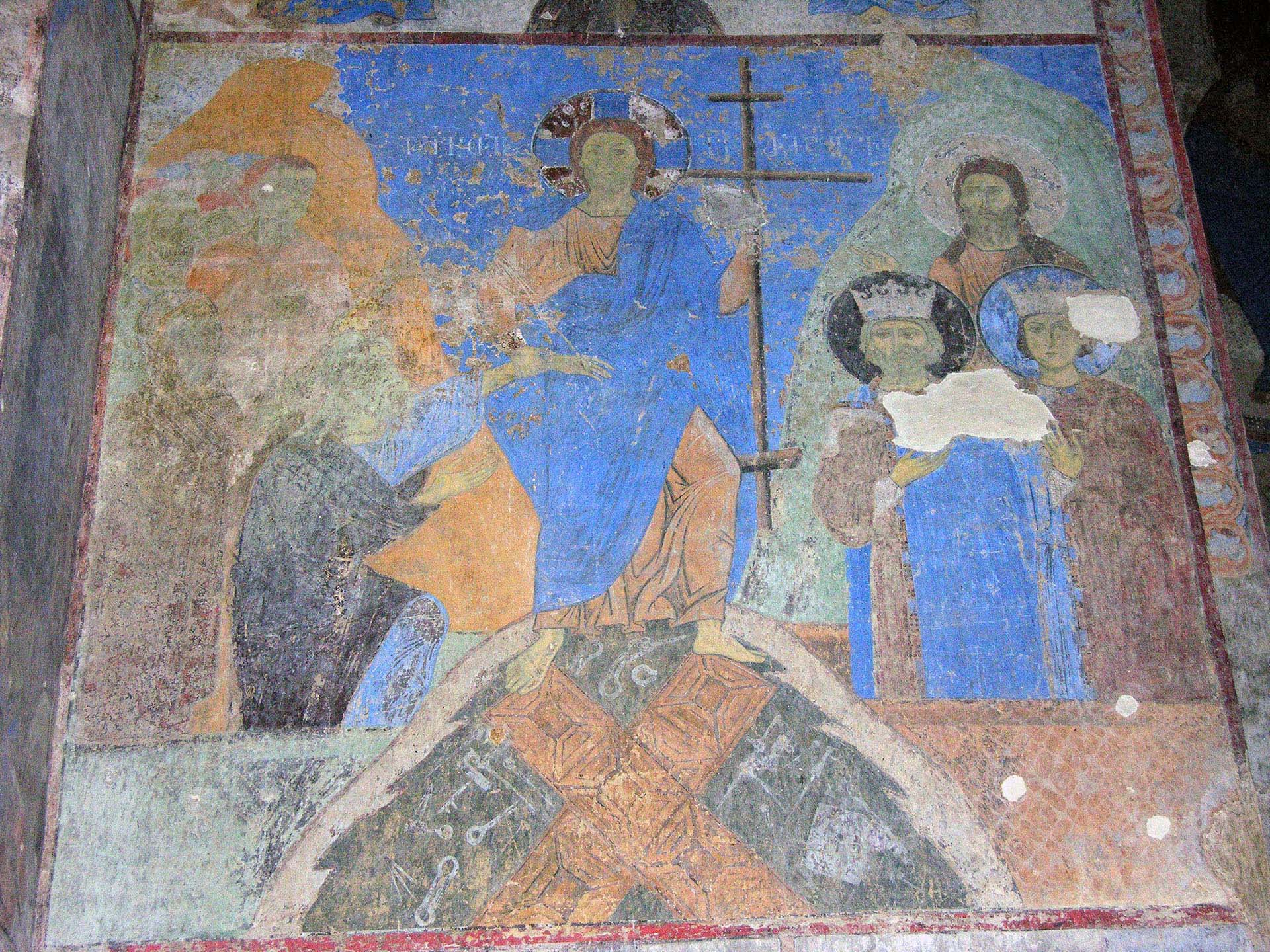 St. Nicholas church, Anastasis,. ca. 1207

The theological programme of the paintings is based on Christian dogmas of the Resurrection and Redemption and has distinctly pronounced anti-heretical content.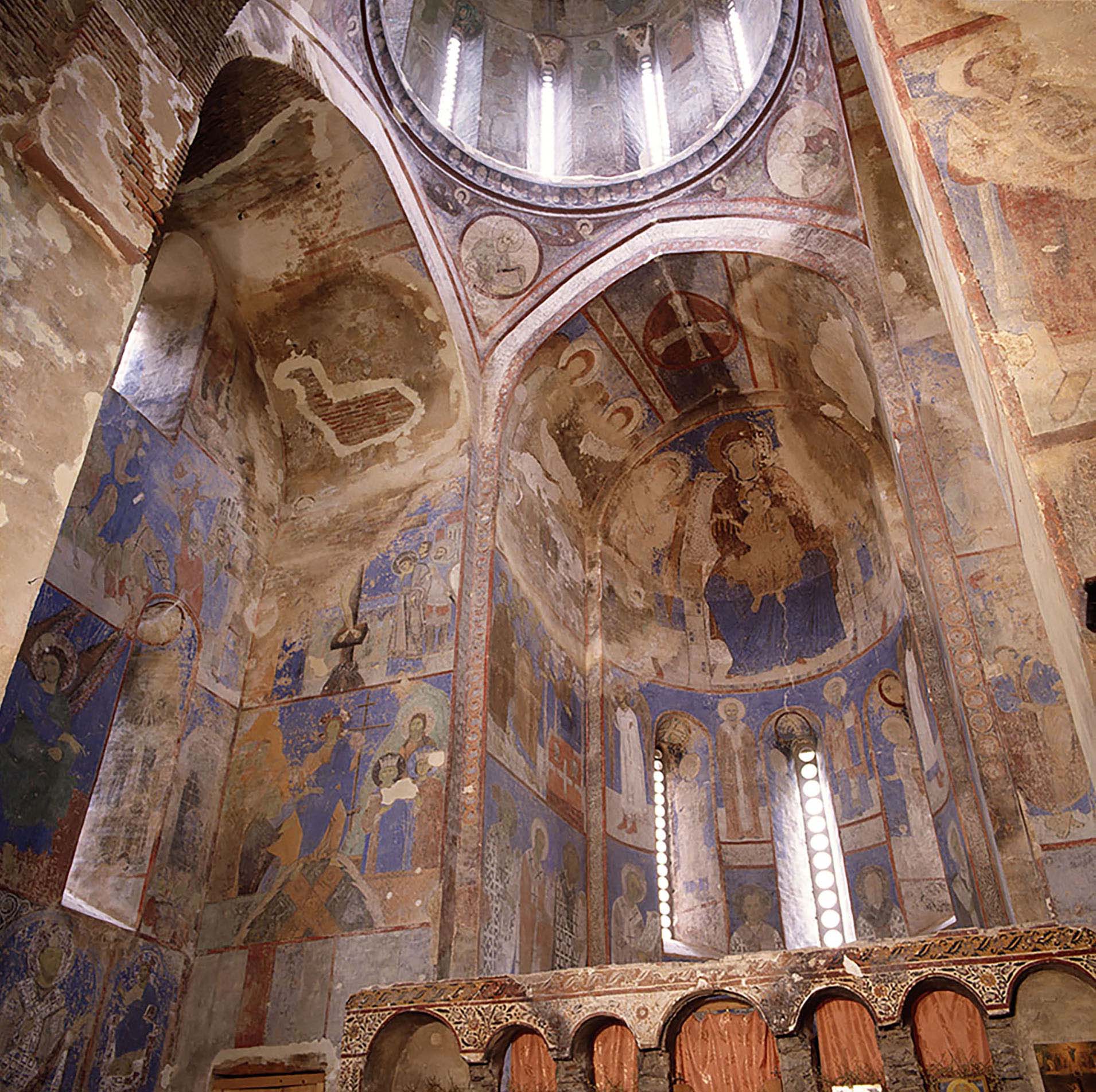 St Nicholas church, interior, ca. 1207

A large cross decorated with pearls and jewels is depicted in the dome. The Cross is surrounded by nine figures of Archangels and the representation of the Deesis - The conch of the altar apse contains the image of the Enthroned Virgin with the Holy Child on her knees, " on the walls of the apse and presbytery, there is long row of the figures of the Fathers of the Church, including St Nicholas, the patron saint of the church. and St Sylvester, Pope of Rome. as well as the composition of the the Communion of Apostles.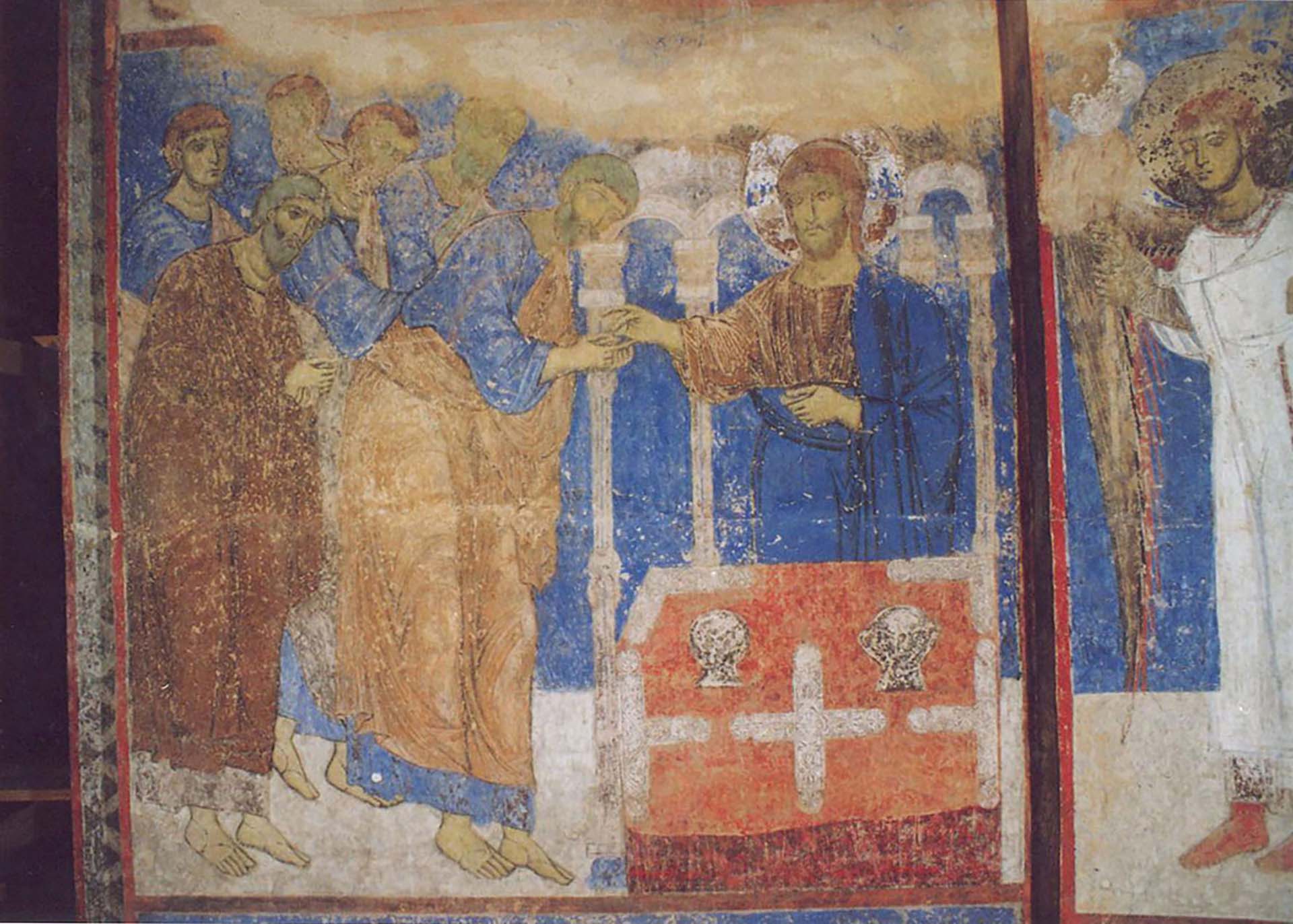 St. Nicholas church, Communion of the Apostles, . ca. 1207

The south, north and west cross-arms in the main space of the church contain the cycles of the lives of Christ, of the Virgin and of St Nicholas. The unique character of the programme is also determined by several rare images (the Tree of Jesse, the Three Youths in the Furnace), that are closely related to the anti-heretical spirit of that period. These are also the figures of the Georgian Saints, namely those of St. Nino, Illuminatrix of Georgia (4th c) and the four Saint Syrian Fathers, founders of the ascetic monasticism in the 6th c. Georgia.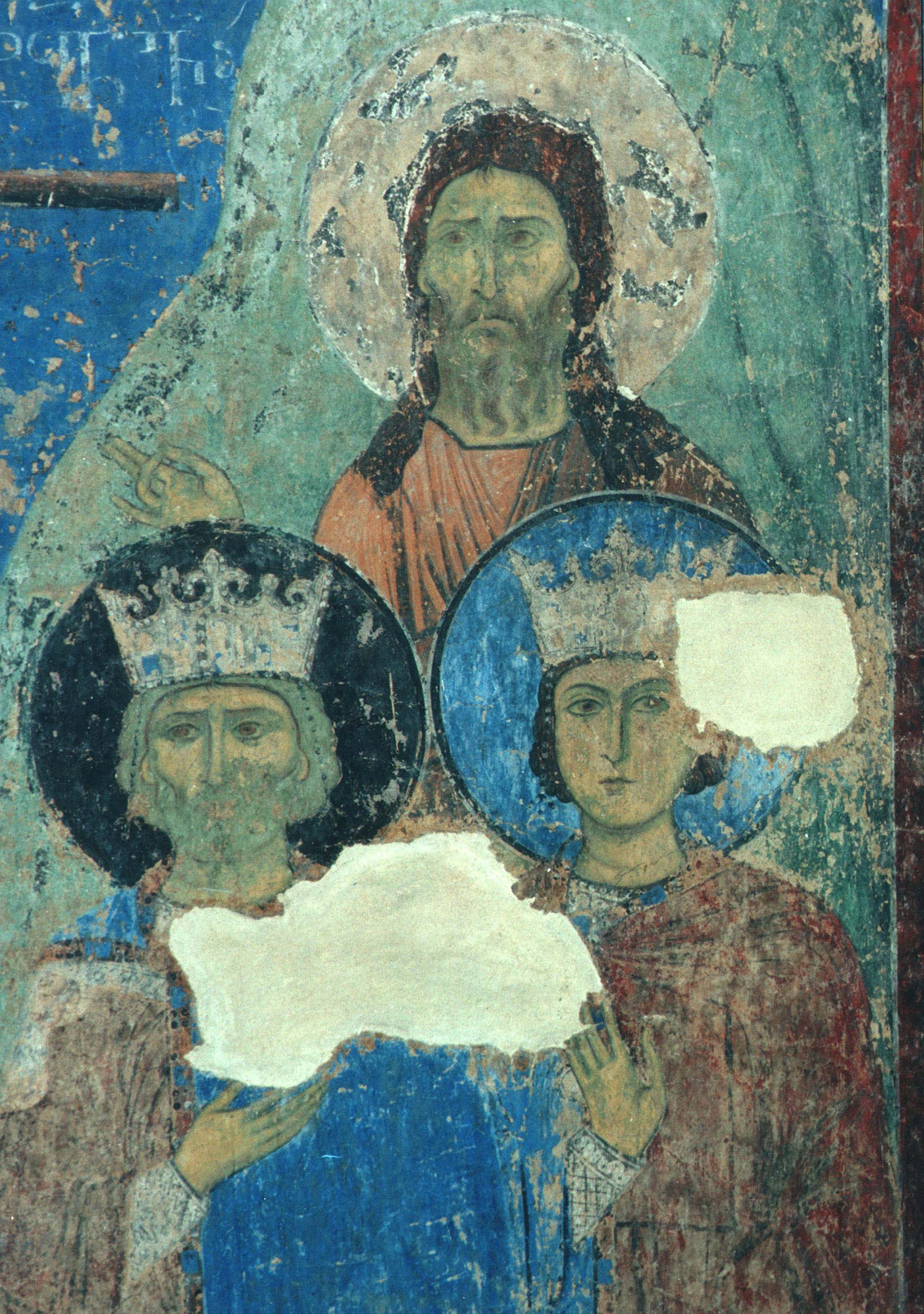 St. Nicholas church, Anastasis, St John the Baptist, St. Prophet David, St. Prophet Solomon. ca. 1207
Most of the images have preserved the Georgian inscriptions made in the old Georgian script "Asomtavruli". The vaults, arches, and windows are adorned with the images of the Crux florida set in medallions.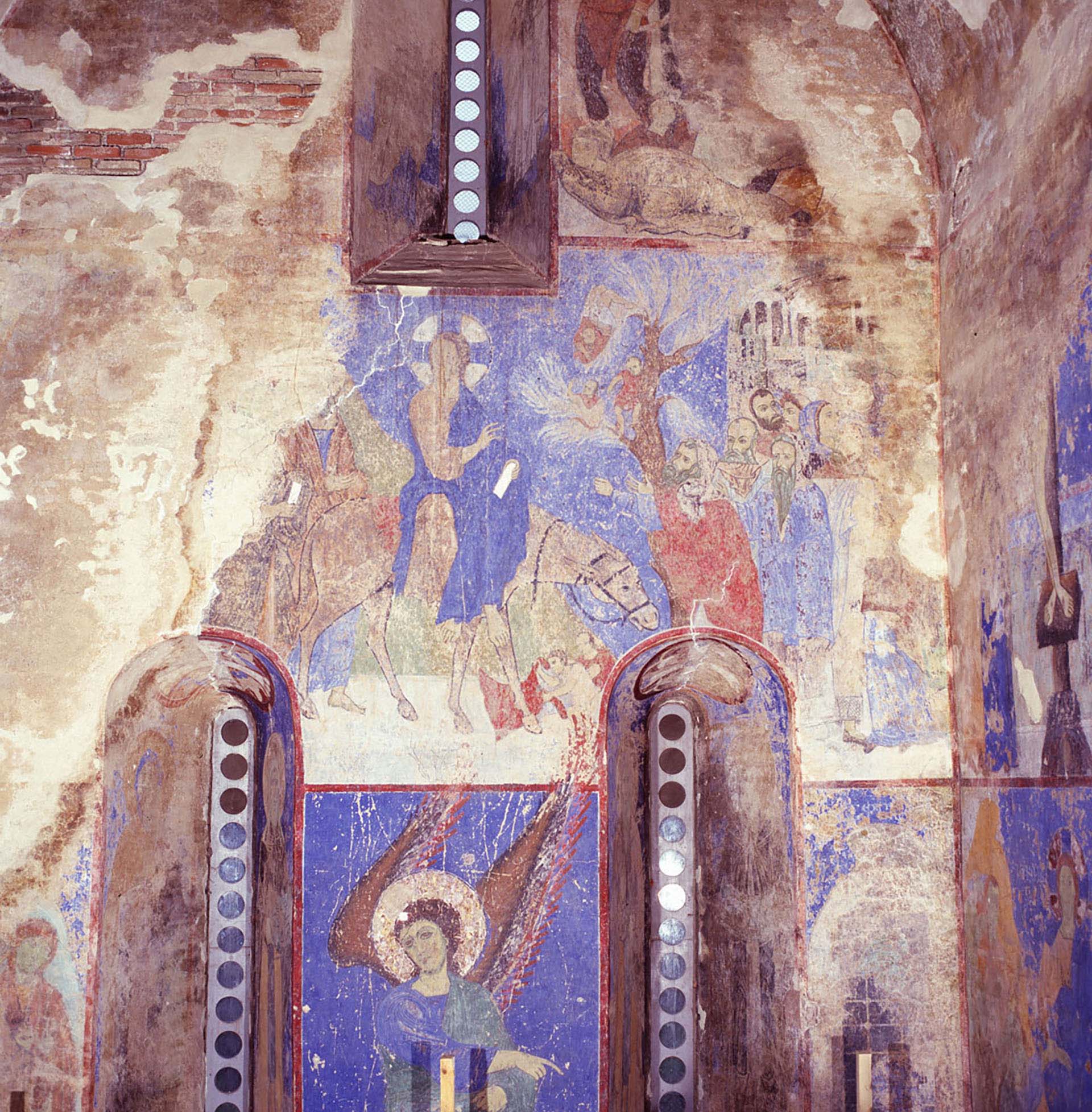 St. Niccolas church, painting of the north wall, ca. 1207

The early 13th c. wall painting of the St. Nicholas church is one of the most outstanding works of the medieval Georgian art, both for its high artistic value and historical significance The painting is especially famous for its unique coloring based on the lavishly applied deep blue lapis lazuli in connection with rich green and shining white with small but expressive insets of cinnabar red. The combination of colours is determined by their symbolic meaning,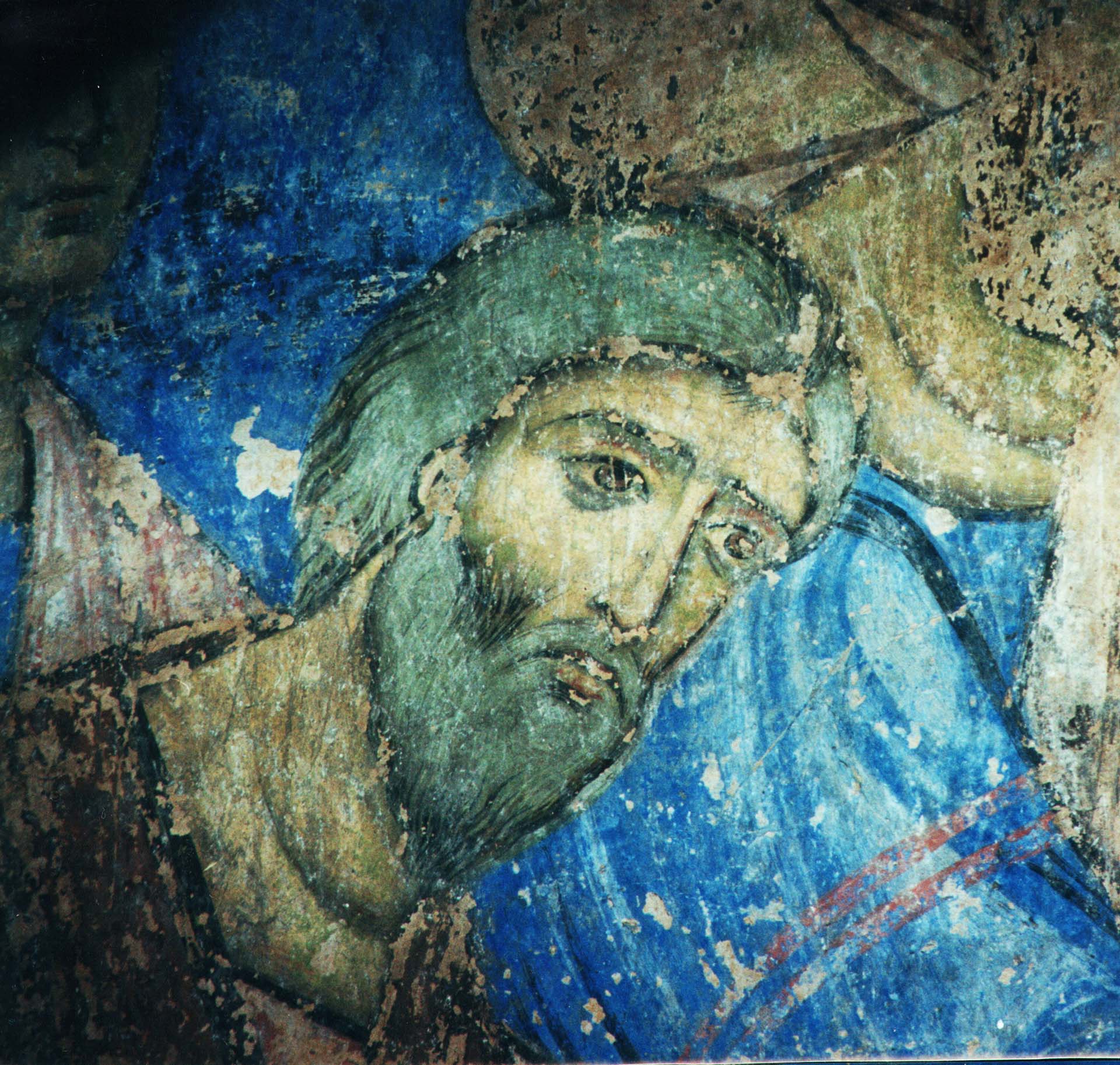 St. Nicholas church, Communion of the Apostles, St Andrew. ca. 1207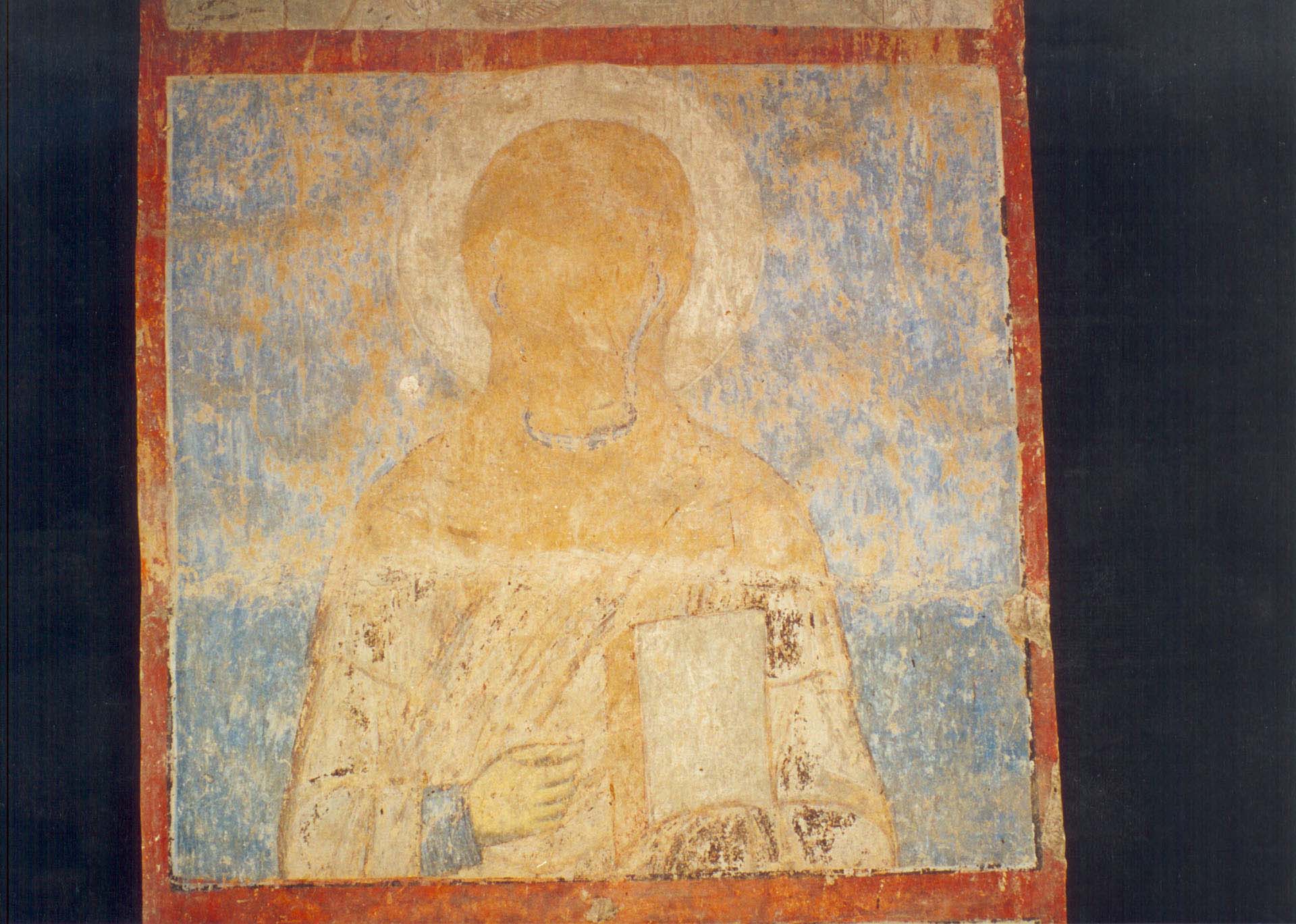 St. Nicholas church, St. Nino, Illuminatrix of Georgia, ca. 1207

One of the images of the Kintsvisi wall painting, namely the figure of the Archangel from the scene the Myrophores at the Sepulcher has become a symbol of the medieval Georgian art in general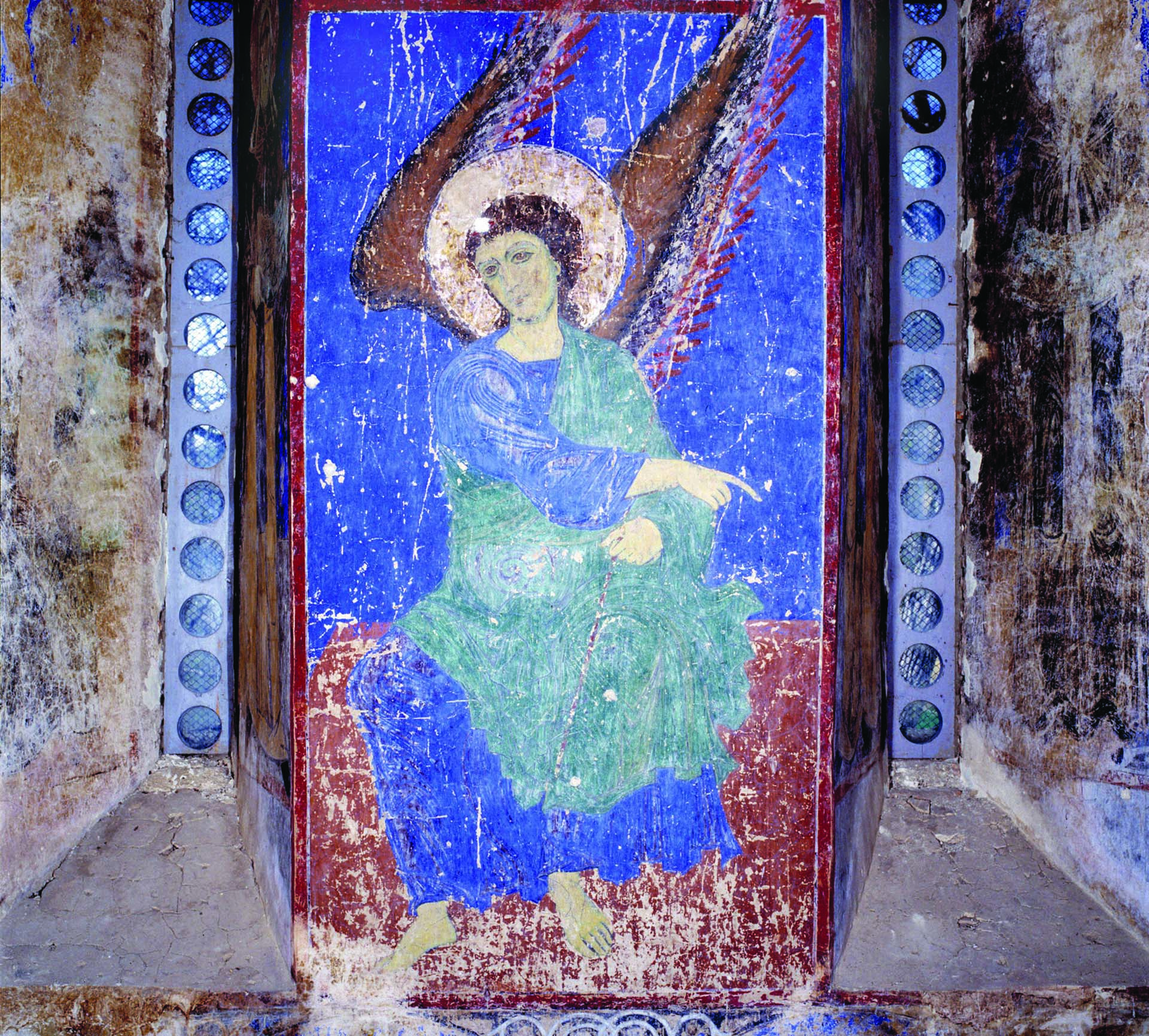 St. Nicholas church, Myrophores at the Sepulcher, Archangel Gabriel. ca. 1207

St. Nicholas church, Myrophores at the Sepulcher, hands of the Archangel. ca. 1207