Cities, Mamuka Tsetskhladze's solo exhibition at the Museum of Modern Art in Tbilisi, recently came to an end. I was completely taken over by the mesmerizing brilliance of his show, which ended up staying with me for an extended period of time.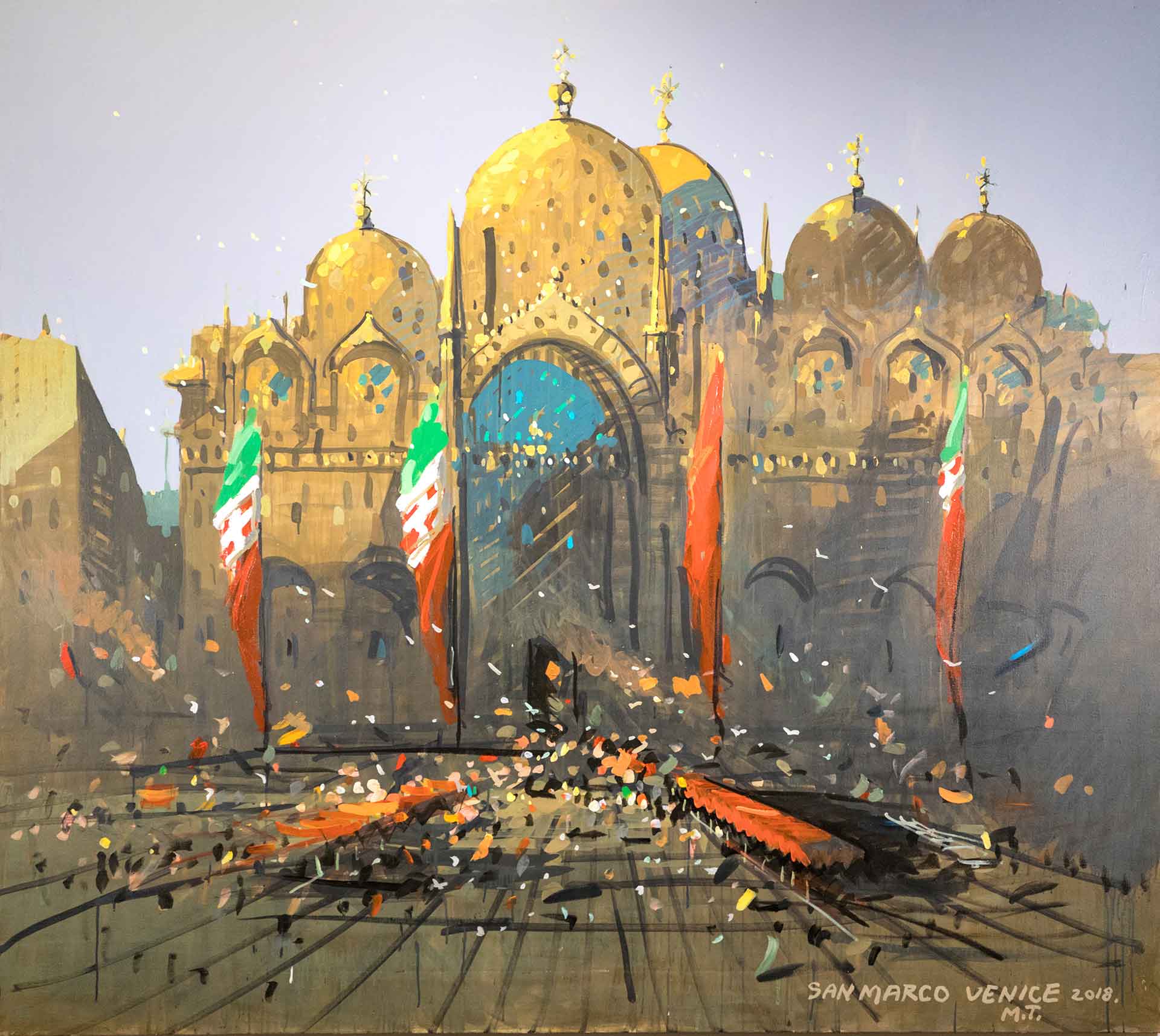 'Venice' acrylic on canvas, 180X160cm. 2018
The 1980s and 1990s saw emergence of a new wave in Georgian art. Transforming the two principal courses of Soviet Georgian art—both official and unofficial—it eventually metamorphized into a postmodern movement. Commencement of post-Soviet era in Georgia was charged with dramatic changes: war, political turmoil, deep recession and complete absence of basic means for survival. These events took over virtually every domain of human existence, transforming our views and attitudes considerably. At a time like this, it was crucial to be able to maintain the energy and enthusiasm to keep creating art. We Have Yet to Make it Through Winter: this was the title of a project curated by Mamuka Tsetskhladze back in 1995 and hosted by the Public Library.
Most of the artists featured in the show were the so-called Tenth Floor and Marjanishvili Studio painters. Mamuka Tsetskhladze was a prominent member of this union at the time. The show was an attempt to promote the idea of overcoming crises through culture, and Tsetskhladze remains faithful to the idea to this day.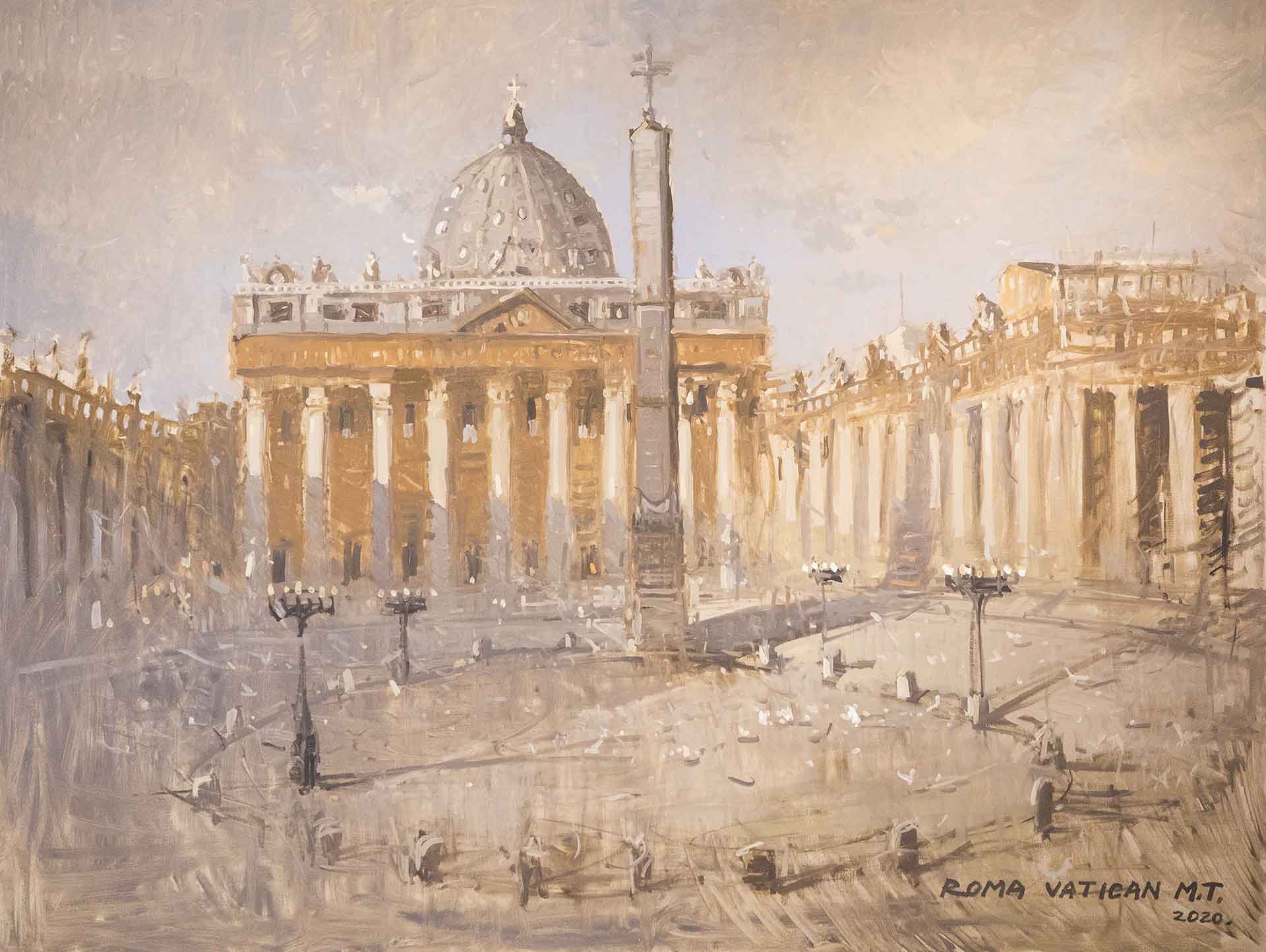 'St. Peter's Basilica Rome' oil on canvas, 200X150cm. 2020
The overarching theme of Mamuka Tsetskhladze's oeuvre was essentially taking shape at the time. Concerned with universal beauty, both its natural and crafted brilliance and the joy of being, his art is a "cultural anthem" of sorts, charged with existential narratives. Within his personal creative domain, the artist is constantly guided by the very aesthetic and humanist values that manifest themselves through cultural forms and give brilliance and light to life itself. The fact that Tsetskhladze's artistic and personal domains resemble each other immensely is particularly noteworthy. Uninhibited nature, empathy, tranquility, ability to build and form systems, sense of humor and vigor manifest themselves through his adventures—both personal and creative.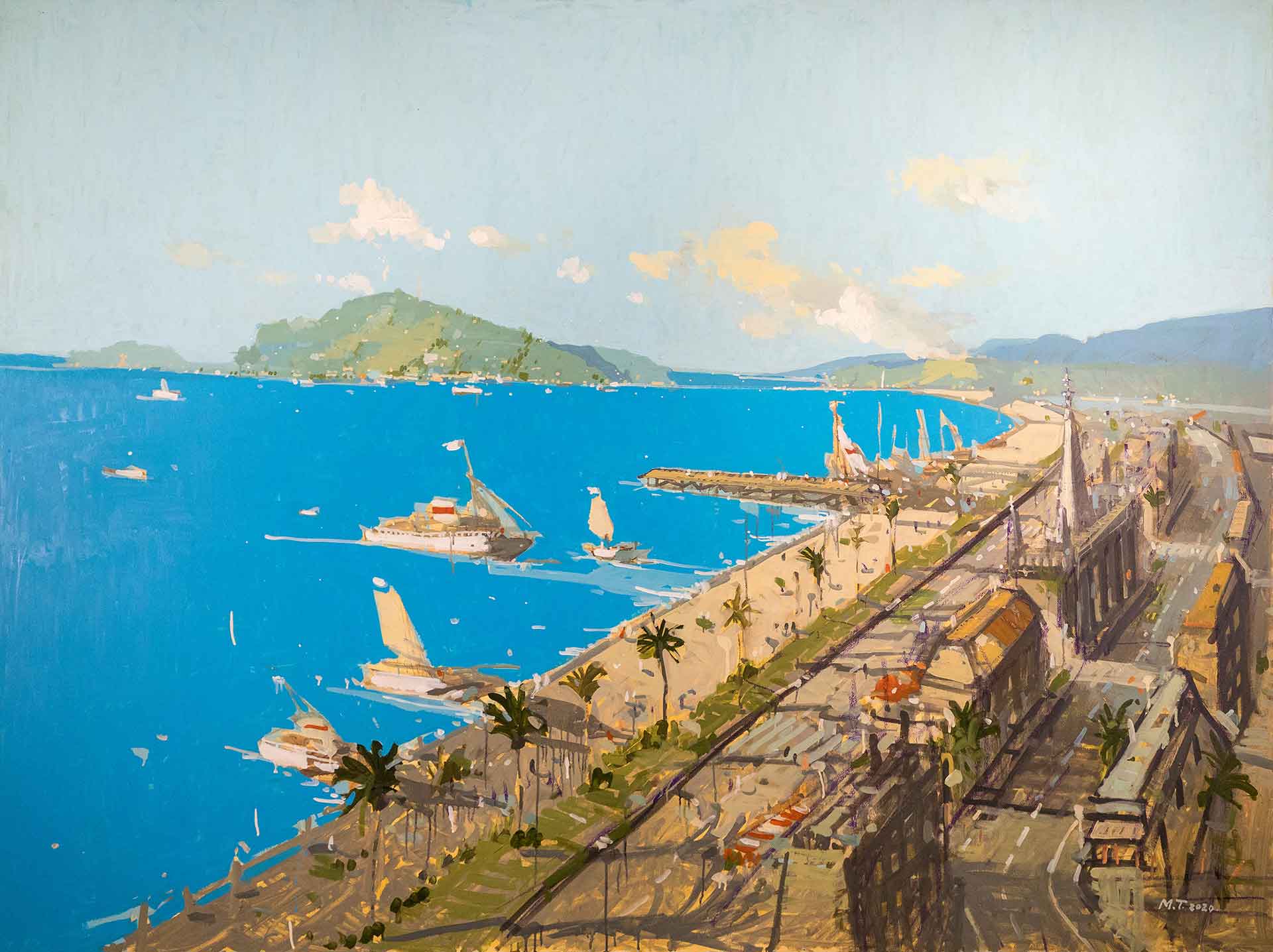 'Havana' oil on canvas, 180X150cm. 2020
Just like Niko Pirosmani, who could paint a scene from India without ever setting foot on foreign land, Mamuka Tsetskhladze, too, would depict the cities he had never seen before with this incredible determination amidst dark winter nights of the 1990s: Rome, Berlin, Mumbai, New York and many more—all captivating to him for their beauty, grandeur or a peculiar historic event. His portrayal of these bright and radiant metropoleis in a pitch-black town is an attempt to convey their scale and significance. He is concerned with cities and countries as civilizationary substrata, a material system of culture, an aesthetic source that fuels the very essence of eternity. Here, he emerges as a culturologist, who studies and depicts cultural melting pots, alongside with their images, signs and symbols: Parisian views of squares, railway stations and bridges, Rome and Venice, Istanbul, mosques in Samarkand, flickering nights in Mumbai, Tbilisi landscapes and cerulean coasts of Batumi and the Seychelles.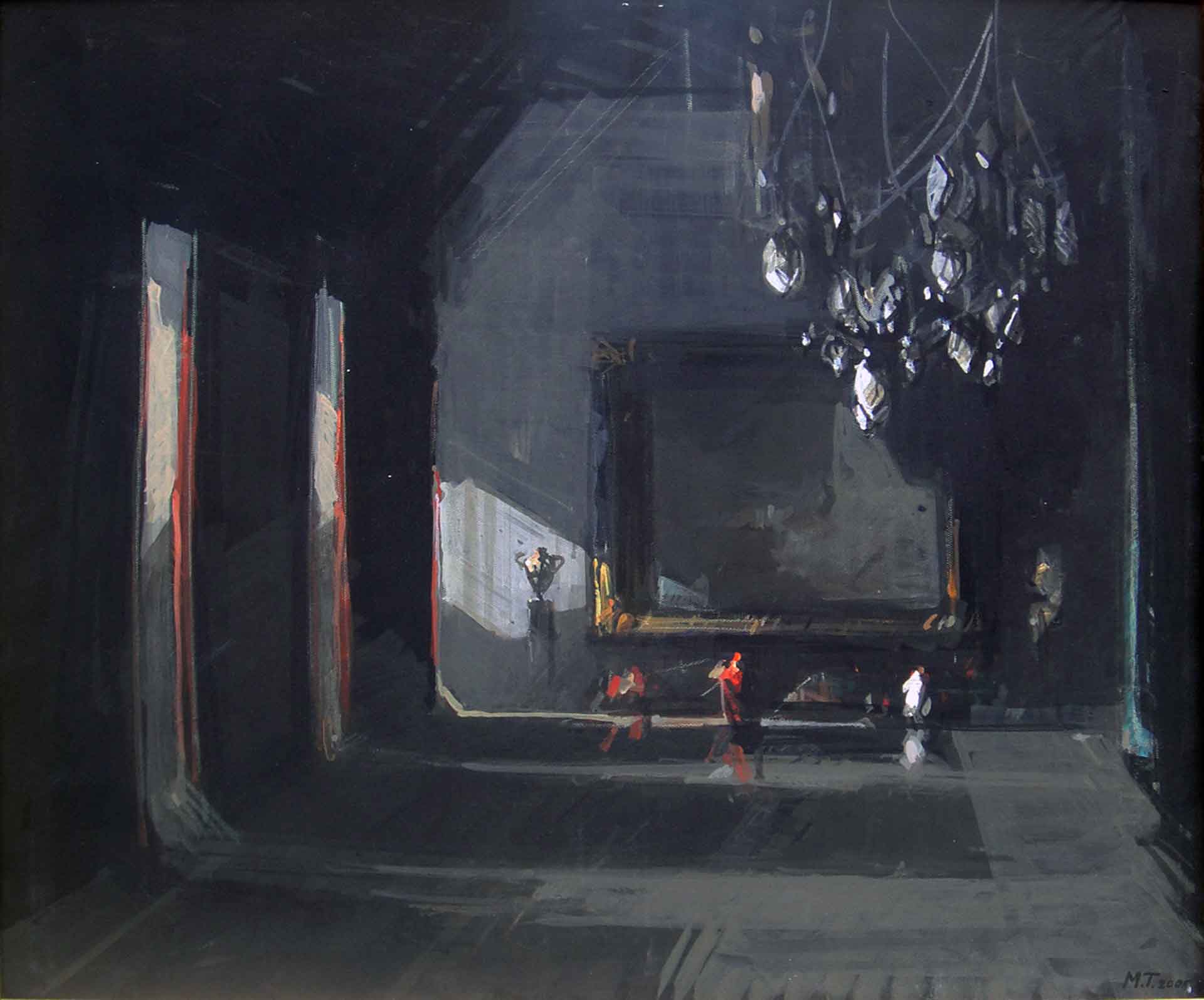 'Interior' acrylic on canvas, 60X50cm. 2008
Mamuka Tsetskhladze captures timeless objects in a particular time frame, activating moments and fleeting senses in an impressionist manner. This technique is used commonly in his works: he depicts pictorial transformation of an object across time, through alteration of light and frame of reference. He is concerned with the idea of capturing eternity in the moment and illusions of transience. For this purpose, he creates particular atmosphere, lighting and even weather conditions through a firework of colors. Familiar temples, bridges, facades and squares emerge unexpectedly from within his hazy landscapes, wrapped in fog, sun beams or utter murk. A variety of artistic similes, such as hazy smoke or fog, wind, the contrast between moonlight and sunshine and shimmering lights reflected on water, serve the purpose of conveying this intrinsic vitality and dynamism of the circle of life. Through his artistic techniques, polychromatism and energy, Mamuka Tsetskhladze sets a festive mood, skillfully extending this celebration of sorts to the spectator in such a way that the two become intertwined and indivisible. His rhythm and dynamics are infectious, as if he is performing a magical dance by the canvas and transmitting its rhythm to his viewer. He lights up everything he touches: his paintings are all about light and brilliance. He carries magnificence of the 5 universe in his heart, which pulsates in his brushes and spills over the canvas, bursting into a thousand beams of light and color. As we approach his paintings, we are instantly captivated by the effervescent cascade of colors flowing across the canvas. Oh, the mesmerizing brilliance! His paintings are extremely forthcoming and emotional, characterized by this overpowering splendor of cultural sights. They are a true delight—both a spectacle and the very act of sharing this unique experience.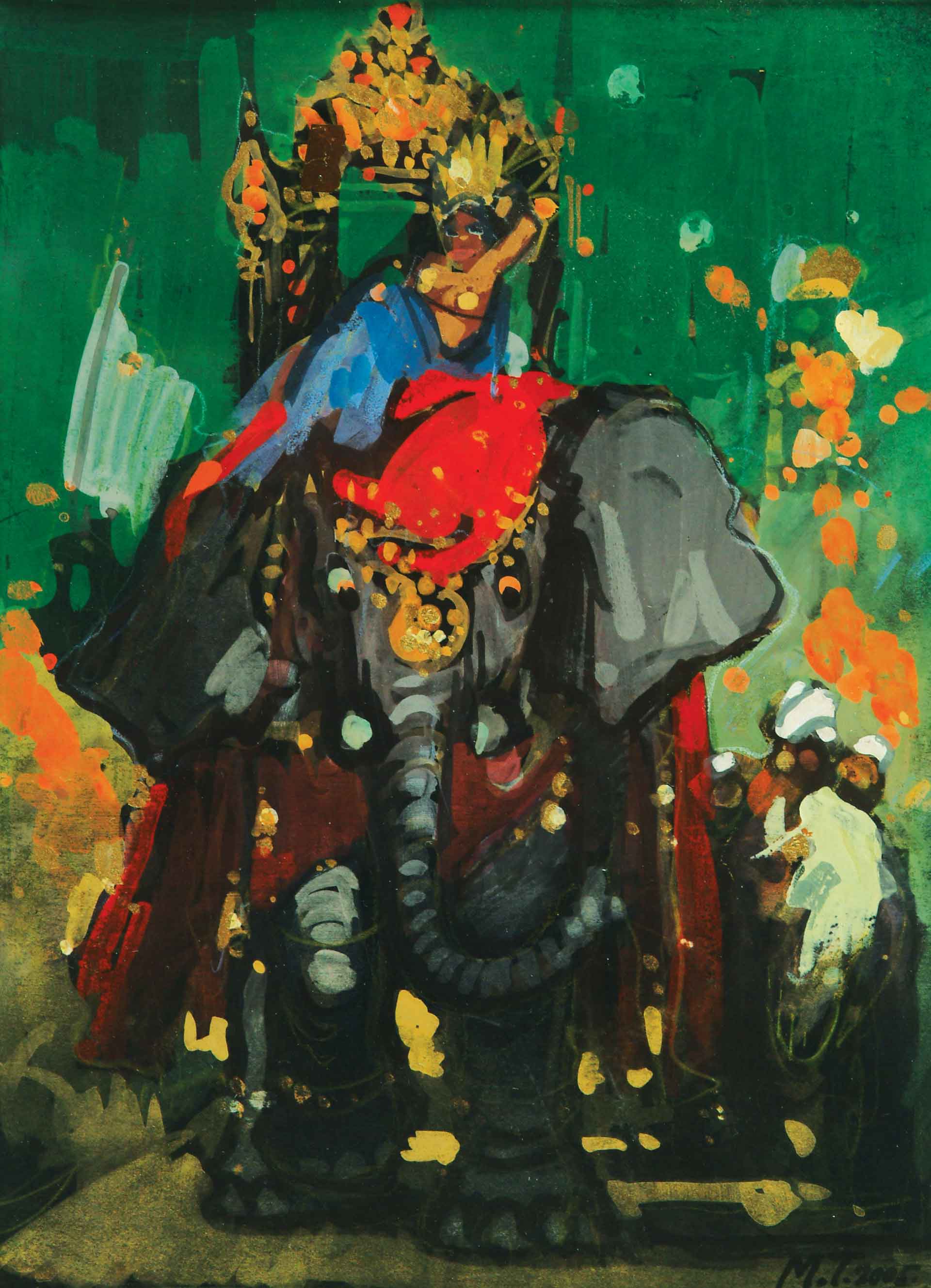 From the series 'The Knight in the Panther's Skin.' 'Wedding'. Gouache on cardboard, 30X20cm. 2006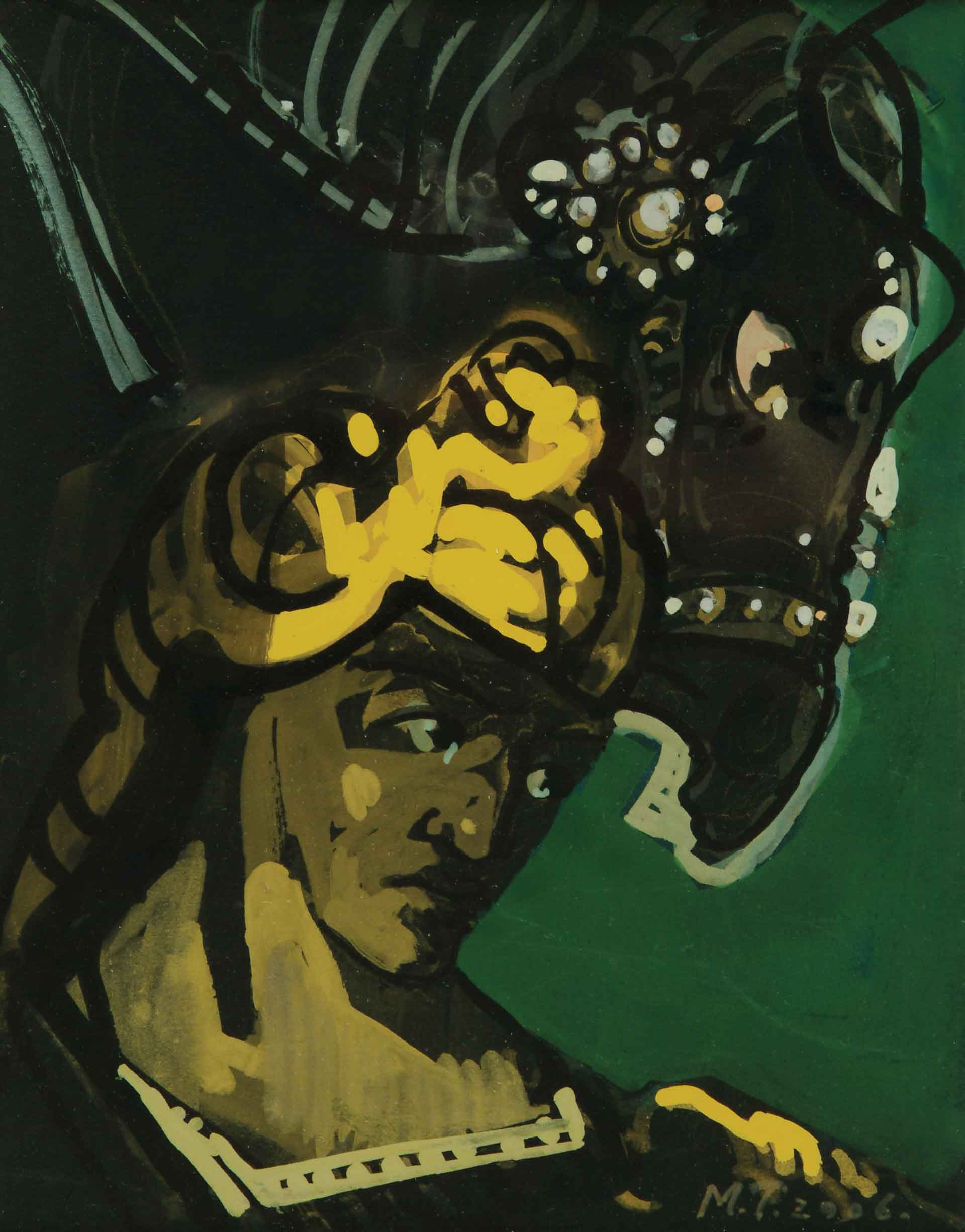 From the series 'The Knight in the Panther's Skin.' 'Tariel'. Gouache on cardboard, 40X30cm. 2006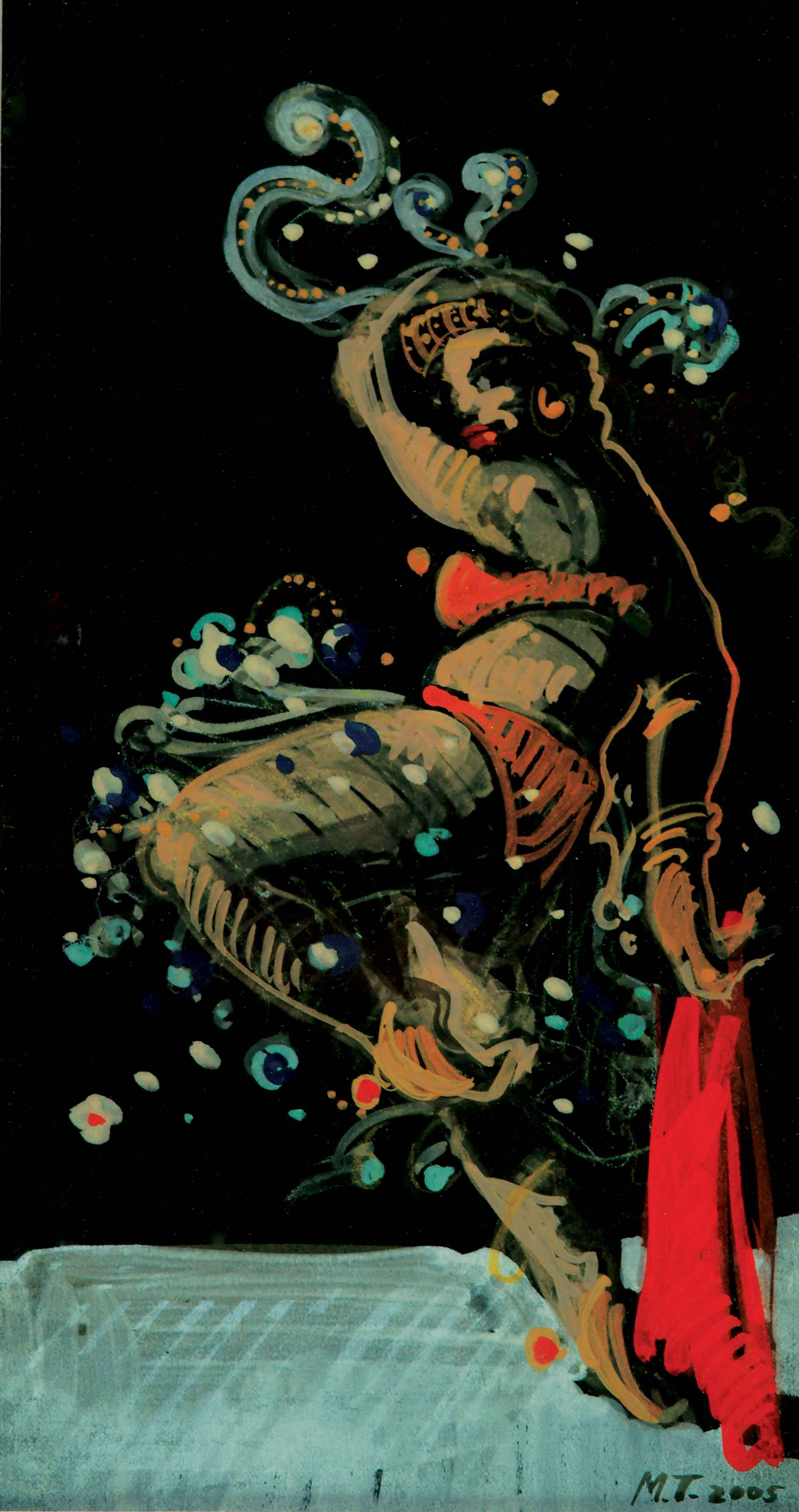 From the series 'The Knight in the Panther's Skin.' 'Dancer'. Gouache on cardboard, 15X25cm. 2006
Postmodern multistructure is evident in his selection of style and use of cultural "archives". Piazza San Marco in Venice, Parisian railway stations and bridges are portrayed in an impressionist manner, encompassing a wide range of colors—from silver to crepuscular gold. Tbilisi landscapes, combining the highest frame of reference with the schematic representation of the city map, are reminiscent of abstract expressionism with Modernist figurative compositions. Angles and airbrushing in his Italian series are certainly reminiscent of mannerism of the Venetian Renaissance, while Rembrandtesque lights are evident in his night scenes… But none of these diverse styles are ever mixed with each other. His works are more "polyphonic" in nature, similar to Georgian chants or configuration of a futuristic orchestral paintaing, portrayed in Postmodernist style. Not only does Mamuka Tsetskhladze possess immense amount of experience with fine art in retrospect, but he is impeccably informed about modern advancements and available techniques. A true virtuoso when it comes to putting this knowledge to use, he manages to navigate his intricate professional path with true grace and an inimitable style.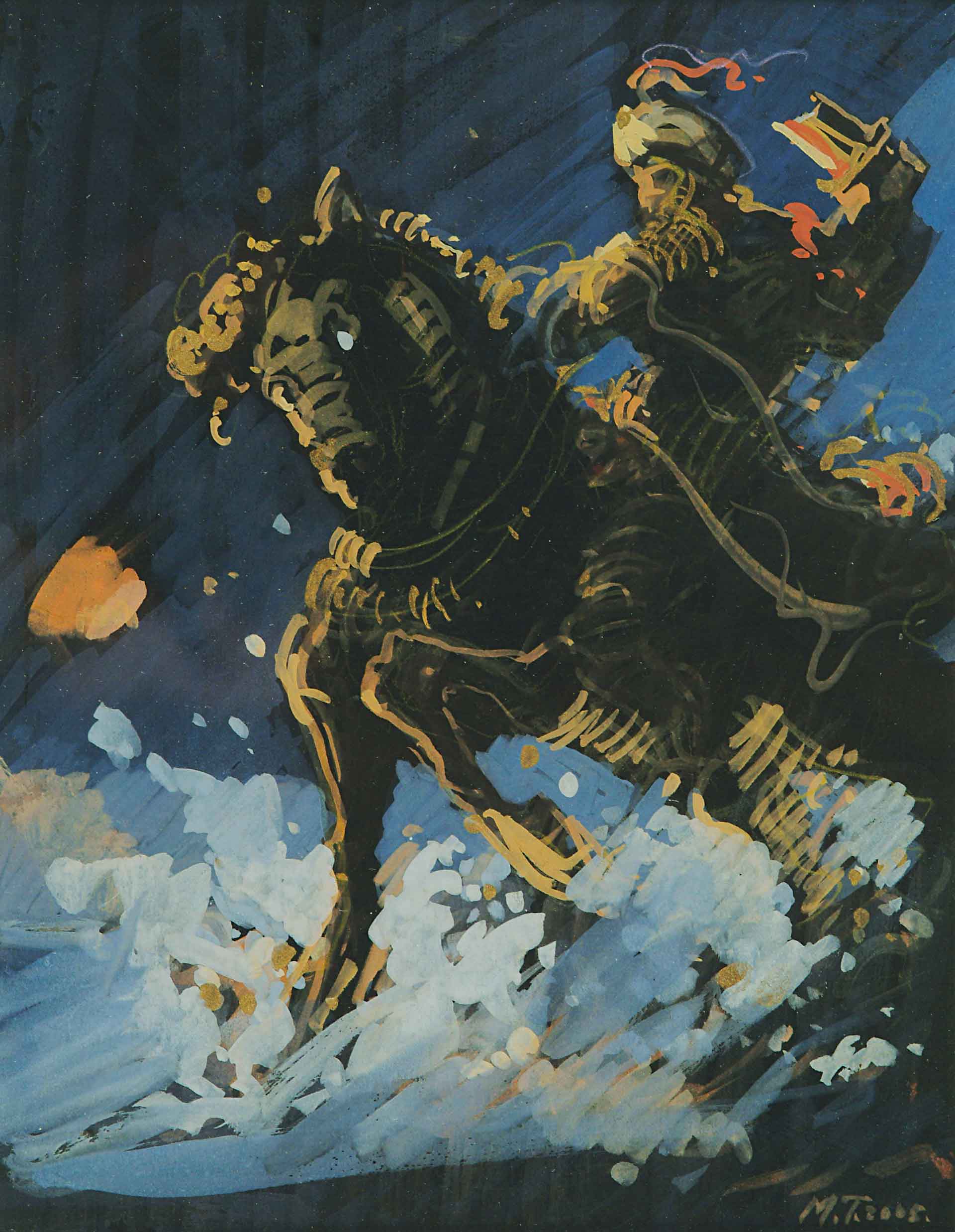 From the series 'The Knight in the Panther's Skin.' 'Phridon'. Gouache on cardboard, 35X40cm. 2006
Mamuka Tsetskhladze's manner of generalizing and detalization is remarkable. He skillfully maintains the scale of each image, while simultaneously defining its details and allowing them to metamorphize. It is precisely through these details that he creates an outstanding glimmering texture, which has become his favorite pastime lately. His details are perceived as colorful fixations, which maintain their pictorial nature while simultaneously transforming into a whole other structure within the powerful whirlpool of the entire piece. It is precisely this "whirlpool" of details that sets the mood, adding an enchanting, dreamlike essence to each scene. His skillful combination of realistic and surreal elements within each piece leads to something incredible: ornaments from oriental carpets and Venetian flags transform into colorful birds, distant building elements and human figures appear as fireflies, trees resemble rainbows, and water droplets bedazzle the eye like sparkling gemstones… Objects lose their customary meaning and become charged with a variety of other definitions.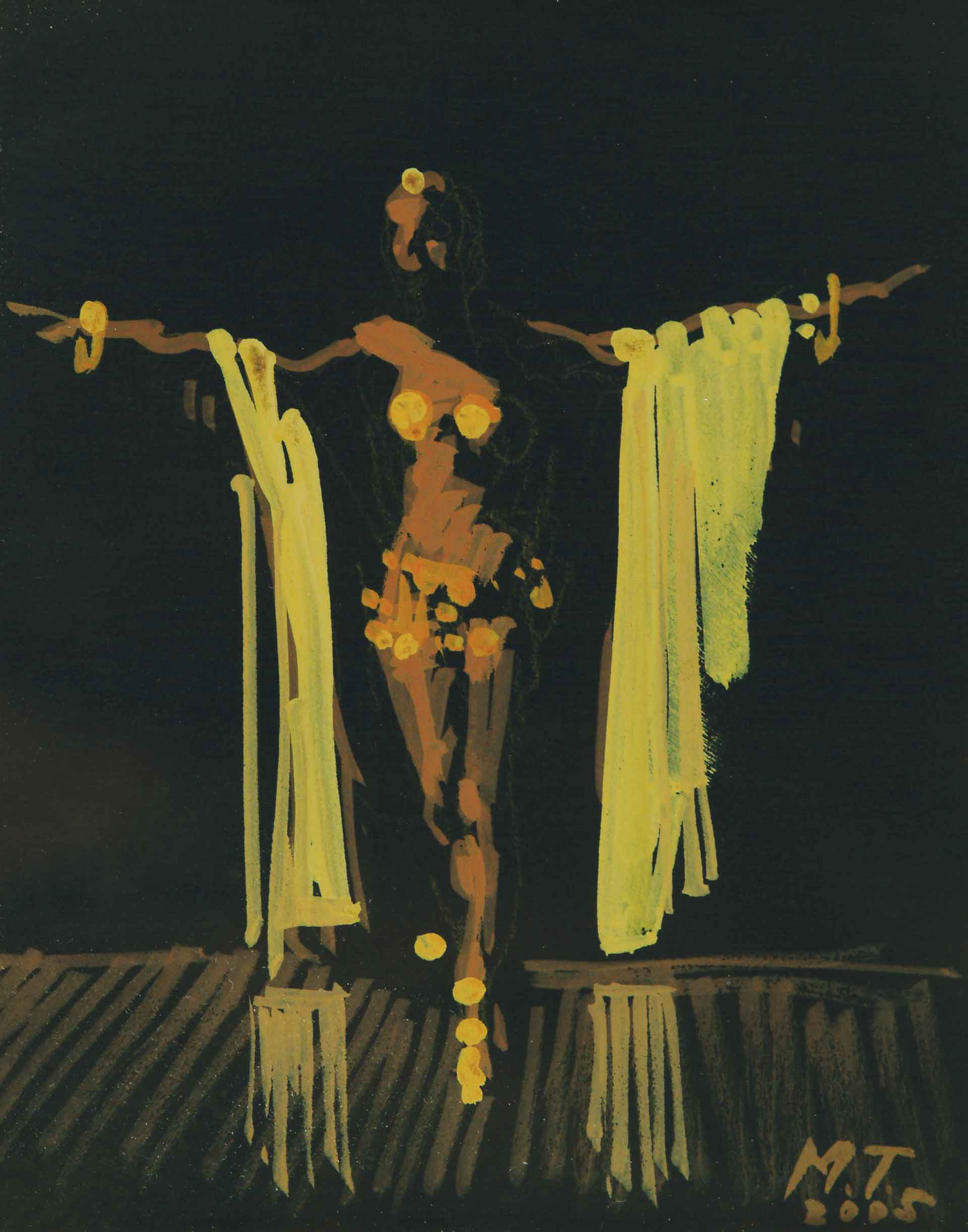 From the series 'The Knight in the Panther's Skin.' 'Dancer'. Gouache on cardboard, 25X15cm. 2006
What the artist is trying to demonstrate is that mystical vision is capable of transforming the ordinary into extraordinary, and that miracles are all around us, manifesting themselves through minuscule details. All it really takes is to look around and see. Cities by Mamuka Tsetskhladze is an intentional conversation about his work. His entire oeuvre revolves around the same exact axis. Everything that ends up capturing his attention—from fairytale-like illustrations of The Knight in Panther's Skin to romanticized historic themes, contemporary chronicles, landscapes, interiors and individual characters— transforms into his narrative, conveyed so very skillfully in each of his works.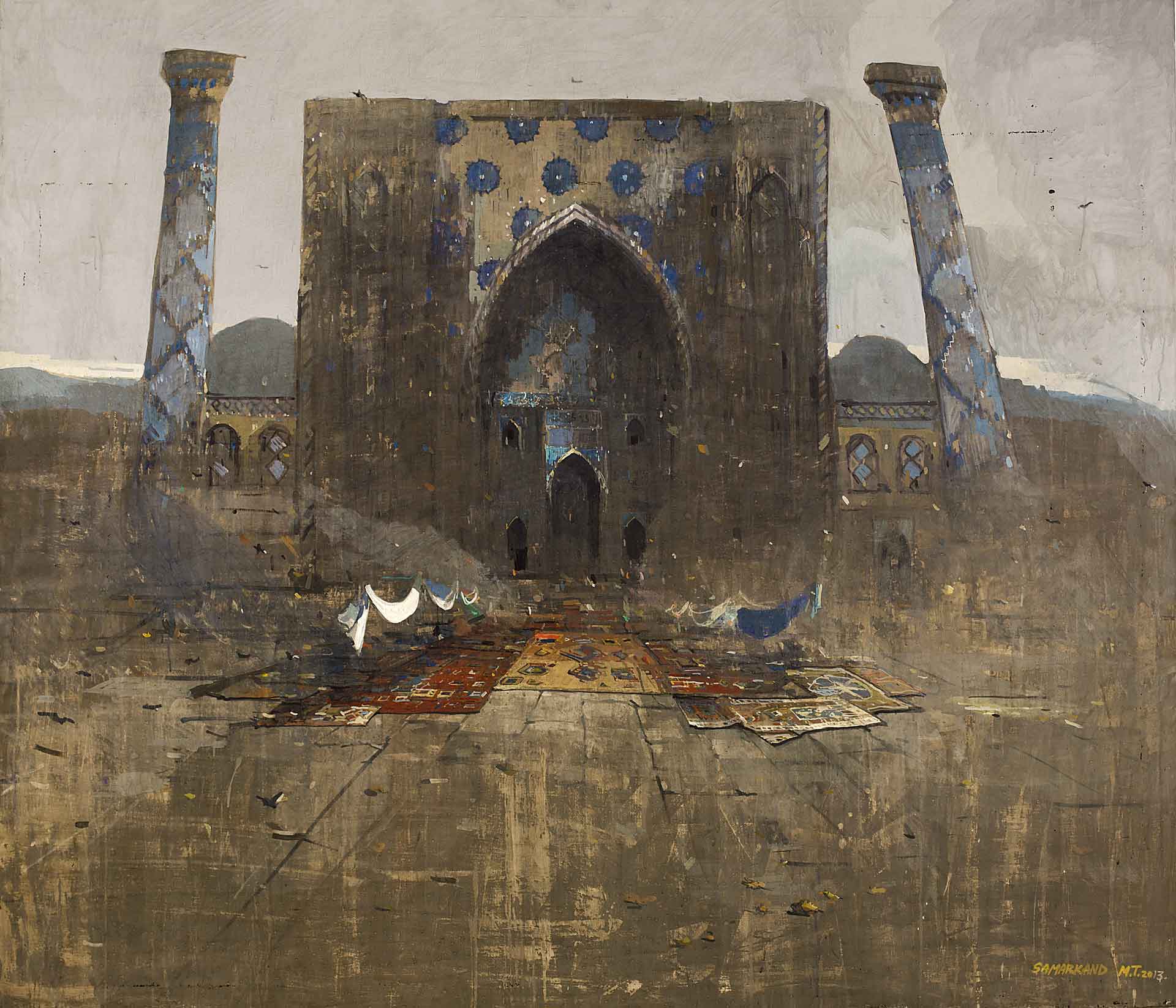 'Samarkand' oil on canvas, 178X209cm. 2013
And, amidst this whirlpool of colors, I am reminded of Sleep—Mamuka's work from 1995. This little boy, wrapped in a blanket, staring back at the audience from within a pitchdark room, with apparent fear in his eyes, was so relatable to all of us at the time. Once a restless "sleeper", this character is now an actual observer and partaker of victory over crisis through perseverance and consistent effort.
Oh, how magnificent it is to play around with the many secret tricks of art! Mamuka Tsetskhladze is an undoubtedly triumphant performer in the field.