Giorgi Khaniashvili (1982) lives and works in Tbilisi, Georgia. A graduate of both the Nikoladze Art College and the Tbilisi State Academy of Arts, Khaniashvili is an exponent of the contemporary visual culture of "anything goes," blending myriad images and influences. Juxtaposing opposites has become one of Khaniashvili's guiding principles, informed by the local hybrid of old Soviet and new capitalist cultures. His artwork has been exhibited in numerous exhibitions, including at the D. Shevardnadze National Gallery (Tbilisi), the Georgian National Film Studio, and Popiashvili Gvaberidze Window Project. He recently participated in the 33rd Ljubljana Biennale of Graphic art, curated by Slavs and Tatars.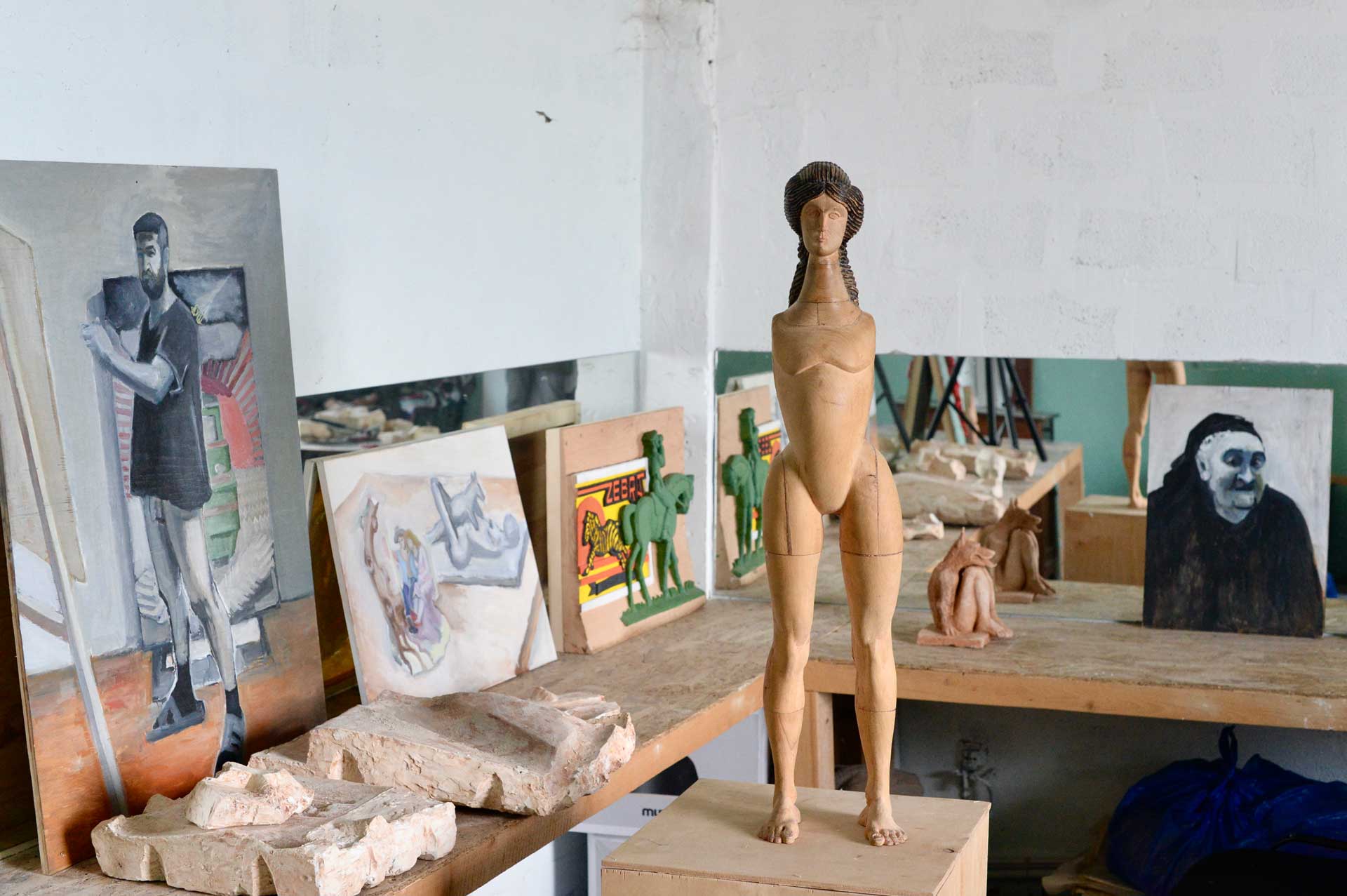 General view in Giorgi Khaniashvili's studio, including - Venus. 2011. Photo by Alex Fisher
What happens above versus what happens below, and when can the happenings in both locales occur simultaneously? How does the first-person meet the third-person; or conjecture connect with conviction? These are but some of the questions one is prompted to ask upon encountering the work of artist Giorgi Khaniashvili.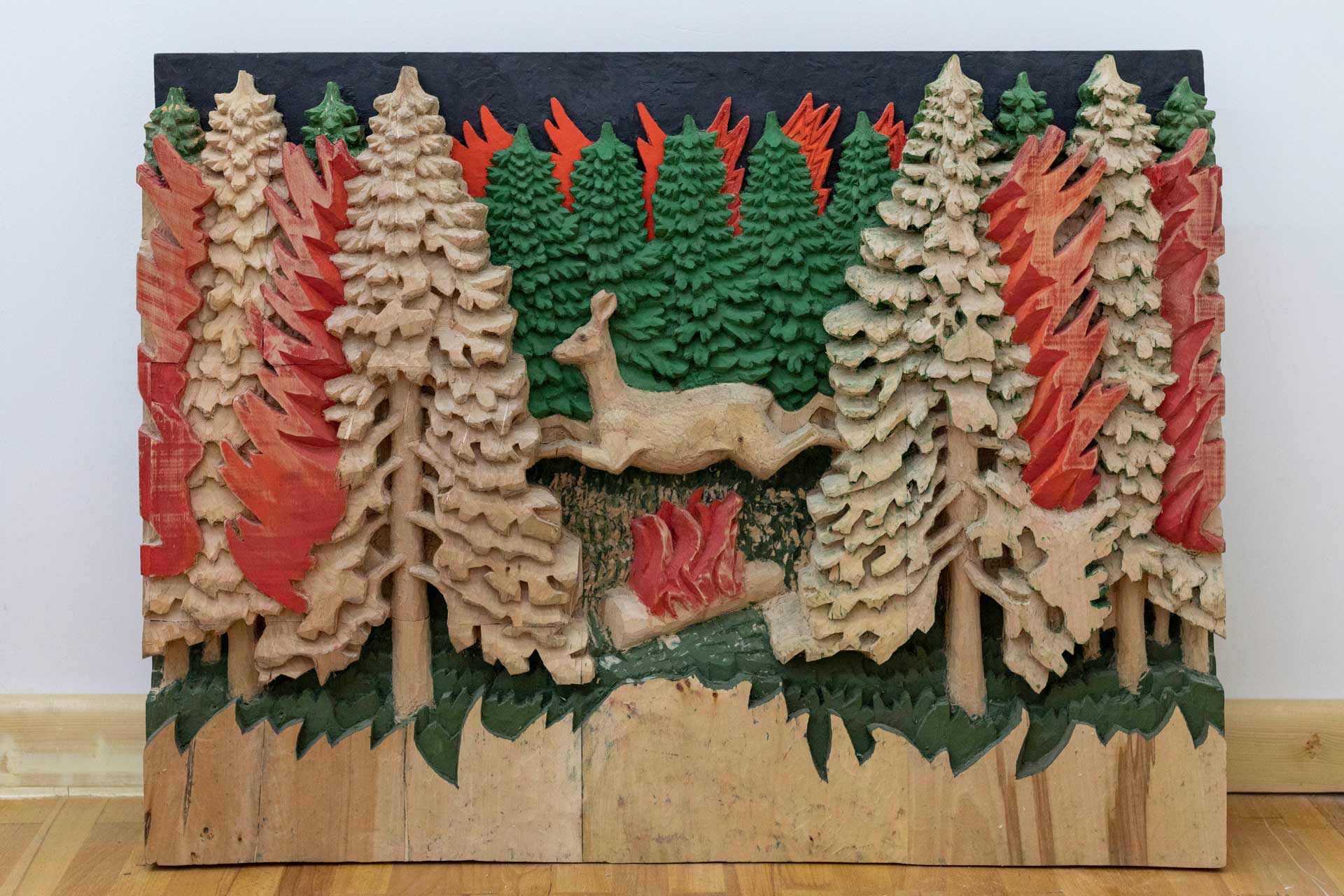 Giorgi Khaniashvili. Forest Fires. 70x100x20. Carved birchwood and acrylic paint. 2020. Photo by Guram Kapanadze
The artist draws, paints, carves, and casts, predominantly using wood but also using clay, concrete, and oil on canvas. He often does so cumulatively, rendering the same subject following multiple methods, willing the way the work is executed to bear an impression on its meaning. These subjects are canonical and unorthodox, flayed and refined, industrial in the manner of a Five-Year Plan, yet agrarian to an extent that far surpasses subsistence. Through it all, depth is stirringly conveyed.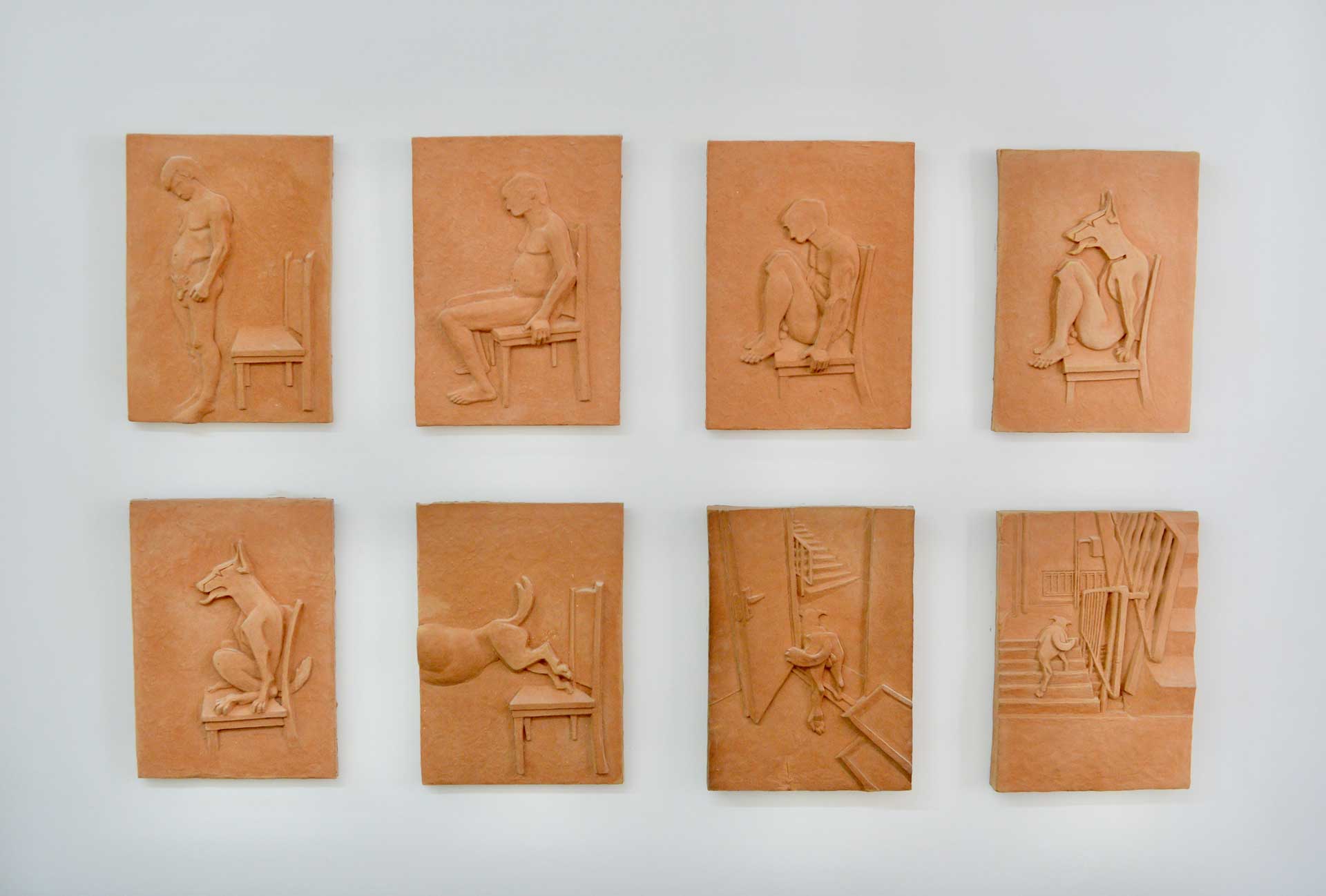 Giorgi Khaniashvili, Transformation. 8 panels. 42x33 each. Ceramic reliefs. 2011. Photo by Alex Fisher
Khaniashvili's works are endearing for their various portrayals of poise and pretense, especially in Transformation (2018), where man becomes man's best friend over the course of eight frames. In the fifth frame, the man-turned-hound sits on its haunches with ears pricked up, listening to a command that we (the viewers) cannot hear, or perhaps it is listening to our impressions. In the next frame, the dog departs, springing from its high-backed seat, trotting out through an open door, and descending a stairwell without collar or leash, or even a glance behind. The scene indicates that shelter and sense of self are neither fixed nor fully ensured; one who is settled or secure can all too quickly become a stray. States shift in sickness and in health: for wealth, for want of a better reason, or for the start of a new season.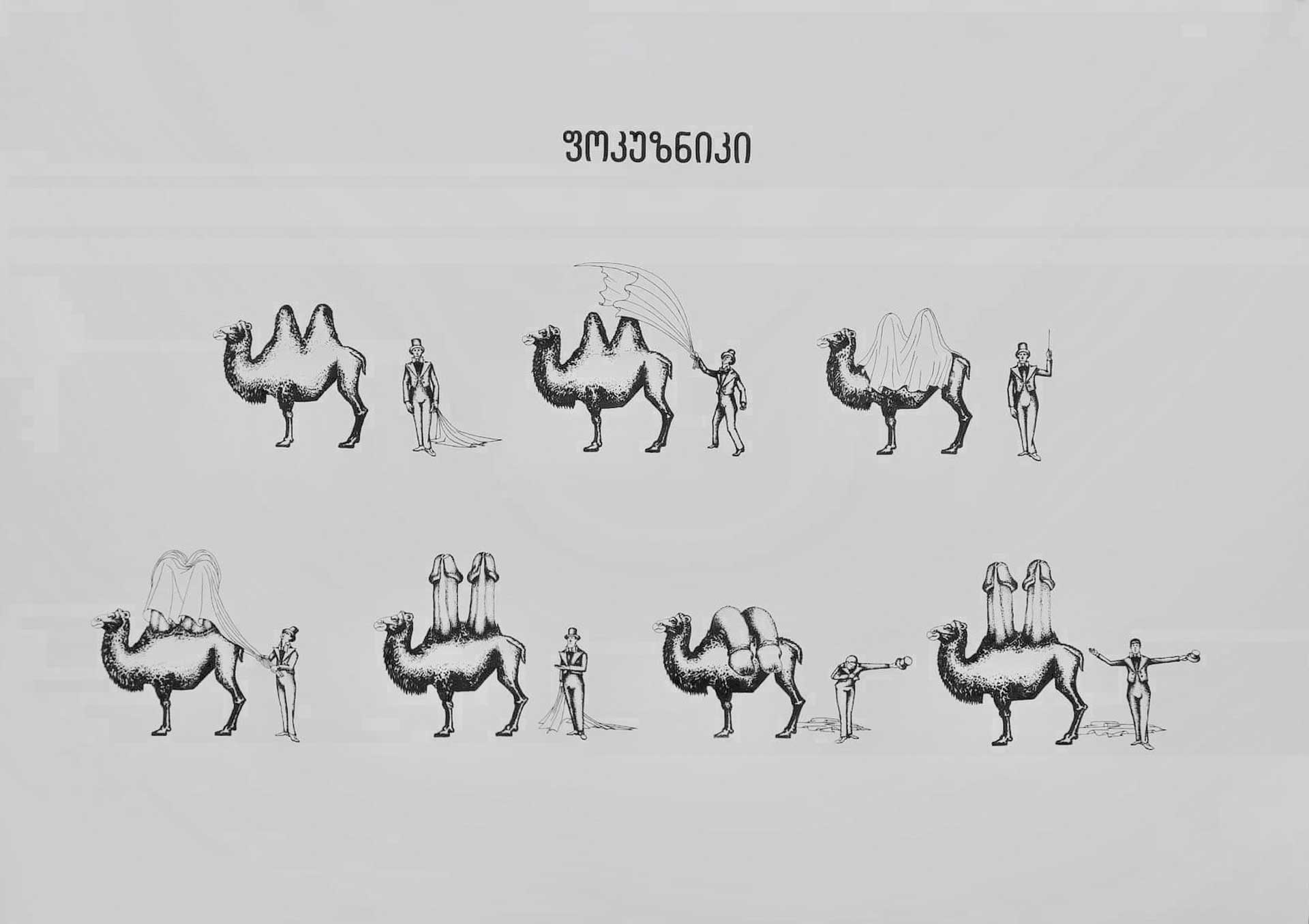 Giorgi Khaniashvili. Silkscreen edition of 25 Photo by Jaka Babnik / MGLC Archive
Khaniashvili is not impartial, introducing the irreverent to the reverent with sharp wit, as demonstrated by Illusionist (2018), an episodic silkscreen on paper depicting varyingly virile camels that was recently included in Crack Up - Crack Down, the 33rd Ljubljana Biennial of Graphic Arts, curated by Slavs and Tatars. When asked whether he favors the position of participant or observer, the artist confirms the former. Proportionally, his portraits feel proximate and non-imperious in their point of view.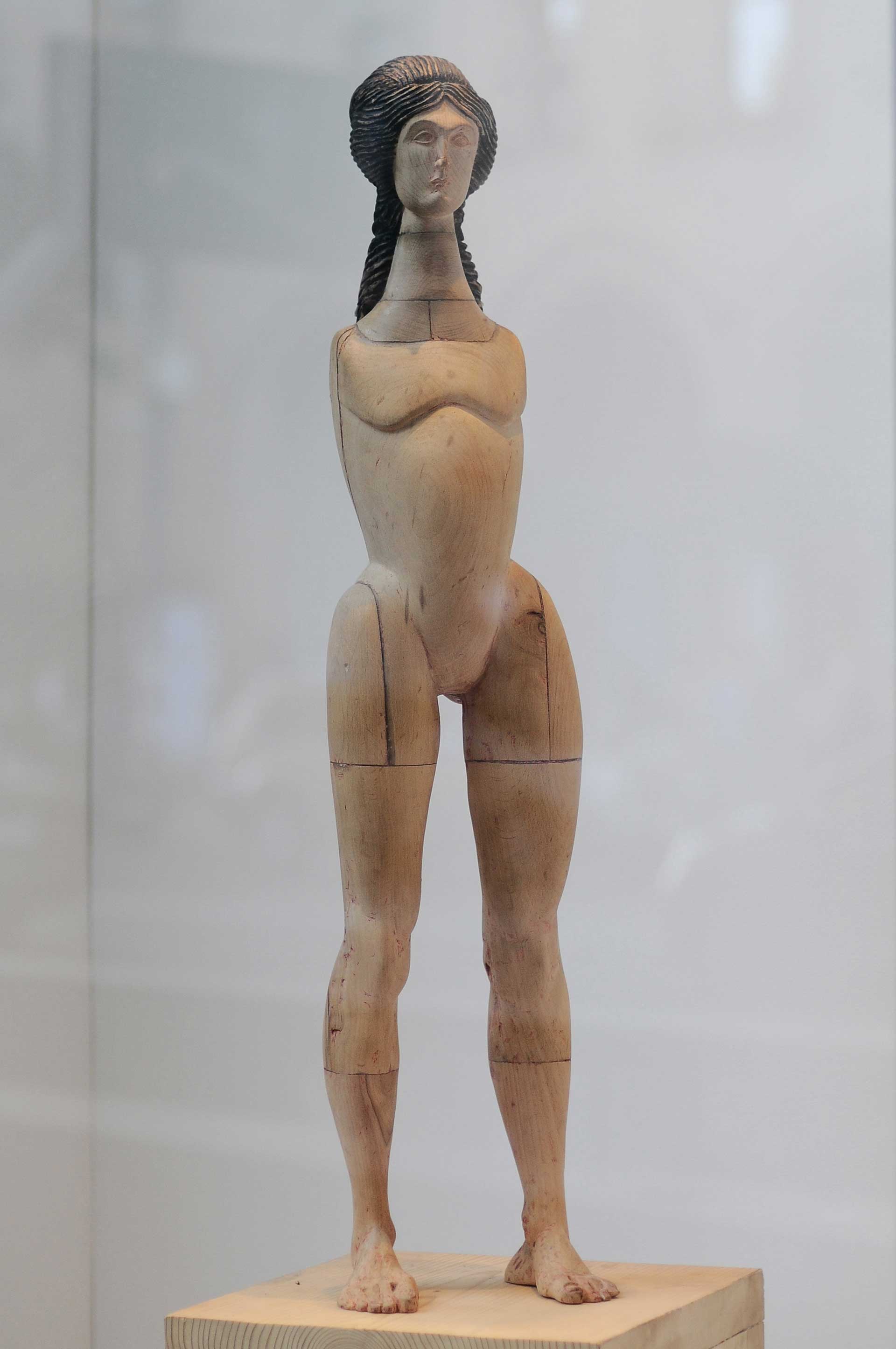 Giorgi Khaniashvili. Venus. Carved birchwood. 2011.Photo by Guram Kapanadze
A standout work that currently takes pride of place in the artist's studio is Venus (2011), who appears as a slender figure with an esteemed presence and a searching expression. The figure's seams are expressly visible; she is the sum of her parts, outstripping her sex. Both her feet are placed firmly on the ground, and she faces the viewer in a full-frontal pose. Her stillness is remarkably moving.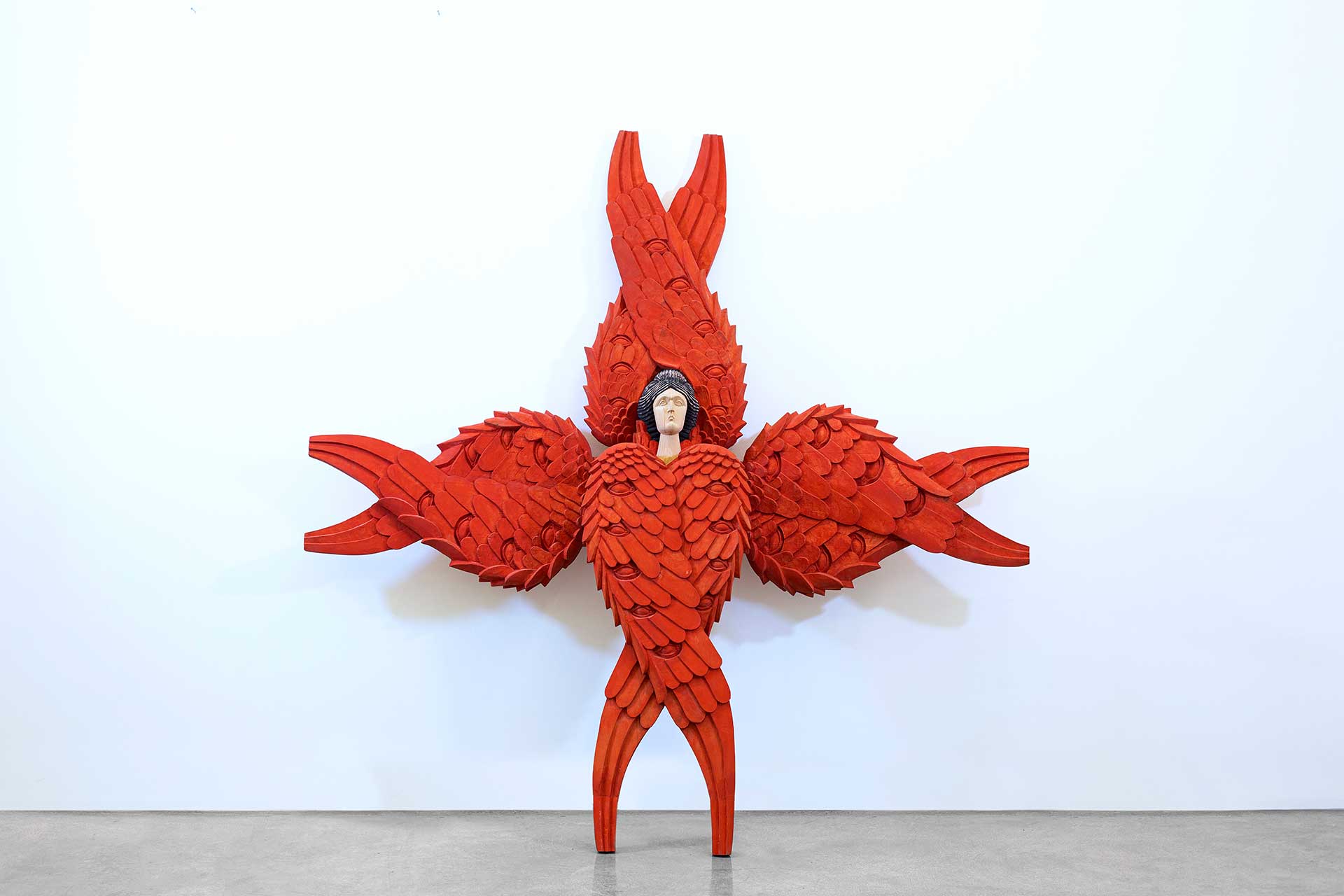 Giorgi Khaniashvili, Cherubim. Carved birchwood and acrylic paint. 2018. Photo by Gia Chkhatarashvili
A familiar face to that of Venus can be found in Khaniashvili's Cherubim (2018), which is perhaps the artist's most iconic work to date. In this 180x200x30cm wood sculpture, an angel walks on wings; she is in flight even when on foot. All-seeing eyes are interspersed amongst her feathers; that which holds our attention beholds us. The red of her wings is revelatory—potent and sanguine. The shade appears elsewhere in the artist's work, as in Mother Daughter (2016), where it is simultaneously used to signify discretion and inflame affinity.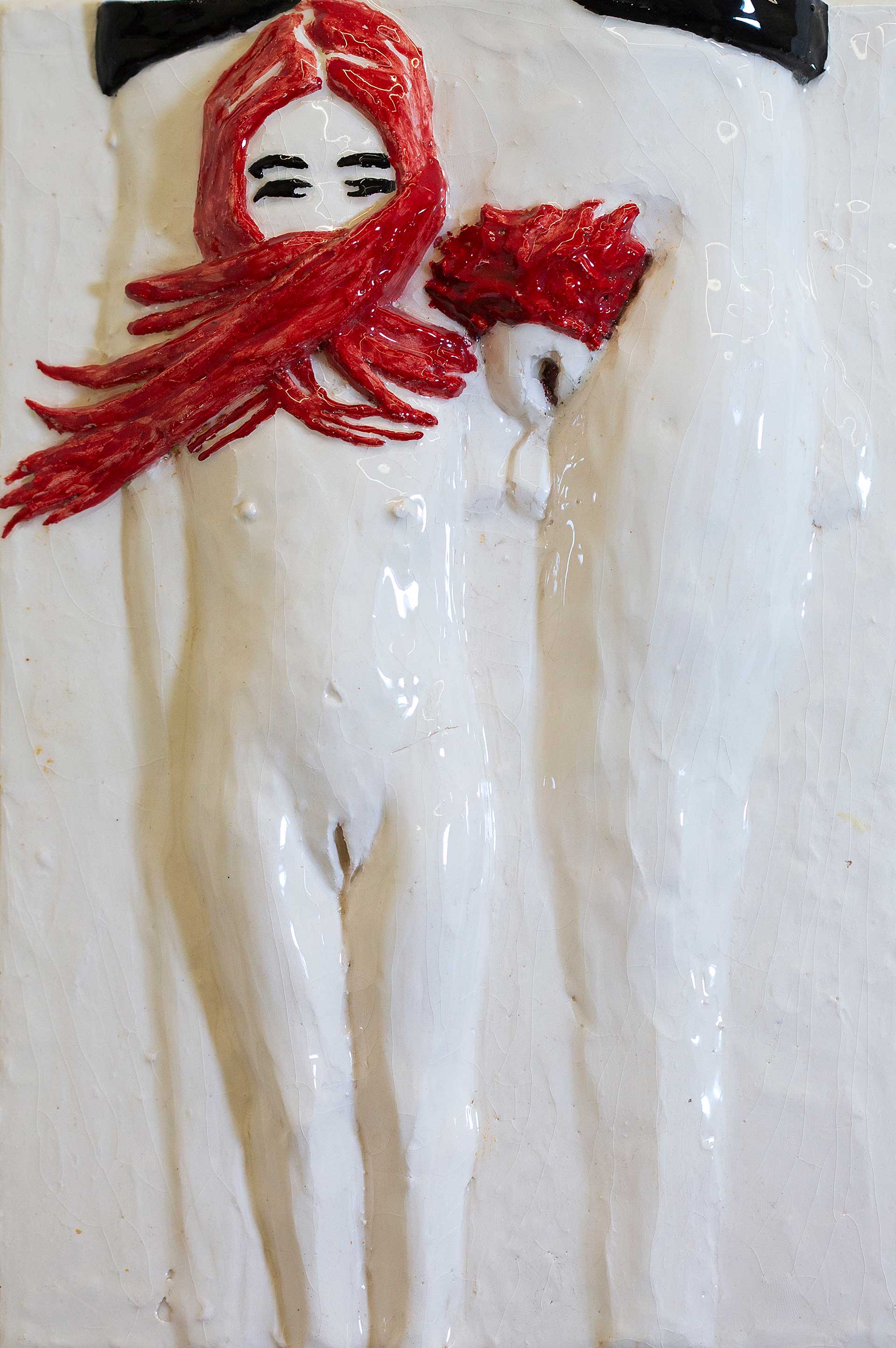 Giorgi Khaniashvili. Mother Daughter. Glazed ceramic. 2016. Photo by Gia Chkhatarashvili
To be sure, the heft of the implications in Khaniashvili's portfolio exceeds the physical weight. Even when he hews, he hoists his subjects to a higher plane; the enduring details induce awe.