Prescience and premonition play a prominent role in Thea Gvetadze's artistic practice. At the same time, she propels the passions and presumptions of that which has been preserved for posterity. Her portfolio is replete with these complementary qualities — inspired patinas and apparitions of what may be in the offing.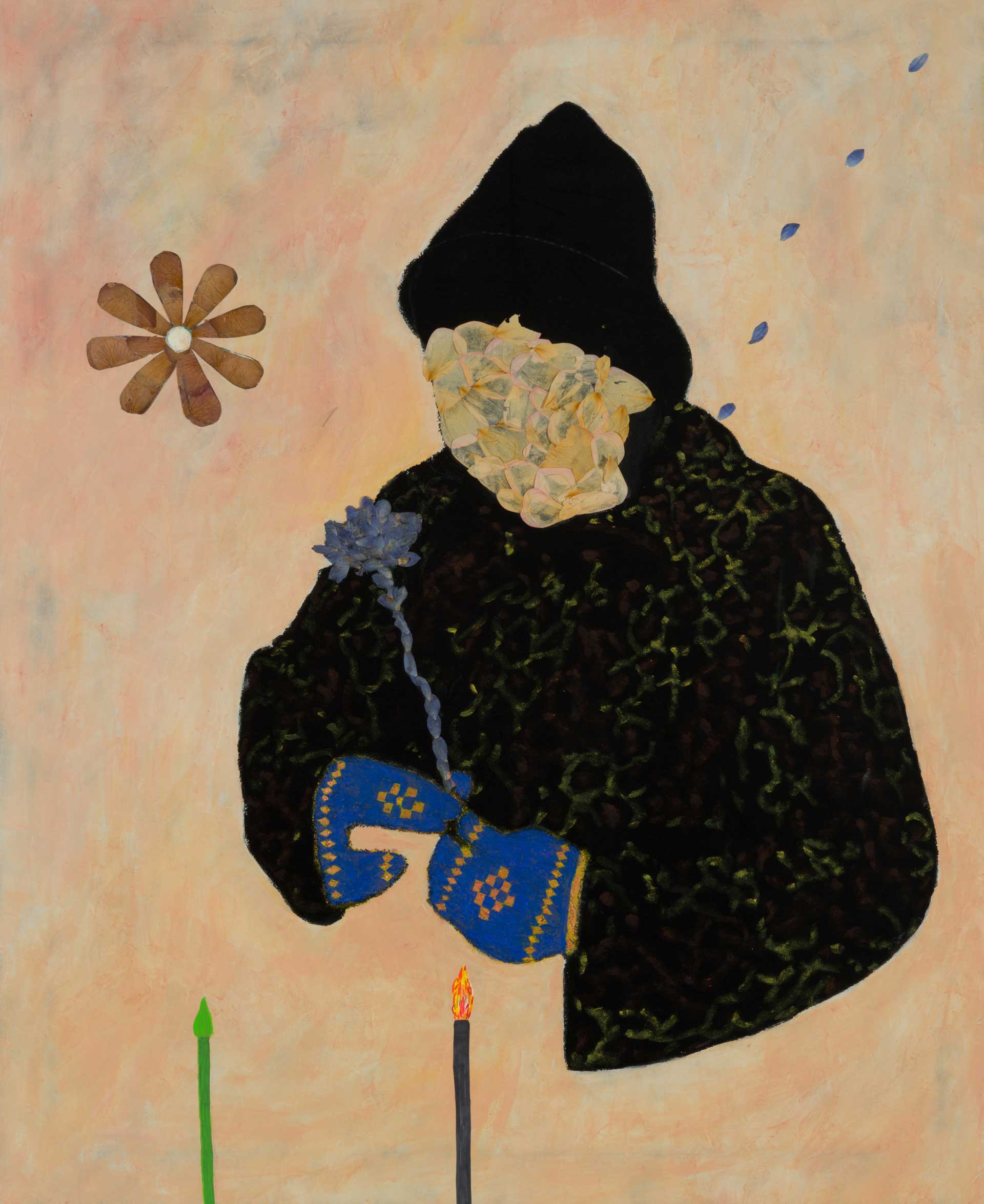 Thea Gvetadze. Green Candle. 2020. Mixed media on velvet. 110 × 90 cm (43 1/4 × 35 3/8 inches)
Gvetadze compels and shifts similitudes. For the better part of two decades, she has done so with paint and appliqué on black velvet — an approach that transcends technique. Dark matter moors her subjects, whether they are the emotive faces or fragments of flora and fauna festooning a Soviet-era bus stop in Adjara, a centuries-old Gurian Oda, a ripe persimmon, or a stanza from an impromptu soliloquy.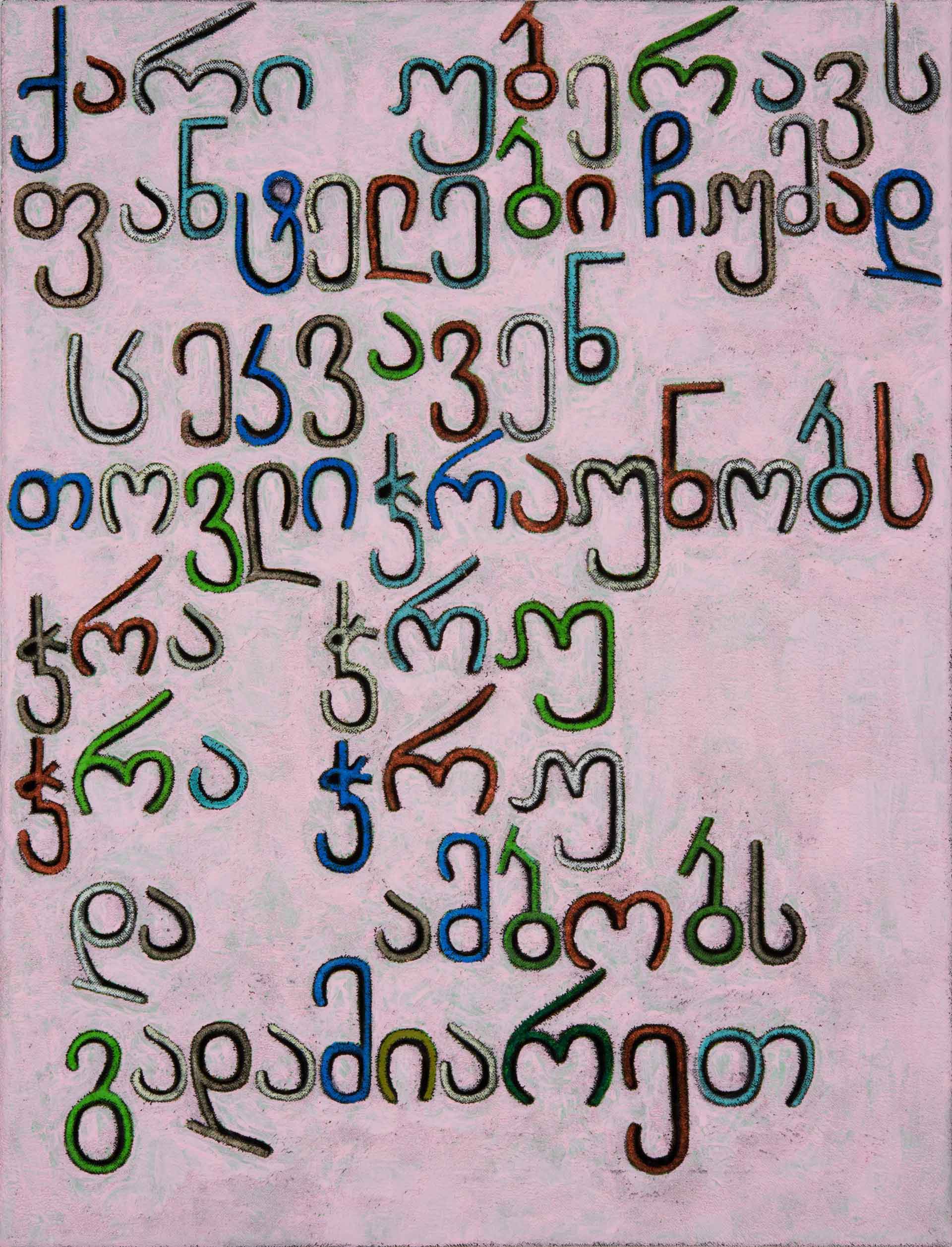 Thea Gvetadze. Missing Letter. 2020. Mixed media on velvet. 60 × 46 cm (23 5/8 × 18 1/8 inches)
Gvetadze travels in Georgia's remote regions. The artist's impressions of the perennial potential for both restorative and transformative encounters on these journeys are captivating; she frequently alludes to moments at the roadside and enduring relationships that have sprung from serendipitous meetings. In her works, she virtuosically renders how such moments and meetings, especially those that are unanticipated, become emblematic and enmeshed with one another in the mind's eye.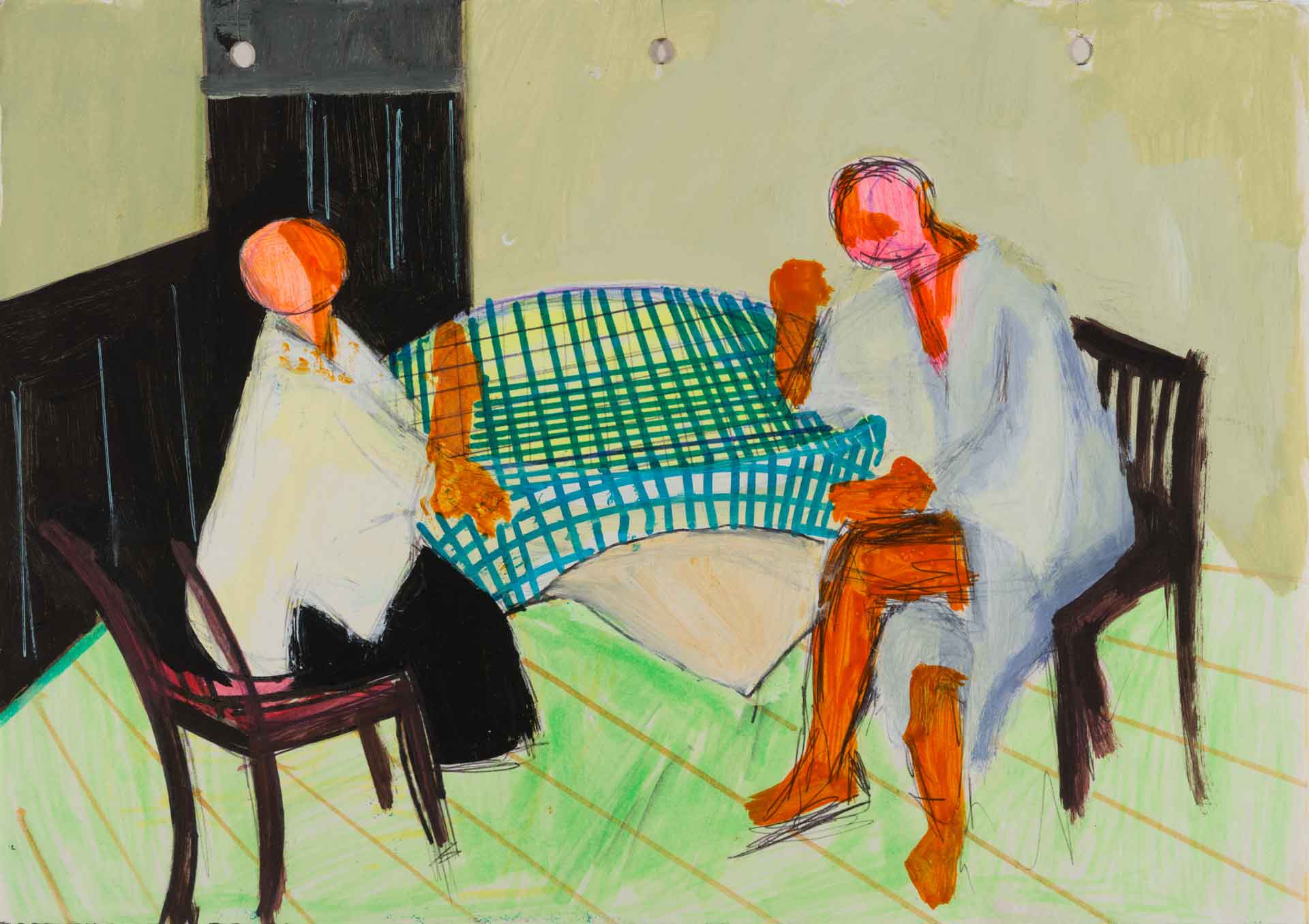 Thea Gvetadze Untitled, 2004 different media on paper 21 × 28 cm (8 1/4 × 11 inches)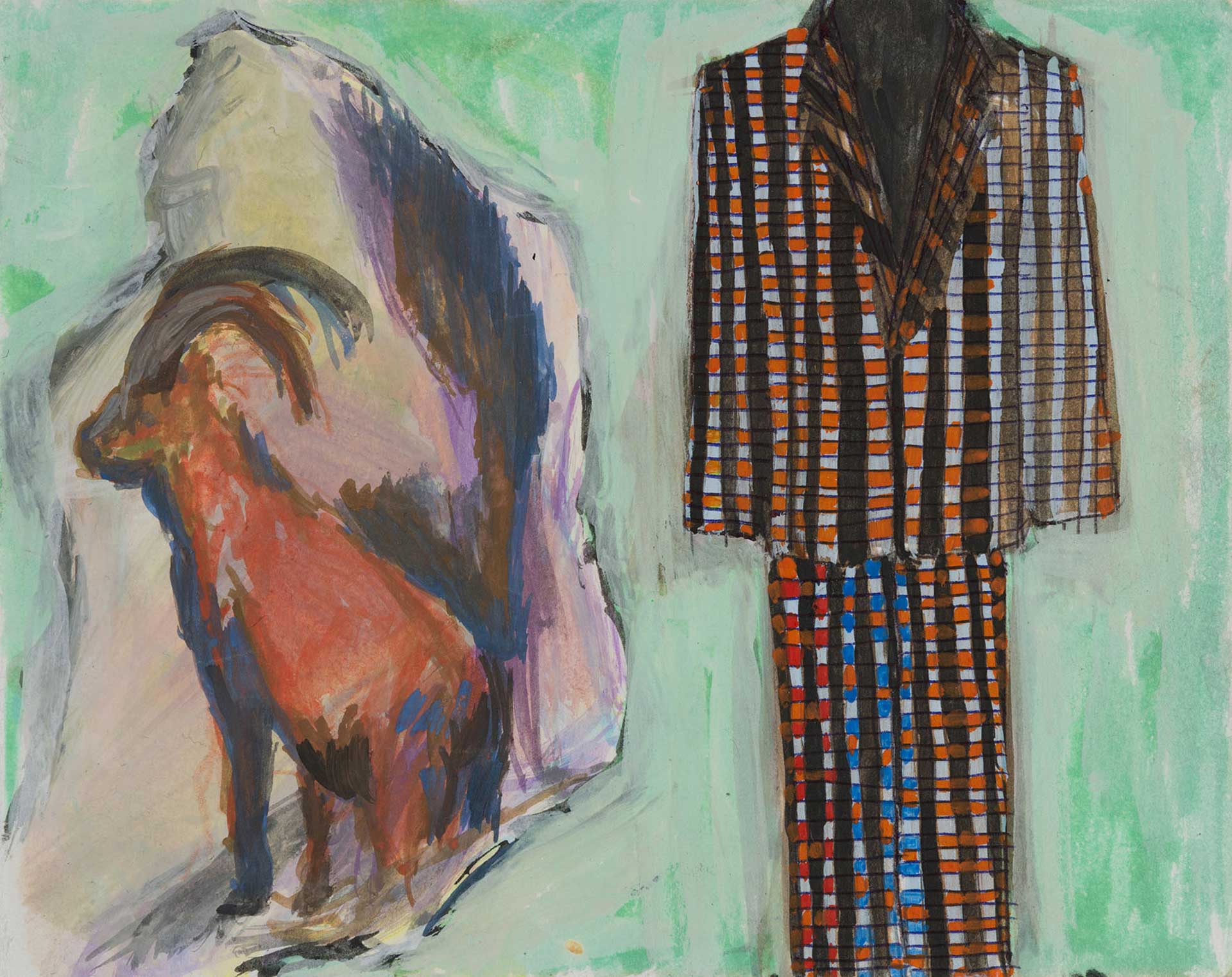 Thea Gvetadze Untitled, 2008 different media on paper 14.5 × 20.5 cm (5 3/4 × 8 1/8 inches)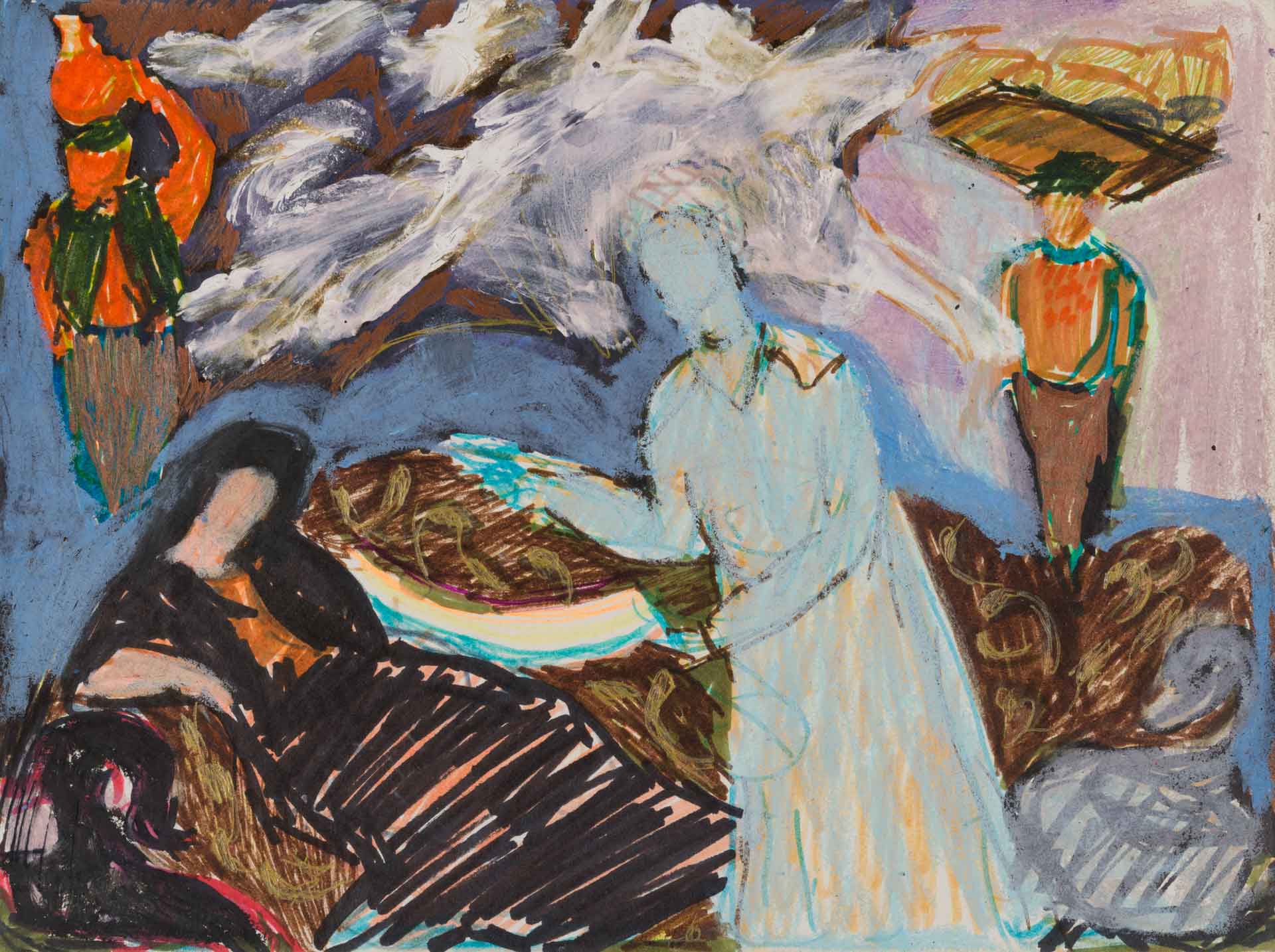 Thea Gvetadze Untitled, 2004 different media on paper 21 × 28 cm (8 1/4 × 11 inches)
One gets the impression that, for Gvetadze, vulnerability isn't vengeful and a setting sun isn't spiteful. This attitude is particularly pronounced in ხორცისფერი ყვავილი (Fleischfarbene Blume), a painting from 2020 containing several references to Batumi, the Black Sea city from where Gvetadze's family hails. The flower of the work's title is shown to the right, wise and aged. It is mirrored on the left by the dapper figure of an older gentleman who Gvetadze met fleetingly at a fruit stand. The flower and the fellow share the space, amply spread and interspersed with others. Together and apart, they soak in their saturation.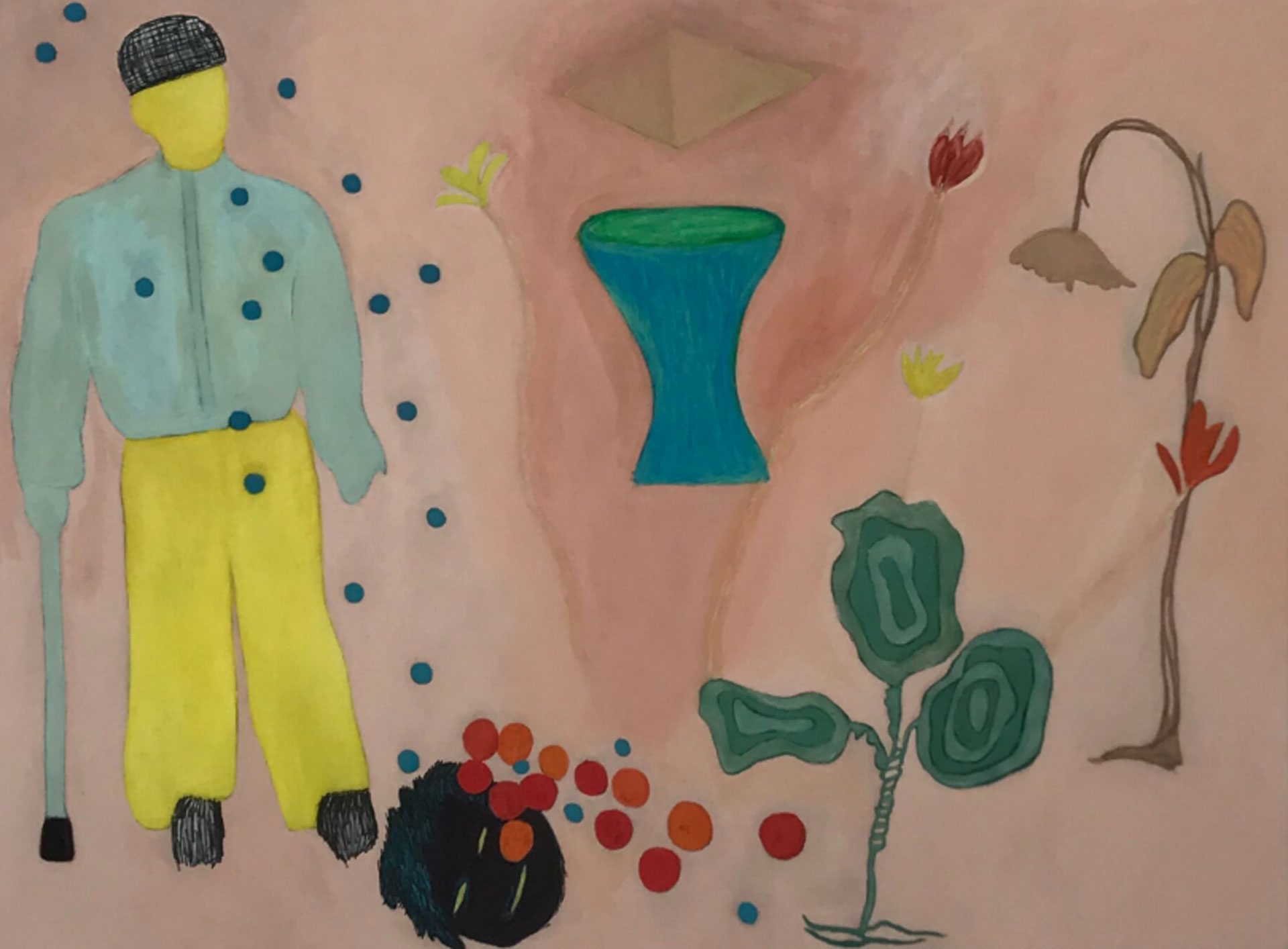 Thea Gvetadze. ხორცისფერი ყვავილი. 2021. Mixed media on velvet. 140 × 187 cm (55 1/8 × 73 5/8 inches)
'To have a chip on one's shoulder' is regularly used to indicate someone who is prone to dispute, usually as a result of their feeling that they have been wronged. Gvetadze gives the idiom another meaning. The 'chips' that often appear as contradictory shapes or scraps of fabric on the shoulders or surroundings of her subjects don't convey a desire for confrontation. Instead, they suggest that the searches, sentiments, and stories that we use in order to construct our sense of self aren't conclusive, as exemplified by Javakheti (2020), in which the artist pictures herself in the later stages of a lengthy recovery from a leg injury. These elements sing a siren's song when Gvetadze's works are seen collectively: wooing in their wanting.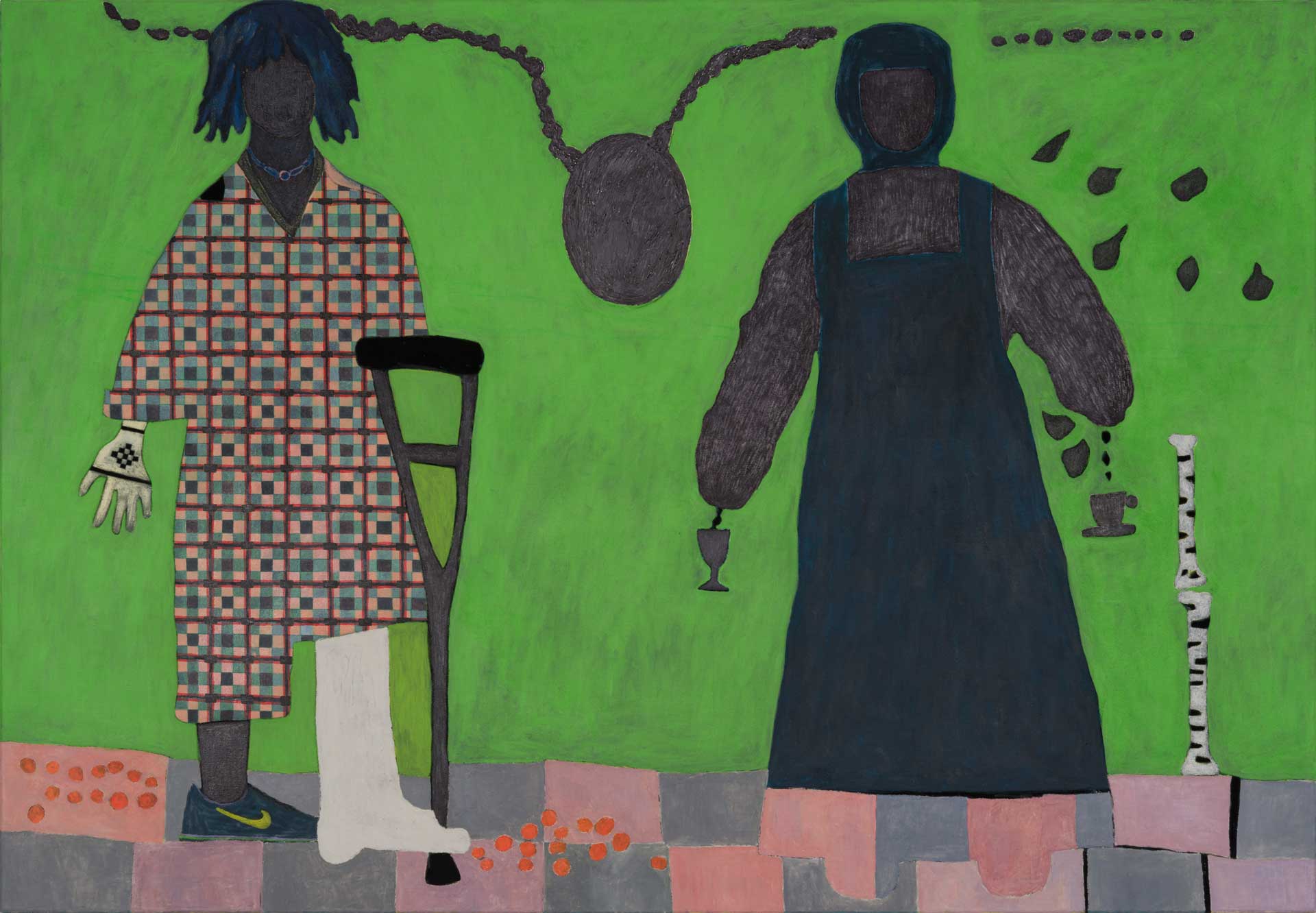 Thea Gvetadze. Javakheti. 2020. Mixed media on velvet. 145 × 210 cm (57 1/8 × 82 5/8 inches)
For Gvetadze's 2019 solo exhibition "Subtropical Ushguli" at L.C. Queisser, the artist applied plaster to four walls using her hands. The surfaces were mapped with pressed palms and pulled fingers. On a blue wall, the artist installed To Rajden Gvetadze (2019), a two-part glazed ceramic dedicated to her great-grandfather. In the work, twin pairs of swans nook their necks. There is something proverbial in the fact that both swans on the first panel are black, but on the second panel the swan whose neck rests atop the other has become as yellow as its surroundings. The sheltering aspect of their synchronicity appears to have evolved as they came to understand the improbability of their own existence.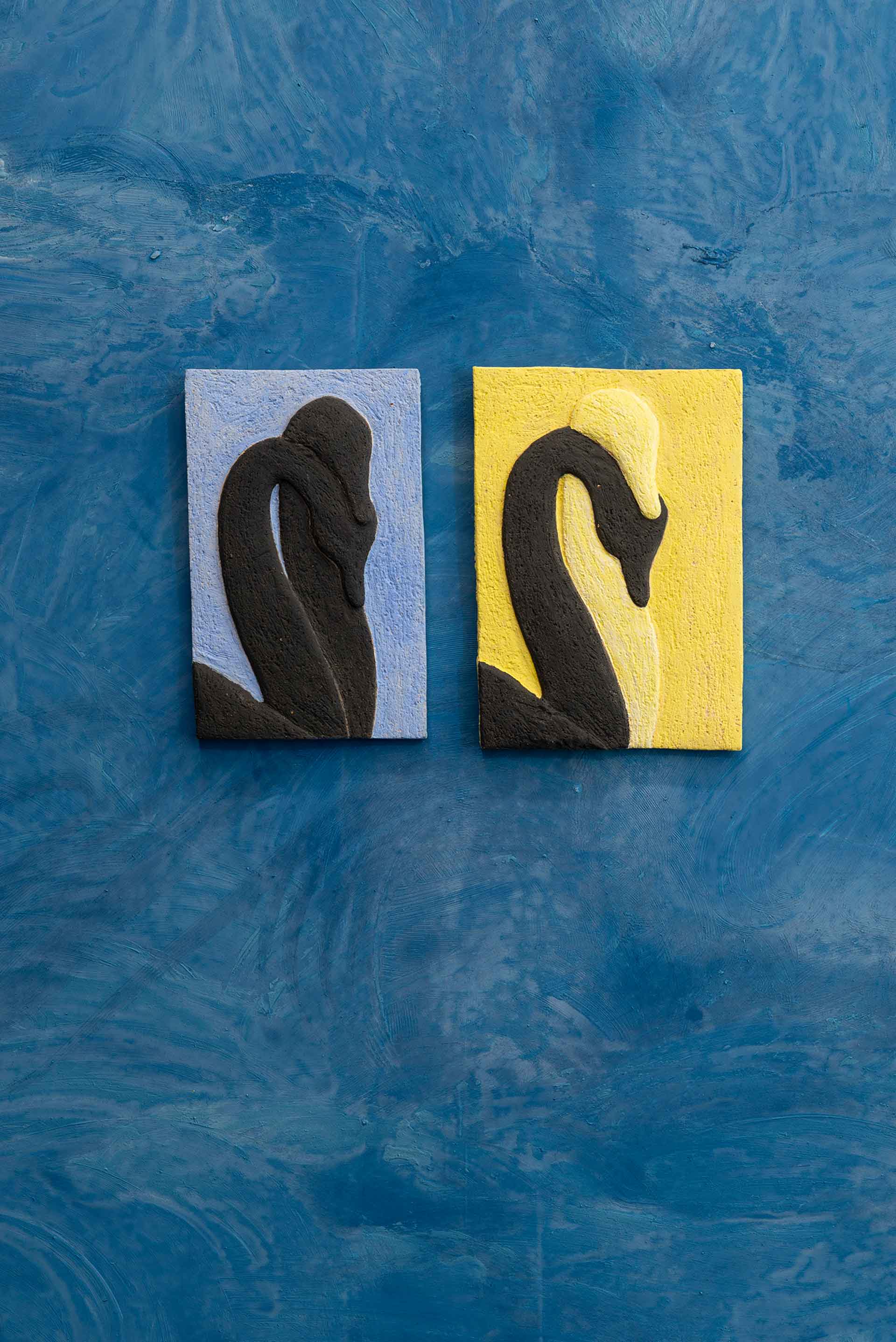 Thea Gvetadze. To Rajden Gvetadze. 2019. Ceramics. 29.5 × 18.5 cm (11 5/8 × 7 1/4 inches) 30.5 × 21 cm (12 × 8 1/4 inches)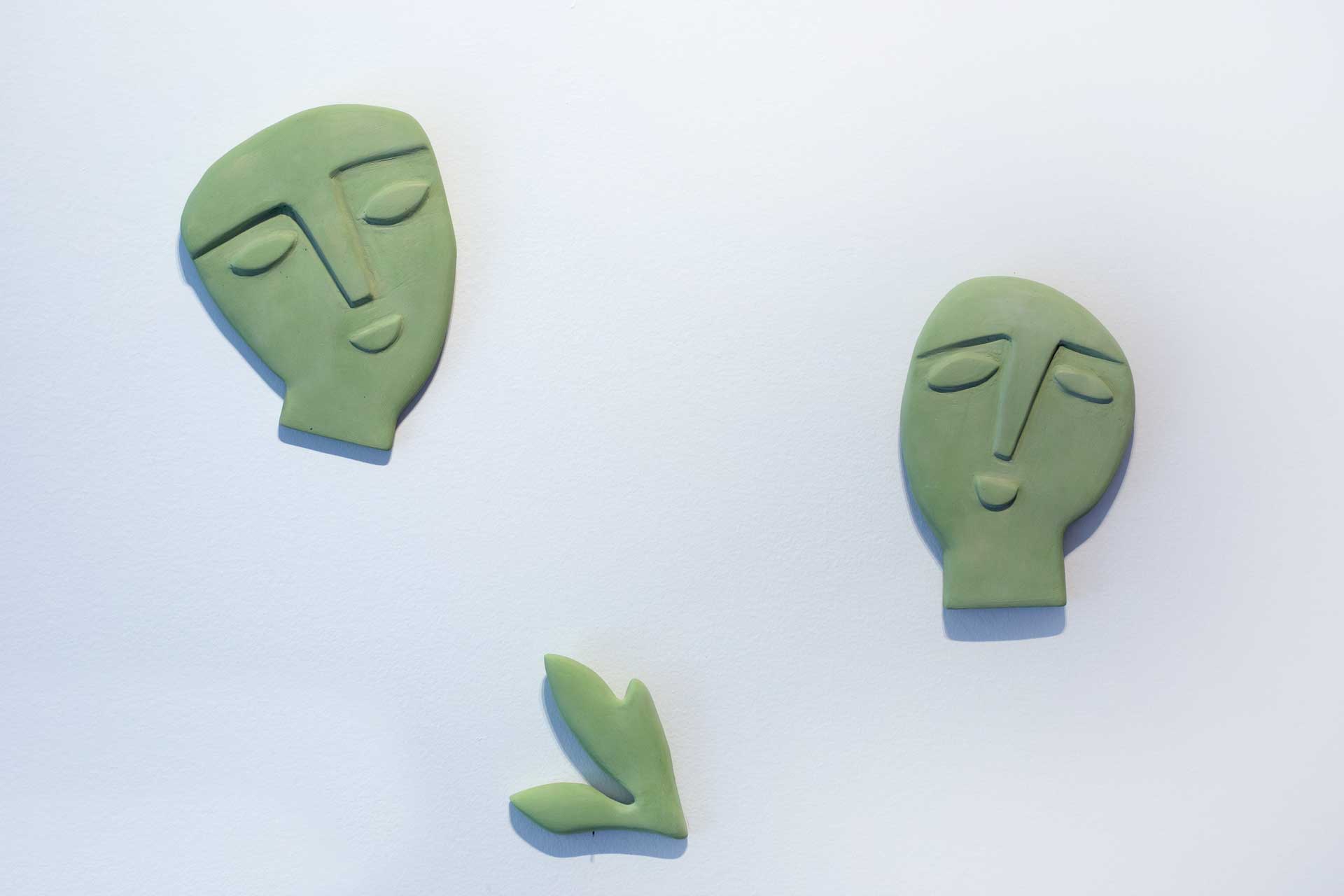 Thea Gvetadze. Zeda Tsinsvla. installation view. Courtesy Nectar Gallery. Ceramic.2017
Thea Gvetadze lives and works in Tbilisi, Georgia. Following her studies at the Tbilisi State Academy of Art, she relocated to Amsterdam in 1993 to continue her studies at the Rietveld Academy, and subsequently attended the Düsseldorf Art Academy. She has had solo exhibitions at LC Queisser, Tbilisi; M HKA, Antwerpen; Gallery Nectar, Tbilisi; Museum von Ostwall, Dortmund; and the Georgian Pavilion at the 50th Biennale of Venice, 2003. Gvetadze has also participated in exhibitions and projects at Art in General, New York; Cobra Museum, Amstelveen, The Netherlands; and Karvasla Tbilisi History Museum. She is a professor at VA[A]DS - Free University of Tbilisi.