"There is a war outside.
Rockets fire
They shoot two words.
My sisters embroider the words with fire into the sky, The end and the beginning.
There are only two houses left in the city.
One house is the end the other is the beginning.
Which one is my house? The end or the beginning?"
Mariam Natroshvili
The history of the Venice Biennale dates back more than a century, and is linked to the Venice City Council's historic decision in 1893 to host a biennial exhibition of Italian art in celebration of the silver anniversary of the King and Queen of Italy - Umberto I and Margherita of Savoy.
The exhibition was originally scheduled for 1894, but was postponed for a year, and on April 30, 1895, the King and Queen opened the first Biennale, which was by then already of international status, and was to become the defining locus of contemporary art trends and perspectives.
The 127-year old Biennale is one of the most important gathering places for famous artists, curators, critics, art historians, gallery owners, and once every two years offers a three-day pre-opening viewing for specialists and a 6-month exhibition for visitors. It combines 3 main components - an exhibition of artworks by artists selected by an invited curator, national pavilions, and a parallel program.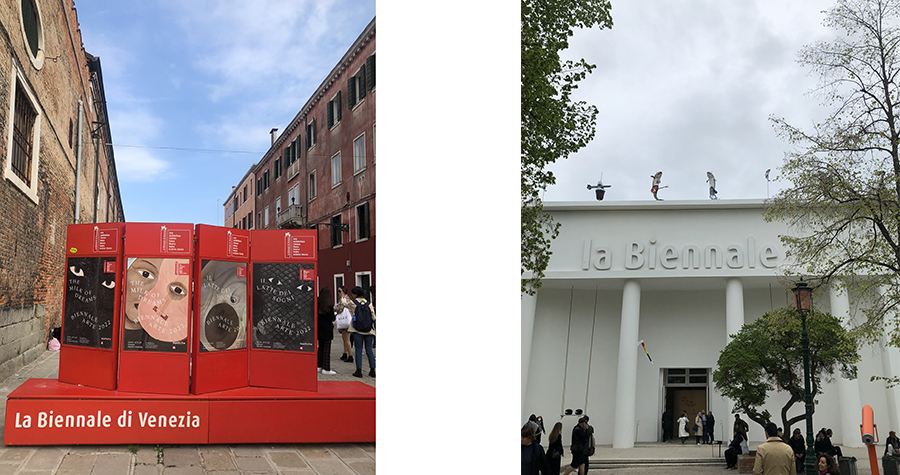 Venice, 2022, "The Milk of Dreams"
"How is the definition of the human changing? What constitutes life, and what differentiates animals, plants, humans and non-humans? What are our responsibilities towards the planet, other people, and the different organisms we live with? And what would life look like without us?" - The 59th Venice International Art Exhibition revolves around these existential questions that were posed by curator Cecilia Alemani and , which respond to bodies in a state of alienation between fear and "technological optimism," their metamorphoses and links, the connections between worlds inhabited by different species and hybrid creatures. It explores the possibilities of new relationships and tries to demonstrate new rules of co-living, co-existence, passing through alternative worlds and different situations.
At this year's Biennale, which is named "The Milk of Dreams," the unconscious personal and transpersonal worlds between dream and reality are diluted in an archetypal substance - in female fluid. The curator borrowed the title from a book of the same name by the surrealist artist Leonora Carrington, or rather from a notebook of hers dating from the 1950s, which was inhabited by dwellers of the artist's mystical, fantastic world: "mutant creatures <…>, children who lose their heads, vultures trapped in gelatin, and carnivorous machines". (1)
1. Time capsule V, Seduction of Cyborg

2. Wu Tsang, Of Whales, 2022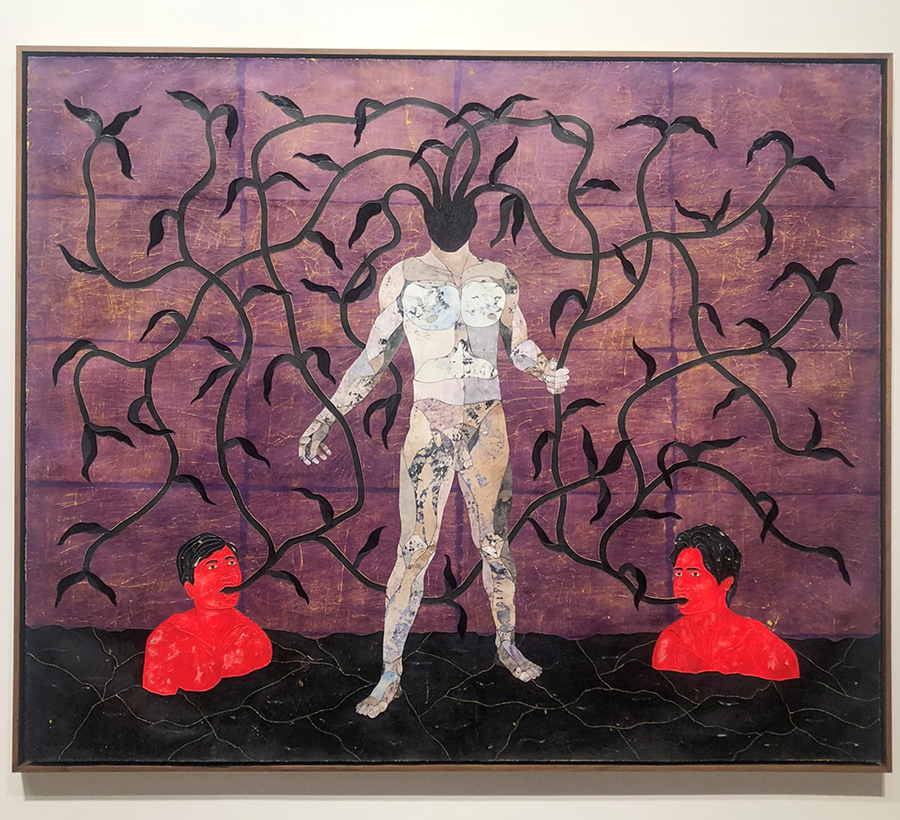 Felipe Baeza, 2020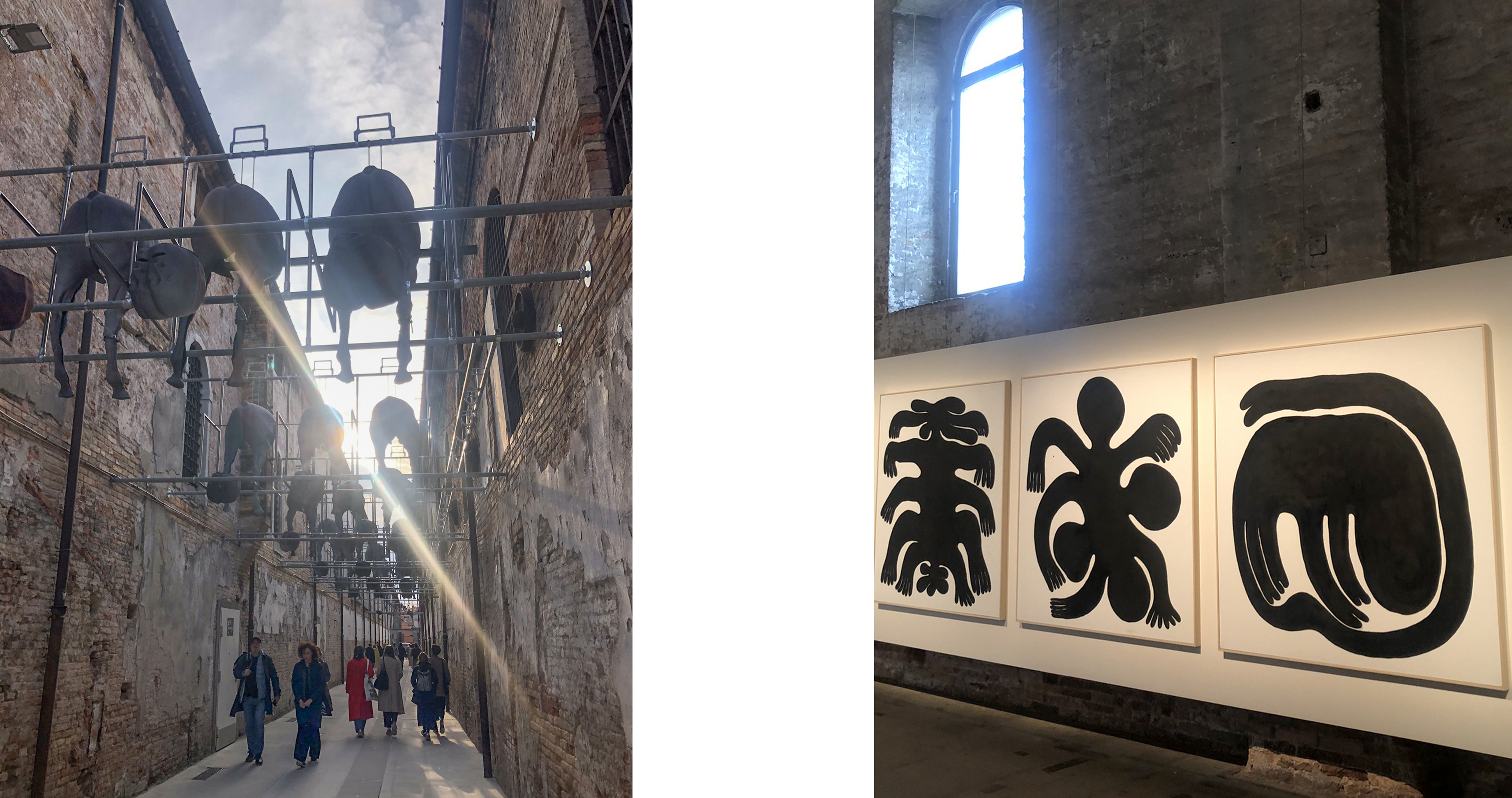 1. Giulia Cenci, dead dance, 2021-22
2. Solange Pesoa paintings, 2020-22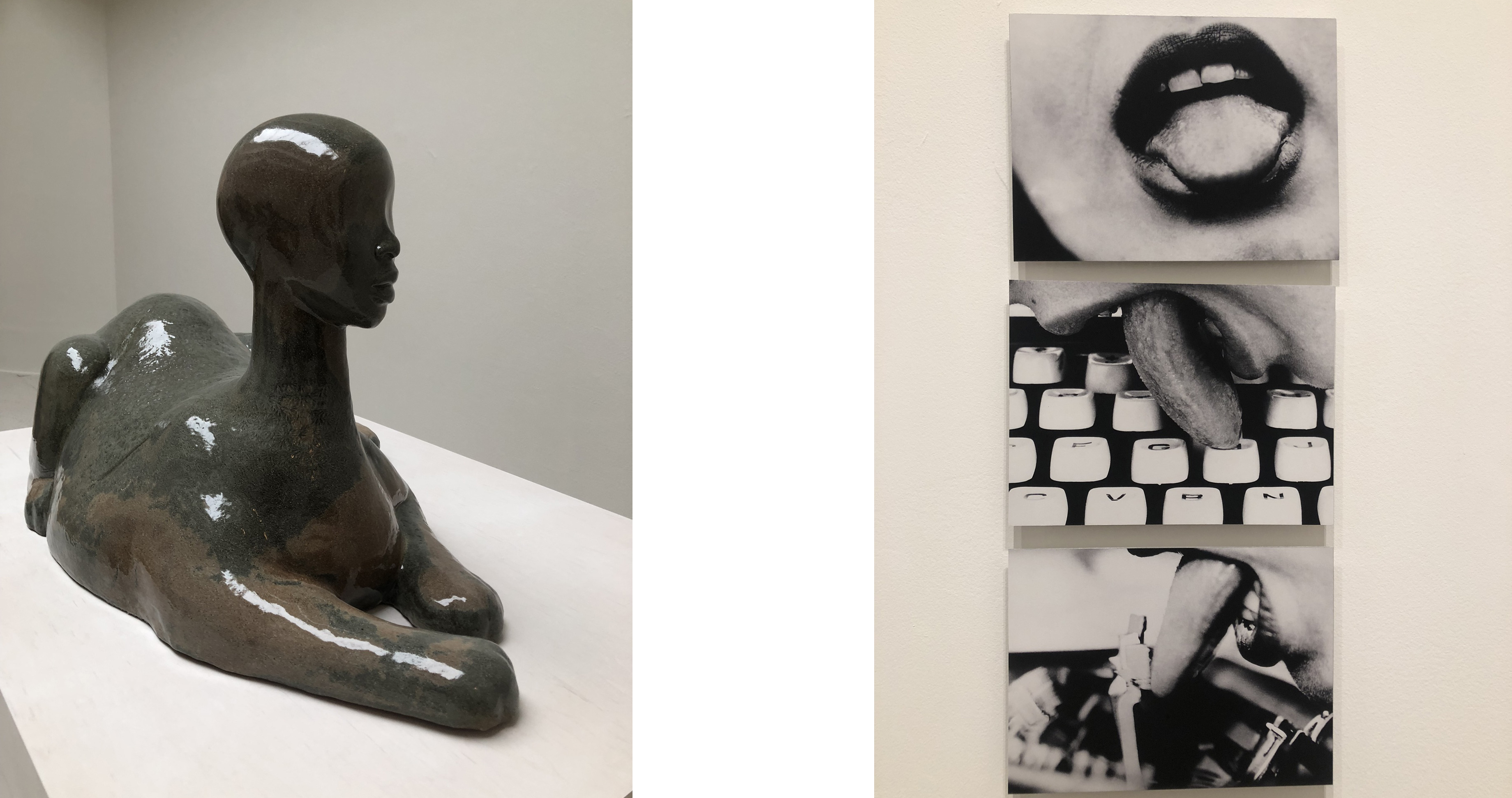 1. Simone Leigh, Spinx, 2022
2. Lenora de Baross, POEMA (POEM), 1979/2014

The curator's concept and main exhibition find an echo in Carrington's dream paintings, where the world of infinite metamorphoses and possibilities is perceived through the prism of artistic imagination, and where the artist is the product of a strange union between man, animal and mechanics.
The exhibition "The Milk of Dreams" has been named as a triumph for women - a historic biennale with about 200 artworks by women and non-binary artists. A non-linear story of art, narrated by a woman, that is "built around forms of symbiosis, solidarity, and sisterhood" (Cecilia Alemani).
In place of the male view, the female view becomes the landmark and starting point of the Venice Biennale, both literally and figuratively. This female eye constantly follows you and intersects with your gaze. At the exhibition, you move between metaphorical, mutated, hybrid bodies - female bodies, parts, fragments, and textures everywhere... Despite their historic realm, you sink into hyper-realistic time capsules directly related to modernity: you travel between generations, you immerse yourself in collective feminine history, in ritual, and in alternative cosmogonies.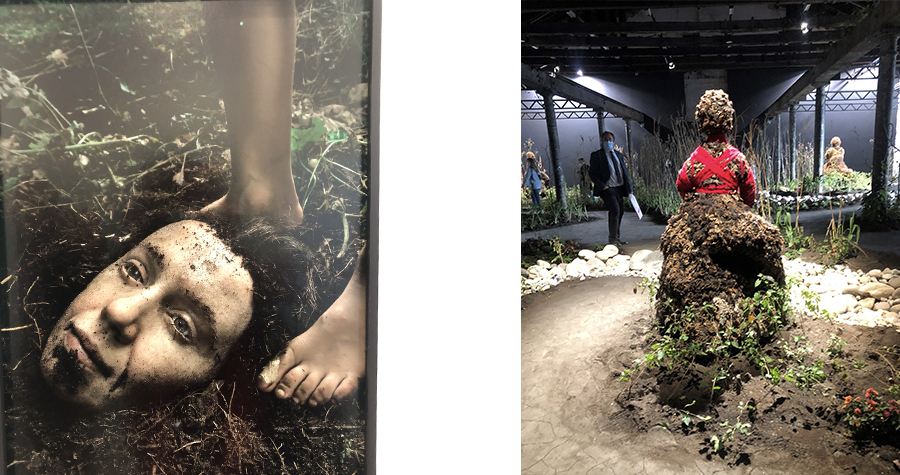 1. Aneta Grzeszykowska, From Mama series, 2018
2. Precious Okoyomon, To see the Earth before the end of the World, 2022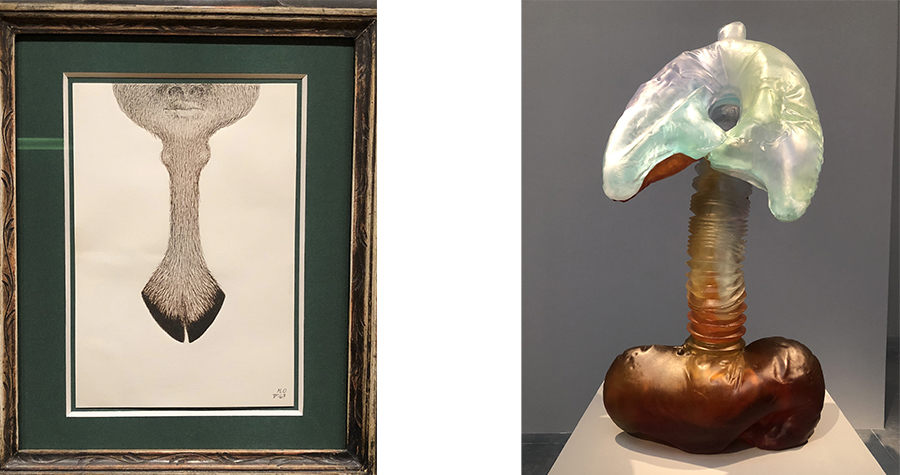 1. Meret Oppenheim, 1967
2. Andra Ursuta, Terminal figure, 2021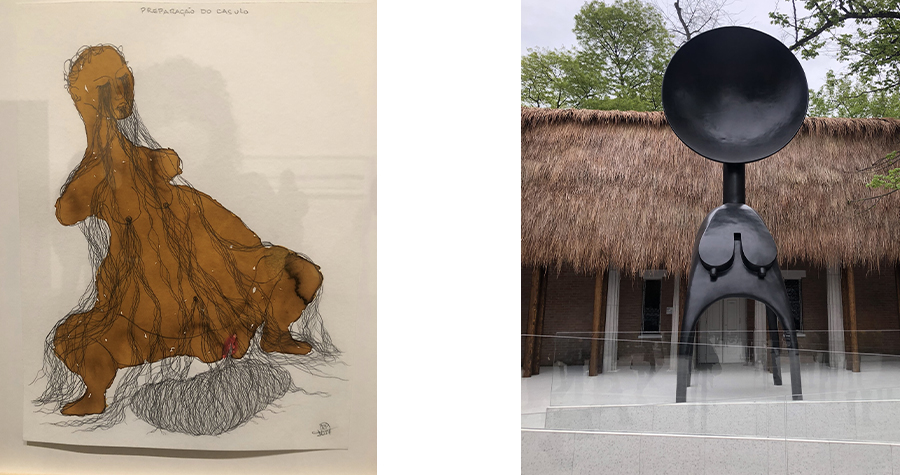 1. United States Pavilion, Simone Leigh, Satellite, 2022

2. Rosana Paulino, From the Senhora das Plantas series, 2015-2021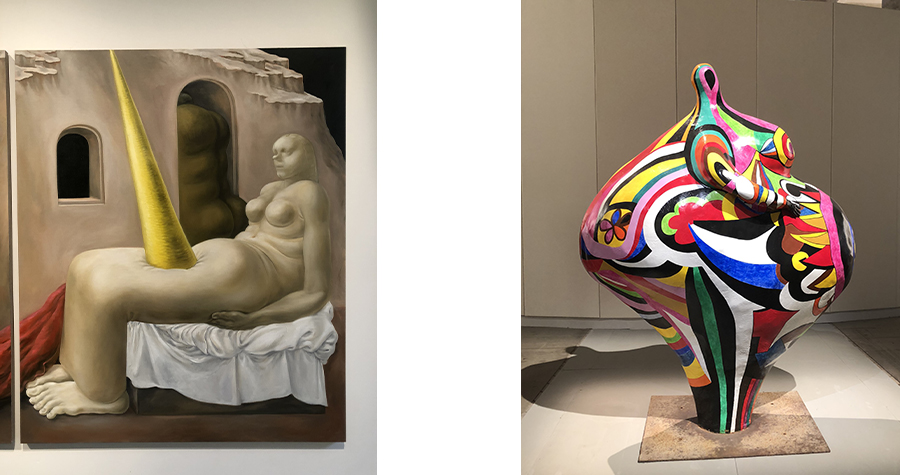 1. Louise Bonnet, Pisser Tryptich (detail), 2012- 2022
2. Niki de Saint Phalle, Gwendolyn, 1966–1990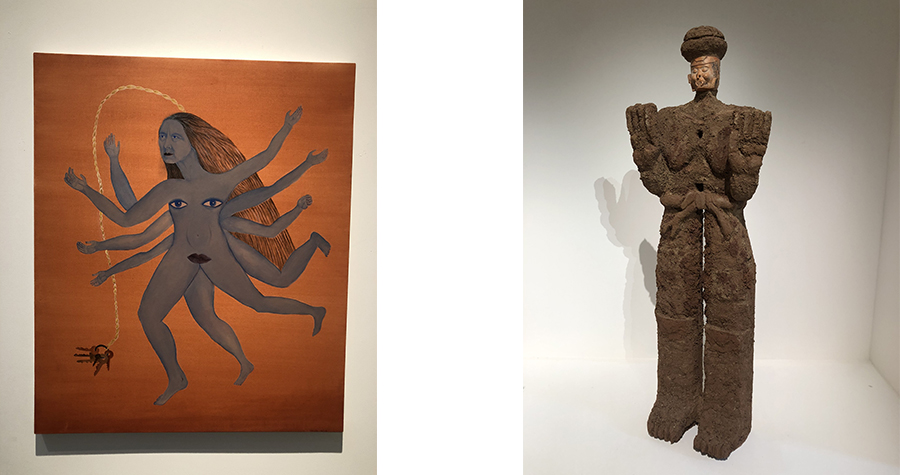 1. Cecilia Vicuna, Llaverito (Blue), 2019
2. Ali Cherry, Titans 2022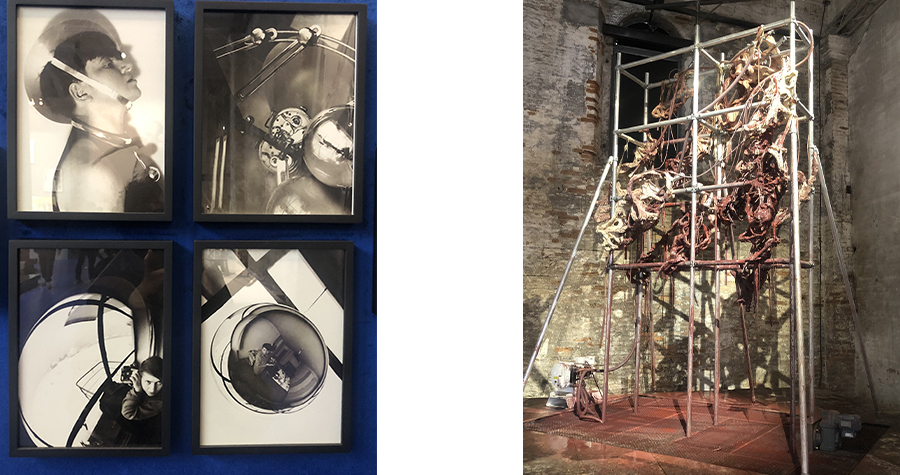 1. Mire Lee, Endless House: Holes and Drips, 2022
2. Marianne Brandt, Self-portrait, 1928-29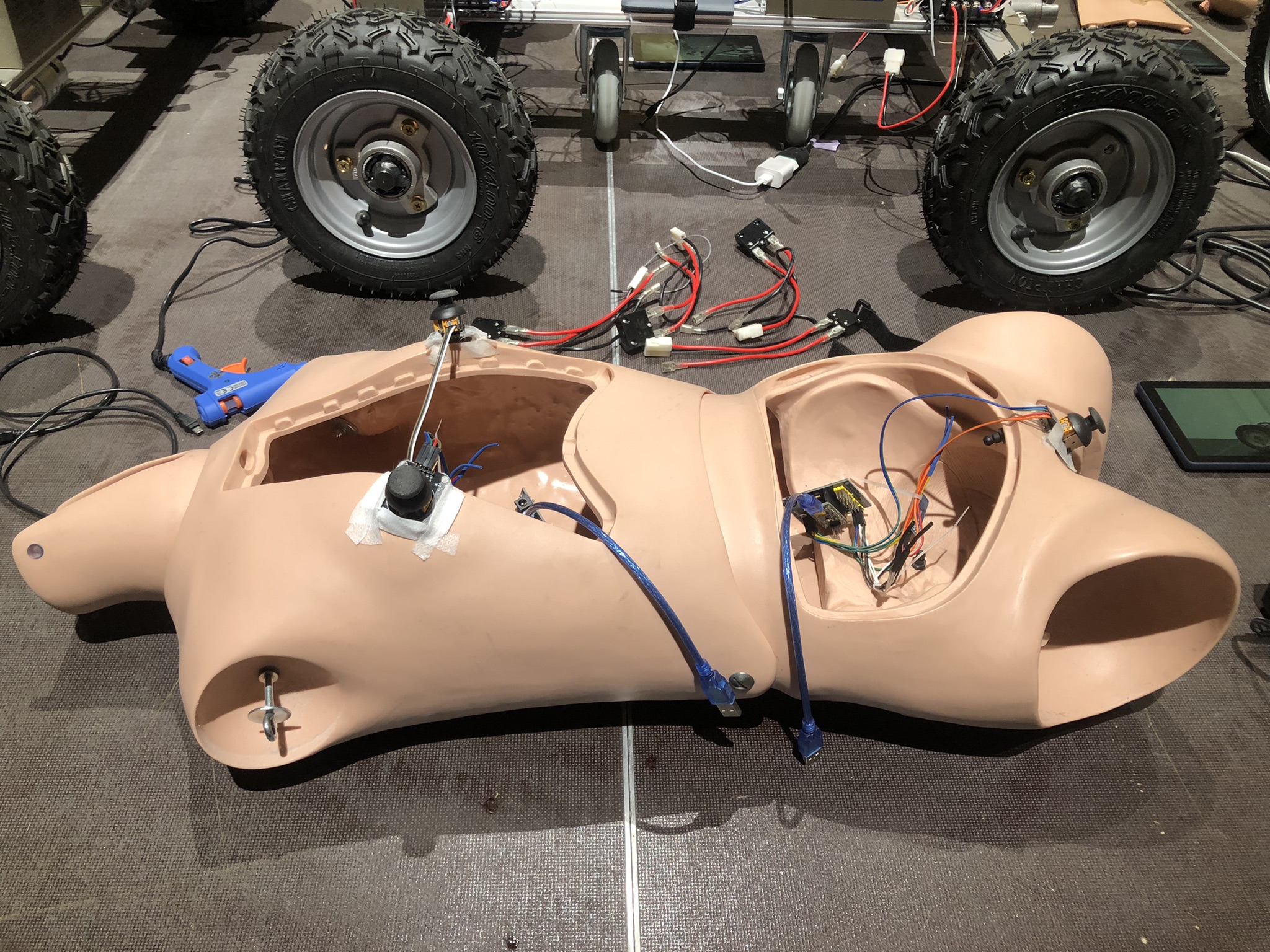 Geumhyung Jeong, Toy Prototype, 2021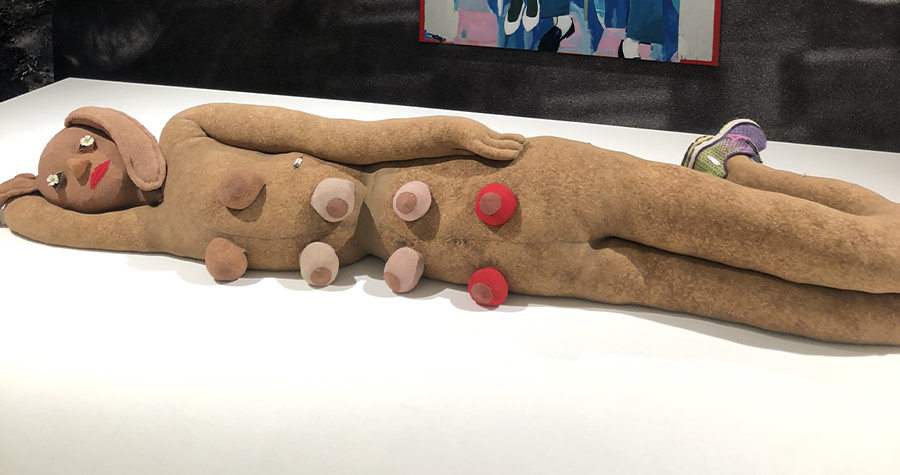 Gabrielle L'Hirondelle Hill, Counterblaste, 2021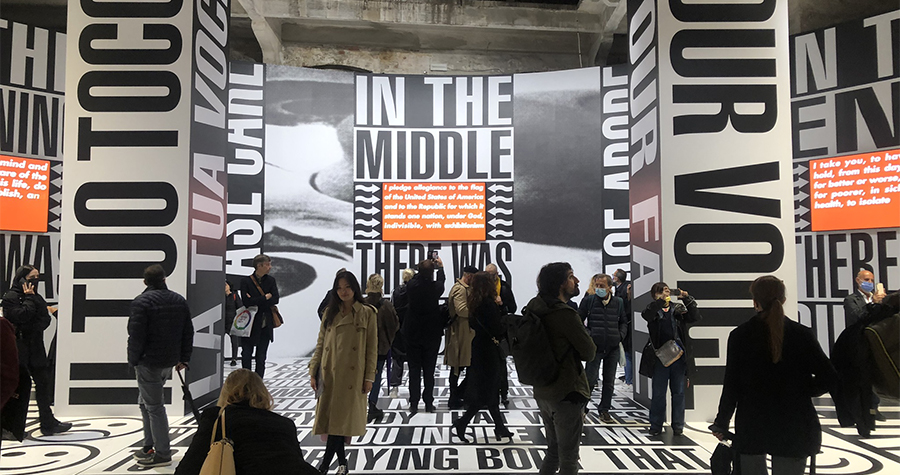 Barbara Kruger, Untitled (Beginning/Middle/ End), 2022
As a sign of solidarity with Ukraine and a reflection of the horrors of war, the curator of the Venice Biennale, Cecilia Alemanni, provided Ukraine with an additional space - a temporary pavilion near the closed Russian Pavilion in Giardini. In parallel with the National Pavilion, another work of Ukrainian curators - Piazza Ucraina - represents a transformable platform for showing the current horrific events in Ukraine to visitors through the works of artists.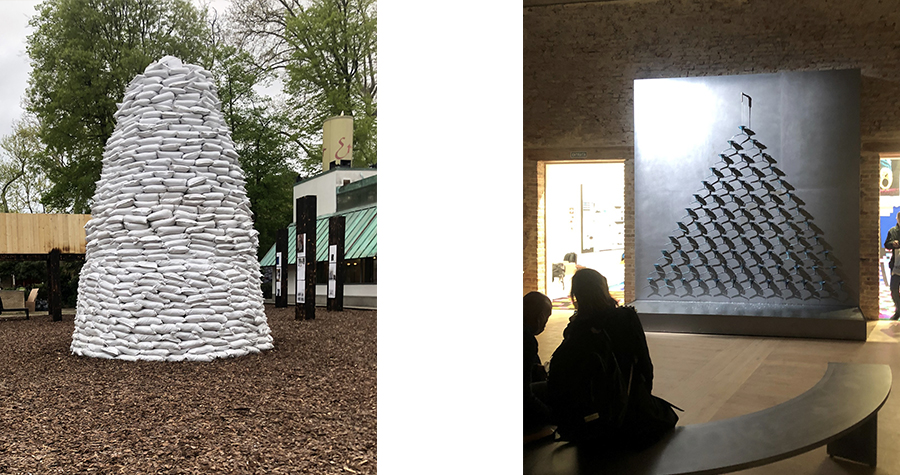 1. Piazza Ukraina, Giardini
2. Ukraine National Pavilion, Pavlo Makov, "Fauntain of Exhaustion"

It is noteworthy that the works of Georgian artists have been presented many times before at the Venice Biennale - e.g. Vera Paghava (French Pavilion. 1966), Gia Edzgveradze, Gogi Alexi-Meskhishvili, Mamuka Japaridze, Tamara K.E., Thea Gvetadze (curated by Irina Popiashvili) – but the official history of Georgia's independent national pavilion began in 2007, and since then, once every 2 years the National Pavilion reflects on current events and trends in Georgian contemporary art through a different worldview – through works created by a different generations of artists.
This year, Mariam Natroshvili and Detu Jincharadze are respresenting the Georgian National Pavilion with their uncanny, captivating, neo-surrealist work that was created by their unique visual language - "I Pity the Garden". This time our pavilion is located on the beautiful island of Venice Laguna - Giudecca, on the territory of famous art space, Spazio Punch. The project is curated by the In-Between Conditions platform, led by Vato Urushadze, Khatia Chokhonelidze and Giorgi Spanderashvili. Pavilion Commissioner: Magda Guruli, Sound Designer/Composer: Davit Khorbaladze Exhibition Design: Luka Murovec, raumlaborberlin, Graphic Design: Elene Gabrichidze. (2)
On a big screen, in a real-time simulation, various things and objects are fleeing around by the "logic" of the wind's algorithm. Wearing a VR headset, face to face with the work, we are left alone to embark on a twenty-minute journey and sink into an immersive experience.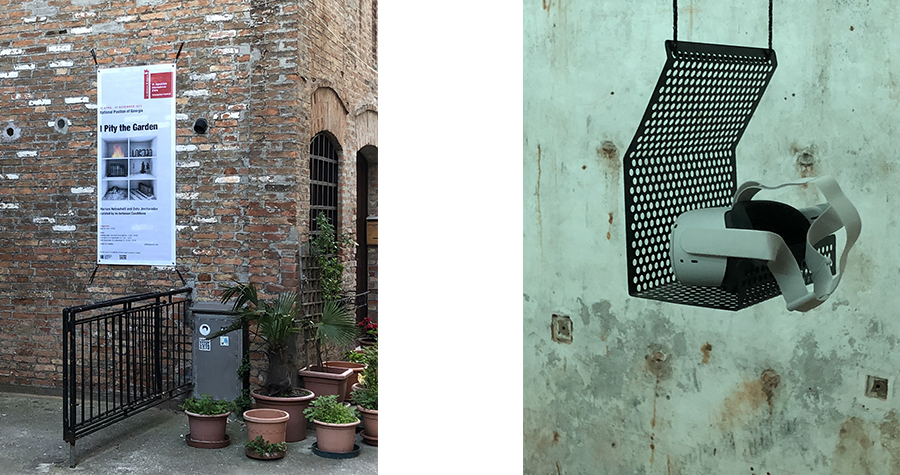 Georgian National Pavilion, Mariam Natroshvili, Detu Jincharadze, "I Pity The Garden"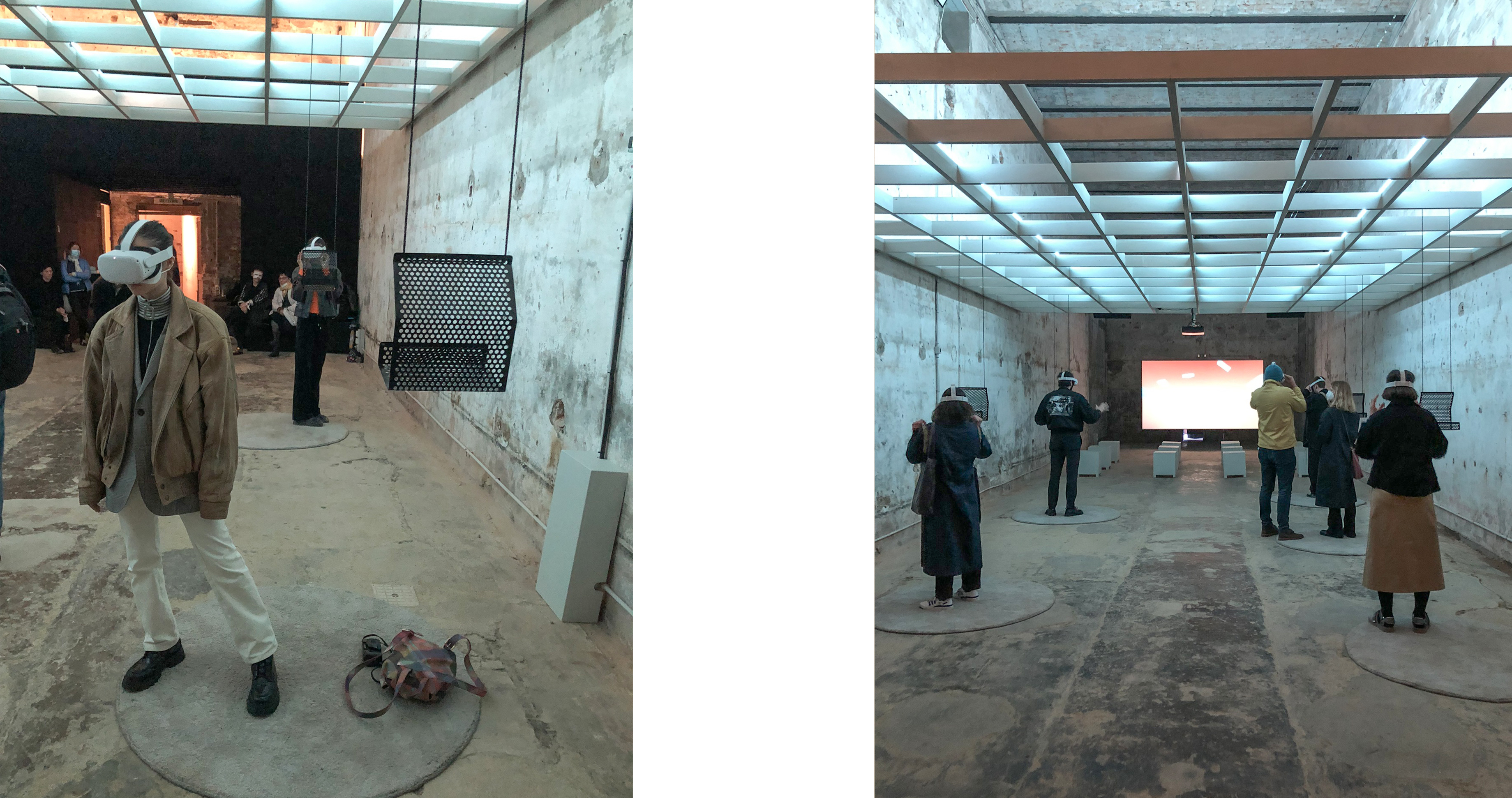 Georgian National Pavilion, Mariam Natroshvili, Detu Jincharadze, "I Pity The Garden"
In front of us are unfolding the real and virtual landscapes as a personification of existential wanderness, nothingness, fear, void - seen a hundred times but forgotten; so familiar, yet so unbelievable. A captivating, fearsome, dreamy reality that exists on the verge of the possible and impossible. The artistic tool begins to work as a magic instrument that allows teleportation. You will find yourself in-between places, events, times, spaces, realities, adventures, stories, where the earth has opened its mouth and swallowed up houses, where there is a garden, but without plants, a home, but without people... Here, instead of snow and rain, words are falling from the sky; you are feeling and seeing the silence, which is so alarmingly "loud".
Being a mute observer and witness of this end evokes a sense of direct complicity, and you become desperate in the realization that you yourself have a responsibility for the houses swallowed up by the earth, those plants that have become extinct, and the garden that we have lost. Once upon a time… But being between reality and the dream, we glimpsed the sprouts and heard the words spoken at the opening of the Venice Biennale:
"The empire will surely end up and our nightmares may turn into fairy tales for children, but no empire or aggression can vanish the fact that we exist; we exist with our flaws and nightmares, and not only do we exist, but we also dream, and this dream holds the energy of exploding stars and quasars.
the algorithms that come with a
Buda's calmness,
Archangel's wrath
and
a vision of a birth of an Universe,
as a free applications." - Zura Jishkariani, Georgian writer, musician

In addition to the Georgian National Pavilion, several works by Georgian artists are on display in Venice this year. Within the framework of the Biennale's accompanying projects, Nino Kvrivishvili participates in a group exhibition called "SILK," which is presented on the island of Giudecca, and is supported by the Goethe Institute. Roko Iremashvili's artwork is included in a large exhibition organized every two years by the European Cultural Centre "Personal Structures," and which is this year being presented at Palazzo Mora and Palazzo Bembo. In addition, this year the Georgian Traditional Handicraft Association is among representatives from 43 countries that are participating in a large-scale exhibition of artistic handicrafts and design, HOMO FABER (he who creates). The work of Georgian artist Lali Kutateladze is featured within the framework of the Next to Europe curatorial exhibition on the territory of the monastery that is located on the island of San Giorgio Maggiore.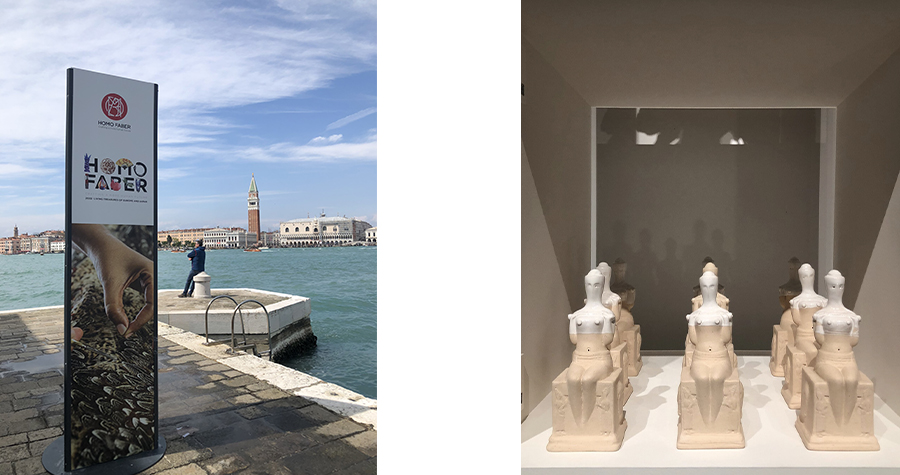 1. Poster of the exhibition HOMO FABER
2. Lali Kutateladze, The Kings, 2016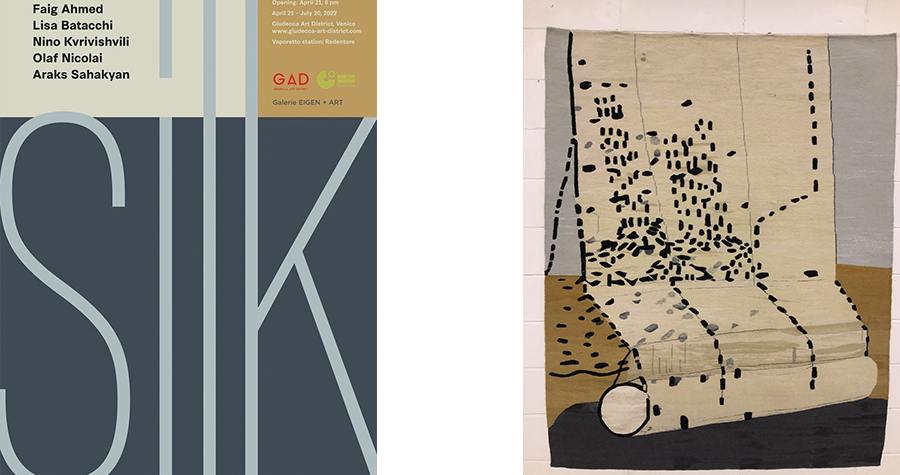 1. Poster of the group exhibition "Silk"
2. Nino Kvrivishvili, Aisi, 2022
Before 2022, Georgian artists participated twice in the International Exhibition organized by the curator of the Venice Biennale - in 2011 Andro Wekua was invited by curator Bice Curiger and in 2013 Thea Djordjadze was invited by Okwui Enwezor. This year, the main exhibition curated by Cecilia Alemani includes Andro Eradze's artwork. As a part of one of the Venice Biennale projects - the Biennale College, which aims to promote young artists (out of the competition), Andro Eradze was among 12 artists selected out of 250 from 58 countries, and in the second phase was named among the 4 winners of the project.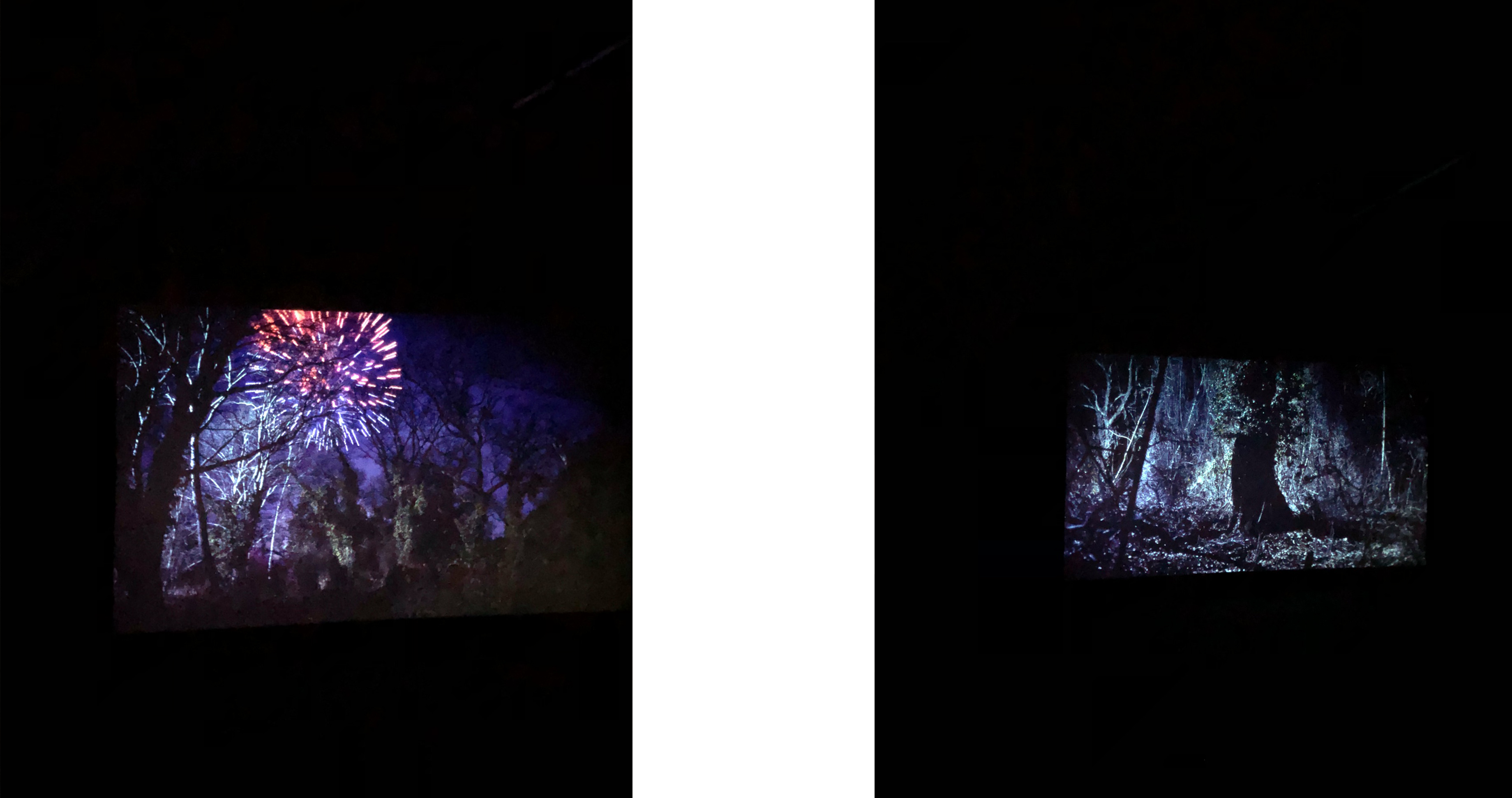 Andro Eradze, Raised in the Dust, 2022
The artwork "Raised in the Dust," inspired by the theories of Donna Haraway, John Berger and Vazha-Pshavela's "The Snake Eater," which features a mythical forest inhabited by plants, animals and phantoms, explores interspecific relationships. The author presents human impact on the environment, the dark side of carnival and horrendous and ruinous results of its accompanying lights and sounds, through enchanting moving images in an 8-minute experimental video.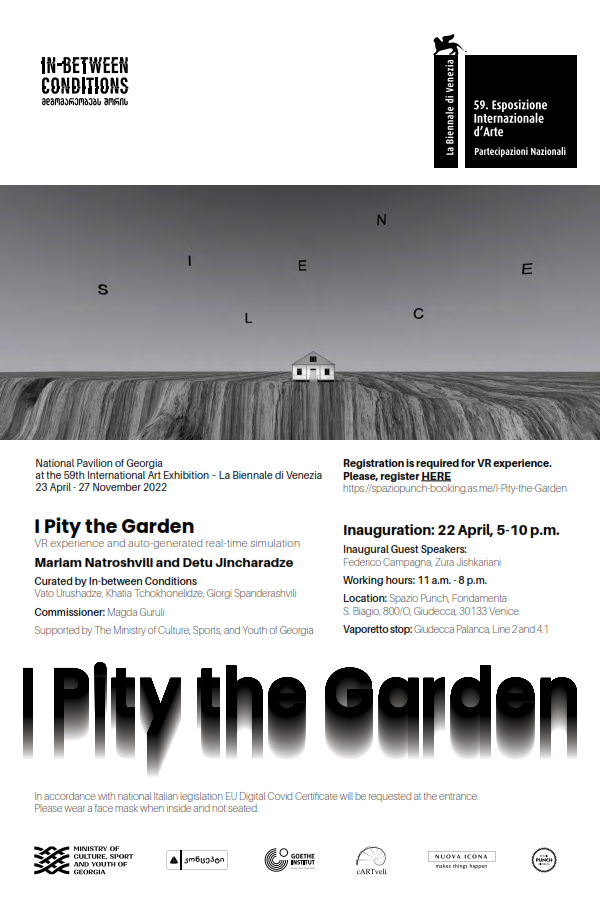 Georgian National Pavilion, Mariam Natroshvili, Detu Jincharadze, "I Pity The Garden"
The 59th Venice International Exhibition of Art "The Milk of Dreams" opened on April 23rd and will run until November 27th, 2022.

---
(1) https://www.labiennale.org/en/art/2022/statement-cecilia-alemani
(2) https://ipitythegarden.com/