Gogi Chagelishvili (გოგი ჩაგელიშვილი) created his self-portrait from a cloth that he had used for some time in his studio to wipe his hands. These canvases with traces of paint that he had used at various times best depict his life, since his life is that of an artist, and his studio is the arena of his most intense contemplation. Besides the image created using the cleaning cloth, he also included in his self-portrait fragments of ideas written on scraps of paper. The language of collage was especially close to Chagelishvili as a representative of the generation of Georgian artists who emerged in the latter half of the 1960s. This was the time following Khrushchev's liberalization, which afforded relative independence to the Soviet Union's creative sectors. However, only artists with remarkable skills and vision were able to take advantage of this opportunity, and break free from the restraints of socialist realism. In Georgia, one such artist was Gogi Chagelishvili. Collage became a form of expression for these young people. Goga Chagelishvili has never been interested in or inspired by any particular independent mode. Having extensive professional knowledge and experience, the artist always employs any artistic device to meet the creative task facing him. Accordingly, he can express himself both through the traditional means of independent painting or graphics, as well as the new formal devices established in the twentieth century. The artist's large-scale private exhibition, which was held in summer 2022 at the D. Shevardnadze National Gallery in Tbilisi, made evident the way he had lived before Georgia's independence (during the Soviet era) and after it.


Gogi Chagelishvili. Basilica. 56x144. Oil on cardboard. 1986.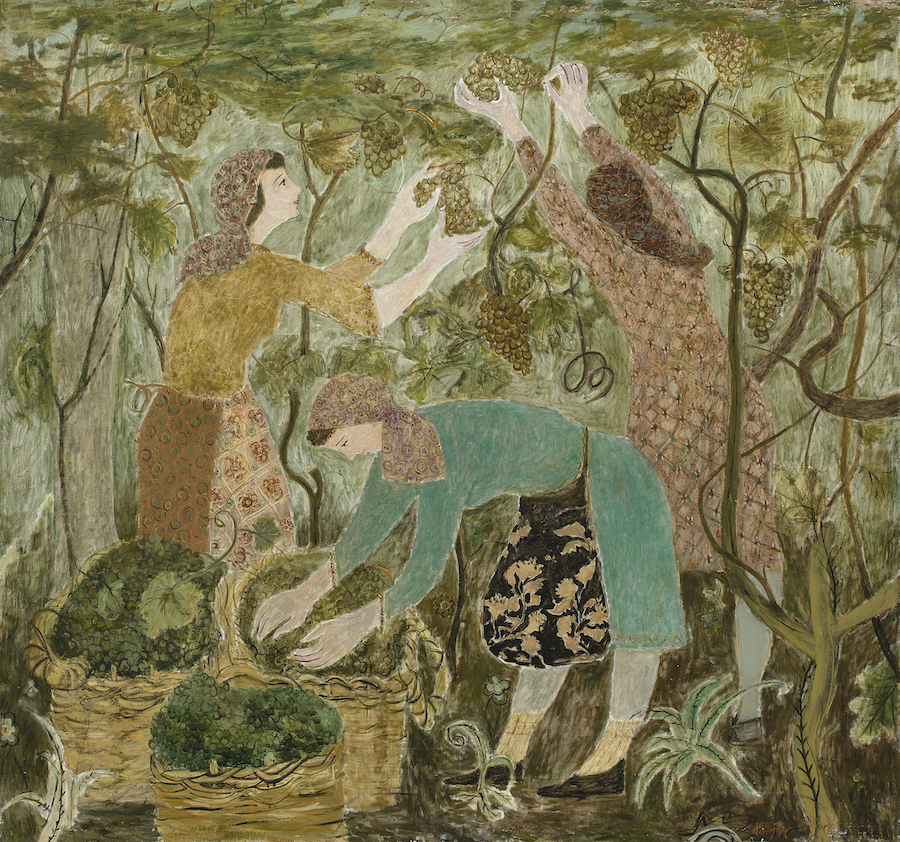 Gogi Chagelishvili. Harvesting. 191x173. Oil on canvas. 1985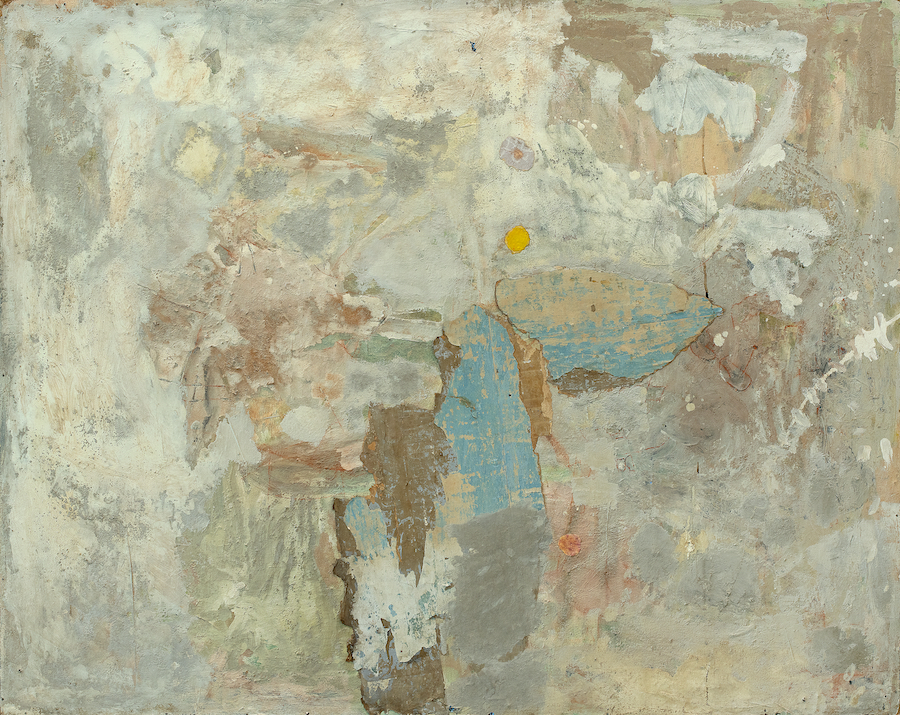 Gogi Chagelishvili. Space. 136x170. Oil on cardboard. 1988
Gogi Chagelishvili creates artworks in a variety of genres and styles, including portraits, landscapes, still lives, multi-figure scenes, and abstraction, amongst others. Nevertheless, none of his works possesses a descriptive nature. Through them, the artist does not express reality but rather his emotions, which turn into a story. Each painting has its own dramaturgy, which is not unexpected given that the artist is also the author of several literary works (in 2015, Gogi Chagelishvili became laureate of the literary prize "Saba"). Chagelishvili's compositions are frequently horizontally extended and have a panoramic character. They also bring to mind cinematic shots. They comprise both monumental and small easel works. As such, the artist creates a vast and diverse world, which nonetheless retains individuality. Chagelishvili's work is distinguished by his dynamic, unrestricted, and at times humorous or even ironic approach. Moreover, the world he creates is always a melancholy poetic one, existing outside of reality yet having been read in nature by the artist.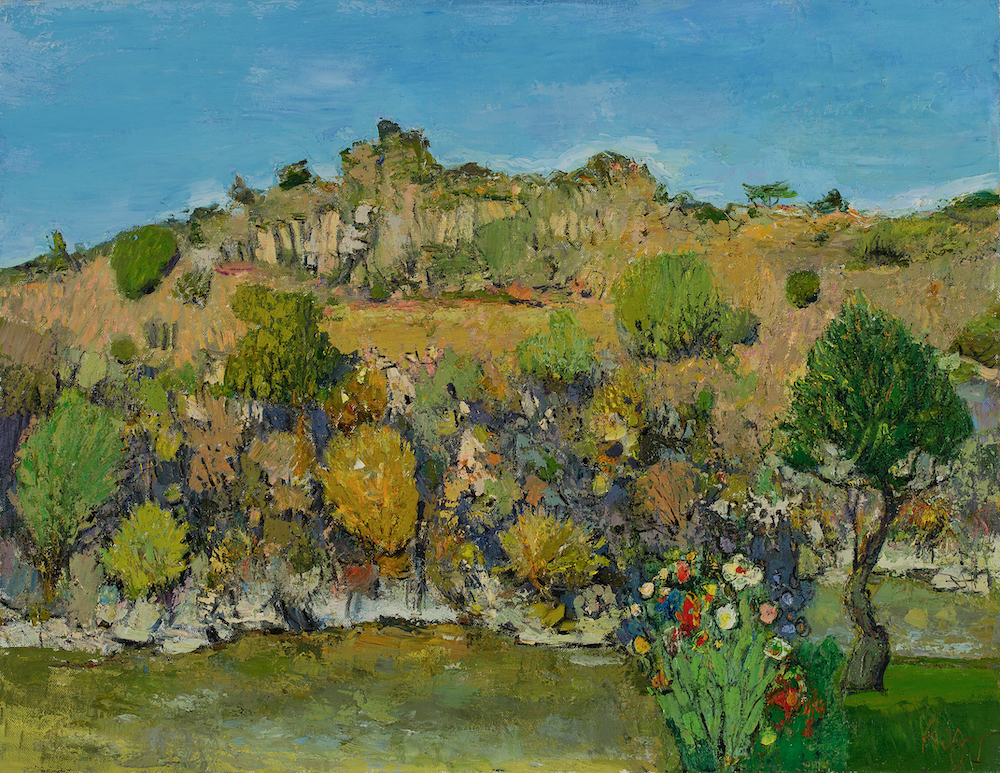 Gogi Chagelishvili. Armazi. 73x93. Oil on canvas. 2020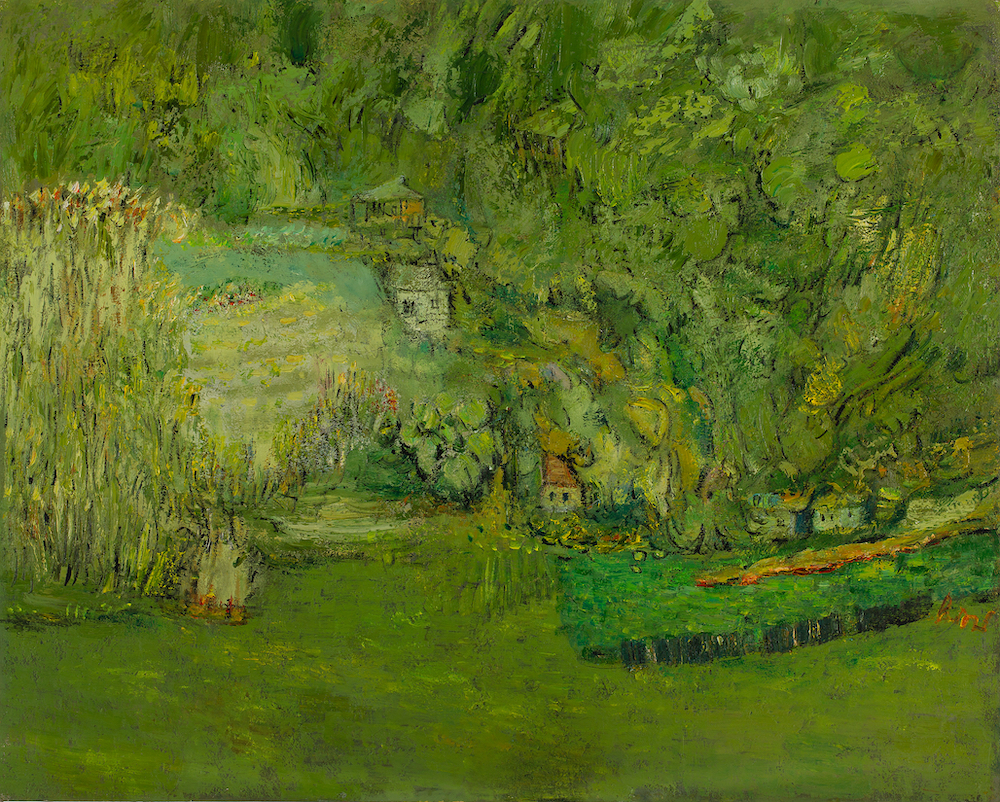 Gogi Chagelishvili. Rachvelian Rhapsody. 80x100. Oil on canvas. 2014.

Chagelishvili can be inspired by nature in a variety of ways: be it the sea, snow, a bird, a child, a lady, a man, a flower, a boat, a person's mien, etc. He can transfer the world he has viewed and transformed into artistic forms on a plank taken from an abandoned fence. Such "pop art" material lends his paintings more texture and reveals the author's original ideas. Even during the Soviet era, Chagelishvili made a pictorial composition from rusted buckets. At that time, the title of this work, "Glory to labor," seemed cynical, although it was a process that had occurred naturally and was not brought about by any wish to be provocative, rather the artist was inflamed with the idea while watching the relentless labor of workmen.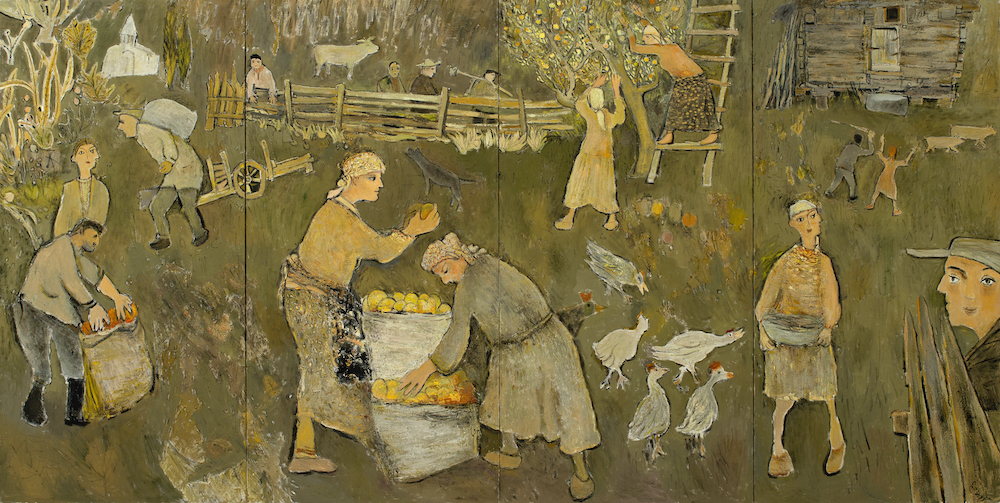 Gogi Chagelishvili. Raphsody from Racha. 400x200. Oil on canvas. 2014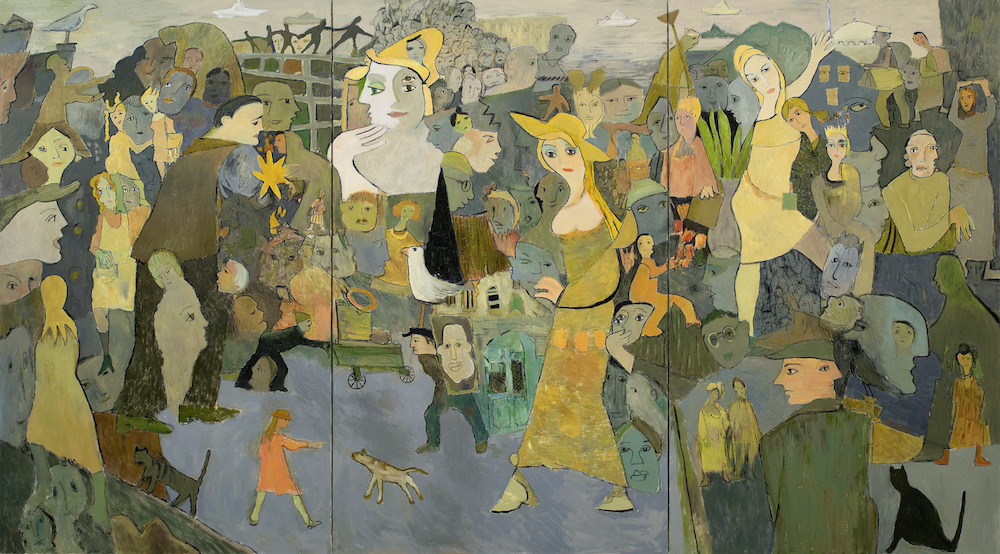 Gogi Chagelishvili. Taxim. 200x360. Oil on canvas. 2014.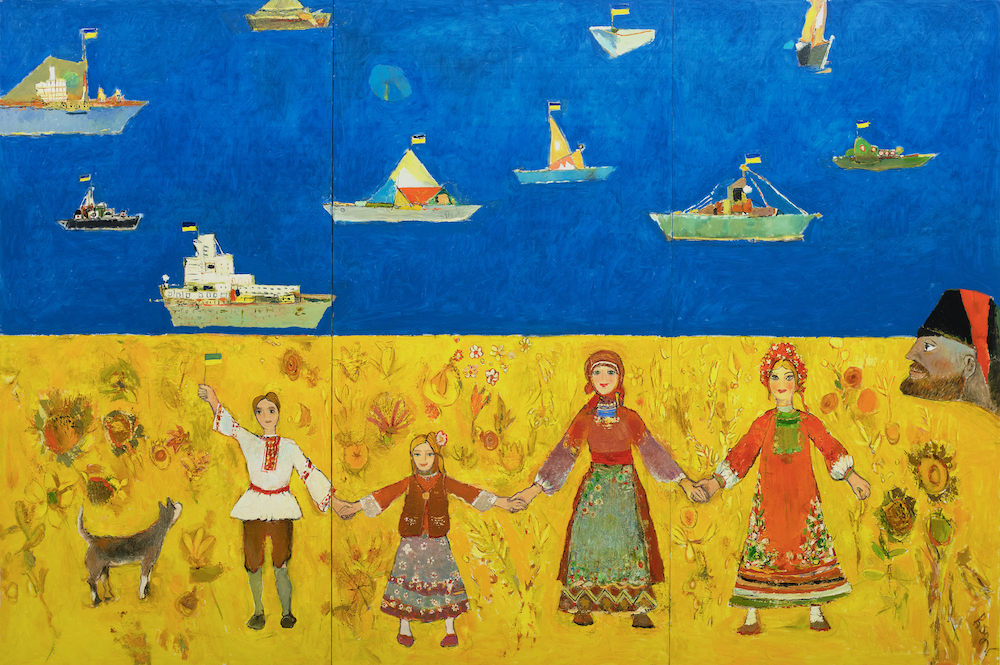 Gogi Chagelishvili. Glory to Ukraine. 200x300. Oil on canvas. 2022
Whatever Gogi Chagelishvili utilizes in his collage compositions – be it wood, metal, paper, or a piece of cloth – in his hands, the object blends with the visual texture and gains a pictorial tone. His ability to paint freely with a brush on a flat surface, to form a whole with pictorial strokes, ensures the spaciousness of Gogi Chagelishvili's compositions that are spread across the plane. In one case, he can "soak" this area with winter frost, while another with summer heat, and allows us to feel the atmosphere of the location portrayed on the canvas.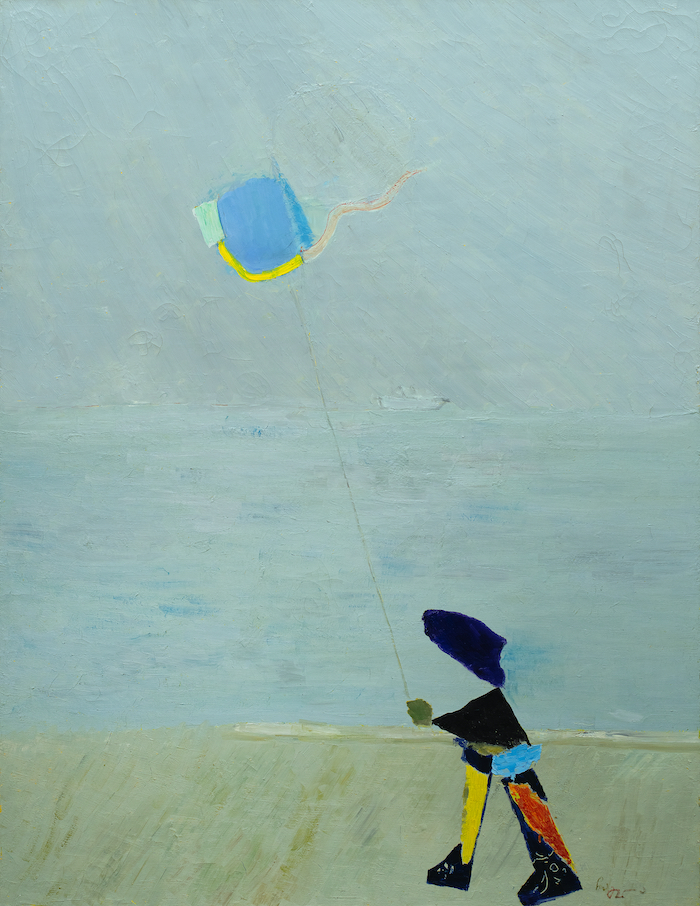 Game on the Sea. 120x80. Oil on canvas. 2014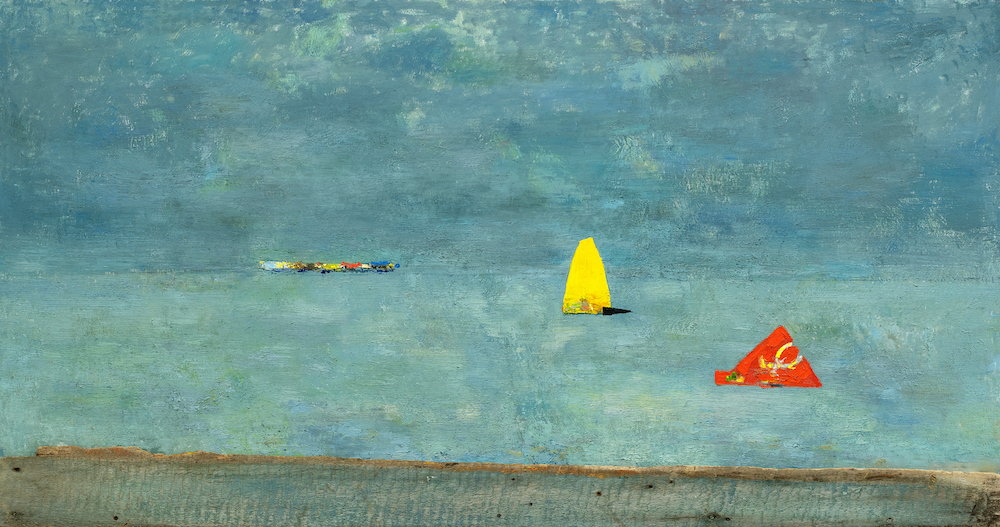 Gogi Chagelishvili. Coast. 100x190. Oil on canvas, wood plate. 2016 Photo by Gia Chkhatarashvili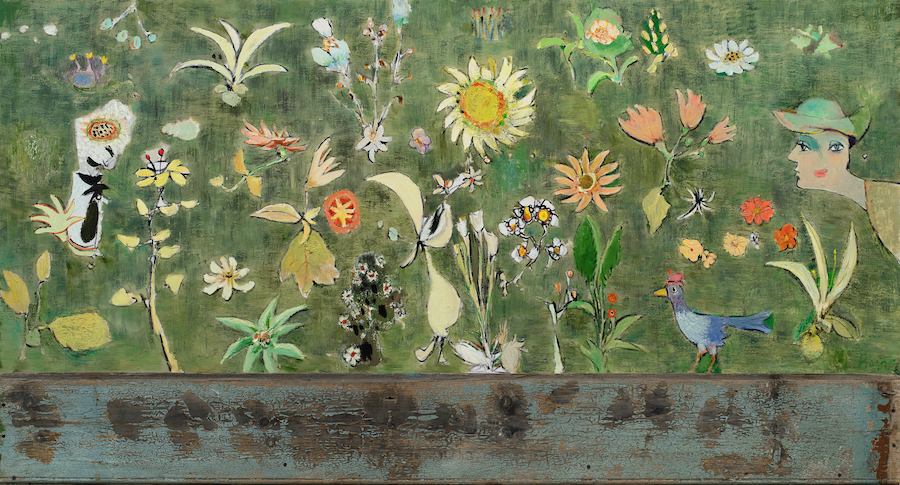 Garden. 190x103. Oil on canvas. 2020

Looking at the panorama and the desire to unravel its secrets, the shape of a mountain wall in front of his house in Armaz formed the artist's ability to feel the atmosphere of nature and convey it artistically. It appears that this "follows" him throughout the world, where, since the fall of the "Iron Curtain," Gogi Chagelishvili has frequently and for many years been requested to work and hold exhibitions.