Pirosmani: Here is Georgia's most famous artist.
His biography is vague; the accuracy of the dates is difficult to define. History has preserved just three of his photos, and maybe even a couple of others that are disputed but plausible. However even these three images are subject to controversy.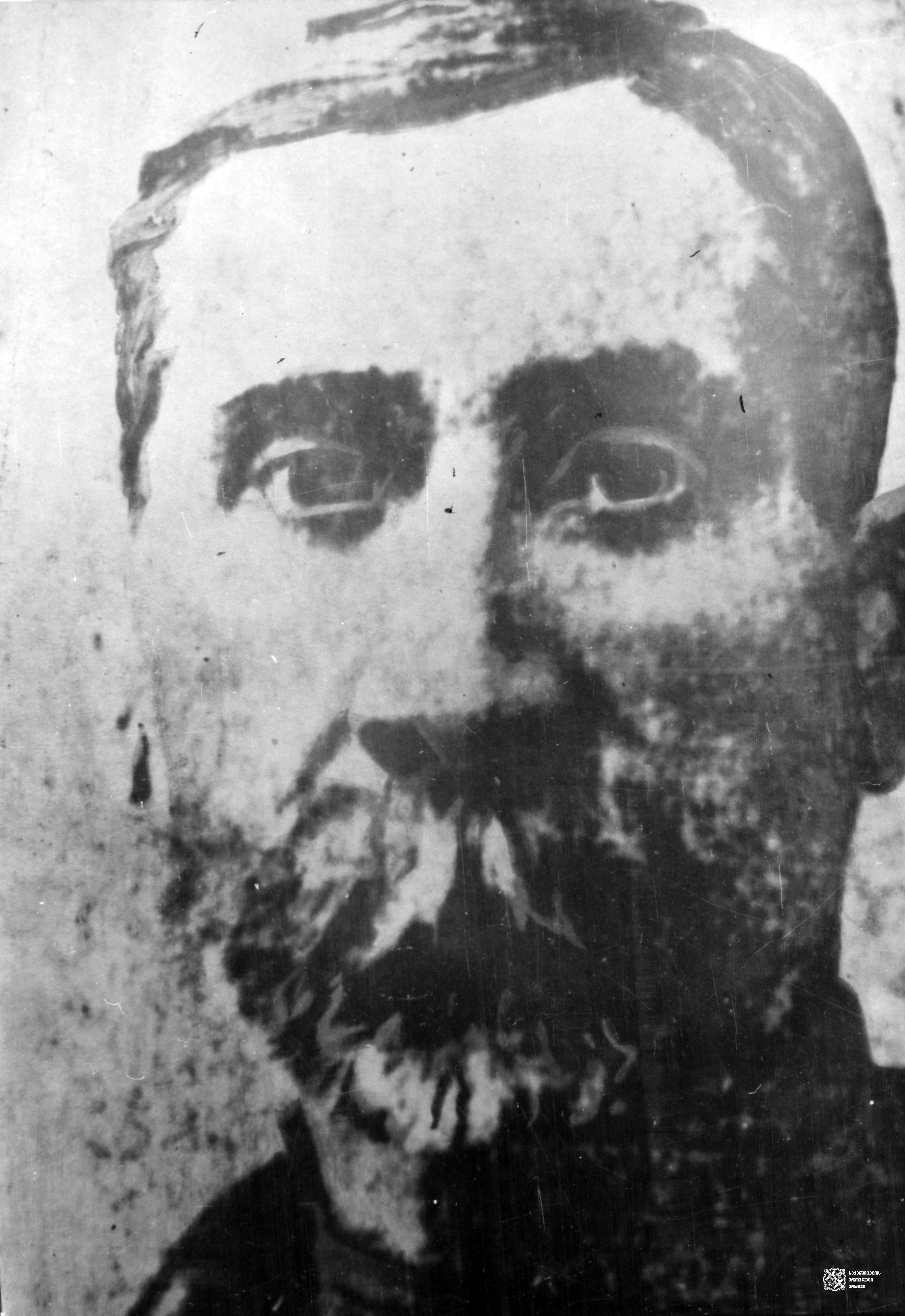 Niko Pirosmanashvili (1862-1918)

According to documents, he is Nikoloz Pirosmanashvili, aka Niko, Nikala, Nikalai, who was born in Kizikhi, the village of Mirzaani in 1862, maybe in 1866, or even in 1863, possibly a year later, presumably in May, and who passed away in Tbilisi in the spring of 1918.
He is buried in Tbilisi. According to one version, he is laid to rest in the Peter and Paul Cemetery; however some people also search for his grave in Kukia Cemetery.
No state or church records of Nikalas' birth and death have been preserved. Everything we know about him is retrieved from indirect papers, and the often contradictory stories and thoughts collected from many sources.
More than two hundred of his works have reached us, perhaps even two hundred and twenty – a little more or a little less. But he produced many more on the walls of old, dilapidated buildings that have not survived. Neither relatives nor friends were able to safeguard their eternal value.
From time to time, perhaps once every ten to fifteen years, genuine or forged works ascribed to Pirosmani emerge, creating the impression that his legacy is infinite.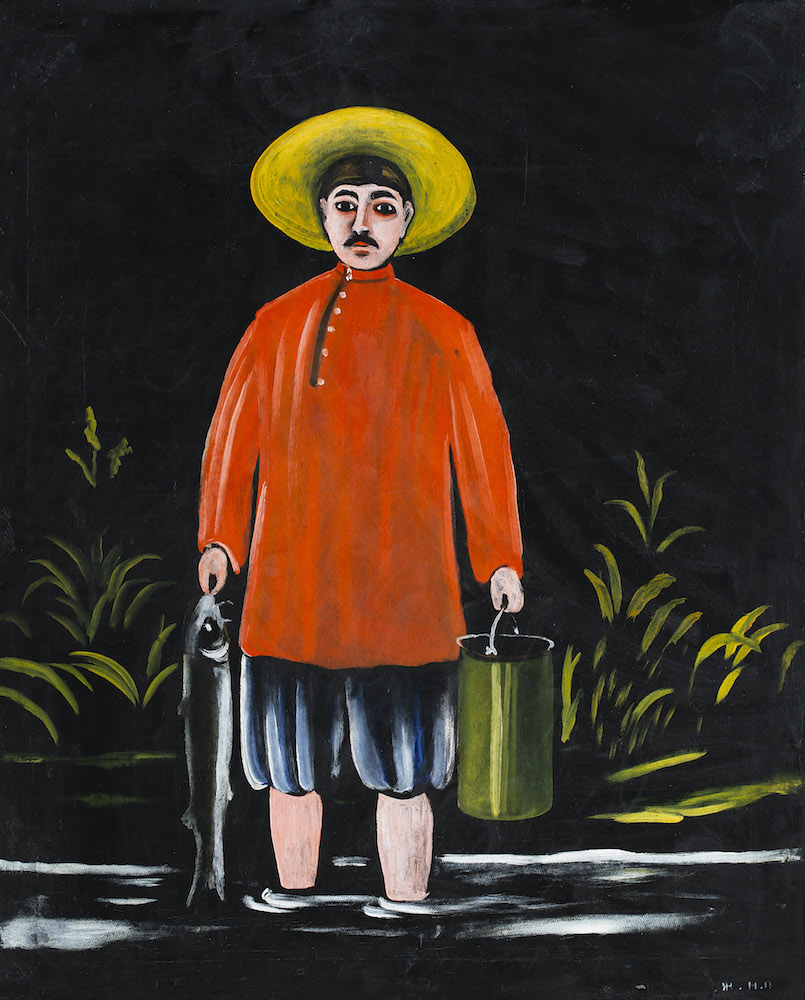 Niko Pirosmanashvili. Fisherman in a Red Shirt. 112x92. Oil on oilcloth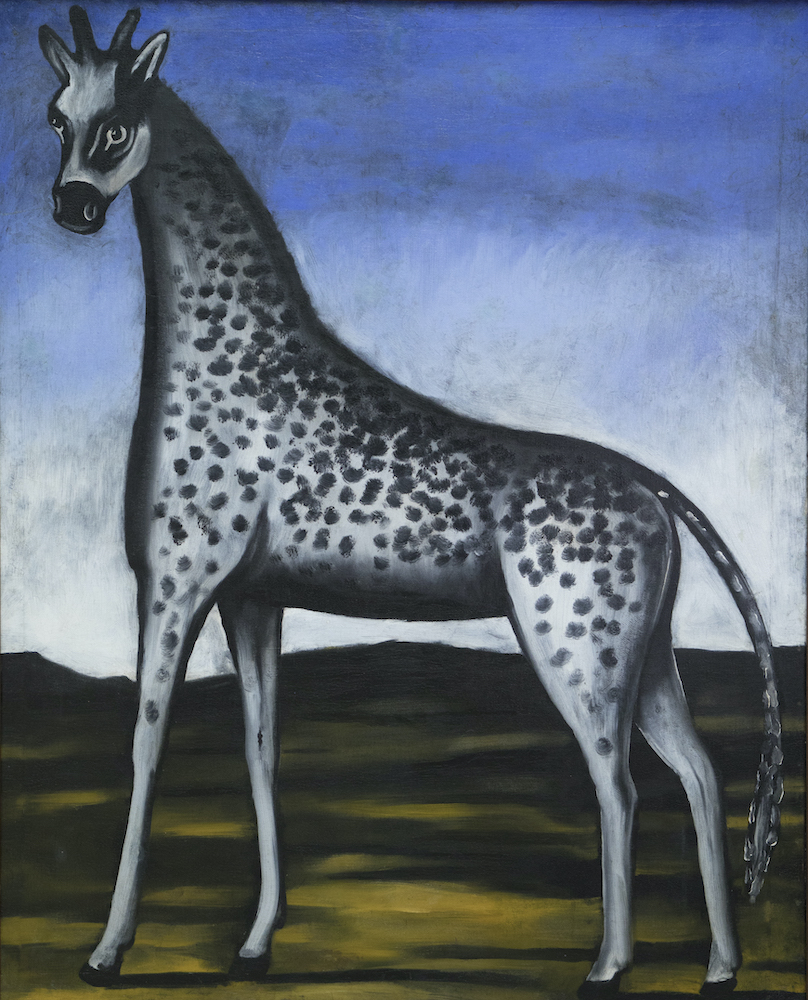 Niko Pirosmanashvili. Giraffe. 138x111. Oil on oilcloth
Thanks to Nikalas's friends, we have been handed down his most recent available image: an unshaven, one can say beard-covered man with a grey mustache and sad eyes. A person slightly above average height, slender as a hungry man, dressed in the innkeeper Mikho Varsimashvili's blue jacket, black trousers, and a Russian peaked cap – a gift from Soso the storekeeper. He walks in a slow and confused manner, is often drunk, but carries his drunkenness around as part of his daily routine. It is probable that Pirosmani looked like this during the last ten years of his life.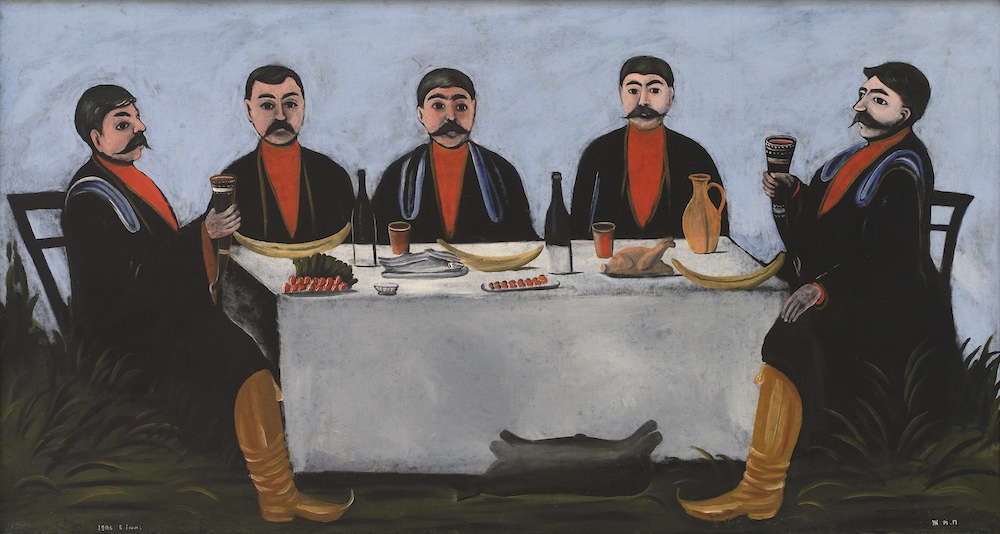 Niko Pirosmanashvili. The feast of Five Noblemen. 104x194. Oil on oilcloth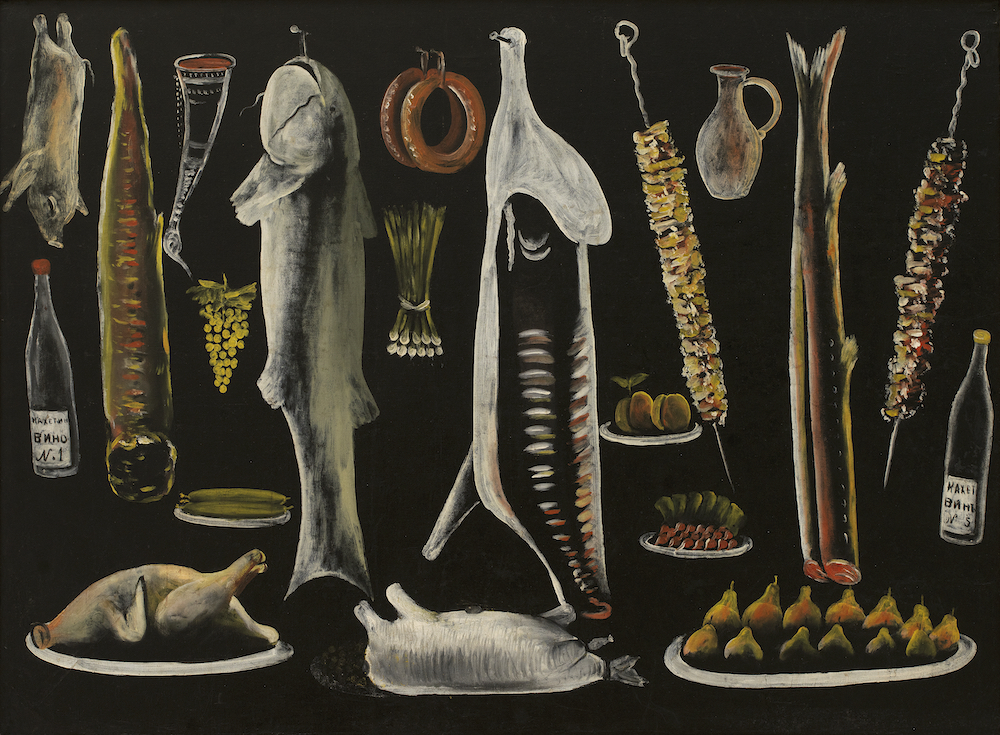 Niko Pirosmanashvili. Still Life. 101.3x136. Oil on oilcloth
Pirosmani never had a family, nor did he leave any descendants behind. However, it is also claimed that he had descendants and lived a family life without marrying anyone. This is another episode of his uncertain biography, not unlike thousands of others.
He built his only house on his father's land in Mirzaani, but having become a city man in his early youth, he almost never lived there. The house was left to his relatives: he was an artist from Old Tbilisi.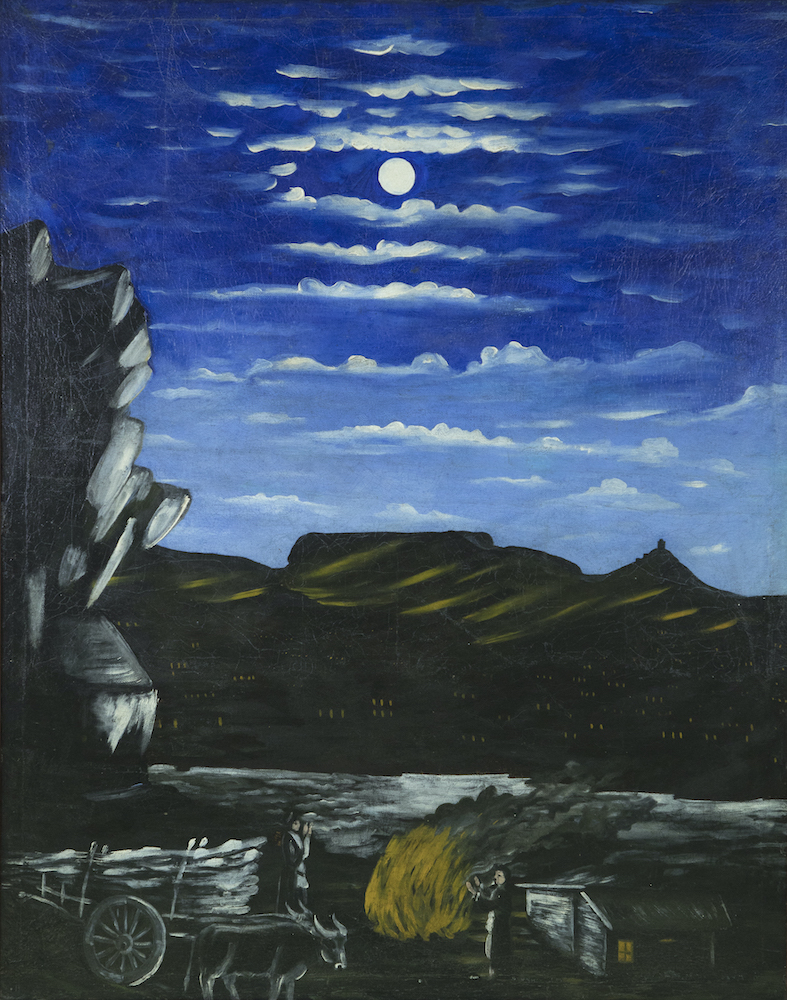 Niko Pirosmanashvili. Arsenali Hill at Night. 111x88. Oil on oilcloth
After the Kingdom of Georgia was abolished by the Russian Empire in 1801, Tbilisi became a two-world city: Old and New European cities. If in New Tbilisi the artists first adored neoclassicism and later became fans of the Impressionists, in Old Tbilisi the artist was simply a tradesperson who worked on commissions: decorating an inn, writing an inscription over a counter, painting advertisements, etc.
Such a division existed for a long time, and Pirosmani was part of this universe.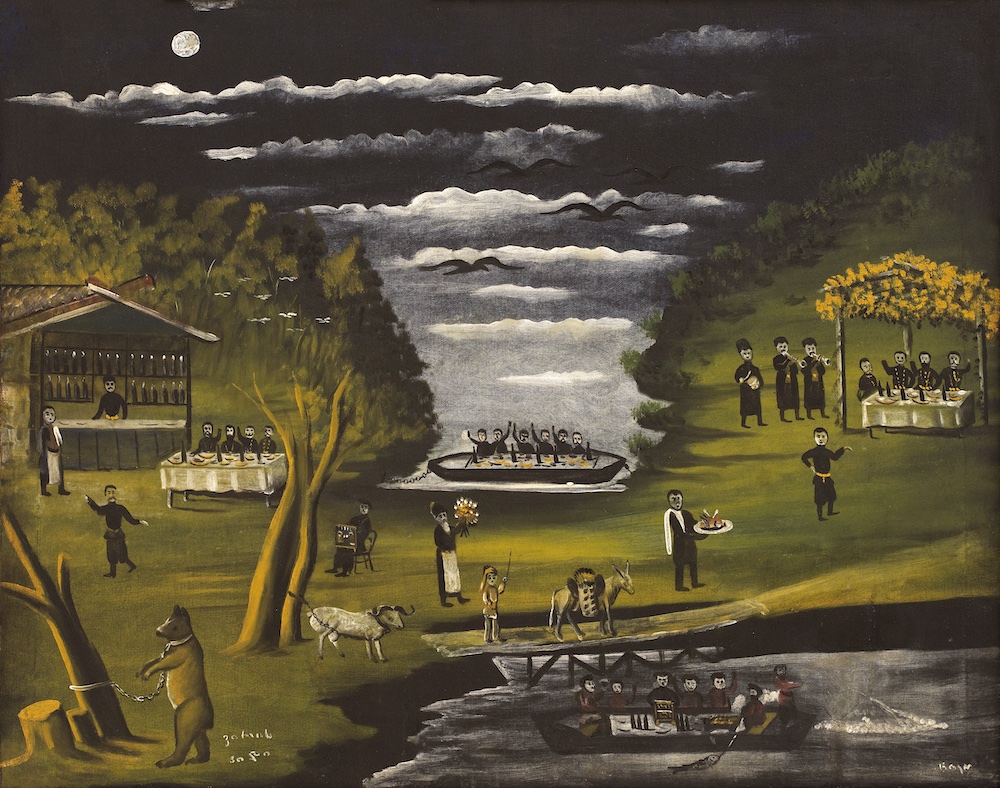 Niko Pirosmanashvili. Donkey Bridge. 93x117. Oil on oilcloth
According to another story, his paintings were discovered during the week of World War I by the student brothers Zdanevich, who were true lovers of contemporary art, and their friend Mikhail Le-Dantyu. This happened when the three of them wandered from one drinking establishment of Old Tbilisi to another, and accidentally came across Pirosmani's works in a basement.
The young people's exclamation was impressive, though in that environment understandable only to them: "This is Giotto, a real Giotto!"
They walked around making inquiries, and soon found the author of the remarkable works standing on a ladder and writing the words "Dairy Shop" on a wall.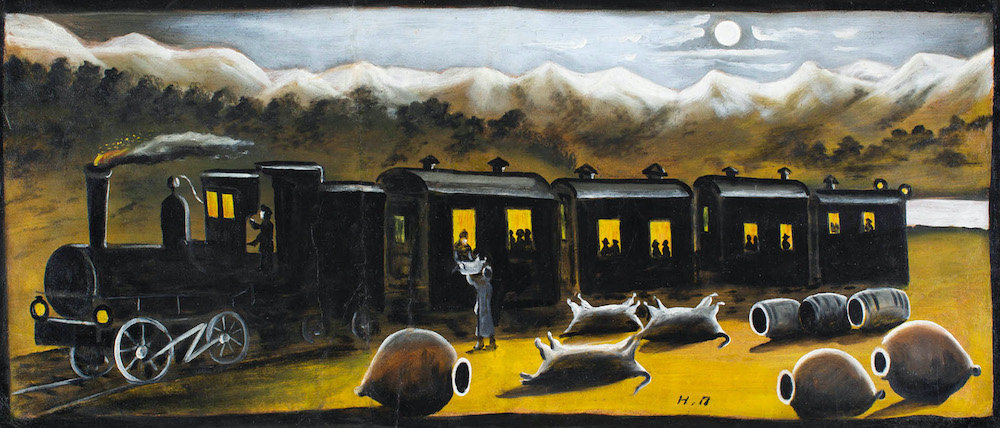 Niko Pirosmanashvili. Train in Kakhetia. 70x140. Oil on oilcloth

After this encounter, Pirosmani realized that what he knew about painting was understandable to others as well. "I am already known in France," – he told his street hawker friends after Le-Dantyu published an article about him in the Parisian press.
Nevertheless, this did not alter his destiny.