When a viewer goes through Varla's work he gets the impression of listening to one continuous, sad tune… The themes of hunting, harvesting, hiking and fishing appear interchangeably one after another, however the mood of the paintings remains the same… People watch over a herd, collect brushwood, play musical instruments, carry huge baskets, dance… The horses run, rest, graze, and play with each other… The images acting. They often face each other: one fisherman gives his catch to another, a mother and a father place their child on a horse, a musician kneeling in a gondola looks at another and plays a mandolin with him… But the figures never establish active contact with each other. If one person looks at another, the other usually directs his gaze elsewhere, into space. The faces do not express a specific condition. The figures seem to be suspended in predetermined poses, each of them being left alone with themselves. This separation creates a sense of quietude, while transitional movement from one figure to another (through a gesture or the turning of a head) produces a uniform rhythm.
Varla creates a figurative, and at the same time imaginary poetic world.
Felix Varlamishvili (Varla). Fisherman's Port. 37,5x45,5 cm. Canvas, oil. ATINATI's Private Collection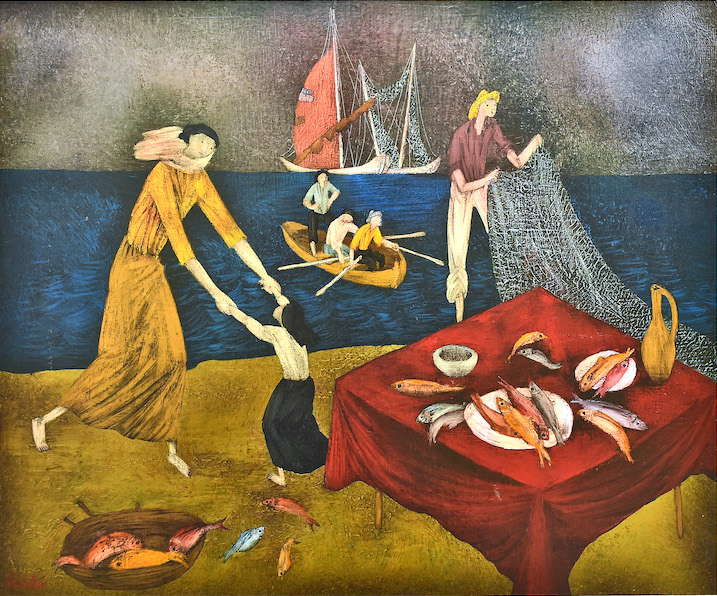 Felix Varlamishvili (Varla). The fishermen's meal. 38,5x46,5 cm. Oil on canvas. ATINATI's Private Collection

In 1920, after finishing Secondary School in Kutaisi, Felix enrolled in the Faculty of Agronomy at the University of Georgia. However, two years later he transferred to the Academy of Arts immediately after it was established. Following his graduation from the Academy, he opened a private art school.
In 1928, Felix and his classmate Luka Khitarishvili secretly crossed the Turkish border on foot and arrived in Istanbul. There they found jobs, saved up enough money, and made their dream come true: they traveled to Paris.
Starting a new life in Paris proved to be somewhat difficult. To begin with the artist sold his paintings to Georgian emigrants, who cherished the portrayed memories of Georgia and Tbilisi.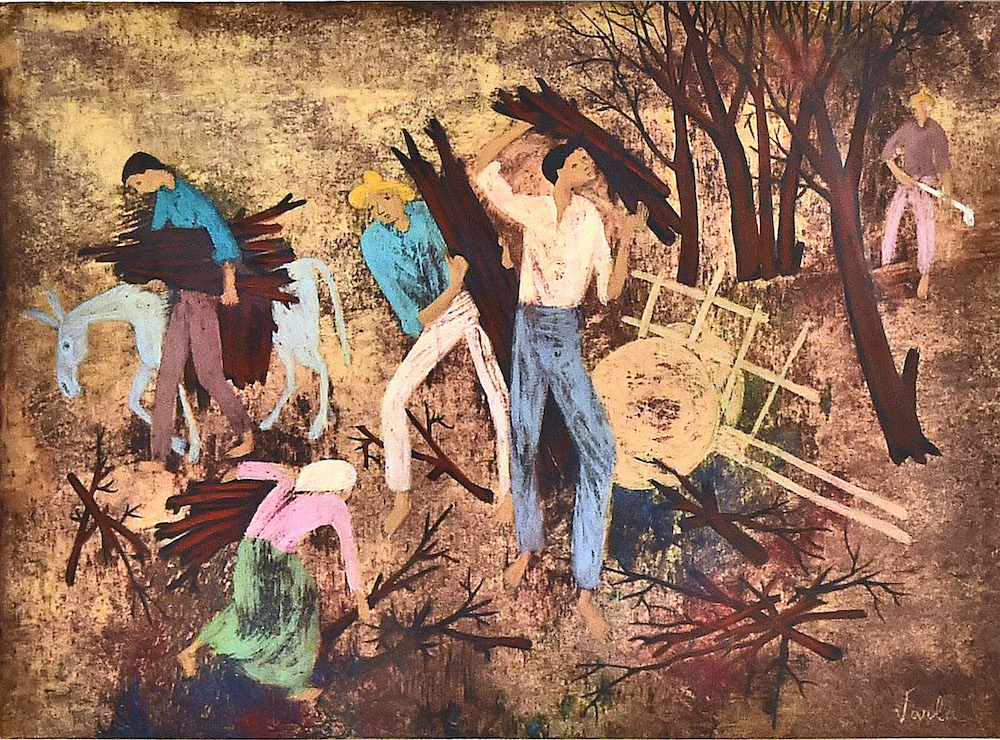 Felix Varlamishvili (Varla). CollectIng Firewood. 28x36 cm. Mixed media on canvas mounted on cardboard. Around 1940's. ATINATI's Private Collection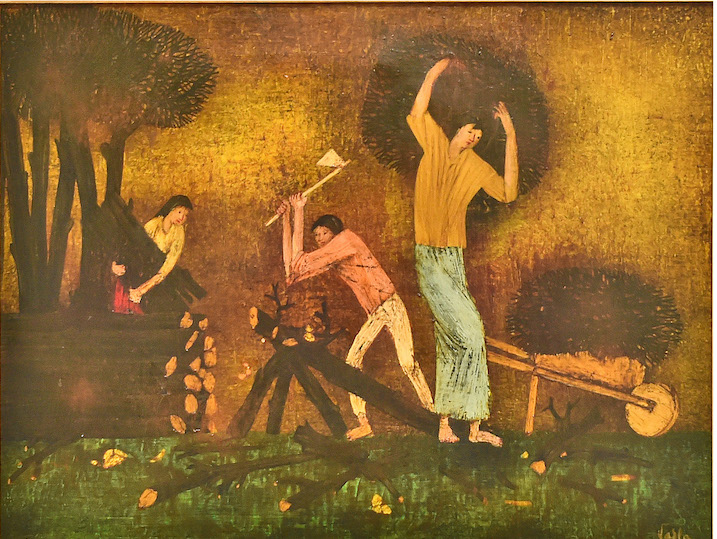 Felix Varlamishvili (Varla). The woodcutters. 27x35cm. Oil on canvas. May 1974. ATINATI's Private Collection
Felix rented an apartment in the Montparnasse district, where he met the Danish artist Zire Binder. They married in 1934. In 1945, Varlamishvili became a member of the Salon d'Automne, and was awarded the right to exhibit his works at the salon without participating in competitions. He was later elected as a member of the jury. In 1947, the state purchased his works. But the young couple were still struggling financially, and in 1948 they moved to Argentina, where Felix worked as a furniture decorator and managed to attain stability. The couple returned to Paris in 1952. The owner of the Drouant Gallery became interested in Varla's works, and began buying and selling them. Varla also expanded his network to the other galleries of Paris and beyond. Articles about the artist were published in numerous magazines and newspapers. In 1954, Varla's paintings were also purchased by the Paris Municipality. Later, in the 1980s every one of his exhibitions appeared to be fully pre-sold. Today, the artist's works are distributed around the world.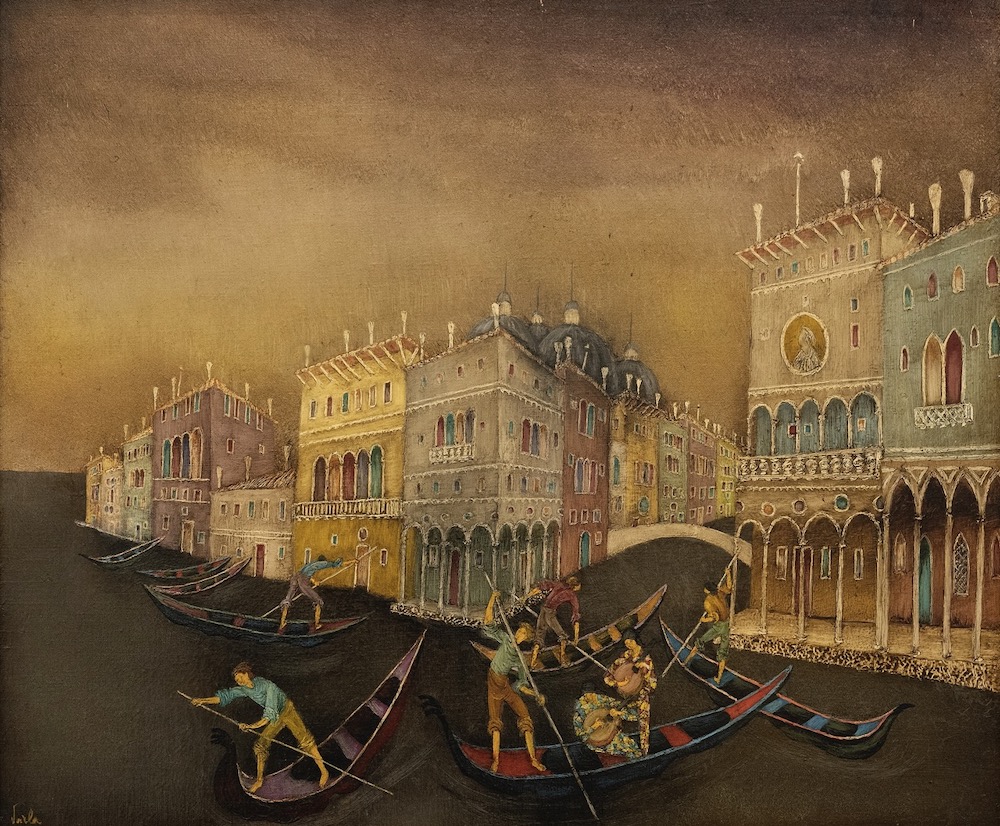 Felix Varlamishvil (Varla). Venice. 53x65 cm. Canvas, oil. ATINATI's Private Collection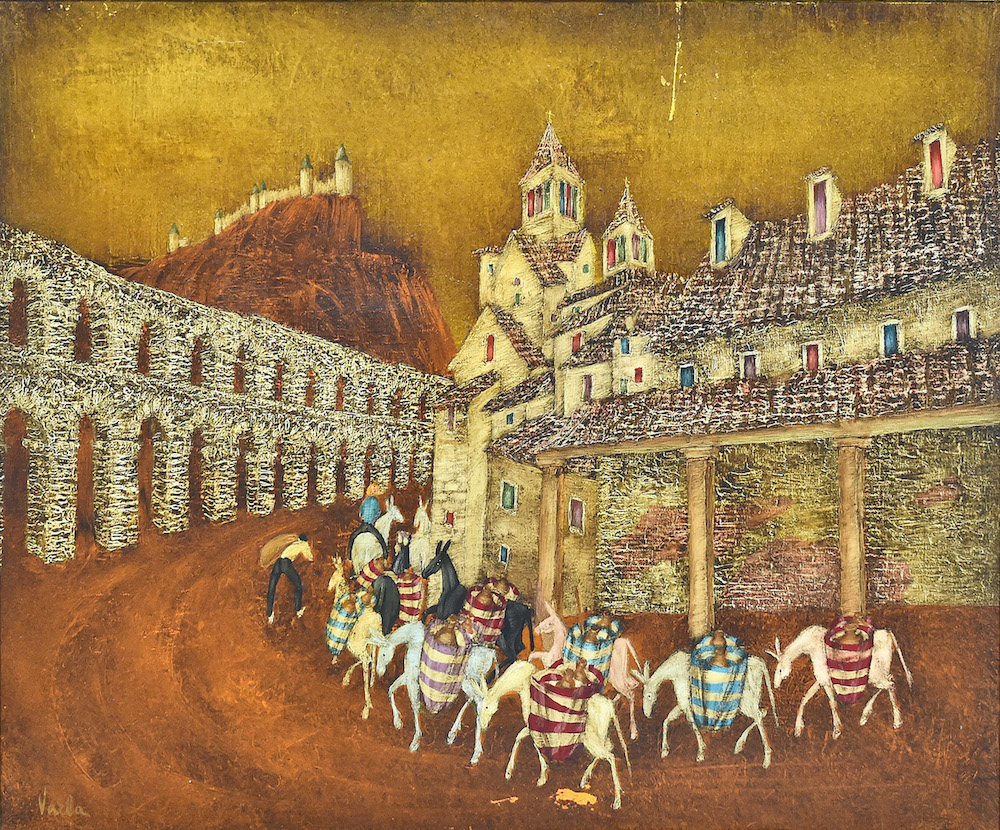 Felix Varlamishvili (Varla). View of Segovia. 46 x 55 cm. Canvas, oil. ATINATI's Private Collection

In Georgia, Varlamishvili's first solo exhibition was only organized after his death in 1987. The artist bequeathed 10 of his works to his homeland. Varla's faithful wife overcame all the obstacles created by the Soviet bureaucracy, and finally managed to transfer the paintings to the Shalva Amiranashvili Art Museum. In connection with this fact, the museum gathered all the artist's works preserved in its repositories and in private collections and exhibited them along with the donated ones, first in Tbilisi and then in Kutaisi.
Varla's work combines the professional knowledge he acquired in Georgia, memories "taken" with him from his homeland, together with new experiences and impressions gained overseas. Throughout his life, the artist painted scenes that resemble memories and look more like thoughts. Despite the fact that the images are quite realistic, they never offer a description of nature. In Varla's compositions people seem to be detached from the ground. They are slightly bent at the waist, are vertically elongated, display a characteristic plasticity of long limbs, have similar faces and abstract gazes, and wear simple garments that are folded in such a way as to emphasize the lines of their bodies. These are the actors of Varla's artistic world, which assigns conditional colors to the images and presents the audience with golden water, a golden sky, a red shoreline, blue hair… scenes as if seen in a dream, conveying feelings of deep lyricism and sadness.
Felix Varlamishvili (Varla). Breakfast. 41x33. Oil on canvas. ATINATI's Private Collection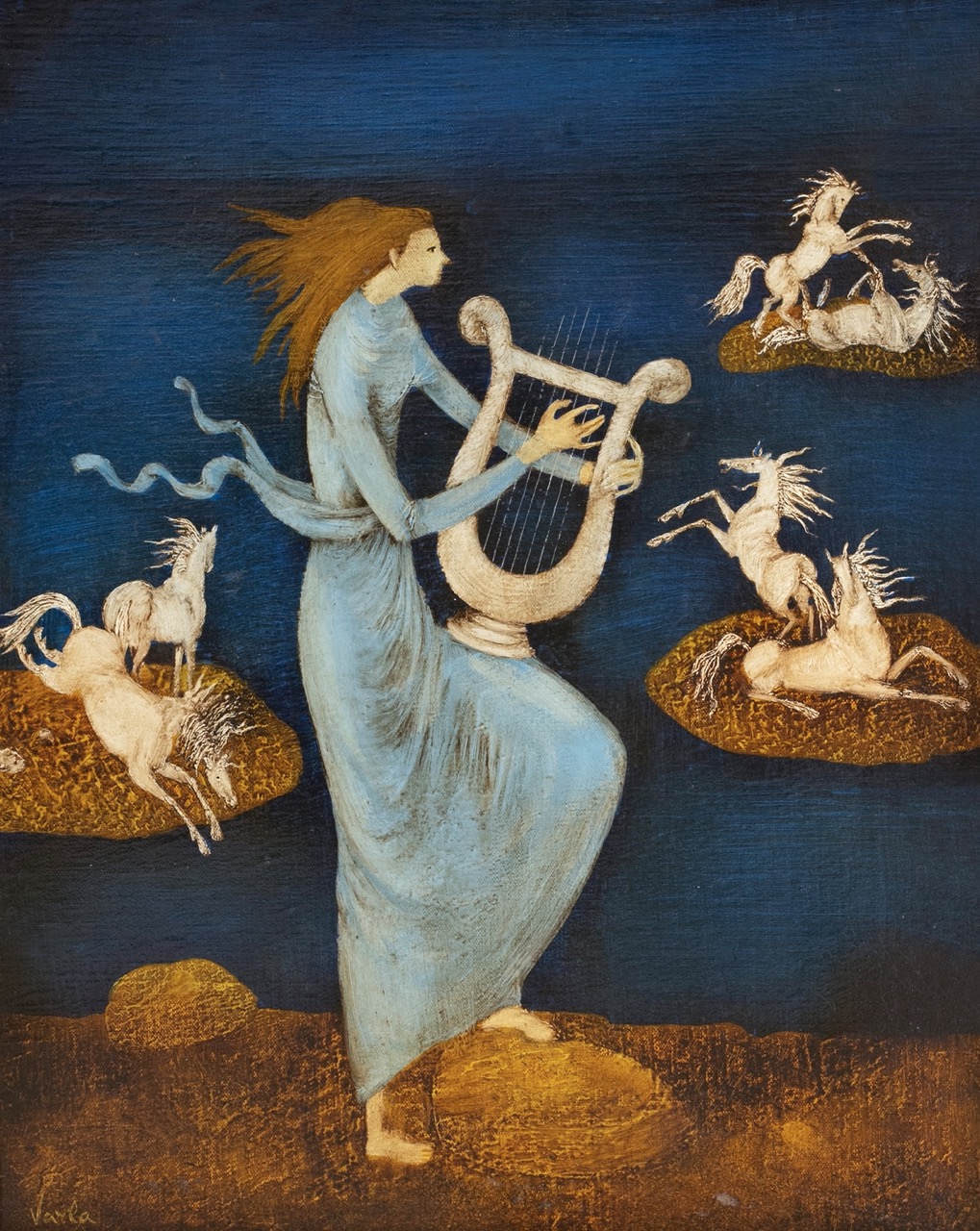 Felix Varlamishivili (Varla). Safo. 41x33 cm, Oil on canvas. 1960s. ATINATI's Private Collection
Rhythm and melody are typically manifest in Varla's early works as well. However, the unique artistic style that makes his paintings immediately recognizable was formed after his arrival in France. The compositions were born from the artist's inner mood, and reveal a humanistic attitude towards nature and humans, with deep feelings of nostalgia. Varla used colors and lines to create works deeply associated with poems or musical sketches.