During the Soviet era (especially from the mid-1930s), a heavy iron curtain descended on Georgia's borders, isolating the country from the rest of the world. In the sister republics, including Georgia, which were cut off from the rest of the world as a result of the Soviet Union's totalitarian regime, artistic processes were managed by special resolutions of the Politburo; the socialist realism style, above all an ideology, was created and developed officially – the primary purpose of which was to advance the myth of the contented proletariat. The protection and implementation of this common ideology became a mandatory norm for representatives of art. Each branch of art was vigilantly controlled by the state, and subject to strict censorship. This is how socio-realist painting filled with pseudo-heroic pathos was created – not only as an artistic, but also as a socio-cultural phenomenon, bearing local national symbols. Regardless of all the above mentioned, individual artists still managed to work at producing different artistic activities beyond mere poster compositions, and in this way, they advanced the artistic level of the works. Korneli Sanadze (კორნელი სანაძე) was one of such artists, whose works cannot be perceived in the context of social-realist art – neither by virtue of their thematic variety, nor their inner creative freedom.
Korneli Sanadze was a versatile individual with many talents and interests: the artist and poet had several other professions. After graduating from the Tbilisi Economics and Technical Institute, he continued studying at the public art studio of Mose Toidze, which he attended until 1924. In the same year, after enrolling at the Tbilisi Academy of Arts he also studied architecture. In 1927, he studied at the Literary Faculty of "Proletkult," while simultaneously mastering vocal skills for four years at the Tbilisi State Conservatory. However, in the end Korneli Sanadze opted for painting, and upon graduating from the Academy in 1929 he began his active creative work. Sanadze was a participant in almost all the important exhibitions of the time, actively worked in artists' associations, boards of the Union of Artists, became one of the founders and leaders of the Georgian Society of Revolutionary Artists - SARMA, which was founded on February 8th, 1930. From 1934, Korneli Sanadze was involved in pedagogical activities and taught painting at the Academy. He not only worked in easel painting, but also in theater and cinema art (he was the set decorator of the films: "Dariko" and "The Woman in Green"; and designed the scenery for plays in the Shota Rustaveli and Kote Marjanishvili theaters, as well as in the Tbilisi Opera and Ballet Theater and Batumi Theater).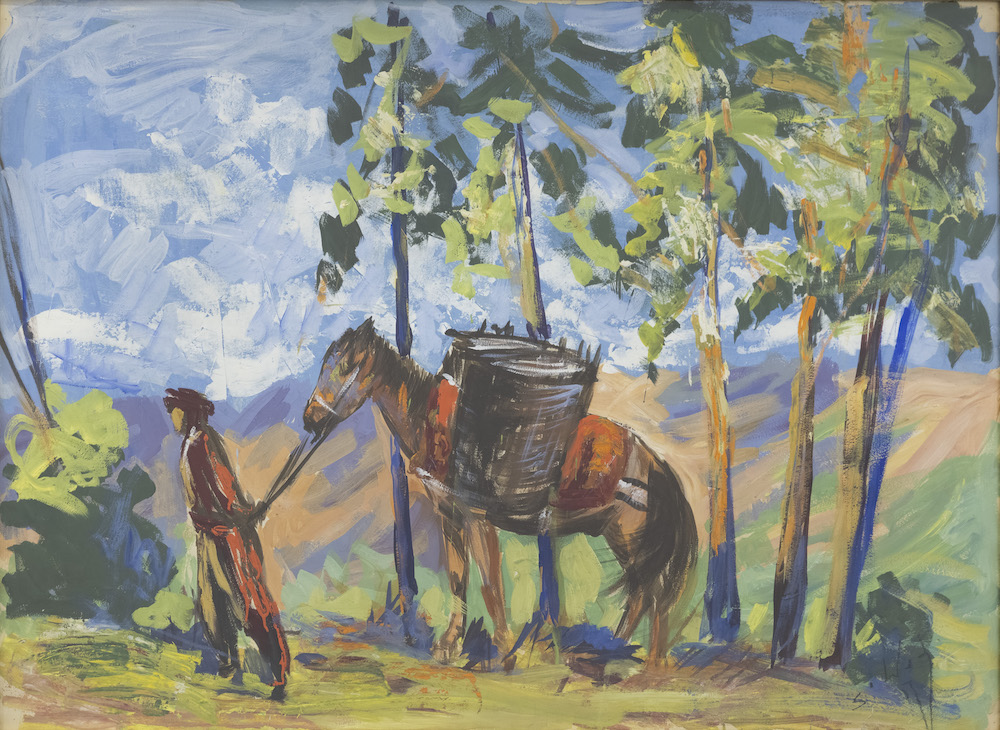 Korneli Sanadze. Guria, Chalandari. 61.5x85.5 cm. Paper, tempera. 1963. ATINATI's Private Collection
Active and energetic by nature, Korneli Sanadze left us a rich legacy of art including a gallery of genuine portraits, as well as thematic compositions and landscapes of exceptional artistic merit. But if the landscape implied unlimited artistic explorations for Korneli Sanadze, in his portraits he is more restrained: the artist took into account the general stylistic symbols of the official portrait (frontality, a distinguished character, and positive representation). Korneli Sanadze often painted those people near and dear to him; however, for the most part he carried out government orders. He created portraits of figures important in Georgian culture – historical figures, writers, scientists, artists, and representatives of the theater and ballet (Ilia Chavchavadze, Akaki Tsereteli, Vazha Pshavela, Galaktion Tabidze, Giorgi Leonidze, Konstantine Gamsakhurdia, Kote Marjanishvili, Sandro Akhmeteli, Sergo Kobuladze, Ushangi Chkheidze, Veriko Anjafaridze, Andria Balanchivadze, Evgeni Mikeladze, Vakhtang Chabukiani, Ivane Javakhishvili, Giorgi Chubinashvili, and Akaki Shanidze among others). The starting point for the artist was always the personality of the portrayed individual and the relevant field of work, according to which Sanadze chose the compositional structure, color and manner of artistic execution. He often depicted actors in a stage role, with an appropriate costume and complete entourage; historical figures or writers from past eras in Renaissance interiors; scientists reading a book or in the process of working on research materials; and musicians from unexpected angles, in a more free manner of artistic production. Regardless of the sophisticated aesthetics and appropriate artistic form, we must admit that for Korneli Sanadze the portrait genre was less an arena for creative work and more a means of adapting to Soviet realities and the demands of social realism.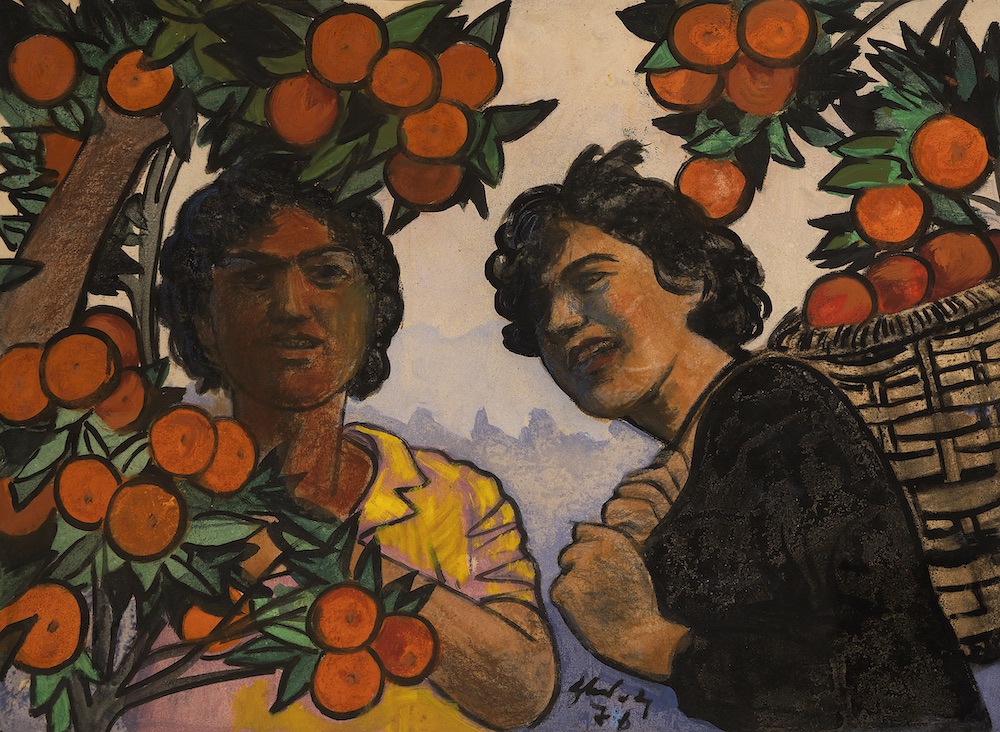 Korneli Sanadze. Adjarian citrus girls. 60x85 cm. Paper, tempera, mixed media. 1976. ATINATI's Private Collection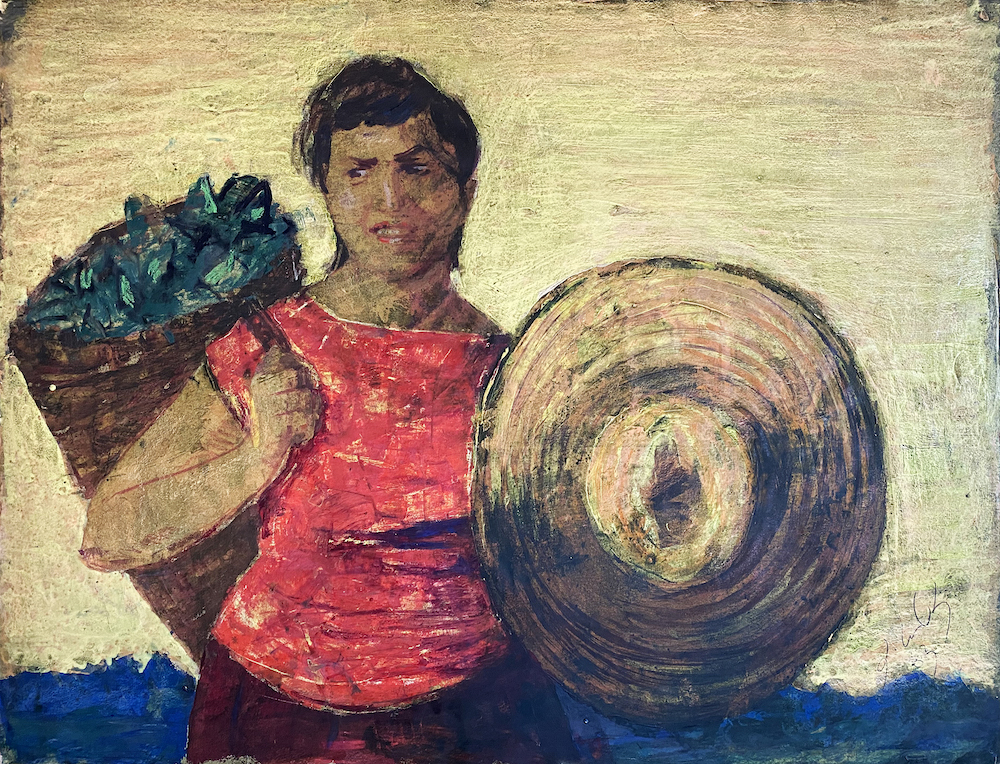 Korneli Sanadze. Tea picking girl. 65x89 cm. Paper, oil. 1963. ATINATI's Private Collection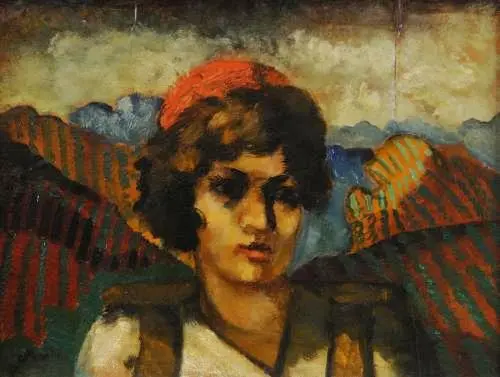 Korneli Sanadze. Tea plantation worker from Adjara. 65x89 cm. Paper, oil. 1961. Private collection of Archil Darchia
The landscape has a prominent place in Korneli Sanadze's works, since this genre best reveals the painter's talent and artistic individuality. It can be safely said that among the artists of his time and circle, the landscape genre reaches a singular level in the works of Korneli Sanadze. The thematic diversity of Korneli Sanadze's landscapes and his changing manner of pictorial art production captivate us. Among his works, you can find expressive landscapes painted with bright, contrasting colors and pastel-colored rays, views of Svaneti created using a more 'etude' style of painting, landscapes glimmering in a light silvery spectrum of colors, or pastoral motifs of 17th century Dutch painting and 19th century French style, created using the Old Masters' techniques. Notwithstanding certain similarities between the paintings of Korneli Sanadze and Aleksandre Tsimakuridze (one of the pioneers of the landscape genre in Georgian realistic art) – the compositional arrangement; lively, pastel manner of art production; excessiveness of forest motifs with emphasis on one or two trees in the foreground – Korneli Sanadze's landscapes are distinguished from those of his predecessor primarily by their expressive manner of execution, and a magnificent feeling of color, light, and form. The best evidence of Korneli Sanadze's artistic individuality are his landscapes created on the theme of Adjara and Guria, which have little in common with Tsimakuridze's landscape school, since resulting from his own artistic searches, Korneli Sanadze relates more to Georgian modernism of the early 20th century.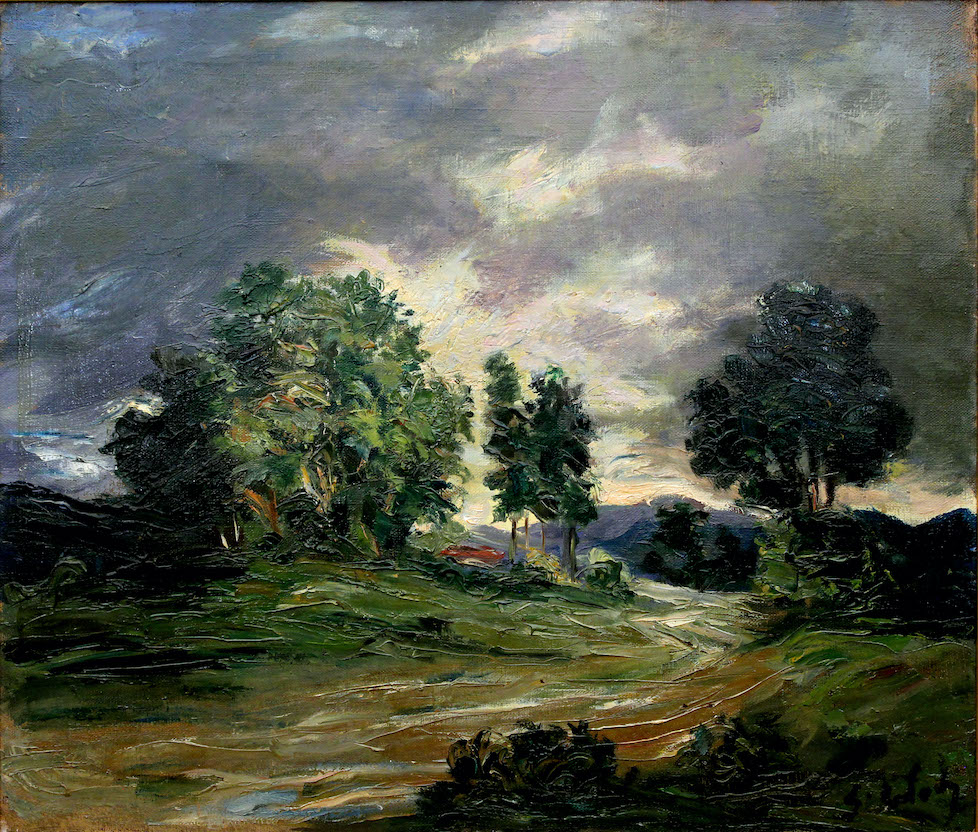 Korneli Sanadze. Storm. 69x58 cm. Oil on canvas. 1958. Private collection of Maka and Eka Arbolishvili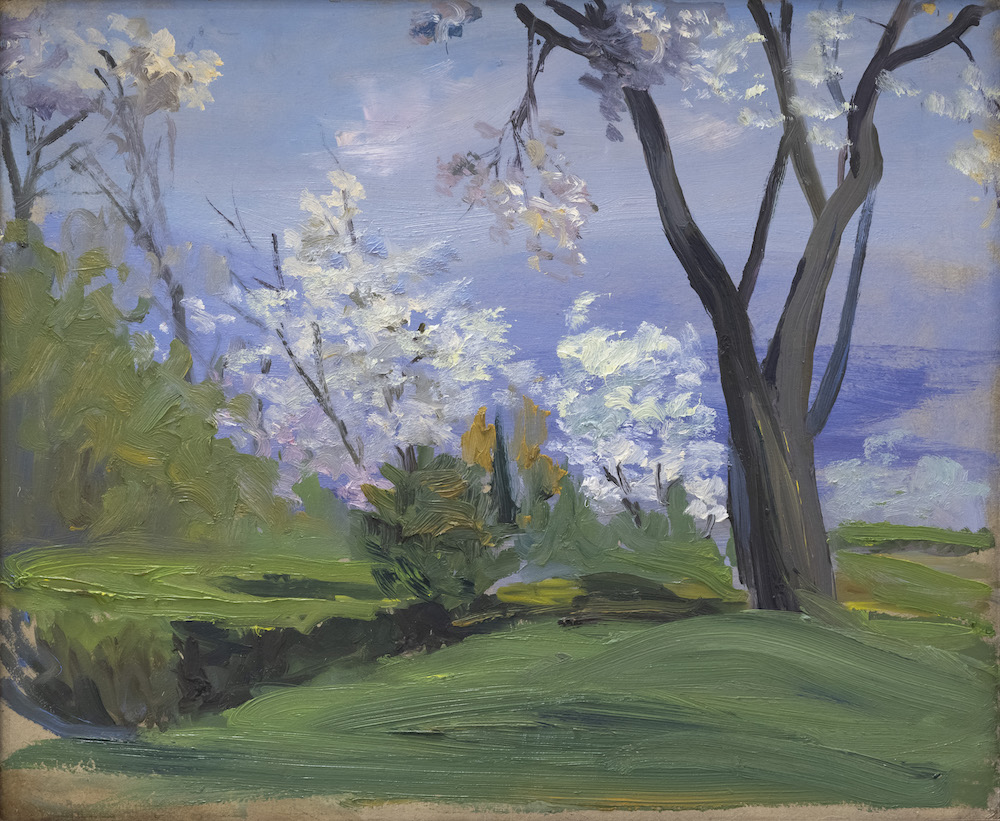 Korneli Sanadze. Spring. 49.5x60 cm. Cardboard, oil. 1941. ATINATI's Private Collection

Korneli Sanadze, like Davit Kakabadze, found his own method of generalizing and abstracting the image of nature. The pictorial layout of a mountain range covered with tea plantations is transformed into the decorative power of vaguely geometrical forms – colorful planes, irregular circles and curves. However, unlike Davit Kakabadze, Korneli Sanadze's landscapes are less sublime and more earthly, since they lack Kakabadze's apparent mathematical precision, and are thus vibrantly free and limitless. The desire to paint pictures within the confines of a mathematical formula was totally uncharacteristic of Korneli Sanadze. The artist created the unique icon of a mountain range covered with tea plantations, and not the eternal image of imperishable nature. This is exactly why, unlike the works of Davit Kakabadze or Aleksandre Tsimakuridze, Sanadze's Adjara landscapes are well suited to the large-scale portraits and images that are brought to the foreground, giving the impression of the fragmentation and dynamism of a film shot, and as a result changing the thematic context of the landscape. We should also mention Korneli Sanadze's characters (meaning the mysterious, mystical figures marked out with dark local spots in the landscapes of Adjara, as well as the schematically depicted images of peasants working in a cornfield with scythes on their shoulders), which in most cases do not conform to the Soviet national policy and do not fit in with the traditional image of collective farmers, thanks to which Sanadze's stylized visual-expressive language preserves an artistic integrity with the landscape painted behind them.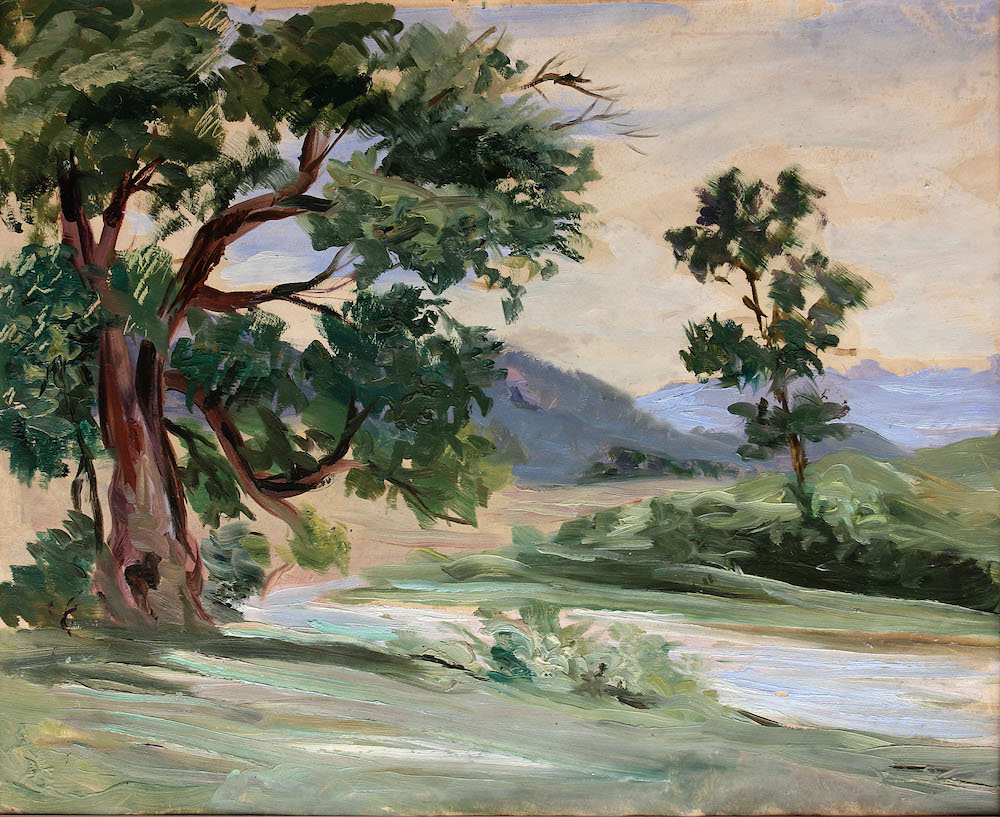 Korneli Sanadze. Trees. 46x57 cm. Oil on canvas mounted on cardboard. 1958. Private collection of Maka and Eka Arbolishvili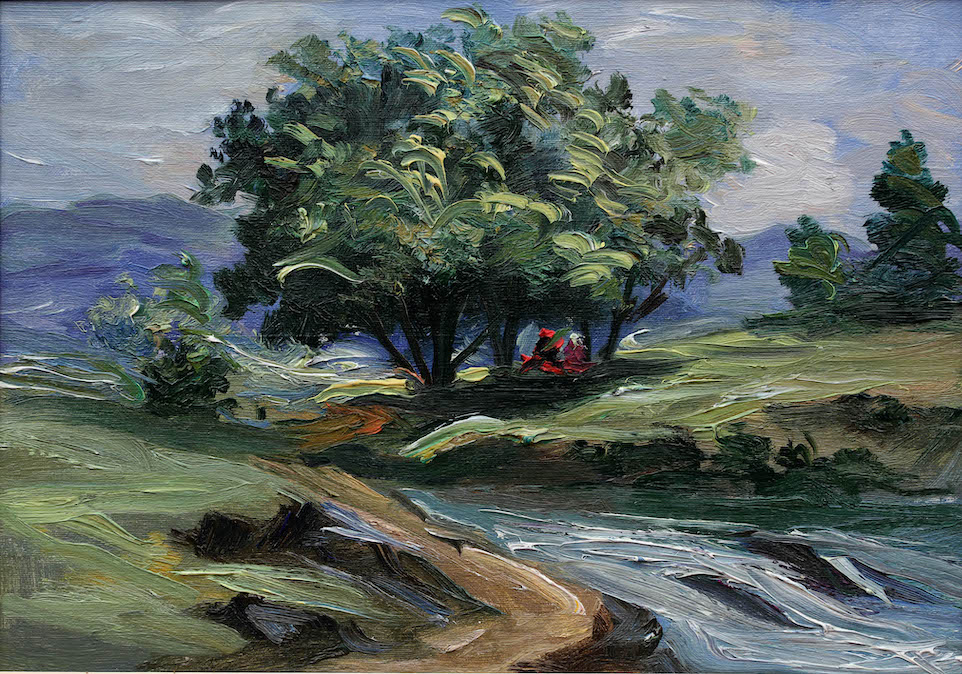 Korneli Sanadze. At the river. 25x35 cm. Oil on canvas mounted to cardboard. 1978. Private collection of Maka and Eka Arbolishvili

In general, we can assert that during the Soviet era (1930-1950s), the landscape genre played an essential role in Georgian easel painting, since the specifics of the genre offered creators the opportunity to act freely. During this period, for many painters the landscape provided the solution, while for others it was an intuitive "move" whereby the painting skills of an artist could be freely revealed - the style of execution became much more natural and realistic, while the choice of theme or motif was unrestricted, honest and non-violent. Korneli Sanadze also chose this way, and utilized the landscape for his own individual artistic explorations. Thanks to which, despite adapting to the demands of socialist realism, he still remains one of the most interesting, versatile and creative artists in the history of 20th century Georgian art.