Heat and Conduct (1992) was one of the first exhibition demonstrating the art of independent Georgia to outer world. It was a Britain-Georgia project, generally reflecting the picture of Georgian contemporary art of that time. The project of two British galleries Mappin Art Gallery (Sheffield) and Arnolfni Gallery (Bristol) referred to the concept of a "City", and the curator- Susan Reid, a researcher of former soviet area art, as mentioned by the authors-Tessa Jackson and Michael Tooby in the preface of the exhibition Catalogue, selected those artists, whose art demonstrated three key moments of Tbilisi visual art evolution. These artists were: Alexander Bandzeladze (1927-1992), Koka Ramishvili (DoB: 1956), Gia Edzgveradze (DoB: 1953), Gia Rigvava (DoB:1956), Oleg Timchenko (DoB: 1957), Mamuka Japharidze (DoB: 1962), Niko Tsetskhladze (DoB: 1959), Iliko Zautashvili (DoB: 1952).
Alexander Bandzeladze-out of them- belonged to the elder generation, provoking enthusiasm by his works and lifestyle; Gia Edzgveradze and Iliko Zautashvili from next generation combined elements of abstract expressionism and installation in their works. And the youngest- Gia Rigvava, Mamuka Japharidze, Koka Ramishvili, Niko Tsetskhladze and Oleg Timchenko demonstrated works, through different projects, objects and installations that were conveyed by the "language of international art". In the early 1990s, Alexander Bandzeladze was the eldest of acting figures of Georgian Contemporary Art and one of the first artists, who, in the 1960s and 1970s, deliberately engaged himself in late modernism problems and further influenced on-going art processes in Georgia.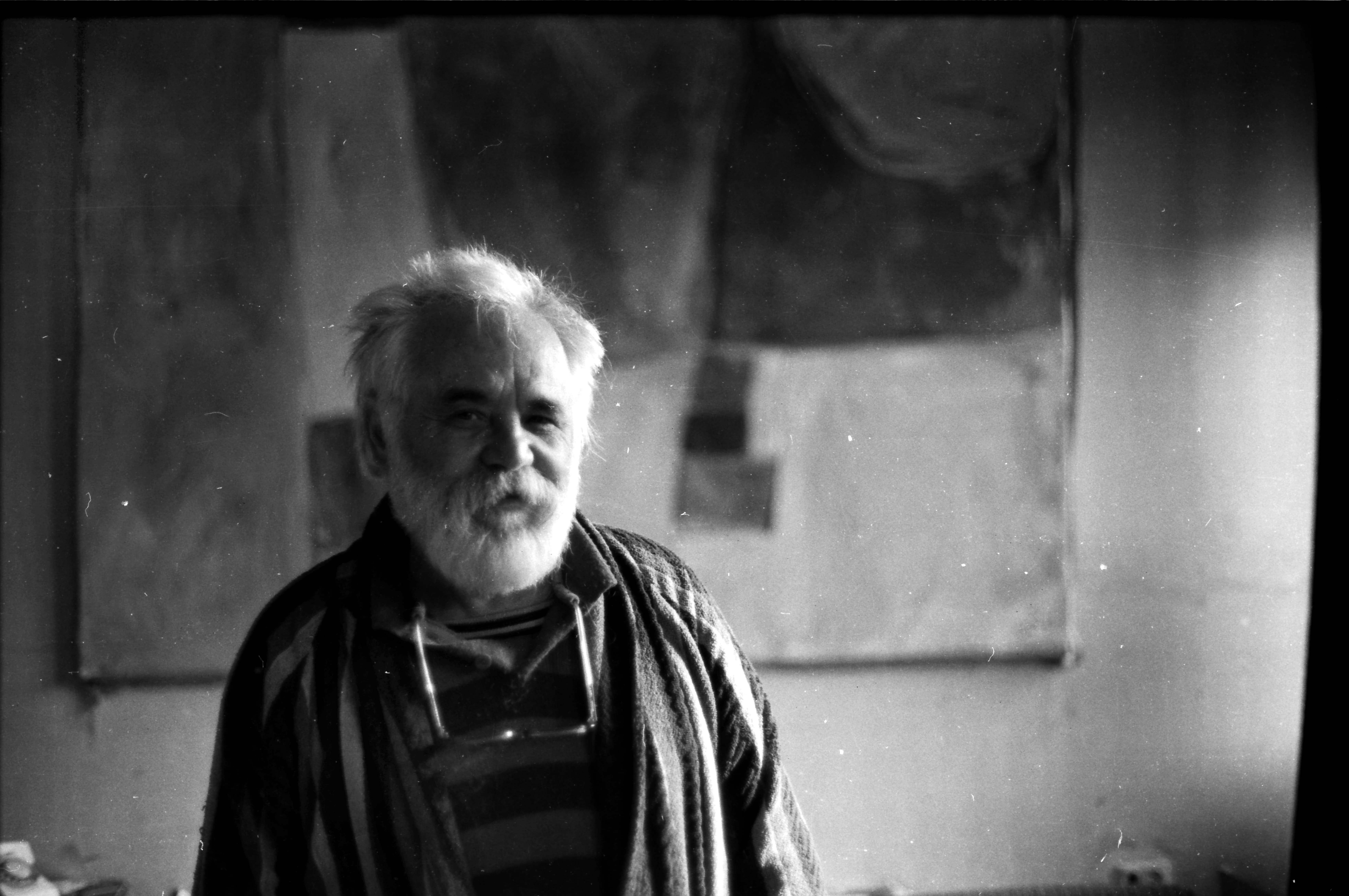 Alexander Bandzeladze in his studio. 1992. Photo: © Guram Tsibakhashvili

His creations are extremely diverse and content-laden, the full retrospective of which demonstrates the great and difficult path of artistic quests. He created paintings and graphics, worked on a sculpture and book illustration, secular and ecclesiastical monumental art. He loved literature and a text, in general, and his illustrations prove that his attitude towards a text was determined by his explicit knowledge.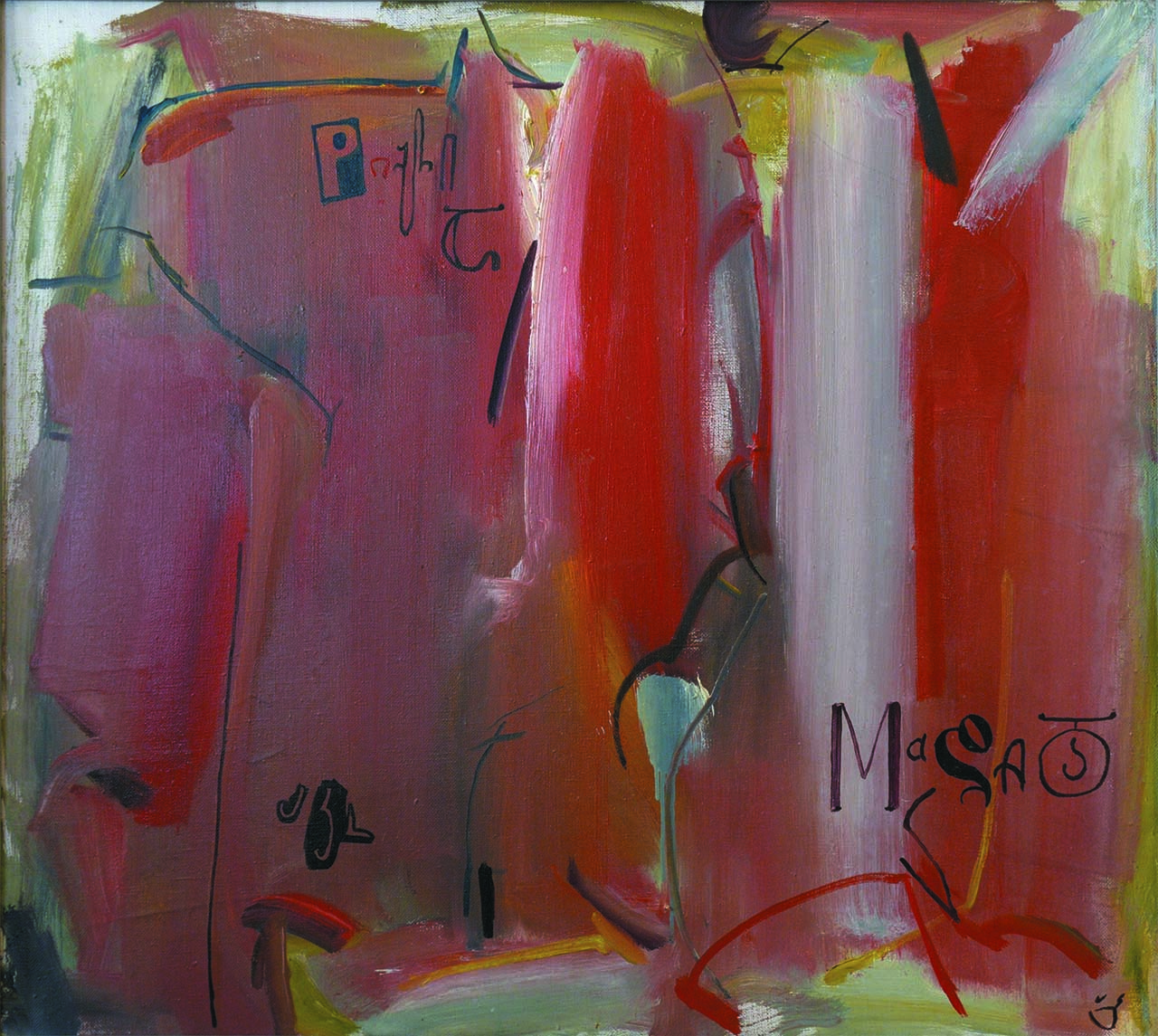 Alexander Bandzeladze. Rusiko, Ako, Madada. Oil on canvas. 103X90,5. 1980s. Courtesy of Artist's Family

Alexander Bandzeladze's works exhibit academic proficiency and love to experiment- his interest towards impressionism (pointillism version), expressionism, cubism, abstract painting is easily notable, although it is abstract expressionism that most inspired him and his, as an artists' identity has been revealed in abstract expressionism at full length.
Abstract expressionism, similar to other Western or American trends was intolerable for the Soviet area and, local artists, if interested, were regarded dissidents, implying counter-regime position and ethical citizenship.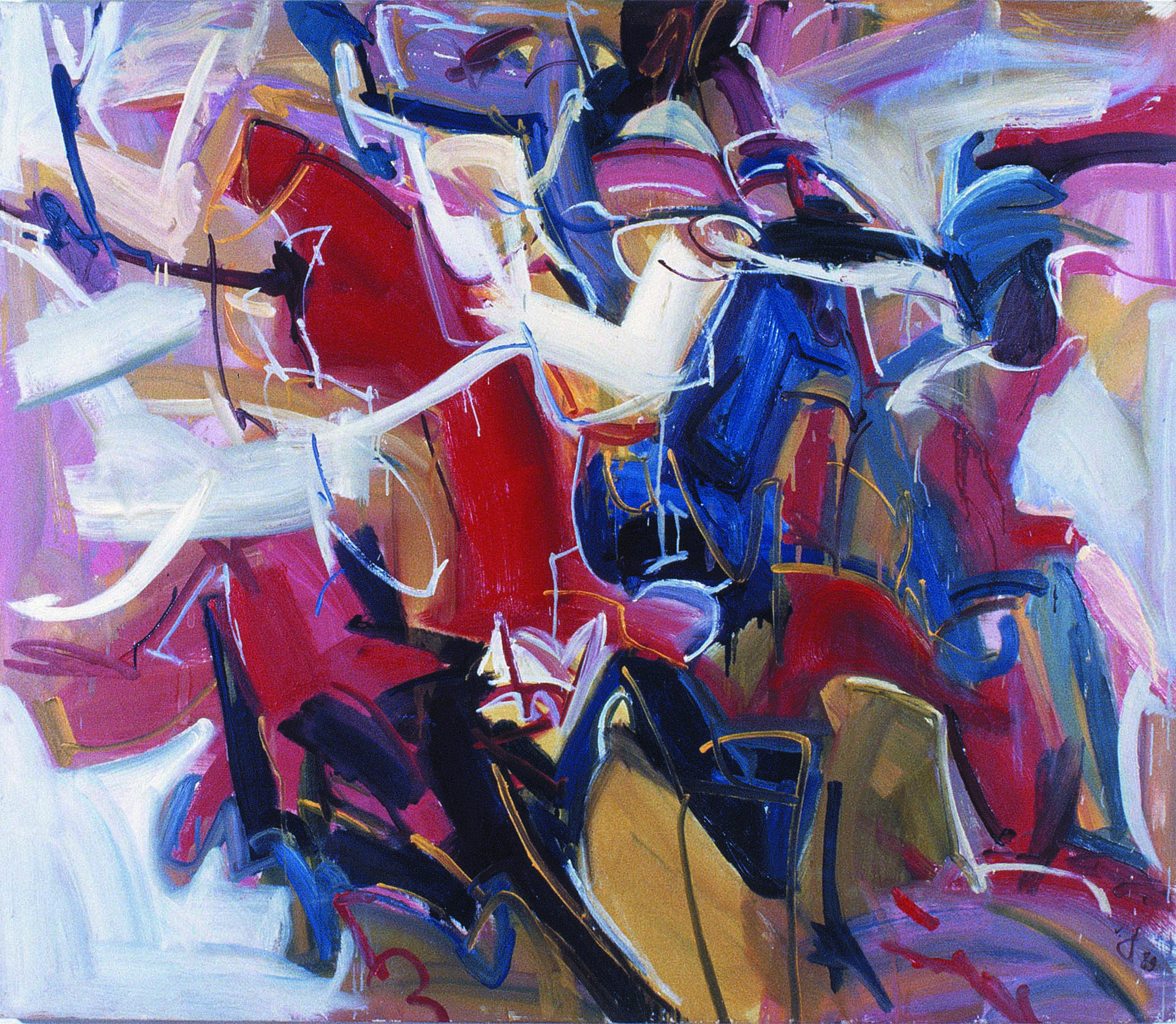 Alexander Bandzeladze. Leitmotiv. Oil on canvas. 120X140. 1989. Photo: Gia Mgaloblishvili. Courtesy of Artist's Family

That is how the scholars, studying avant-garde activities of "the warming period", thought and the art critic, art director at State Centre of Russian Contemporary Art - Leonid Bazhanov was of the same opinion, who initiated presenting Alexander Bandzeladze to Moscow, as "the only" representative of Georgian Avant-Garde of 1970s. It was a typical story of that time- Moscow was the centre of the Empire and artists from other former soviet republics had to get recognition from the very centre. This setting later underwent changes and, of course, was followed by complications. Activating a factor of "spiritual toil" in painting was a divulgence of an intellectual opposition by Alexander Bandzeladze, which totally contradicted the essence of formal Soviet art. Together with his friend- Temo Chirinashvili, A.Bandzeladze trained high-school entrants, Gia Edzgveradze – one of the representatives of next period Georgian Avant-Garde, was one of them, who acknowledged Shura's (he was referred to so in Georgian art circles) immense influence on him. This influence had passed on other young artists too, Luka Lasareishvili (DoB: 1957) Iliko Zautashvili, Gela Zautashvili (DoB: 1961) among them. They would get familiar with abstract expressionism experience from the "dissident" elder generation artist, which demonstrated exceptionally new approach to the definition of art as a "gesture" and visualization of spiritual experience or "transcendental", in other words, the fact was that art itself was visualized from a different perspective.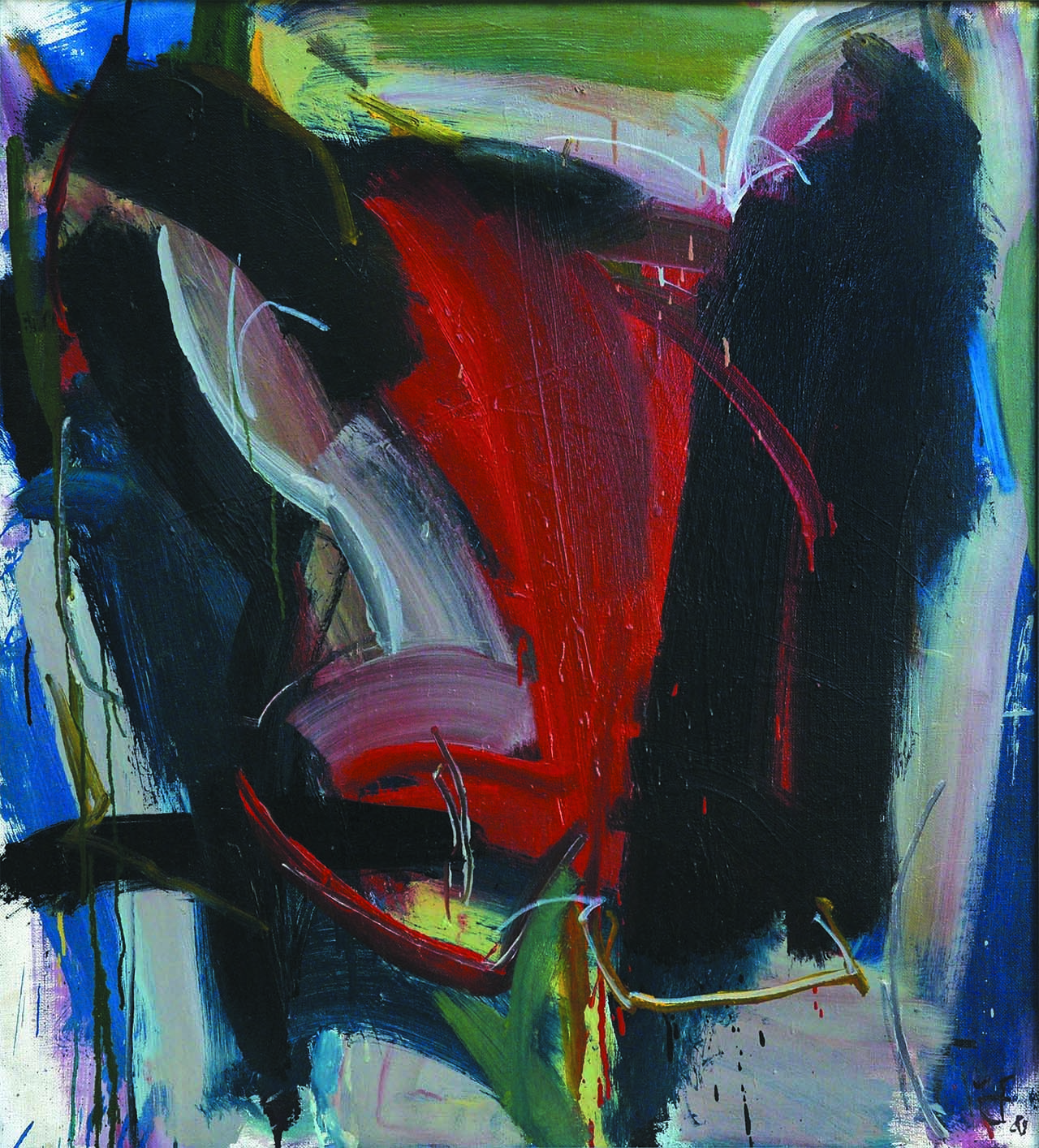 Alexander Bandzeladze. Blissful dream. Oil on canvas. 99X90. 1989. Museum of Fine Arts of Georgia.
Later on, Gia Edzgveradze mentioned that he had already had the knowledge of post visual art experience (post- abstract expressionism) when he became the Bandzeladze studio disciple: "Then I met Shura Bandzeladze and got taken away by abstractionism, which, compared to what I have described earlier, was two steps backwards in time-lapse. From that stage I seemed to study the whole culture in a retrospective, Shura was a real teacher in all senses- by lifestyle, attitude to the universe, detachment- he would deviate from the established norms of society and it was tremendously attractive for me. An artist should not move towards the society, but against it,or maybe even jump in front of it and transform this relationship into sarcastic, ironic and cynical game. Today I would put it this way- we would study dialectic of fundamental visual texts together with Shura and my fellow-mates and worked quite hard on them. We had a summary 5 knowledge of the whole contemporary culture. That was our school. There was a threat, it could devour us totally, which, sadly, has happened to a lot. I don't recall ourselves browsing though modern art magazines and then starting drawing in some "trend" style. Our generation was totally intolerant to such an attitude. Striving to fundamental values and creation of original texts- this was a sign of our generation, it's determining factor".
If American abstract expressionism, at certain extent, manifested neurotic status of its time and the study of consciousness, reflexive side seemed less actual for the Soviet area artists, who later got interested in this trend, and partly unconscious protest and unspent, overflowing energy would come up front.
The important part of Alexander Bandzeladze's abstractions are, at first glance, spontaneous, quickly and lightly painted pictures. The spontaneous energy that characterizes the classics of abstract expressionism - even Pollock, is missing here. The texture is not overloaded with various mixtures and an abundance of paint-lines. These abstractions could be defined as replicas, performed in the style of this movement, although their authenticity is guaranteed by a specific context and high quality of an artist's individualism.
The dynamics and internal organization of these compositions is performed by connecting freely moving lines, or angular and round shapes. Besides the fact that Alexander Bandzeladze's style follows the key principle of action painting - attempting to express transcendental by means of an artistic gesture, he also links it to original Georgian cultural codes.
Associations of fresco and book illustration motives of traditional Georgian Art periodically occur in the works, as well as the motives of graffiti and Indian art are revealed as code associations in classical abstract expressionism. In this regard, we may recall one of the outstanding early works of Jackson Pollock (1912-1956) – "Guardians of the Secret"(1943). However, if we look for parallels with famous representatives of this style, Bandzeladze's works stand most closely to Willem de Kooning's (1904-1997) painting. Influence of one of the important works of Willem de Kooning's painting -"Excavation" (1950) can be observed in Alexander Bandzeladze's tempera painting - "Last supper". There is a "whirlpool" here too, but a "centre" is still there, although its solidity is shaken. Classical symmetry no longer dominates firmly here and is ready to be transformed into a visible movement of energy.
It might not yet be spontaneous abstraction, turned into non-conscious stream, however, Jackson Pollock's one more famous characteristics of abstract expressionism-"Energy and movement have become visible-reminiscences are captured in space"- is totally shared here.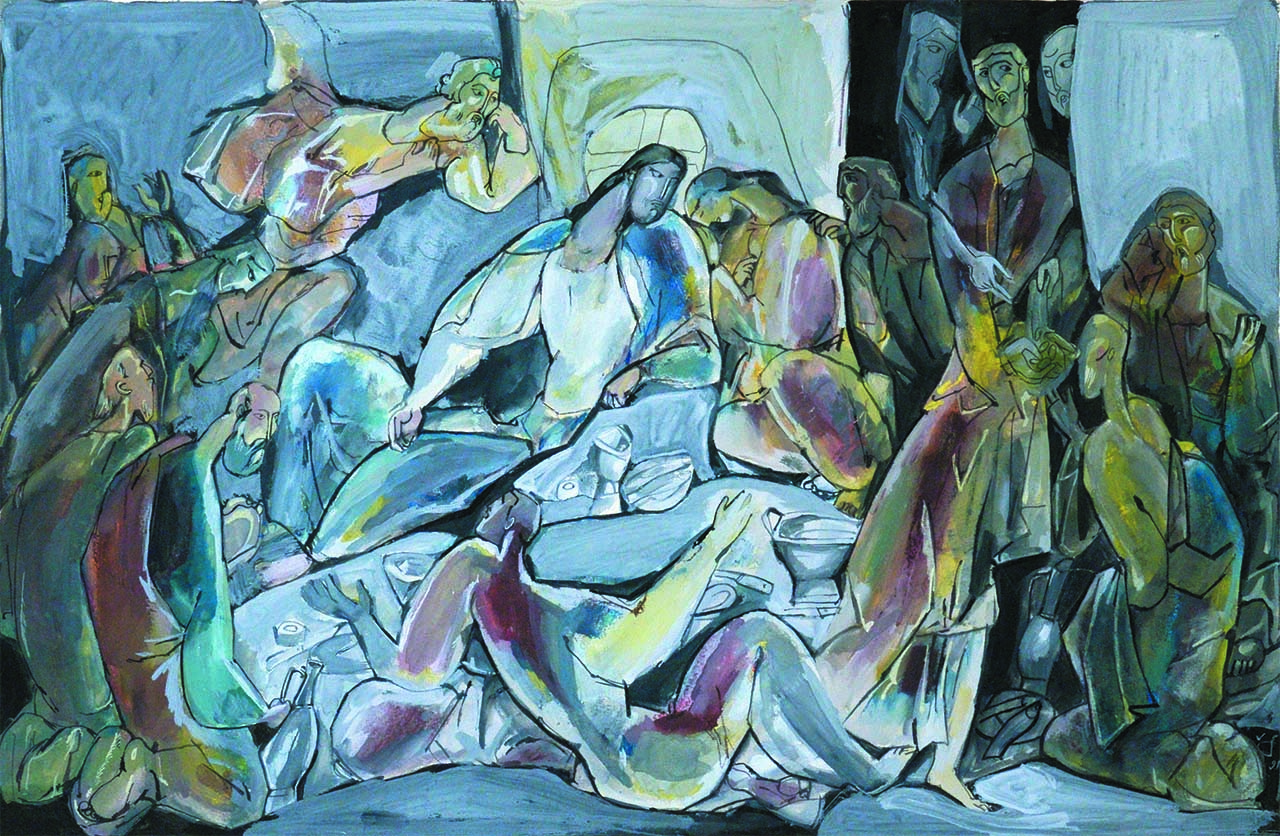 Alexander Bandzeladze. Last supper. Tempera.102X73,5. 1991. Courtesy of Artist's Family

Harold Rosenberg (1906–1978), American writer, philosopher, art critic, author of the term "action painting" and its definitions, defined this "gesture on canvas" as a gesture of liberation from different values - political, aesthetic, and moral- because the new direction in painting was a phenomenon of transformation, it would become "religious" at some extent, however expressed itself in secular concepts, which was followed by a valley of personal myths.
It can be said that Alexander Bandzeladze's strive for liberation has been revealed in the very transformation process of his painting from figurative into abstract and later, individual valley of his art.