Tato Akhalkatsishvili was born in 1979 in Tbilisi, Georgia, where he continues to live and work. In 1996 and 2003, he undertook and obtained degrees from the Tbilisi State Academy of Arts. In 2004, he established the art group "Figurative Art Studio." He has exhibited his artwork extensively in Georgia and internationally in both solo and group shows, including at the Georgian National Museum, the National Gallery of Armenia (Yerevan), Mitsukoshi Art Gallery (Tokyo), and Gallery CONTAINER (Vienna), among many others.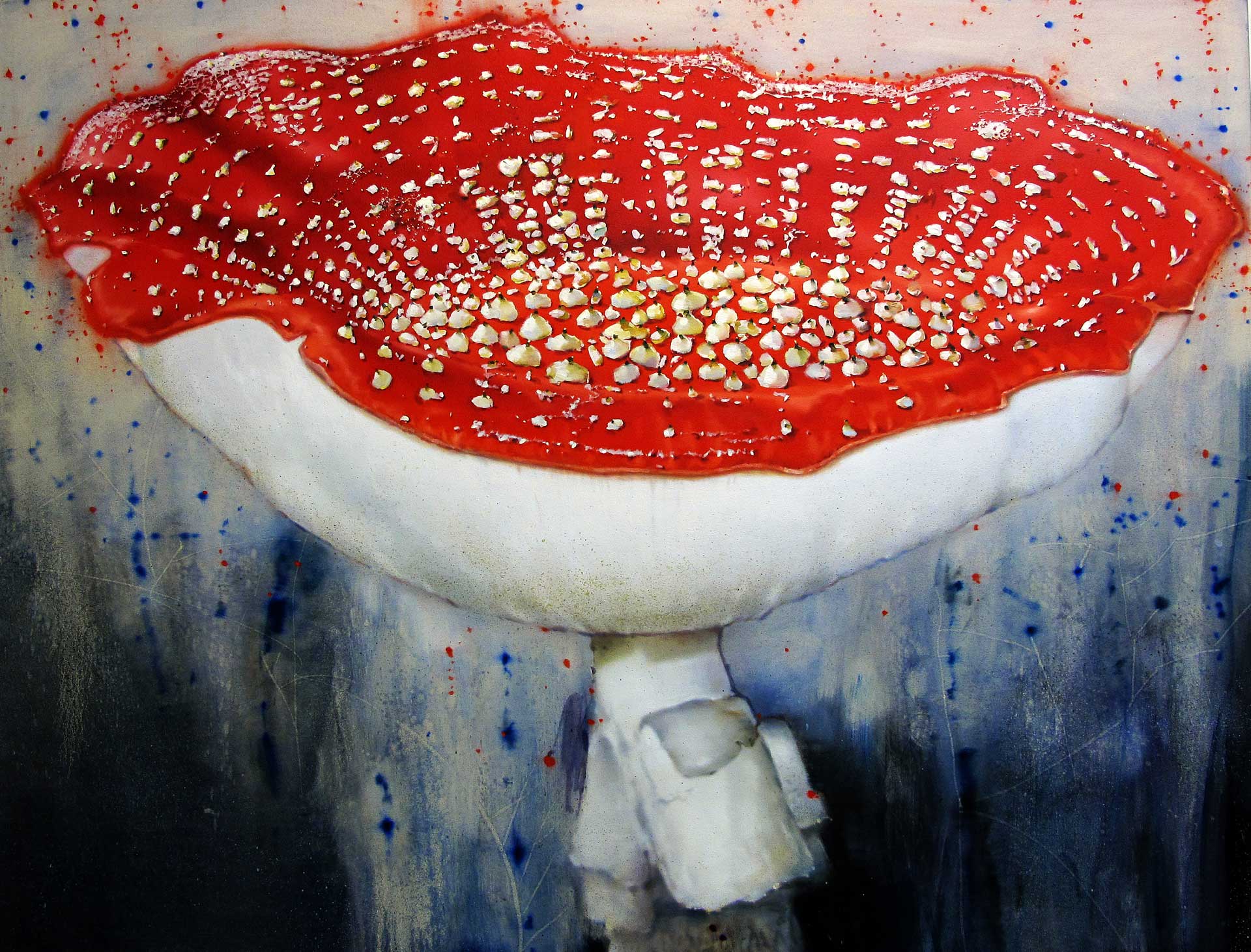 Tato Akhalkatsishvili - AMANITA MUSCARIA 130x170 cm. Oil, canvas. 2017
In Tato Akhalkatsishvili's practice, the five stages of dramatic structure (exposition, rising action, climax, falling action, and denouement) pair with and find depth in the five senses.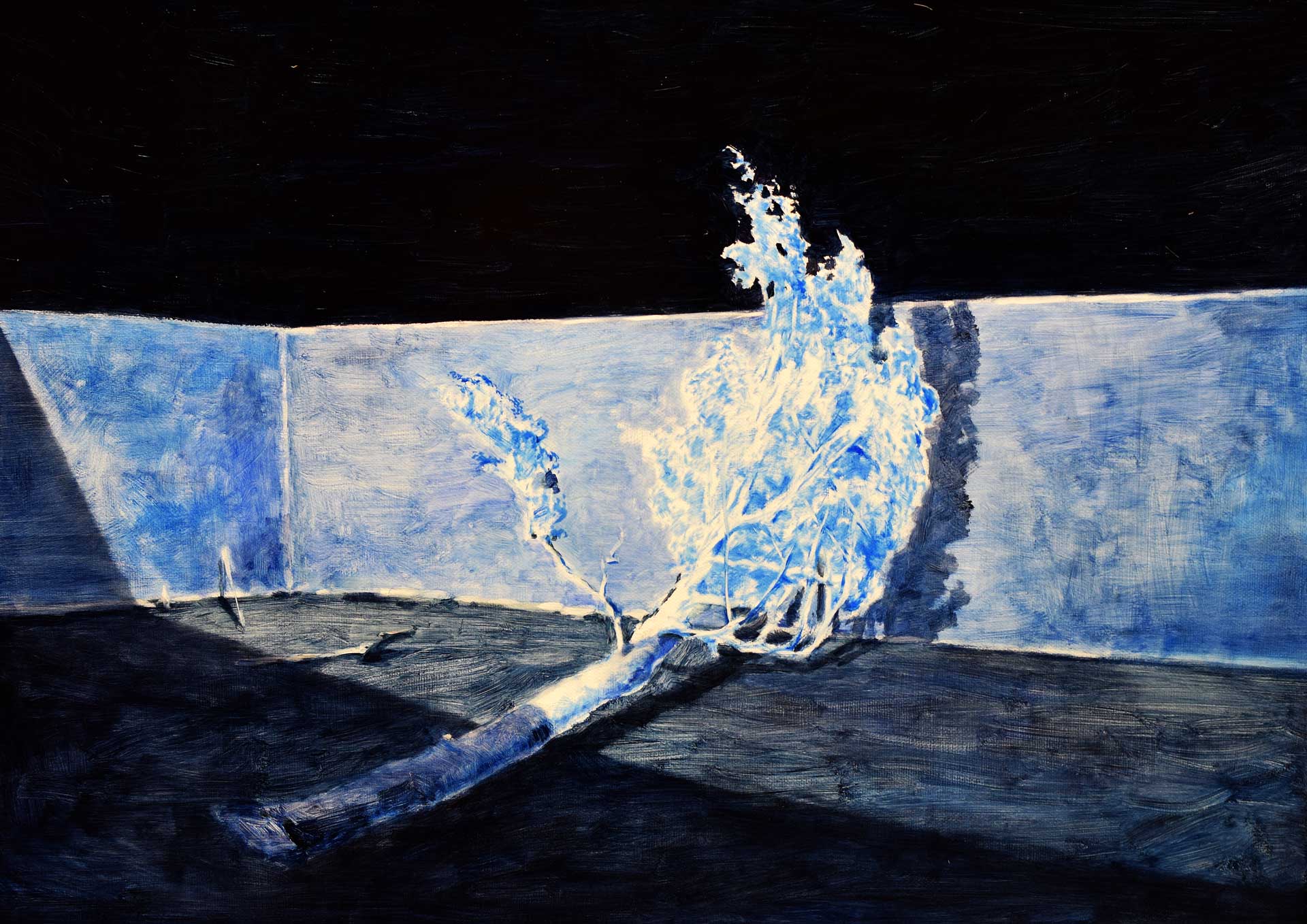 Tato Akhalkatsishvili - Conversation - 50x70 cm. Oil, canvas. 2021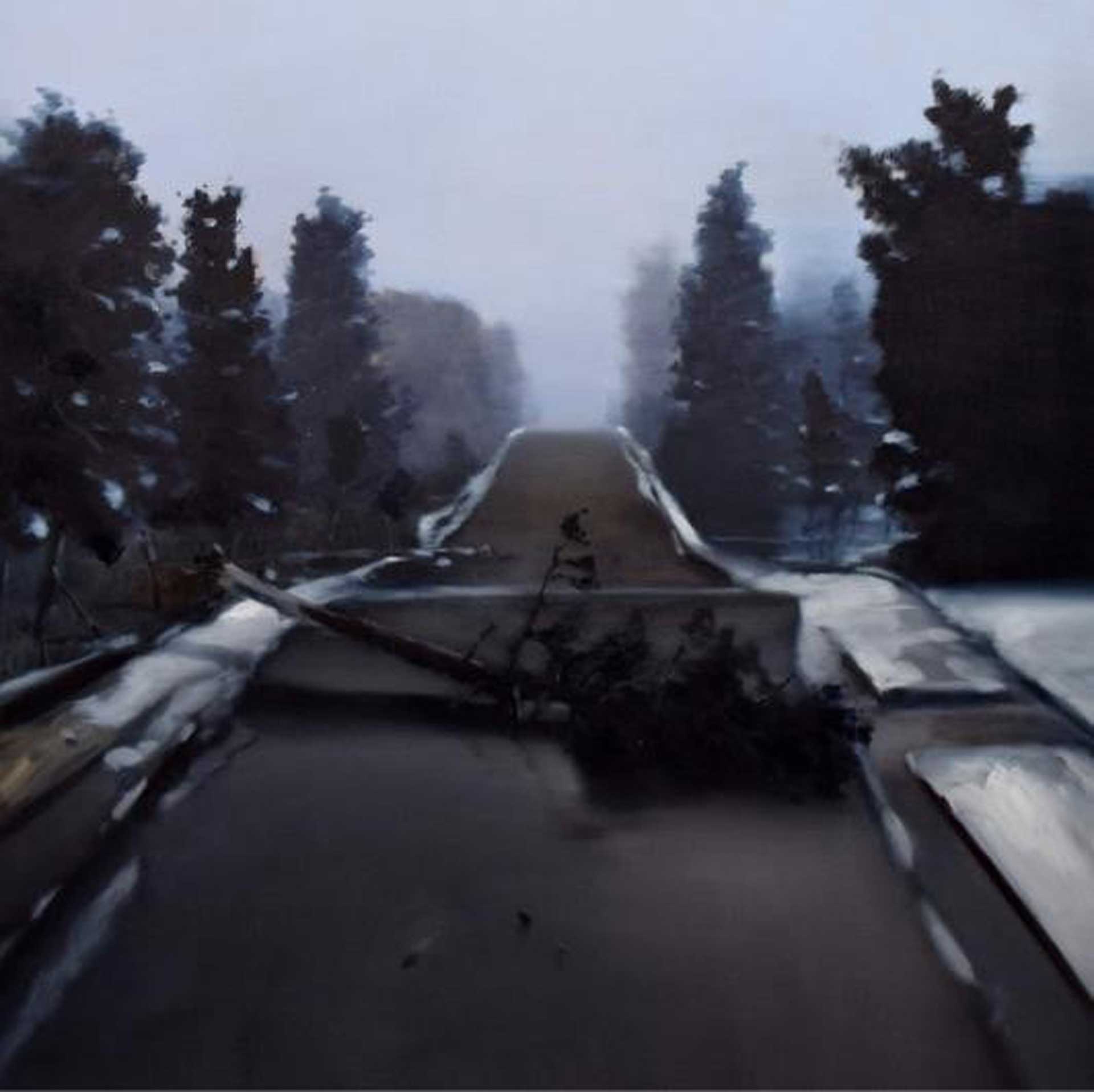 Tato Akhalkatsishvili - Untitled pictures of indefinite future,125x125. Oil,canvas, 2020
Akhalkatsishvili tends to place viewers in the falling action stage; his paintings, assemblages, and works on paper frequently depict the moment right after the passing of a storm, literally and figuratively. By the time we wander into his landscapes, the worst of the weather has passed and the turbulence has tempered. With only a partial insight into the proceedings, our descent into his denouement is steep. The end is nigh, but it will likely be dark long before we arrive. Occasionally, darkness encroaches on the day; in a panoramic depiction of a winter forest with dueling crows, Akhalkatsishvili paints a heavenly body pausing before the sun.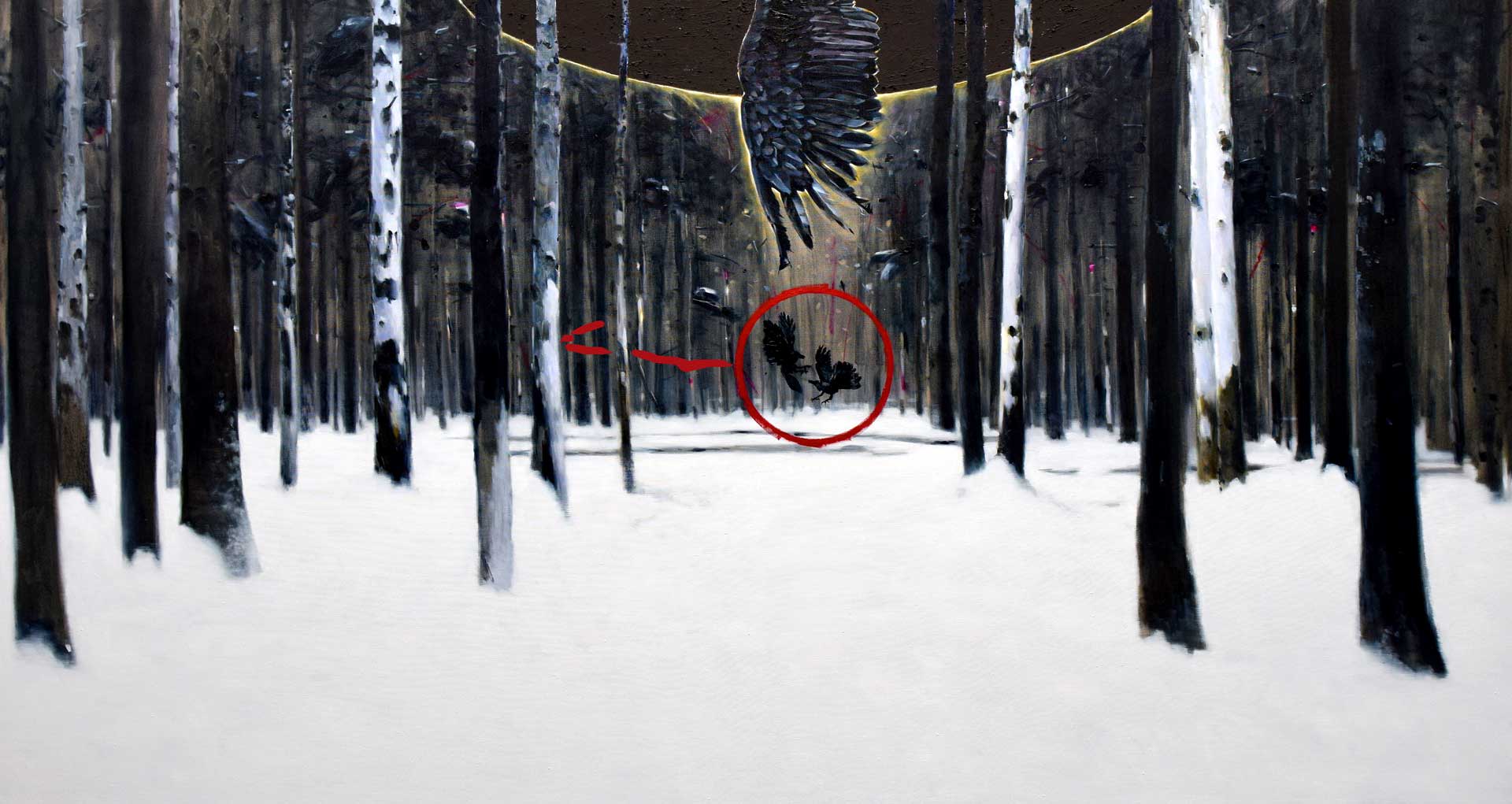 Tato Akhalkatsishvili - Echoes 150x300 cm. Oil, canvas. 2021
The artist combines a cool touch with the narrative circumstance of falling action. There is a crispness to his canvases that gives you goosebumps and sends shivers down your spine. The effect chills the air. One could even say that it thins the air: light-headed, we feel a slight delirium — a high that is also a low, and a thrill that is also a threat.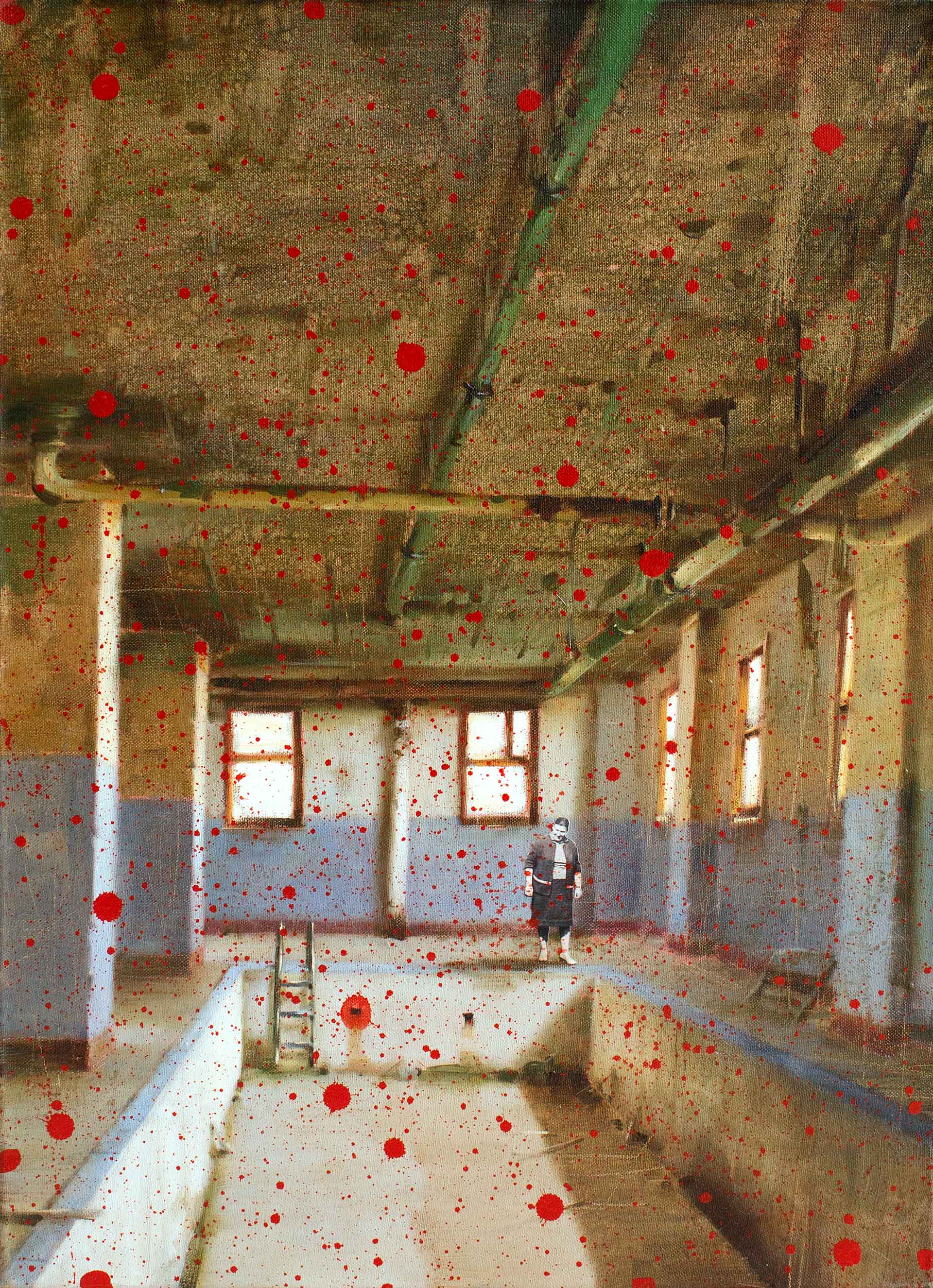 Tato Akhalkatsishvili - Born in... 70x50 cm. Oil, canvas, collage, 2014
Akhalkatsishvili's portfolio is full of red flags that flash and fly in many forms. These fiery streaks connote the precariousness of inhabiting landscapes that are defined by extremes. Taking into account the artist's affection for off-roading, it seems that, for him, extremes are not something to shy away from, but to pursue, seeking the intense buzz they can induce. As such, the stripes of red blaze trails and beckon us to venture forth.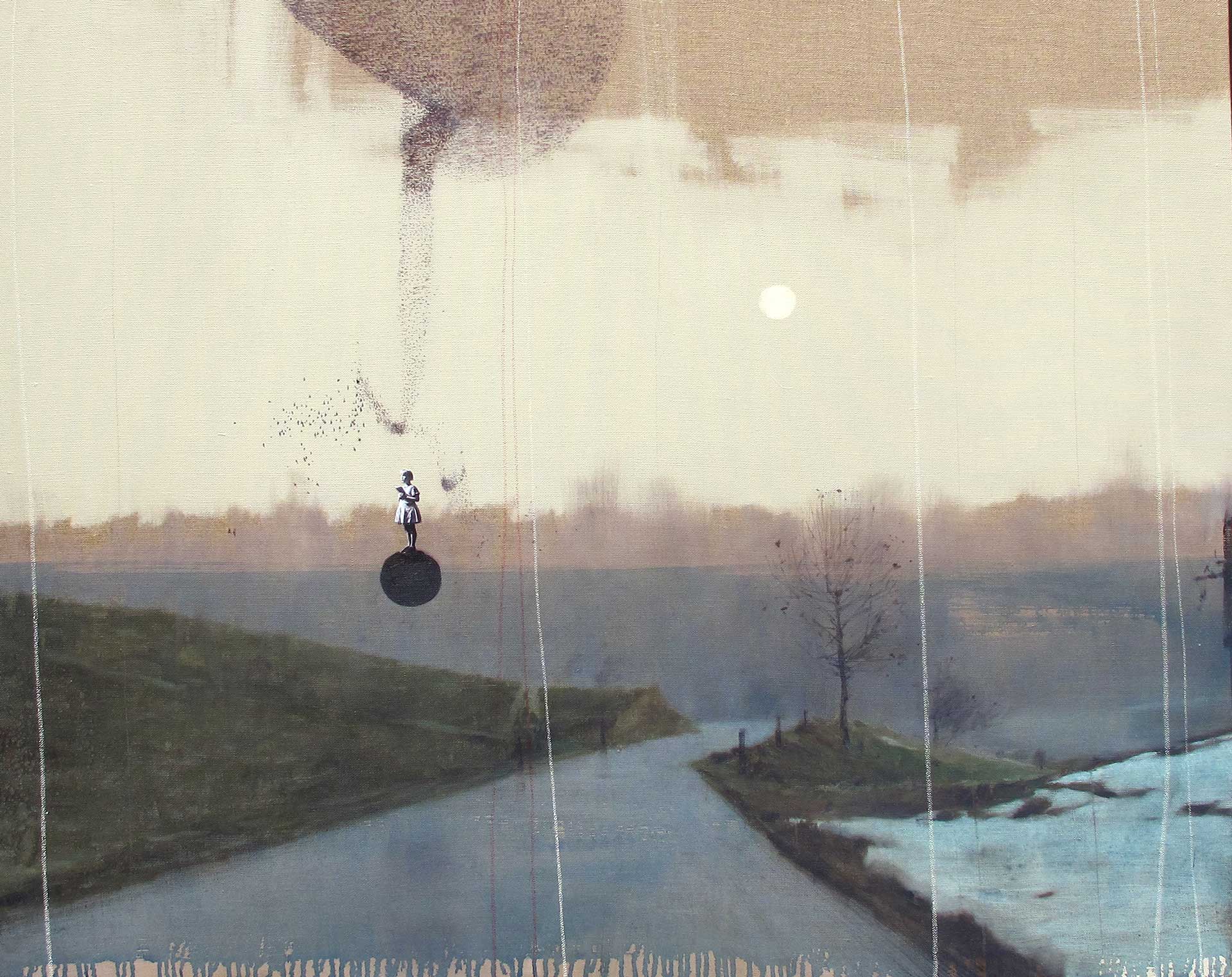 Tato Akhalkatsishvili - VOCA 72X91 cm. Oil, collage, canvas 2013
Arid, lush, rocky, and sparse: Georgia possesses a diverse, contrasting topography. Certain sites figure prominently in the public's imagination owing to the singularity of their natural features, the views they offer, and/or their association with spirituality resulting from the houses of worship typically constructed within or atop them. Such sites are incredibly specific, and are not the sites that Akhalkatsishvili gravitates towards. His paintings avoid didactic demonstration, denying definite coordinates or any associated expectations. As a result, they thwart interpretative shortcuts. This is true for Akhalkatsishvili's still lives as well, which the artist typically frames or substantively fills with black – a shade that, in his case, creates voluptuous voids.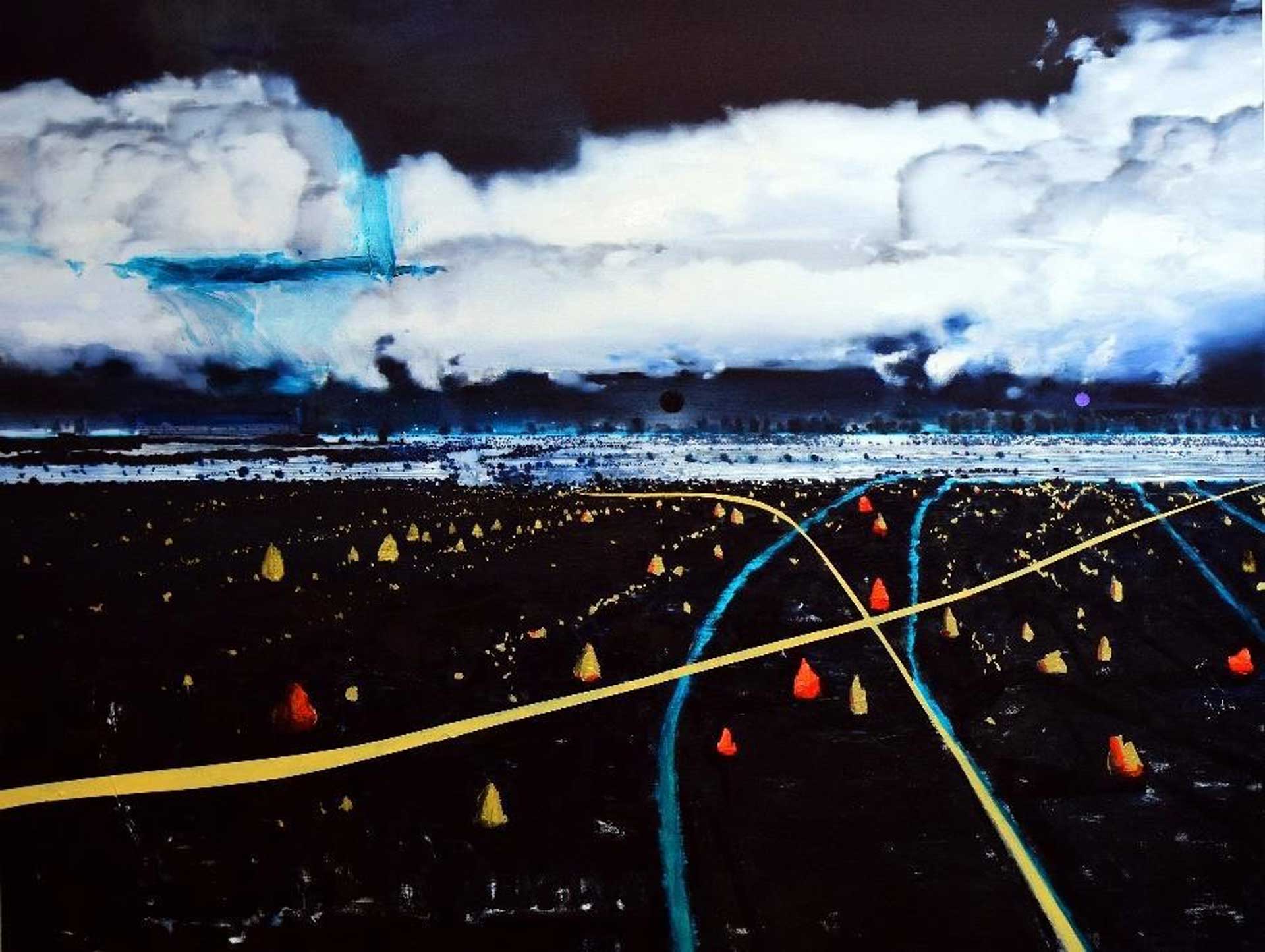 Tato Akhalkatsishvili - The velvet sun - 130x170 cm. Oil, acrylic,canvas. 2018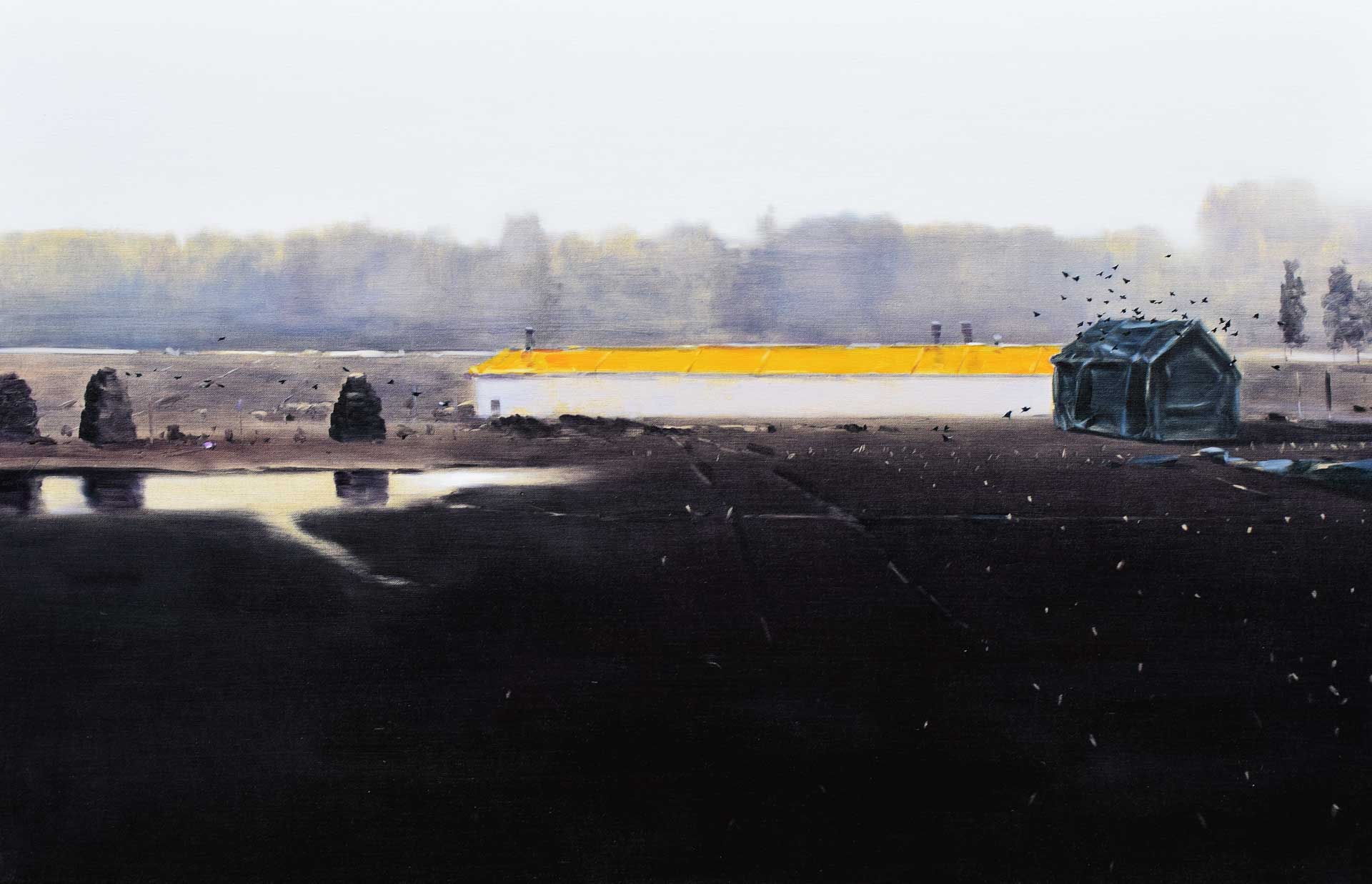 Tato Akhalkatsishvili - The wrapped House - 75x115 cm. Oil, canvas. 2021
Akhalkatsishvili's curiosity for unmapped terrain is complemented with a passion for collecting curios — objects of varying peculiarity found at flea markets and in antique shops. For the artist, these pelts, perfume bottles, shells, and chandeliers are more than mere possessions. Assuming pride of place in his studio, they maintain a presence that demands contemplation. His oeuvre has the analogous aura of consequential wonder; his ingenuity is in how he wields this wonder as a way of awakening.