Gagosha – Georgian street artist Giorgi Gagoshidze was born in 1986. He works in different media: poetry, visual poetry, drawing, media art, etc. He studied computer science at Tbilisi University, and graduated with an MA in Technology Administration from Tallinn University of Technology. Gagoshidze is the author of and participant in numerous projects. His fields of interests include philosophy, psychology, and literature. His artistic style can be defined as a combination of text and image.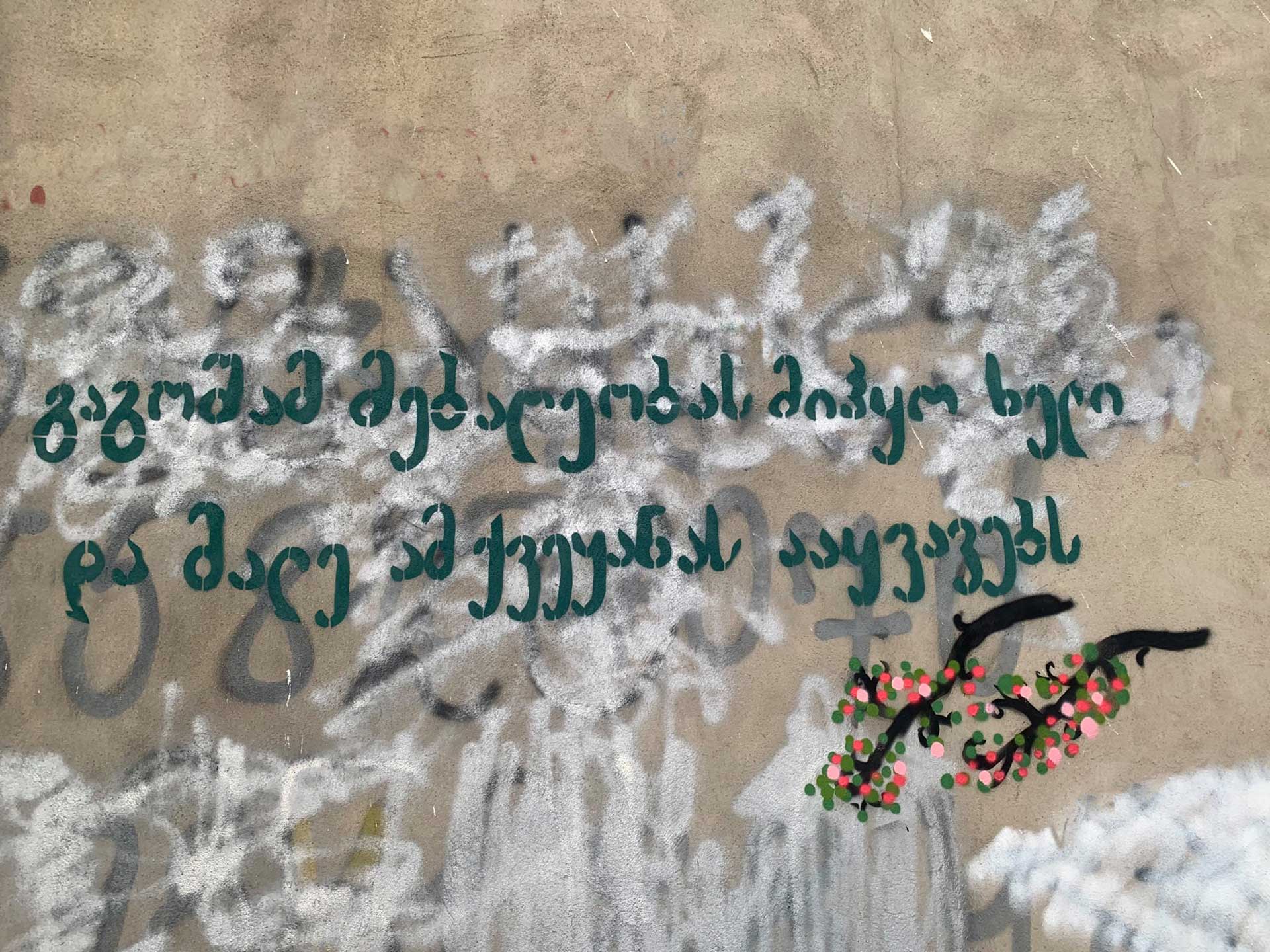 Giorgi Gagoshidze (Gagosha). Varketili 3 micro. 2020
Gagosha (Giorgi Gagoshidze) is the most poetic representative of Georgian street art, who follows in the footsteps of Keith Haring's version of pop-art: "Art should be something that liberates your soul, provokes the imagination, and encourages people to go further" (Keith Haring). Gagosha's art is truly free, effortless, benevolent, and seemingly simple. For an extended period of time the stenciled art that decorated underground passages were written with heartfelt diligence, imitating the handwriting of a school child (the determining factor of the message) with the phrase: "Gagosha is occasionally overpowered either by Bruce Lee or the melancholy," and transformed a vulgar urban fragment of the city into a sensitive corridor that teleported accidental passersby from the dynamic pace of the streets to some other place. It is a feature of street art that its consumers do not go to a specific location to enjoy it; it becomes part of an unforeseen journey, and is related to our movement through an urban space. No one knows what to expect when they go out of their home, be it an unplanned meeting with a friend they haven't seen for a while, the risk of getting closer to a construction site, a driver who lost control of his vehicle, or the unexpected joy that is aroused by an encounter with any aspect of life.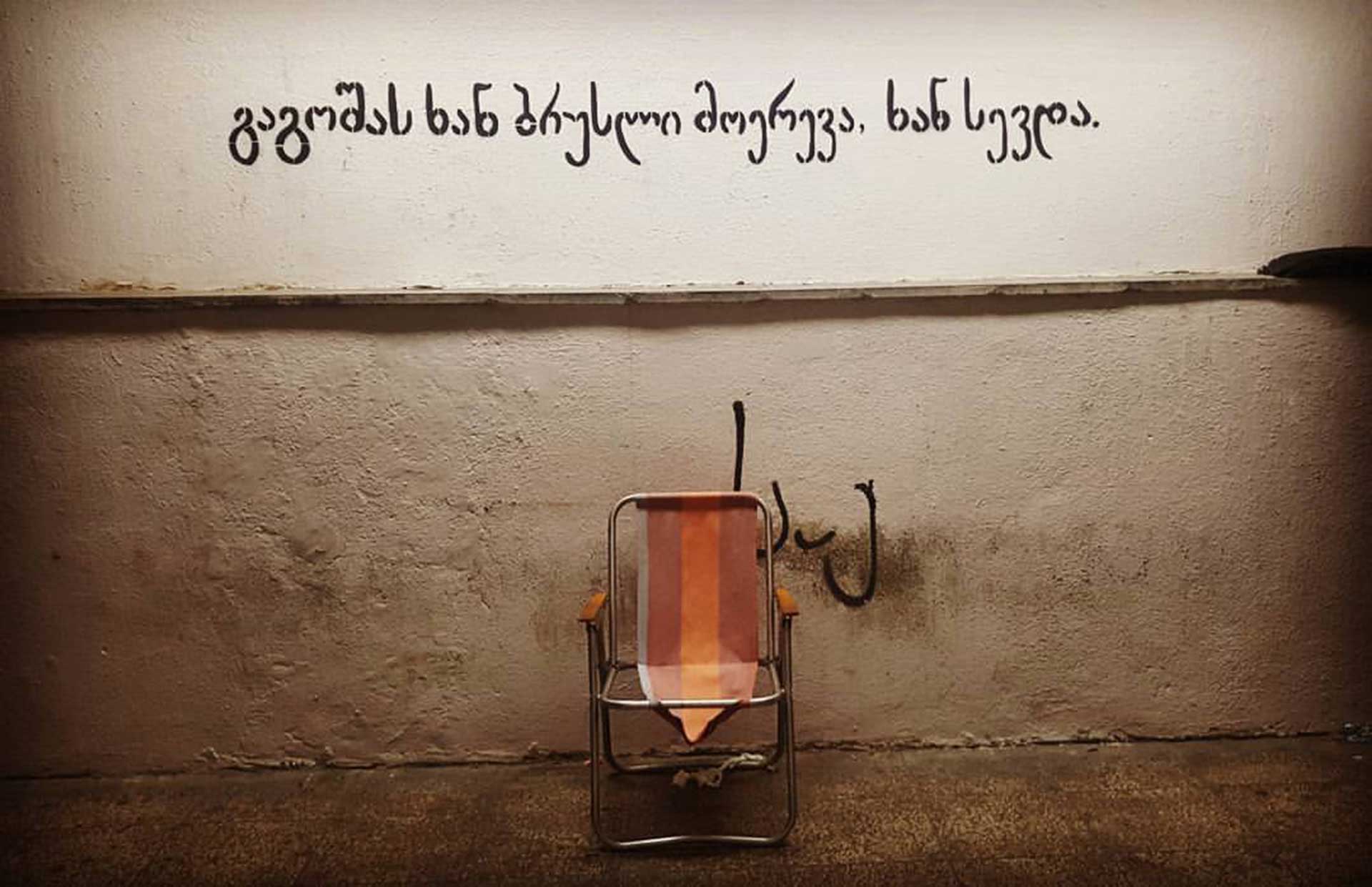 Giorgi Gagoshidze (Gagosha). Underground passage. Chavchavadze ave. 2018
Street dynamics resemble the floating of a weightless body through space, where it may encounter unrelated ideas moving around in a chaotic stream, and this is especially true of big cities. "Gagosha is occasionally overpowered either by Bruce Lee or the melancholy" – documentation of this poetic fragment includes an additional object – a folding chair (belonging to a beggar) which effortlessly hints at social drama. The artist's Instagram page presents the work as an installation. Those who are familiar with contemporary art will see here an allusion to Joseph Kosuth's iconic piece of conceptual art, One and Three Chairs, where the interrelation of text and object refers to constantly changing contents (contexts). This means that not everything is as simple as may seem at first glance. Gagosha's melancholy and a beggar's chair meet each other at this intersection; however, the mention of a superhero (Bruce Lee) introduces the contrast of virtual reality into the scene, and manifests a linear character of power through the application of ironic hints.
Giorgi Gagoshidze's exhibition at Dédicace Gallery presented political messages through funny stories and the satirical modeling of a crisis period. Instead of street murals, the artist depicted on canvases animation characters from Georgian chronicles of the 1990s. "Do not shout!" – was Shevardnadze's spontaneous reaction in 1992 to the outcries of a dissatisfied group of people who had gathered on the streets.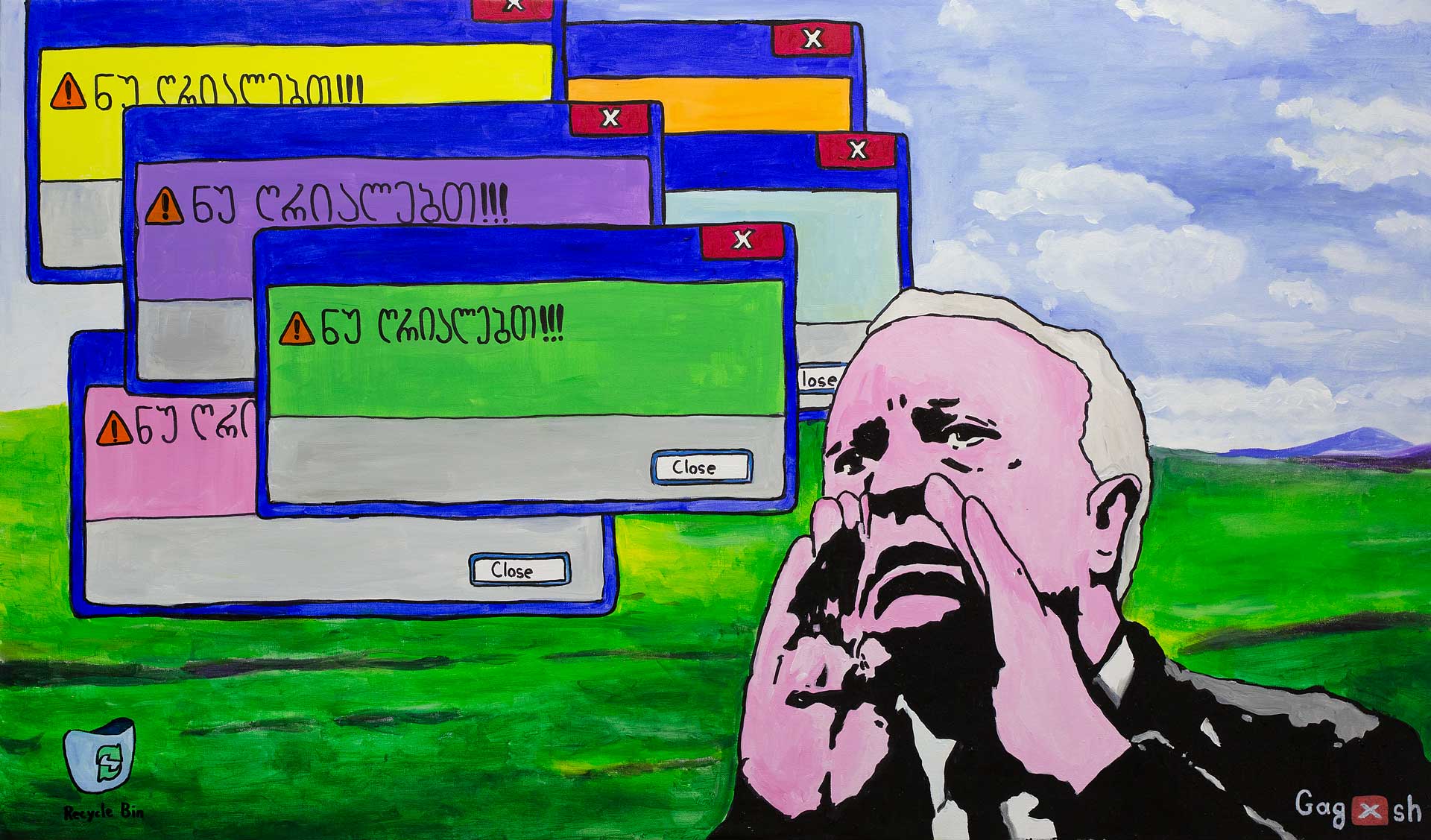 Giorgi Gagoshidze (Gagosha). Untitled. 71x130. Acrylic on canvas. 2021
Gagosha focused on this curious case throughout the exhibition, and returned once again to the topic of most recent history – referring to collective danger and different strategies to counter it. Reality and its severe challenges, the inability of politicians to produce any results, and an abundance of absurd situations often led to paradoxical joy and engendered a satirical mood. Gagosha's "return" to the 1990s is a kind of a reminder that this period of history still needs to be processed, and the damage it has wreaked is still pressing. At first glance a harmless, almost naïve composition of kerosene lamps on a background of various texts is testament to a routine activity among teenagers, and dramatic collective memories from the 1990s.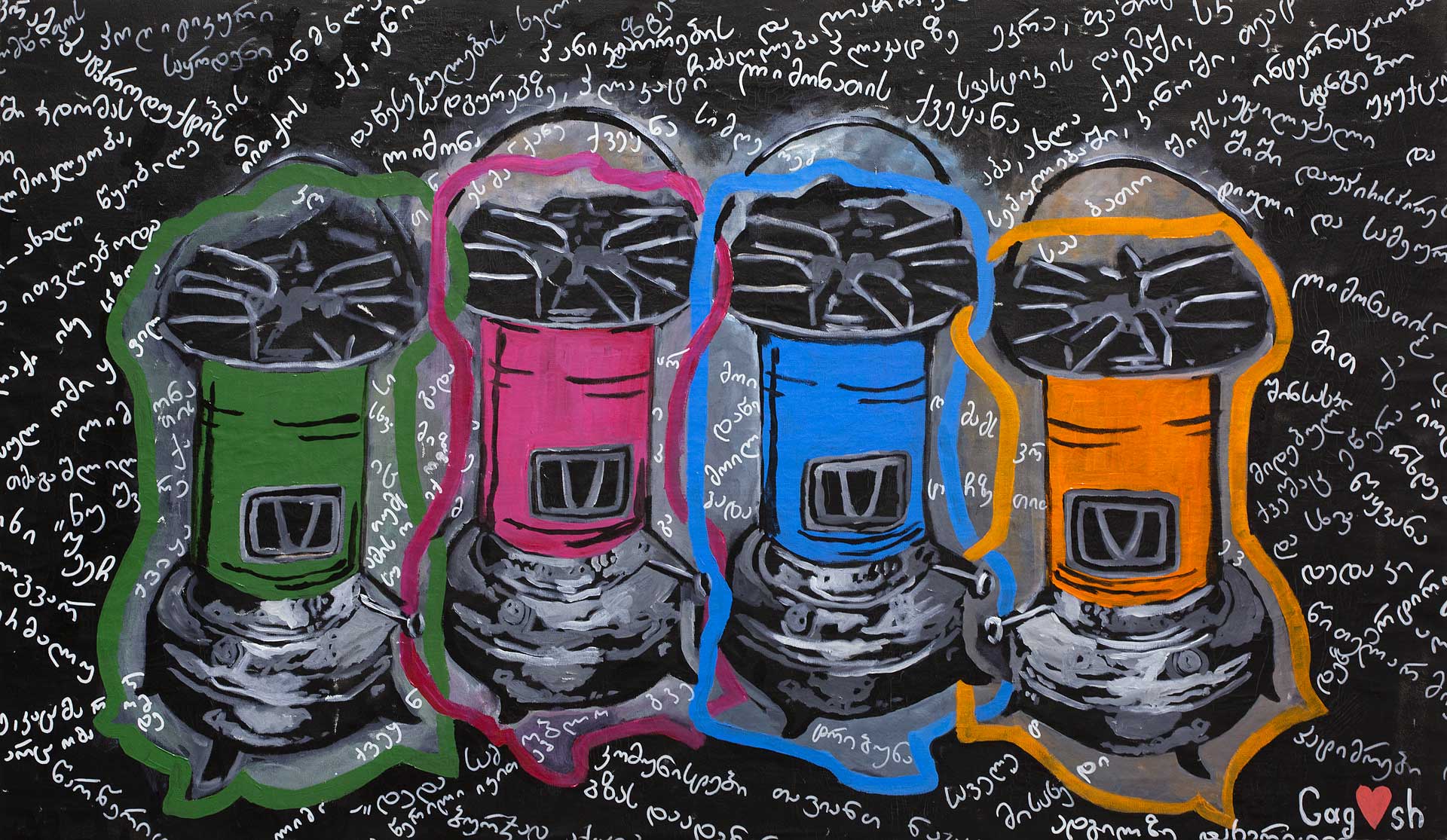 Giorgi Gagoshidze (Gagosha). 70x120. Untitled. Acrylic on canvas. 2021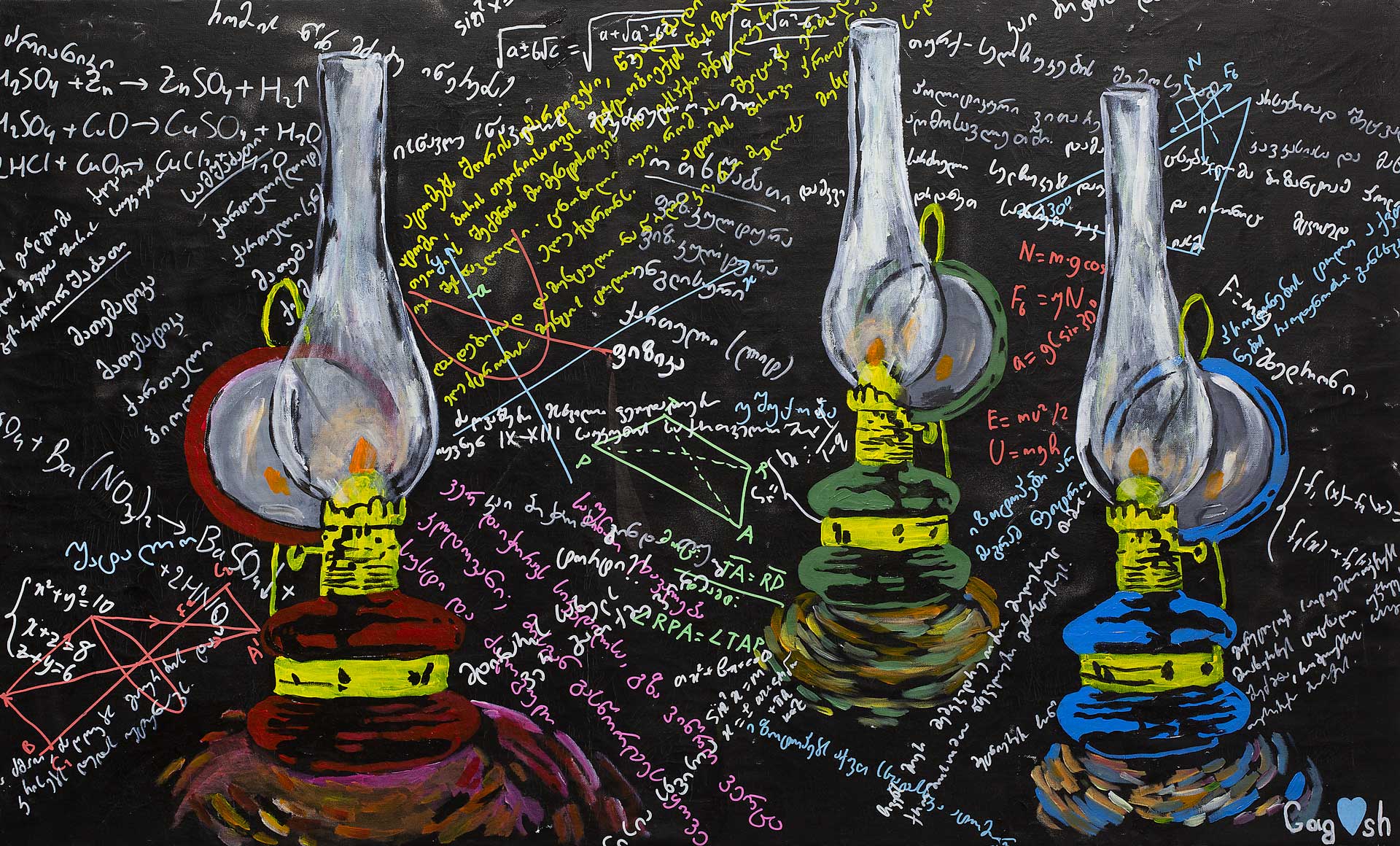 Giorgi Gagoshidze (Gagosh). 80x130. Untitled. acrylic on canvas. 2021
In order to remember this period, the artist turns to the language of pop art, which is simple, colorful, ironic and has already proven to be sufficient for the description of motifs in popular culture. The local pop culture is defined by inadvertent performances from politicians and the iconography of major business interests. Warholian multiplication of objects on a colorful background is combined with depictions of a representative of the authorities, khinkali (Georgian meat dumplings), kerosene stoves, and other objects that are awarded the status of merchandise. Notwithstanding his focus on general and simple images that are framed by clear contours, Gagosha's visual language is diverse and sensitive. Sometimes it strives towards a three-dimensional format, and even introduces small-scale sculptural elements to create a series of associations through the application of expressionistic storytelling techniques. Stumbling upon Gagosha's stenciled work in the street, it is impossible to forget, since it inspires among viewers the anticipation that they will be able to discover the next piece of the puzzle someplace else.